2023 Michigan minimum wage increase may go higher: What to know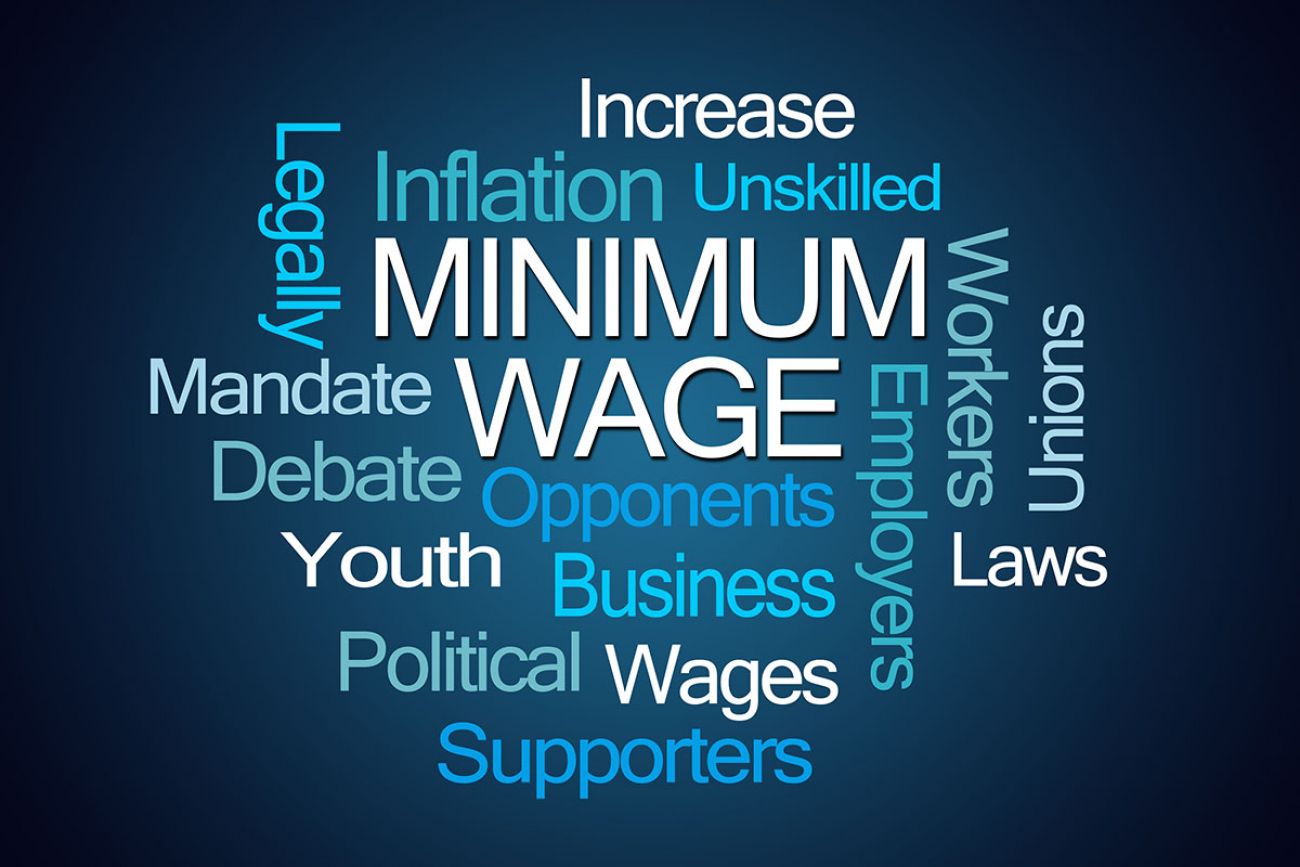 A Michigan Court of Appeals panel is expected to rule in February on whether the Republican-led Legislature violated the state Constitution when it adopted a progressive citizens ballot measure in 2018 only to weaken its provisions later that year. (Shutterstock)
The stakes are significant, both for workers trying to earn a higher wage and for Michigan's leading business groups, which argue that a steep increase would raise other operating costs at a time of high inflation, ultimately leading to job losses. Here's what you need to know about what's likely to happen — or not happen — in the weeks ahead.
Related:
What's the court battle about?
The court fight dates back to 2018, when a progressive ballot measure was poised to go before voters. The measure would have raised the minimum wage this year far higher, to $13.03 for traditional minimum-wage workers and to $11.73 for restaurant servers and others who also rely on tips. It also would have phased out the lower wage for tipped workers by 2024.
But before voters could weigh in, Republican lawmakers — who held majorities in the state House and Senate — thwarted the effort. They adopted the measure before the 2018 election, then returned in the lame-duck session to water down the wage provisions, as hundreds of people protested in the Capitol rotunda.
Lawsuits ensued. This past July, Michigan Court of Claims Judge Douglas Shapiro ruled that Republican lawmakers' adopt-and-amend maneuver violated the Michigan Constitution.
"Were the Court to adopt the state's argument," Shapiro wrote, "it would mean that anytime a simple majority of the Legislature opposed the content of an initiative, it could, by legislative sleight-of-hand, prevent the initiative from ever becoming law without ever allowing the People to vote on it. This would plainly violate Article 2, § 9 of our Constitution, which reserves such power to the People."
An appeal followed, with both sides having much to gain or lose.
Consider: Under the watered down wage provisions now in effect, the minimum wage for non-tipped workers is $10.10 an hour, and does not rise to $12 until 2030. Under the original 2018 ballot proposal, the hourly wage was to rise to $12 an hour on Jan. 1 of last year and then be adjusted annually based on the cost of living (which would now put it at $13.03).
If the original wage hike is restored, that would mean non-tipped workers would receive $521.2 per week — or $27,102 per year — for a 40-hour week, and at least $469.2 per week or $24,398 per year for employees such as restaurant servers who also receive tips.
Currently, the minimum wage for tipped employees is $3.84 per hour — up from the $3.75 rate last year. (If a tipped worker receives less from gratuities than what they would have made under the minimum wage for non-tipped workers, their employers must pay the difference.)
In his July ruling, Shapiro ordered lawmakers to restore the ballot initiative to its initial effect. But, he noted, given the time needed to "accommodate the changes," he delayed implementation of his order until Feb. 19.
A three-judge Court of Appeals panel heard oral arguments on the case Dec. 13. A ruling is expected in February.
Who said what during oral arguments last month?
The key issue during the Dec. 13 hearing was whether the state Legislature had the authority to adopt and amend a citizen-driven initiative during the same legislative session.
Mark Brewer, representing national advocacy group One Fair Wage and other organizations backing the ballot measure, said in an interview Monday that the state's constitution does not expressly grant lawmakers the power to approve and then dismantle citizen ballot measures in the same legislative session.
"In the Constitution, it takes an express grant from the people to the Legislature," he said.
Lawyers representing the Legislature interpret the constitution differently.
B. Eric Restuccia, deputy solicitor general, argued last month that the law does not outwardly prohibit the Legislature from adopting and amending initiatives in the same legislative session.
"There has to be an express limitation on the legislative ability to amend a law once enacted," he said.
Appellate Judge Christopher Murray, who sat on the three-judge panel, asked during the hearing if the Legislature was "pulling a fast one" by adopting and amending the issue before it could go to voters in November 2018.
But John Bursch, former solicitor general representing the state Legislature, argued that even if the Legislature had let the measure go before voters, there was no guarantee it would pass.
Will the minimum wage increase by Feb. 19?
That remains unclear. It will depend on how the appeals court panel rules and whether it will block Shapiro's order from going into effect.
The minimum wage could increase to $13.03 per hour if the appellate court affirms Shapiro's opinion and no one challenges the decision, or if the court does nothing to stop Shapiro's decision from taking effect.
Attorneys on both sides have asked the Court of Appeals to rule by Feb. 1, but the court is not bound by that request, Brewer and the state Attorney General's office told Bridge.
Regardless of when or how the Court of Appeals rules, Brewer said he expects the losing party to elevate the lawsuit to the Michigan Supreme Court, which currently has a Democratic majority.
Even if the appeals court rules in favor of the progressive groups, there's no guarantee higher wages will go into effect immediately. The current rates may stay in place until the Michigan Supreme Court rules.
What do supporters and opponents say a minimum wage increase would bring?
Supporters of the original initiative, including One Fair Wage President Saru Jayaraman, celebrated Shapiro's order in July. Workers must be paid a "livable" wage, she previously said in a statement, and a subminimum wage has been "a source of sexual harassment and racial inequity for decades."
Danieshia Conley, a bartender in Detroit featured in a One Fair Wage video, said the increase would help workers "keep the lights on" at home as their tipped income fluctuates.
"It's guaranteed that that (utility) bill will be there," Conley said in the video. "There's no guarantee that someone would tip me."
But opponents argue the abrupt changes in minimum wage will hurt business owners, who took a hit during the pandemic and amid soaring inflation, and ultimately lead to less tipped income.
"The talent shortage has employers already paying historic wages and benefits — all while facing rising inflation and supply chain chaos — just to keep the doors open," Wendy Block of the Michigan Chamber of Commerce previously told Bridge.
Gabbie Huhn, a recent Michigan State University graduate who works as a restaurant server, told reporters at a November press conference held by the Michigan Restaurant and Lodging Association, an industry group, that she fears hiking the minimum wage for tipped workers would incentivize customers to tip less.
"If (people) knew I was making $15 an hour like they were at Target, then they would not be tipping me," she said.
What does research say about the impact of raising the minimum wage?
A minimum wage increase can bring mixed results to workers, businesses and the economy, according to research.
The Economic Policy Institute, a liberal think tank based in Washington, D.C., estimated that increasing the federal minimum wage to $15 by 2025 would affect 32 million workers — or 21 percent of the workforce — nationwide. An average worker's pay would increase by $3,300, the institute said.
According to the Congressional Budget Office, a nonpartisan research agency for the Congress, a minimum wage increase would generally benefit most low-wage workers and reduce the number of people in poverty. But while some workers may see their income increase, others may face layoffs as business owners absorb the higher cost brought by the wage increase, the agency estimated.
The wage increase could also push businesses to change strategies and cut benefits, according to an analysis of worker schedules and wage data across 45 stores in California. The study, described in the Harvard Business Review, found that, as the state's minimum wage increased between 2015 and 2018, stores hired more workers but gave each of them fewer work hours, which reduced the number of workers eligible for benefits and lowered overall compensation.
Some studies have linked a higher minimum wage with lower employment rates among low-wage workers, but others found little to no evidence that's the case. Some researchers suggest a higher minimum wage would lead to an increase in worker productivity and would boost the buying power of workers and strengthen the economy.
How does Michigan's minimum wage compare with other states?
Michigan is one of 30 states and the District of Columbia with a minimum wage greater than the federal rate of $7.25 per hour.
At the current hourly rate of $10.10, Michigan's minimum wage for non-tipped workers ranks 27th among the 30 states and Washington, D.C., according to data from the U.S. Department of Labor.
Only donate if we've informed you about important Michigan issues
See what new members are saying about why they donated to Bridge Michigan:
"In order for this information to be accurate and unbiased it must be underwritten by its readers, not by special interests." - Larry S.
"Not many other media sources report on the topics Bridge does." - Susan B.
"Your journalism is outstanding and rare these days." - Mark S.
If you want to ensure the future of nonpartisan, nonprofit Michigan journalism, please become a member today. You, too, will be asked why you donated and maybe we'll feature your quote next time!