735K signed abortion-rights petition. How word spaces may keep it off ballot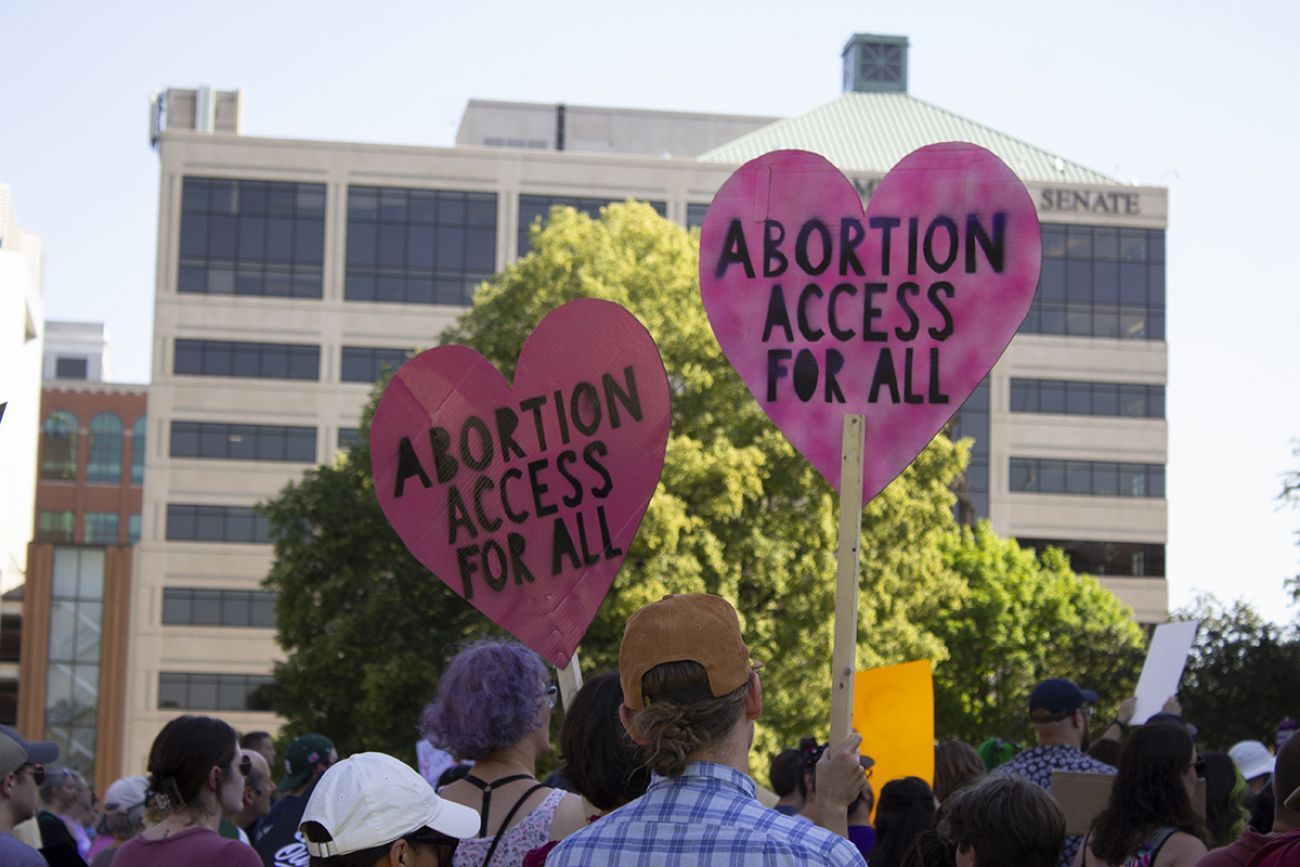 The Michigan Supreme Court will decide whether an apparent lack of spacing between words is enough to keep a measure to keep abortion legal in Michigan off the November ballot. (Bridge file photo)
Michigan Government
735K signed abortion-rights petition. How word spaces may keep it off ballot
GOP canvassers kept proposal off ballot over spacing issues introduced when organizers revised earlier version
While not always visible, there are spaces between words, a Bridge Michigan analysis shows
Abortion rights group plans to take fight to Michigan Supreme Court
---
Nov. 9, 2022: Michigan Proposal 3 supporting abortion rights wins big
LANSING — An abortion rights petition signed by more than 735,000 Michigan voters could be kept off the Nov. 8 ballot because of what opponents say are "60 missing spaces between what were formerly words."
Welcome to the great "kerning" debate of 2022, the biggest fight over a seemingly tiny petition issue since a font size challenge in 2012 nearly derailed an eventually successful push to repeal the state's emergency manager law.
The stakes were big then, and they're bigger now after the U.S. Supreme Court in June overturned Roe v. Wade.
Related:
Legal access to abortion in Michigan is tenuous, maintained only by court orders temporarily suspending enforcement of a 1931 ban set to take effect when the high court overturned nearly 50 years of protections this summer.
The Reproductive Freedom for All proposal aims to enshrine abortion rights in the Michigan constitution and overturn the 91-year-old law that makes performing an abortion punishable by up to four years in prison.
But two Republicans on the four-member Board of State Canvassers voted Wednesday to keep the measure off the ballot because of the spacing issue, otherwise known as kerning, which is generally defined as adjustable spacing between individual letters or characters in a document.
While several words appeared to be merged together on the petition, Bridge Michigan was able to detect clear spaces on Thursday by copy-and-pasting the text into various word processing programs.
Organizers argue the GOP canvassers disenfranchised nearly three-quarters of a million voters who signed the abortion petition. They took their case to the Michigan Supreme Court on Thursday, filing a complaint that asks justices to require canvassers to put the measure on the ballot by next week.
Democratic nominees have a one-seat advantage on the court, which has previously kept measures off the ballot due to technical errors.
Justices will also decide the fate of a separate measure to allow nine days of early voting, Promote the Vote. Organizers also sued Thursday after canvassers failed to certify that proposal over claims the petition failed to spell out every section of the state constitution it would invalidate or modify.
What's the issue with the abortion proposal, and is it real?
Opponents contend the abortion rights petition, as signed by voters, lacks clear spacing between several words. In fact, they argue there is no spacing at all in several instances, just "gibberish" that should not be added to the Michigan Constitution.
To the naked eye, it is hard to tell where some words end and others begin.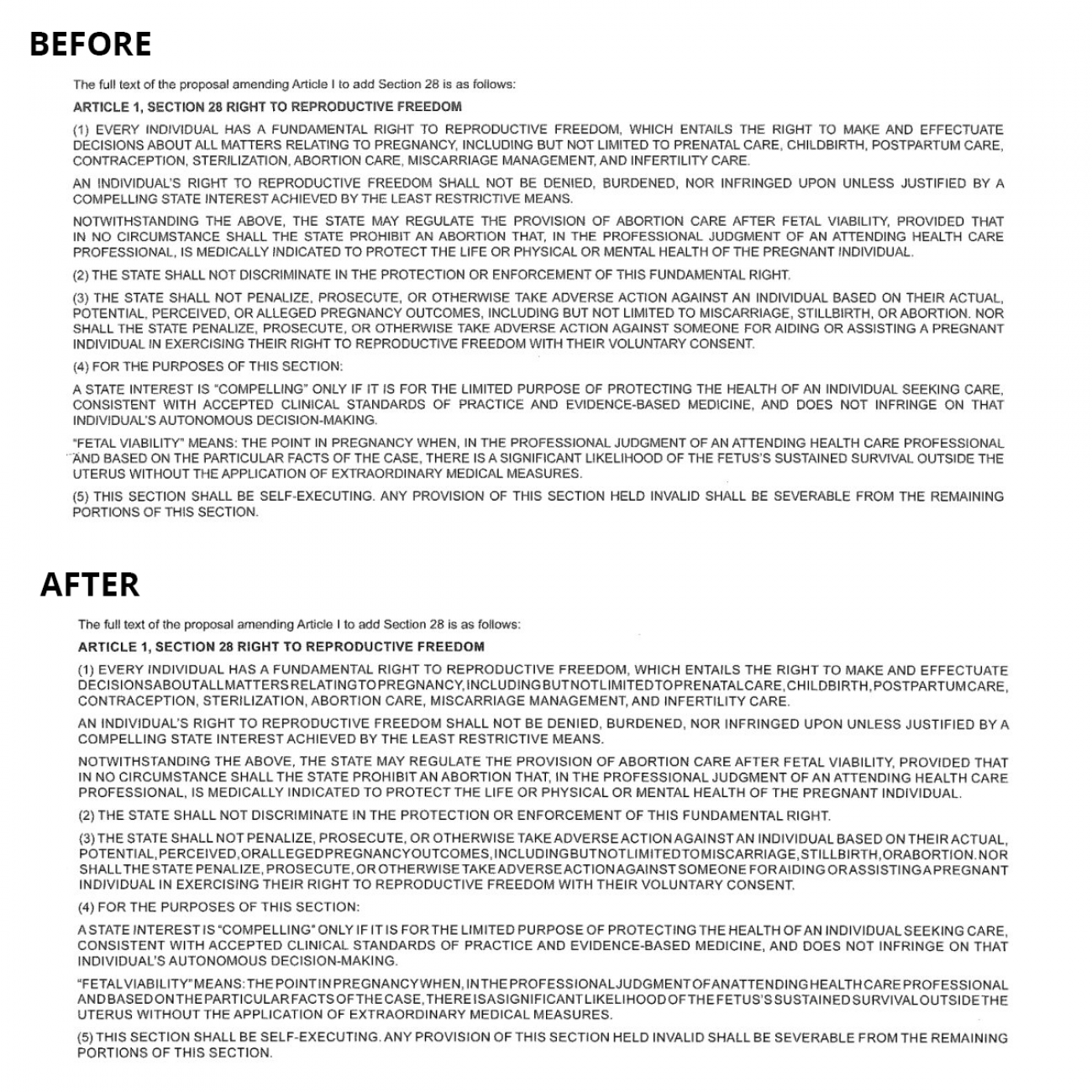 Here is a look at the Reproductive Freedom for All petition before and after it was granted conditional approval by state officials in March. Removal of the word 'the' apparently caused words to jumble together in some sections. (Bridge graphic)
The apparent issue was introduced when organizers removed an extra "the" from the petition before circulating it, as requested by canvassers in March.
The revision process somehow created "60 missing spaces between what were formerly words," according to Kimberly Walcott, a printer who explained her findings in an affidavit that opposition attorneys presented to canvassers.
Among the alleged run-on words: "DECISIONSABOUTALLMATTERSRELATINGTOPREGNANCY," "ORALLEGEDPREGNANCYOUTCOMES," "FORAIDINGORASSISTINGAPREGNANT" and "THEPOINTINPREGNANCYWHEN."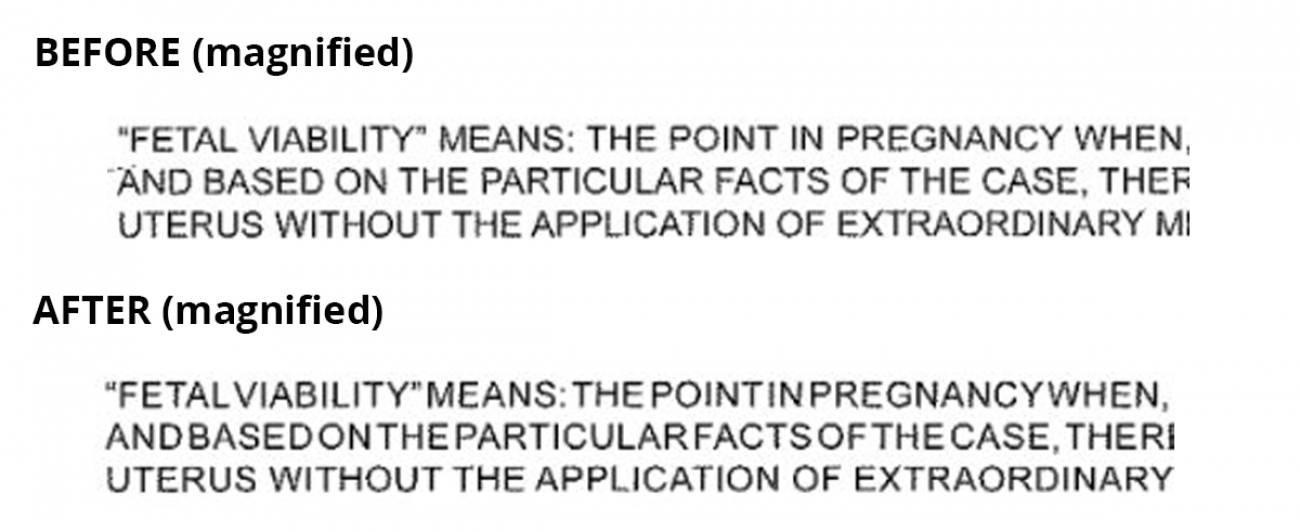 Here's a closer look at how sections of Reproductive Freedom for All ballot measure looked before and after state canvassers granted it conditional approval. Some words are squished together. (Bridge graphic)
Walcott said she arrived at her conclusion by comparing an earlier version of the petition to the circulated version "by means of a high resolution scan."
But an attorney for Reproductive Freedom for All contends there are still spaces between the words. To the extent they are hard to detect, that's because a word space setting in Adobe InDesign software used to prepare the petition caused the words to appear to run together on the page, he said.
"Spaces were not removed," attorney Steve Liedel told Bridge on Thursday. "It's clear that there is spacing and that there is variation in word spacing in those lines."
In Wednesday arguments, Liedel told canvassers they could more easily identify the spaces by copying and pasting the text of the proposal into other software.
He's not wrong: Bridge Michigan reporters requested a copy of the March 30 petition from Liedel and were able to detect clear spaces when pasting the text into Microsoft Word, Google Docs and Mac TextEdit.
Do canvassers have the authority to block the petition?
Michigan law mandates strict requirements for petition forms: Paper sheets must be 8-1/2 by 14 inches, section headings must be capitalized in 14-point boldface type, a 100-word summary must be printed in 12-point type and the full text of the proposal must be printed in 8-point type.
The law references "words" but does not define the term or set any requirements for the size of spaces between them.
Canvassers are tasked with certifying petitions for the ballot if organizers meet form requirements and collect enough valid voter signatures.
Canvassers' duties are "purely ministerial and clerical," said Washtenaw County Prosecutor Eli Savit, a Democrat who quoted from a 1942 Michigan Supreme Court opinion.
Savit was one of the prosecutors who pledged not to prosecute those seeking or performing abortion in Michigan under the state's 1931 abortion ban.
"What that basically means is you've got specific duties, and you can't go beyond those duties," Savit told Bridge. "To hold otherwise would really be to disenfranchise Michigan voters."
Attorneys opposing the abortion rights initiative say canvassers had a clear duty to reject the petition, because it "seeks to insert nonexistent words into the Michigan Constitution."
Multiple words merged together without spaces are no longer words, "they are nonsense; letters run together in meaningless fashion, signifying nothing," attorneys Eric Doster and Michael Smith argued in an Aug. 18 challenge filed with canvassers.
"One might just as sensibly attach a signature sheet to the alphabet strip that graces the wall of every kindergarten, for the 26 letters on that cardboard universe collectively contain every conceivable word that could be used to amend the constitution," the lawyers argued.
But those are arguments about the "content" of the petition, and canvassers do not have legal authority to assess those issues, argued Liedel, an attorney for the abortion -ights campaign who previously worked as legal counsel to former Gov. Jennifer Granholm, a Democrat.
"They are arguing that it's 'gibberish.' If it's gibberish, you are … talking about content," Liedel told Bridge Michigan. "You are talking about argle-bargle."
Even if it were a formatting issue, Liedel contended the canvassers would still have no authority to reject the measure, because the law is silent on spacing issues.
Liedel pointed to a March ruling by the state Supreme Court, which held that union labels on petitions do not have to meet font size requirements because state law "neither expressly nor implicitly precludes the inclusion of a printer's mark." Republican canvassers had initially refused to approve the format of two petitions because of font size on that union emblem.
"The court said, 'that is not an element mandated by the Legislature, and for that reason, we have no basis to reject it,'" Liedel said.
How did we get here?
While not legally required, most ballot groups will ask canvassers to approve the form of their petition before they collect signatures in hopes of avoiding potential challenges later.
Reproductive Freedom for All sought that form approval in a March 23 meeting, where canvassers appeared poised to approve the petition for circulation until opponents raised a seemingly minor issue: State law requires a statement on the petition making clear that it proposes an "amendment to constitution, but the abortion rights petition statement said "amendement to the constitution." (emphasis added)
That "the" constituted a "fatal flaw" in violation of state law and should be fixed before circulation, argued Doster, an attorney for Citizens to Support MI Women and Children who previously worked as legal counsel for the Michigan Republican Party.
"Every word matters," he contended.
Bureau of Elections Director Jonathan Brater recommended canvassers approve the petition anyway, suggesting the "the" was a non-issue.
But canvassers — with the blessing of an attorney from Reproductive Freedom for All — ultimately agreed to give "conditional" approval to the petition with the expectation it would be revised and submitted without the "the."
They did so reluctantly, criticizing Doster's argument as trivial.
"Some of this last-minute gamesmanship tends to get under my skin," GOP canvasser Tony Daunt said in the March 23 meeting. But conditional approval was "the surest way to get this done without delay" or a court battle, he added before the unanimous vote.
Reproductive Freedom for All removed the "the" and submitted its revised petition to the state on March 30, along with an affidavit from printer Amanda Ketchum attesting that all text was printed in required font sizes and included mandated compliance and warning statements.
"To the best of my knowledge and belief, the petition conforms to the petition form standards prescribed by Michigan Election Law," Ketchum swore in the notarized affidavit.
The revised version, however, introduced the visible spacing issue that formed the basis of the ongoing legal fight to keep the abortion rights initiative off the ballot.
Can something so small be such a big deal?
That will likely depend on Supreme Court justices. Tiny details have upended ballot campaigns before.
In 2002, a proposal to reform Michigan drug laws to favor "treatment not jail" was kept off the ballot because of an apparent typo.
Authors mistakenly said it would add a new section to the Michigan Constitution - Article I, Section 24 - but that section already existed at the time.
Organizers had collected enough signatures to put the proposal before voters, but the Court of Appeals kept the measure off the ballot because of the "defective petition."
A decade later, the 2012 font size debate nearly derailed a referendum on the state's controversial emergency manager law, which was repealed by voters but quickly replaced by the GOP-led Legislature. In that case, opponents argued a petition header was printed in a smaller font than the required 14-point type.
The Michigan Supreme Court ultimately ordered the measure onto the ballot in a 4-3 decision after examining excruciatingly minute details and esoteric technical reports, including a Microsoft analysis of "the relationship between font size and physical type size" and a diagram of a type block taken from a "1963 treatise on typography," according to the opinion.
"They got into the weeds very, very deeply," said John Pirich, a now-retired attorney who had represented the opposition group that challenged the font size, Citizens for Fiscal Responsibility.
"I think someone took a deposition of Gutenberg," he joked.
Prepare to hear a lot about "kerning" in coming days. With a fight over the spacing between words (or lack thereof) in abortion rights proposal now headed toward the Michigan Supreme Court, a flashback to then-Chief Justice Young's opinion in the 2012 font size dispute: pic.twitter.com/RclXJ8BSZz

— Jonathan Oosting (@jonathanoosting) September 1, 2022
Pirich spent decades arguing over similar details as one of Michigan's top election law attorneys. He told Bridge that challenging minutiae is "exactly what attorneys are trained to do" and should do as advocates for their clients.
While he's no longer practicing law, Pirich said he expects the abortion rights group will ultimately prevail in court despite the spacing issue.
"I read the petition, and I had no difficulty understanding it," he said. "I certainly don't want to put words in the mouth of the Supreme Court, but I would be surprised if they didn't certify."
The spacing issue does not seem to "affect the integrity of the ballot proposal," Pirich added. "I don't know for sure what they'll do. But I don't think, in my opinion, this was a fatal situation."
Savit, the prosecutor, said the lack of statutory requirement on word spacing is the "key distinction" between the abortion rights proposal and the ones heard by the Supreme Court over font sizes or typos. He said he expects the initiative to prevail in court.
But regardless of the outcome, he said, the argument over spacing could disenfranchise voters who signed the petition. On Twitter, Savit called that possibility "some dystopian shit."
"We are talking here about the reproductive freedom of millions of Michiganders," he said.
"To disenfranchise those voters down the line potentially … because there weren't enough spaces between the words on a petition?" he said.
Only donate if we've informed you about important Michigan issues
See what new members are saying about why they donated to Bridge Michigan:
"In order for this information to be accurate and unbiased it must be underwritten by its readers, not by special interests." - Larry S.
"Not many other media sources report on the topics Bridge does." - Susan B.
"Your journalism is outstanding and rare these days." - Mark S.
If you want to ensure the future of nonpartisan, nonprofit Michigan journalism, please become a member today. You, too, will be asked why you donated and maybe we'll feature your quote next time!