Michigan abortion ballot proposal: Effect on parent consent, other laws murky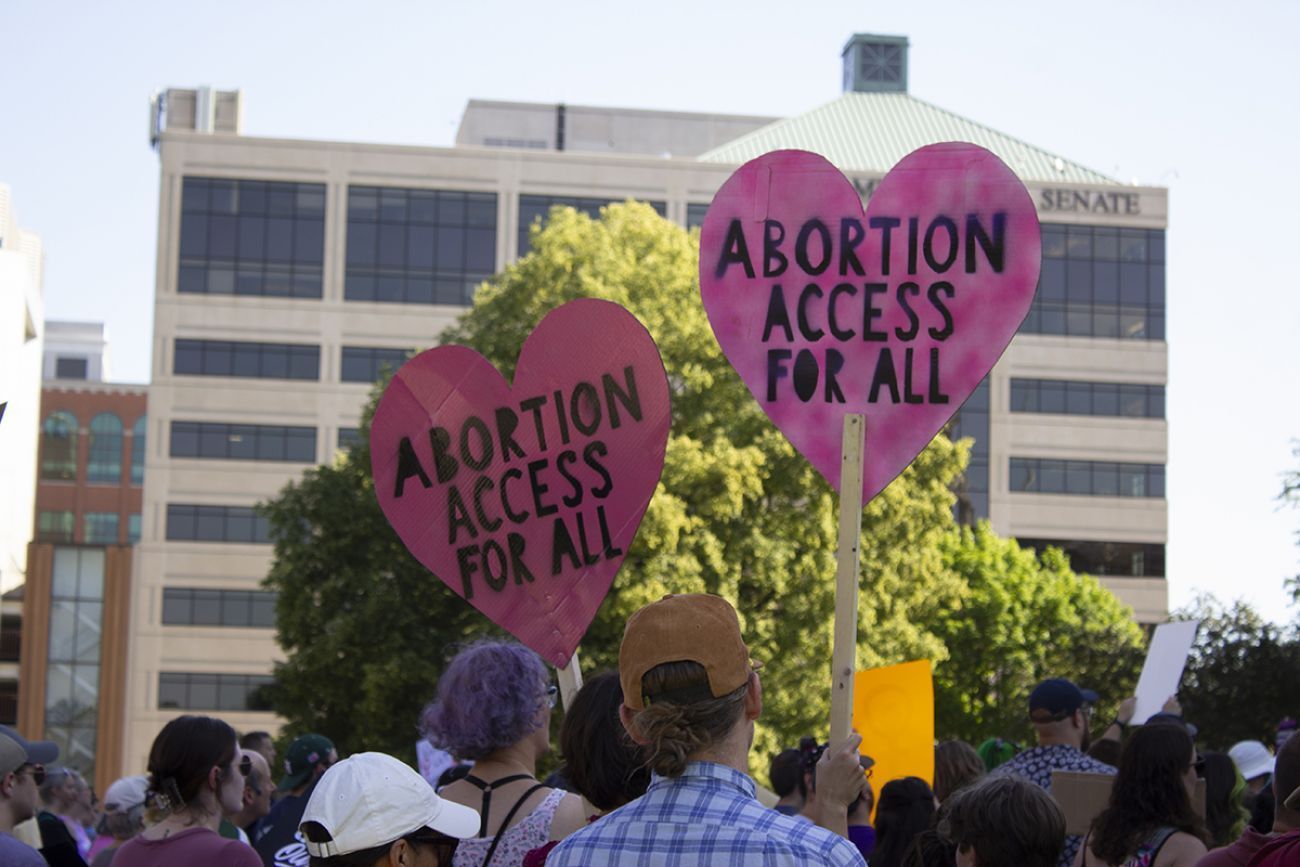 (Bridge file photo)
Michigan Government
Michigan abortion ballot proposal: Effect on parent consent, other laws murky
Michigan Bureau of Elections recommends that the abortion rights proposal be placed on the November ballot
Much of the ballot proposal's impact, however, remains unclear and disputed
The Board of State Canvassers still must certify the measure before it appears on the ballot
---
LANSING — Reproductive Freedom for All, the proposal to enshrine abortion rights to the Michigan constitution, should make the November ballot, state Bureau of Elections staff recommended Thursday.
But much of the initiative's effect — such as its impact on parental consent laws, late-term abortions and medical professionals who perform abortions — is murky, according to campaign attorneys, opponents and third-party legal experts.
Organizers of the measure — hailed by supporters as the most effective move to keep abortion legal in Michigan — turned in a historic 753,000 signatures to qualify for the ballot. The momentum reflects a boost in volunteers and donations after the U.S. Supreme Court in June overturned Roe v. Wade, the landmark case that offered federal protection of abortion rights for nearly 50 years.
Related:
The Board of State Canvassers must certify the measure before Sept. 9 for it to appear on the November ballot. If approved by voters, the measure would guarantee Michiganders a constitutional right to abortion, birth control and postpartum care, among other things.
The summary of the ballot measure — drafted by the Bureau of Elections — states the proposal would "invalidate all state laws that conflict with this amendment." Opponents have deemed the measure an "anything goes" proposal that would eradicate all existing restrictions on abortion in the state, but supporters argue that is not the case.
During a press conference Thursday morning, campaign spokesperson Darci McConnell repeatedly told reporters the measure "simply restores the rights that were lost under Roe v. Wade."
Abortion is legal in Michigan — for now. The issue is held up in court, with an Oakland County judge last week issuing a preliminary injunction against the enforcement of Michigan's 1931 abortion ban, which would made abortion a felony. The ban itself is also blocked from taking effect by Court of Claims Judge Elizabeth Gleicher.
The state also has several other laws restricting abortion access, according to an analysis by the reproductive health research group Guttmacher Institute. That includes requirements for minors to obtain consent from parents or guardians, unless waived by a judge, before accessing abortion; informed consent requirements and a 24-hour wait period for patients; restrictions on public financing for abortion services, and limits on private insurance coverage for abortions.
Steve Liedel, attorney for the ballot campaign, told Bridge Michigan on Thursday the proposed constitutional amendment would invalidate the 1931 abortion ban and keep abortion legal in Michigan.
"The sure effect … is to restore the status quo when Roe was still the law of the land," he said.
Liedel said, the ballot measure would not effectively nullify any other state restrictions on abortion — unless prosecutors or executive officials deem them unenforceable or a judge rules them unconstitutional. During the Thursday press conference, he deemed the ballot measure summary "inaccurate."
"That's what the board was willing to approve," Liedel said of the summary language. "The provision itself on its own does not invalidate any other laws."
And nothing is certain until the state Legislature provides clarity through legislation, the state attorney general issues an opinion, or a judge ultimately decides, Liedel said.
"When there are gray areas or questions, folks will work those out," he said.
Opponents, such as John Bursch, legal counsel with conservative advocacy group Alliance Defending Freedom, argue the constitutional amendment will clearly contradict existing state restrictions on abortion.
"A constitutional right would trump the (state) statute," Bursch said. "This amendment doesn't have any constraint on the right as it applies to every individual."
Here are three areas of dispute among legal experts and attorneys on both sides:
Parental consent
The ballot initiative gives all individuals the fundamental right to reproductive services, including abortion, without differentiating minors from adults. The language protects that right, but allows the state to regulate after fetal viability as long as it does not prohibit an abortion that, "in the professional judgment of an attending health care professional, is medically indicated to protect the life or physical or mental health of the pregnant individual."
"An individual's right to reproductive freedom shall not be denied, burdened, nor infringed upon unless justified by a compelling state interest achieved by the least restrictive means," the language reads.
Bursch argues the provision essentially contradicts the state's law requiring minors to obtain written consent from their parents or ask a judge to waive that requirement.
"Because an individual includes everybody no matter how old they are, I don't know how any lawyer could look at this and think that the state could impose a limitation," he said.
But Mae Kuykendall, a law professor at Michigan State University who teaches constitutional law, said the constitutional amendment does not negate the parental consent law, because the state law does not pose a "burden" to minors wishing to access abortion.
"The minor has the right, but the minor cannot exercise it exactly the same way as an adult," she told Bridge. "You would be providing assistance to the minor, not a burden."
To depict the constitutional amendment as an "anything goes" proposal allowing any child to access abortion without parental consent is "an overstatement."
"It may create the opening for some modification," she said.
Liedel, who advises the ballot campaign, told Bridge any state law is by default constitutional until "a court says otherwise."
"If you believe that under this new constitutional amendment, that it is a burden to go seek a judicial determination of your best interest notwithstanding your parents' rights, then you do that," he said. "And if you want to challenge it, you may."
State ability to regulate abortion
The ballot initiative would allow the state to regulate abortions after fetal viability — to some extent, Liedel said.
Although the state would not be able to ban abortion, Liedel said the state could still pass laws to tighten the licensing of abortion providers, strenghten disciplinary actions and other public health and safety regulations, as long as those laws are not "burdensome" without "a compelling state interest."
Bursch, however, argued the state would have little to no say in when to apply restrictions to abortions. The ballot language leaves the decision making power completely to the abortion provider's "professional judgment," regardless of how the state defines "physical or mental health" of an abortion patient, he said.
"The abortionists are the ones that get paid to take an innocent unborn child's life at 25 weeks or at 28 weeks," Bursch said, suggesting their monetary incentives could trump their professional judgment whether an abortion is necessary.
"All they have to do then is say to the prosecutor … 'Well, this person expressed to me that they would be in severe mental distress if they went through and had this baby who was scheduled to be born the following day,'" he said. "'So in my professional judgment, I thought that mental health risk justified performing the abortion.'"
Kuykendall said the state could define the term "attending health care professional" to exclude non-medical professionals and spell out what "physical and mental health" for an abortion patient means.
"I would think the judges can use nuanced reason (to decide), 'Is it a mental problem if you decided you want to go to Paris today, you can't have this baby, so please abort it?'" she said. "There's existing understanding of serious situations that arise in pregnancies that point to an abortion."
"Extreme" and "unreasonable" interpretations of the constitutional amendment, she said, would not prevail in the court.
"Any law can be subject to different interpretations," she said. "But it's ludicrous to say a massage therapist would be the one (performing abortions). A massage therapist could not be involved in providing an abortion."
Late-term abortions, malpractice claims
Bursch also argued the ballot initiative would effectively allow abortions up until the moment of birth.
Late-term abortions, however, are rare. As Bridge previously reported, almost 93 percent of the 629,898 abortions nationwide in 2019 were performed no more than 13 weeks' gestation, according to the Centers for Disease Control and Prevention. A little over 6 percent were performed between 14 and 20 weeks of gestation and less than 1 percent were performed beyond 21 weeks.
Bursch acknowledged the rarity of late-term abortions, but deemed the roughly 6 percent that took place between 14 and 20 weeks of gestation "a barbaric, gross offense." Late-term abortions can still happen under the ballot measure, he claimed, as long as an abortion patient tells the provider they suffer from mental health problems such as anxiety.
But most Americans do not seek late-term abortion up until the moment of birth simply because they are unhappy with their pregnancies, according to the health care research nonprofit group Kaiser Family Foundation. Individuals seek late-term abortions for a variety of reasons, including not knowing they are pregnant, raising funds to afford the procedure and associated costs, and health care concerns for the fetus or for themselves, the analysis shows.
"I don't understand how they think there's actually also a way to just say, 'The day before you are about to have a healthy baby, I changed my mind,'" Kuykendall said. "Women don't do that. It's fake."
Bursch also argued the ballot measure, which bans "adverse action" by the state against abortion patients and their providers, would prohibit patients from suing doctors for malpractice if something went wrong with the abortion procedures.
"In order to enforce a malpractice statute, you'd have to go to court and you'd have to get a judgment," he said. "And who renders judgment? State courts. That is the state."
Liedel deemed the argument an effort to "distort" what the constitutional amendment actually does.
"You can't take a provision in isolation," Liedel said.
Kuykendall said courts would not construe the constitutional amendment as giving doctors full immunity to malpractice, arguing that would violate the patient's right to due process.
"An example of how that language can protect a doctor is if she gives an abortion to a minor after a judicial byass says it is ok. The parents cannot sue the doctor," she said. "That would be an example of the work the provision is for."
Only donate if we've informed you about important Michigan issues
See what new members are saying about why they donated to Bridge Michigan:
"In order for this information to be accurate and unbiased it must be underwritten by its readers, not by special interests." - Larry S.
"Not many other media sources report on the topics Bridge does." - Susan B.
"Your journalism is outstanding and rare these days." - Mark S.
If you want to ensure the future of nonpartisan, nonprofit Michigan journalism, please become a member today. You, too, will be asked why you donated and maybe we'll feature your quote next time!