August 2018 update: Gretchen Whitmer wins Democratic primary for Michigan governor
May 2018: Abdul El-Sayed clears eligibility hurdle in bid for Michigan governor​
March 2018: El-Sayed asks court to settle his eligibility for Michigan governor
February 2018: Michigan Dems call on Abdul El-Sayed to take eligibility issue to court
Dr. Abdul El-Sayed's life story is a cornerstone of the Democrat's campaign for Michigan governor. Born in Metro Detroit, he starred in high school sports, won a full scholarship to the University of Michigan Medical School and became chief of Detroit's Health Department at age 30.
But a key chapter in that narrative, a professorship at Columbia University's Mailman School of Public Health in New York, may threaten El-Sayed's ability to make it onto the the Aug. 7 primary ballot, where polls indicate he is the most credible challenger to Democratic front-runner Gretchen Whitmer.
Related: Campaign eligibility is tricky, but has tripped up Michigan candidates
That's because the Michigan Constitution requires gubernatorial candidates be a "registered elector in this state" for four years before the general election –  and El-Sayed was registered to vote in Manhattan as recently as March 2015, New York Department of Elections records show.
El-Sayed re-registered in Michigan in 2016 and did so with a New York driver license, according to Michigan Secretary of State records.
"This may be a problem. This may be something that the courts may have to decide," said Ed Sarpolus, executive director of the Target-Insyght polling firm in Lansing.
Related: Abdul El-Sayed says how he would help Michigan cities as governor
Related: In Michigan, more than 150 communities are financially distressed
Six election lawyers from Michigan reviewed El-Sayed's voting records at the behest of Bridge Magazine. All but one raised serious questions about his legal qualifications to be on the 2018 state ballot. One called the case against him a "slam dunk."
The issue likely wouldn't come to a head until El-Sayed files paperwork making his campaign official. Among them is an affidavit of identity swearing he meets constitutional requirements to be a candidate. The deadline is April 24.
El-Sayed's campaign told Bridge he's eligible because he has owned an apartment in Ann Arbor with his wife since 2008. His campaign say that establishes a continuous line of residency, and his campaign says it has assurances from lawyers about his eligibility. The campaign would not name the lawyers.
"Let's be clear, this is a political attack, and nothing more, and it falls in line with a long history of attacks on certain kinds of people when they aspire to leadership in our democracy." ‒ Adam Joseph, spokesman for Abdul El-Sayed
"Abdul is 100-percent eligible to be governor of Michigan. He has been continuously registered to vote in Michigan since he was 18 years old, and he has maintained continuous residence in Michigan since his childhood," Adam Joseph, an El-Sayed spokesman, wrote in a statement.
"He is a son of Michigan - born and raised in this state, went to public schools in this state, and had a daughter in this state."
Secretary of State Ruth Johnson's office provided El-Sayed's voter and driving records to Bridge, but would not interpret them. Office spokesman Fred Woodhams said those who believe candidates are ineligible can file challenges to the state Bureau of Elections.
No such challenge has yet been filed, he said.
'Nightmare scenario'
The son of Egyptian immigrants, El-Sayed has become a favorite of the progressive wing of the Democratic Party associated with 2016 presidential candidate Bernie Sanders. His campaign has attracted international interest for both his life story – a Muslim running for governor in a state that helped elect Donald Trump president in 2016 – and his electric speeches.
The Guardian newspaper of Britain went so far as to proclaim him the "next Obama," writing in August about his "rhetorical style and charisma that draws easy comparisons" to the former president. Half of the $1.6 million he's raised in his campaign has come from donors outside Michigan, a total of nearly $805,000, state campaign records show.
And this month, his campaign got a boost when a veteran of Sanders' presidential campaign, Claire Sandberg, became the El-Sayed's deputy campaign manager, while a poll last week from the Glengariff Group Inc. for The Detroit News showed El-Sayed running neck-and-neck in a hypothetical race against Republican Attorney General Bill Schuette.
But questions surrounding El-Sayed's candidacy are an open secret among Democrats, particularly in southeast Michigan. Bridge spoke to five prominent Democrats, all of whom echo the opinion of the election lawyers that eligibility may threaten El-Sayed's campaign.
One party leader said he fears a "nightmare scenario" in which El-Sayed comes from behind and wins the Democratic Party primary in August, then is knocked off the November general election ballot through a lawsuit brought by Republicans.
"There will be a court case, guaranteed. The only question is who is going to step up to take him out," said a Democratic elected official. Like most others who discussed the situation with Bridge, he did so anonymously because he didn't want to be caught up in a controversy.
Jonathan Kinloch, Democratic chairman of the 13th Congressional District, said "it is definitely concerning that money is being raised when there may be a shadow on a candidate's ability to make it onto the ballot. "
"It is an utmost obligation of candidates to first be clear of their ability to become a candidate before raising substantial money," said Kinloch, who is also the chairman of the Wayne County Board of Canvassers.  
"I do intend to reach out to El-Sayed and other party officials regarding this issue. I'm sure Abdul El-Sayed has a battery of lawyers who stand ready to bring resolution to this question."
Democrat gubernatorial candidate Shri Thanedar said the eligibility questions are concerning.
"We've got to follow the law, whatever it is, to be qualified to be on the ballot," Thanedar, an Ann Arbor businessman, told Bridge. "I'm not qualified to say whether (El-Sayed) should be able to be on the ballot or not, but we should know (for sure.)"
Whitmer's campaign declined comment, while Bridge couldn't reach the other declared Democratic candidate, Bill Cobbs. Brandon Dillon, chairman of the Michigan Democratic Party, did not return a phone call seeking comment.
El-Sayed's campaign argues the eligibility questions are driven by unnamed "establishment" Democratic Party leaders who are "pushing backroom coronations and deals to promote candidates that fall in line around the usual 'bought and sold' brand of politics."
"Let's be clear, this is a political attack, and nothing more, and it falls in line with a long history of attacks on certain kinds of people when they aspire to leadership in our democracy," Joseph, the spokesman, wrote in a statement.
The statement likened the eligibility questions to those raised by Donald Trump and others about Barack Obama's birth certificate when he was president.
"While we knew the attacks were coming, we didn't think they would come in the form of insider Democrats using Trump's birther tactics," the statement read.
Complicated timeline
Thanedar, also campaigning as a progressive, has criticized El-Sayed at public forums for not voting in the March 8, 2016 Democratic presidential primary, when Sanders upset eventual nominee Hillary Clinton.
Last April, El-Sayed told WKAR-TV's "Off the Record" public television show he would have voted for Sanders in 2016 had it not been for long polling lines in Detroit.
"I tried several times, and I had work to do in Detroit," El-Sayed said. "I went to polls in the morning, and they told me there was a couple hours' wait. Then I tried at lunch and, again, there were several hours wait."
Abdul El-Sayed discusses trying to vote for Bernie Sanders in Michigan from The Center for Michigan on Vimeo.
Michigan records, though, indicate El-Sayed didn't register to vote in Detroit until more than two weeks after the Michigan presidential primary, on March 25, 2016.
Now 33, El-Sayed initially registered to vote in Michigan in 2003 as a teen. After starting medical school at the University of Michigan, he completed his degree at Columbia University in New York City and eventually joined the faculty of the Ivy League school. Records obtained by Bridge show El-Sayed registered to vote in Manhattan in 2012 and got a New York driver license the following year.
He returned to Michigan in August 2015 when he became Detroit's health chief. Documents obtained by Bridge through the Freedom of Information Act show the job offer was mailed to El-Sayed's apartment in New York, and he received a $5,000 relocation bonus.
New York voter records indicate that Michigan gubernatorial candidate Abdul El-Sayed registered to vote in Manhattan in 2012 and remained a registered voter in 2015. (click to enlarge)
Under Michigan law, candidates for governor must be considered "qualified electors" for four years before the general election. For El-Sayed and other gubernatorial candidates, that would be November 2014 to qualify for the November 2018 election.
Michigan records show the state canceled El-Sayed's driver license in 2013, which caused   state elections officials to flag his voter registration. Because of residency questions, El-Sayed was placed on what's called a "cancellation countdown," said Woodhams, the Secretary of State spokesman.
"Between 2013 and 2016, if he had attempted to vote, he would have had to verify his address and that he was eligible to vote in Michigan," Woodhams said.
Federal law bars Michigan from cancelling inactive state voters until two federal elections cycles pass, Woodhams said. Michigan would have canceled his registration after the 2016 election, but El-Sayed stopped the process when he registered to vote in Detroit, Woodhams said. El-Sayed now lives outside the city, in Macomb County's Shelby Township.
Election lawyers doubtful
Five lawyers who specialize in Michigan election law told Bridge that, by registering to vote in New York, El-Sayed would have trouble making the argument that he was legally eligible to vote in Michigan for all four years before the November 2018 election, as required by the state Constitution.
"If I was El-Sayed's lawyer, I'd be sweating now," said one.
Only one lawyer expressed no concern, arguing El-Sayed remains eligible because he never canceled his Michigan voter registration, kept his apartment in Ann Arbor and always intended to return to the state.
None of the attorneys would allow their names to be used, saying either that their livelihoods depend on political work, or because they didn't want to be ensnared in a controversy.
A similar issue emerged in 2010, when former state Treasurer Robert Bowman considered running for governor. The Democrat had moved to Connecticut, but maintained a home in Harbor Springs and served on state commissions.
He abandoned the campaign after questions were publicly aired about his eligibility.
El-Sayed's campaign said the issue is a distraction put forth by traditional Democrats who are scared he is "building the momentum of a grassroots movement."
"This is how the establishment reacts when they don't get their way and someone spoils their plans," Joseph said.
Sarpolus, the pollster, said any challenge to El-Sayed's candidacy involves significant political calculations. A court challenge may be unlikely if El-Sayed doesn't gain traction in the Democratic primary,  Sarpolus said.
"Unless he has a shot to win, why would he be challenged?" Sarpolus said.
"Why would (Whitmer) embarrass the Egyptian community in Michigan when she will need their votes later (in the general election)? Republicans only will challenge him if he wins."
Bridge reporter Mike Wilkinson contributed.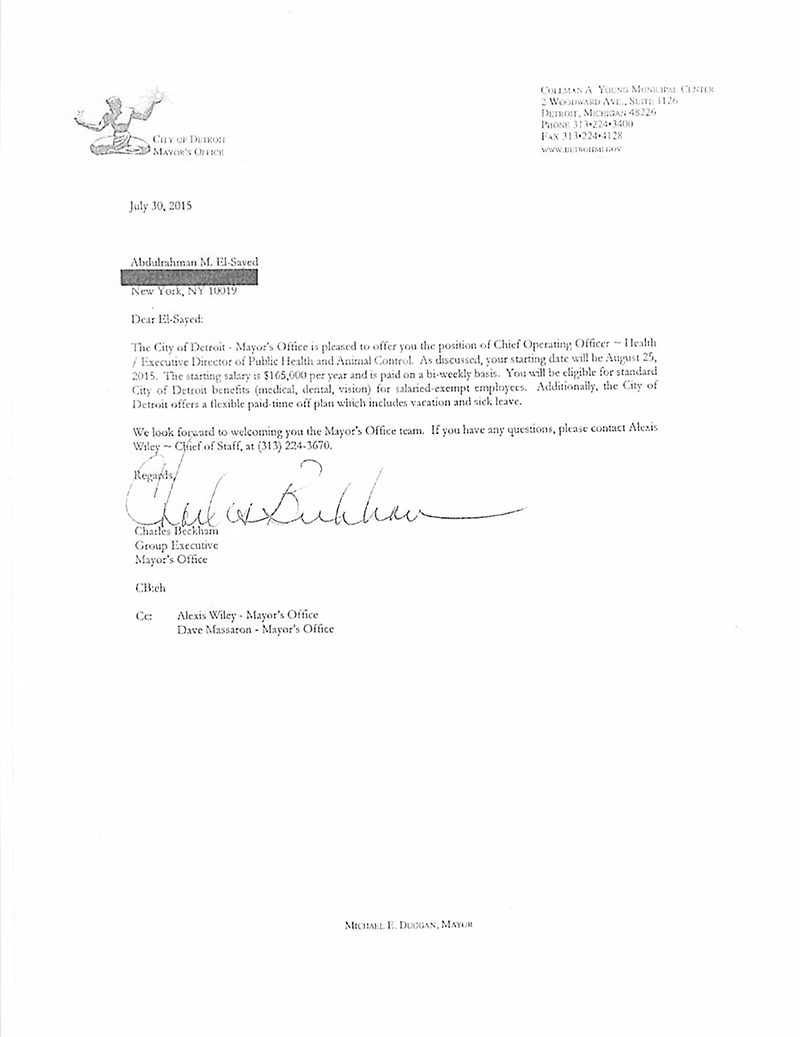 This is a copy of Detroit Mayor Mike Duggan's job offer to Abdul El-Sayed in 2015. The letter, which Bridge Magazine obtained through the state Freedom of Information Act, is mailed to an address in Manhattan.