Abortion isn't 'black-and-white' for Michigan voters. But it is for lawmakers.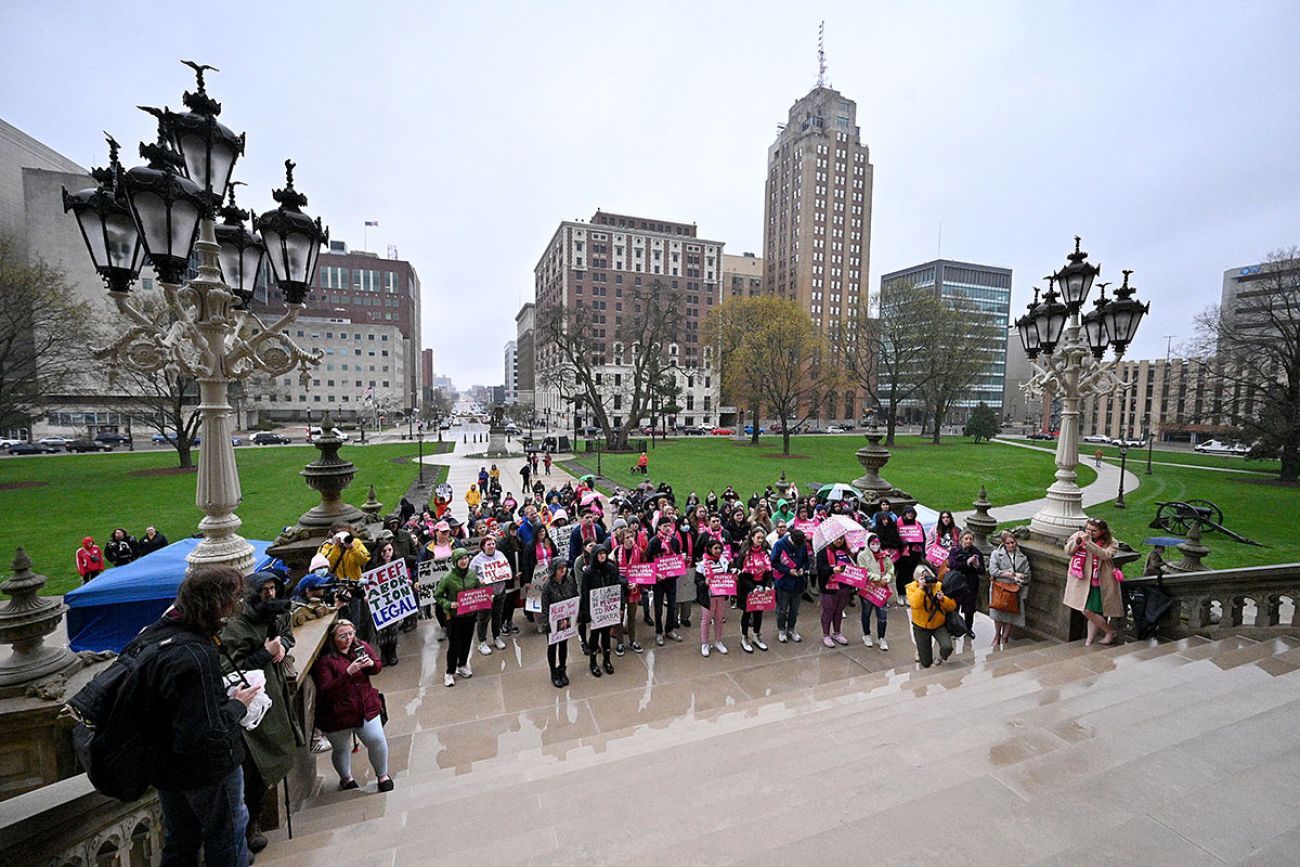 In the past 10 years, it's been nearly impossible to find an anti-abortion Democrat or abortion-supporting Republican in state Houses in Michigan or nationwide. (Dale Young/Bridge Michigan)
Michigan Government
Abortion isn't 'black-and-white' for Michigan voters. But it is for lawmakers.
LANSING — When it comes to abortion, the political debate is binary in Michigan: Democratic lawmakers support access unequivocally, while Republican ones favor an all-out-ban with exceptions only for life-threatening pregnancies.
Bridge Michigan reviewed statewide and legislative candidates' publicly available statements on abortion and found almost no middle ground.
A huge majority of the 66 Republican state Senate candidates and 223 state House candidates running in 2022 publicly express strict anti-abortion sentiments, making no mention of exemptions they'd support beyond intervention during a life-threatening pregnancy, a caveat currently included in Michigan law.
Related stories:
Indeed, several indicated support for abortion bans with no execeptions at all.
For Democrats, nearly all of the 59 Senate and 223 House candidates with publicly stated views said the government should not interfere with a pregnant person's health decisions.
But there is at least one Democrat running for office, Joel Sheltrown, who is publicly anti-abortion. The West Branch resident and former state representative running for state Senate serves on the national advisory board for Democrats for Life of America.
The calcified opinions come as the Supreme Court appears poised to overturn Roe v. Wade, allowing states to regulate abortion — and as the public has a far more nuanced view of the procedure than policymakers.
Statewide, 55 percent of adults believe abortion should be legal in most cases, while 39 percent believe it should be illegal in most cases, per a New York Times state-by-state analysis. But support declines as pregnancies progress: A recent national poll found a quarter of Americans believe abortion should be allowed at any point and 9 percent believe it should be banned in all cases.
That leaves two-thirds of adults somewhere in between.
"People are somewhat in the middle, even on what seems like a black-and-white issue," said Matt Grossmann, director of the Institute for Public Policy and Social Research at Michigan State University. "Most people are somewhere in the range of either opposing abortion but supporting its legality in certain cases…or they are largely in favor of abortion rights, but want to limit the timing of the abortion to the early period of the pregnancy."
Grossmann and others said the rift between Democrats and Republicans could complicate any efforts to regulate the procedure or craft laws in Michigan if Roe is overturned.
At the top of the ticket this year, Gov. Gretchen Whitmer is leading efforts to nullify a 1931 law that would make performing an abortion a felony in Michigan if the Supreme Court reverses Roe. Attorney General Dana Nessel, a fellow Democrat, said she would not enforce the law.
All five Republican candidates for governor and presumed GOP Attorney General nominee Matthew DePerno support the 1931 law. Among them, only gubernatorial candidate Kevin Rinke has expressed support for exceptions such as rape and incest.
Ultimately, the legality of abortion in Michigan could be decided by a statewide ballot issue or a state court ruling, but state Rep. Pamela Hornberger, R-Chesterfield Township, said lawmakers at some point might need to reopen discussions about state abortion policy.
"If we have some really in-depth, probably at some point difficult conversations, we can land on something that might be acceptable to everyone," said Hornberger, who opposes abortion.
"It's probably going to take time, and it might be a little painful. But all the polling shows us that for most people, early-term abortion, they are OK with that. And that's something that people in my caucus are going to have to come to terms with, including me."
Shifting perspectives
The battle lines weren't always so clearly defined.
At the national level, Republican presidents and presidential candidates have long supported abortion ban exemptions for rape and incest, including former President Donald Trump.
And in Michigan, there was a time when many prominent Republicans supported abortion rights, and many prominent Catholic Democrats were vehemently opposed.
Former Gov. William Milliken, a Republican in office from 1969 to 1983, vetoed several high-profile anti-abortion bills. Fellow Republican former Gov. Rick Snyder in 2013 vetoed legislation to prohibit insurers from paying for abortions unless a woman had purchased coverage through a separate rider.
Democrats such as former House Speaker Bill Ryan were some of the strongest opponents of abortion in the 1970s, said John Lindstrom, a longtime Michigan political reporter and retired publisher of Gongwer News Service.
"Democrats led the way on the front for a long, long time…in the end, it was basically Democrats who also led the effort to preserve abortion rights," he said. "And with time, more and more Republicans went over to the anti-abortion side."
The current divides began in the 1980s, as the Christian right became more powerful in the Republican Party. As recently as 2010, anti-abortion Democrats still composed a quarter of the U.S. House, but now there are almost none as the issue has become a litmus test for primaries.
During that time, Michigan's abortion rate began increasing after steadily declining since 1982.
There were nearly 30,000 abortions in Michigan in 2020, a 33 percent increase since 2009, when there were 23,357. Nationwide, abortions reached their lowest level in 2017, but increased by small percentages in subsequent years.
Nationally, Michigan had the fifth-highest abortion rate in the United States — 14.6 abortions per 1,000 women ages 15-44. A decade earlier, Michigan's rate was the 26th highest in the nation.
Interest group influence
The shift among members of both political parties stems in part from the evolution of party philosophy — but also the increased of clout of advocacy groups.
The political arms of the most prominent groups on either side of the issue, Right to Life of Michigan and Planned Parenthood Advocates of Michigan, require candidates seeking endorsements to fill out questionnaires and meet strict criteria.
The endorsements offer clout among staunch supporters on either side of the cause — and money.
Right to Life of Michigan's affiliated super political action committee reported spending more than $182,000 in 2020, and Planned Parenthood Advocates of Michigan's PAC spent nearly $140,000 over the same period, while an affiliated super PAC spent nearly $1.4 million.
Barbara Listing, president of Right to Life in Michigan, recently told Bridge Michigan the organization supports abortion only when a pregnant woman's life is in danger. The group's political action committee only endorses candidates who support the same, she said.
Other factors that weigh into the equation include whether a previously endorsed incumbent is in the race, whether the seat in question is open or competitive for candidates who support a ban on abortion and recommendations of local Right to Life affiliates.
The PAC endorsed 32 state Senate candidates and 102 state House candidates, all Republicans, in 25 Senate districts and 68 House districts in the 2022 election cycle. Total, it makes up just under half of the Republican state legislative candidates slated to appear on Michigan primary ballots this summer.
The group's PAC also endorsed Republican candidates in U.S. House Districts 1 through 10 — backing incumbent U.S. Rep. Peter Meijer in the contested 3rd District primary in west Michigan — as well as Tudor Dixon in the state governor's race.
The rightward shift of federal courts over the years " emboldened abortion opposition to drop their pretenses" and support fewer exceptions to outright bans, said Elizabeth Nash, a state policy analyst with the Guttmacher Institute, a New York-based research group that supports abortion.
Right to Life of Michigan spokesperson Anna Visser said that shift as a positive, noting that the group believes perpetrators of rape and incest should be held accountable, but the unborn shouldn't be.
Some Republicans have also proposed taking bans further.
Jacky Eubanks, running in southeast Michigan's new 63rd House District covering parts of St. Clair and Macomb counties, said in an interview with "Church Militant" that she would support making birth control illegal, stating that contraceptives give people "the false sense of security that they can have consequence-free sex, and that's not true and that's not correct."
"Sex ought to be between one man and one woman in the confines of marriage," she said on the program.
Planned Parenthood Advocates of Michigan's endorsement process also judges candidates on legislative voting records and public statements on abortion.
The group does not endorse candidates who support government interference in decisions about abortion, spokesperson Ashlea Phenicie said. If a candidate generally supports abortion rights, but has reservations about certain cases, Planned Parenthood Advocates of Michigan will have discussions about later-stage abortions or procedures, she said.
"After discussing the medical realities and dispelling myths about abortion, most of these candidates come to agree that it's best to leave those decisions to patients and their doctors," Phenicie said.
The group has issued early endorsements of Whitmer and Nessel and plans to issue a full list of legislative endorsements next week, Phenicie said.
With the federal precedent of legalized abortion under threat, activists and Democratic candidates have ramped up efforts to protect abortion rights and expand upon them.
Planned Parenthood of Michigan challenged the 1931 ban in court — and a Michigan Court of Claims judge preemptively suspended enforcement of the law.
In a 25-page opinion issuing a preliminary injunction, Judge Elizabeth Gleicher wrote that if Roe is overturned, Planned Parenthood of Michigan and their patients "face a serious danger of irreparable harm."
Anti-abortion groups had asked Gleicher to recuse herself because she has donated money to Planned Parenthood of Michigan and represented the abortion provider as a volunteer attorney for the ACLU in the 1990s.
This week, the Republican-majority Legislature opted to intervene in the case, citing Nessel's lack of enforcement of existing policy.
"You don't get to pick and choose which laws you're going to enforce and not enforce," said Hornberger, the Republican lawmaker. "No one in Michigan should be OK with that…we need to be electing people to an attorney general position that are going by the books."
At the same time, the group Reproductive Freedom for All continues to collect signatures in hopes of allowing Michigan voters to decide in November if abortion rights should be enshrined in the state Constitution.
Abortion opponents have slammed the initiative, saying it would allow an "anything goes" approach to abortion.
If there's no federal protection for abortion rights, former Gongwer publisher Lindstrom said he would not be surprised if continuing efforts to change Michigan abortion policy via ballot proposal continue to crop up in future elections.
"There are folks for whom this issue is so essential, so existential, that they cannot admit to any way of bending on it," he said.
The ban on the books
While Michigan's 1931 law is considered among the strictest in the nation, similar laws have been enacted nationwide. According to the Los Angeles Times, 10 states have enacted abortion bans without rape or incest exemptions in the last four years, and several more are poised to do so.
Supporters of abortion access and some medical experts have expressed concern over the lack of clarity in Michigan's abortion ban, noting there's no standards listed to determine what constitutes a life-threatening pregnancy.
If the law on Michigan's books were to go into effect, "patients would have to be extremely ill in order to get an abortion," said Nash of the Guttmacher Institute, adding, "abortion is going to be on the electoral agenda in ways we just haven't seen before."
In the current political climate, any legislative adjustments to the existing law would be a massive uphill climb.
Anti-abortion groups and many sitting lawmakers in the Republican majority support the law as written. Members of the Citizens to Support Michigan Women and Children — the anti-abortion coalition opposing the pro-abortion Reproductive Freedom for All ballot proposal — recently told reporters the law on the books has worked well and members see no reason to amend it.
"The (Michigan) Catholic Conference believes that the law that exists is there to protect women and it's served the people of the state very well," said Paul Long, president of the Michigan Catholic Conference.
Rep. Matt Hall, R-Marshall, a favorite to be the next speaker of the House, wouldn't say whether he'd support pursuing changes to the law during a May 6 interview on WKAR-TV's "Off the Record."
"We need to see what guidance (U.S. Supreme Court justices) give us, whether they change the number of weeks of viability, or whether they change who makes the decision to the states," Hall said.
Allowing rape and incest victims to get an abortion is one of the concepts that's popular among the public, and have been included in other states' restrictions on abortion. Anything short of widespread abortion access could cause unintended consequences and re-traumatize victims, said Johanna Kononen, director of law and policy for the Michigan Coalition to End Domestic and Sexual Violence.
In areas where there are specific exemptions for victims of rape or incest, those who become pregnant and seek an abortion have to publicly come forward and prove the pregnancy was caused by rape, something they may not feel comfortable doing, Kononen said.
"Sexual assault is woefully under reported as is — the statistics bear that out again and again," she said. "If you're requiring law enforcement intervention…you're creating these humongous unintended barriers for the very people that these exceptions are supposedly there to help."
Only donate if we've informed you about important Michigan issues
See what new members are saying about why they donated to Bridge Michigan:
"In order for this information to be accurate and unbiased it must be underwritten by its readers, not by special interests." - Larry S.
"Not many other media sources report on the topics Bridge does." - Susan B.
"Your journalism is outstanding and rare these days." - Mark S.
If you want to ensure the future of nonpartisan, nonprofit Michigan journalism, please become a member today. You, too, will be asked why you donated and maybe we'll feature your quote next time!