Are Michigan's restrictions on gay and abortion rights holding state back?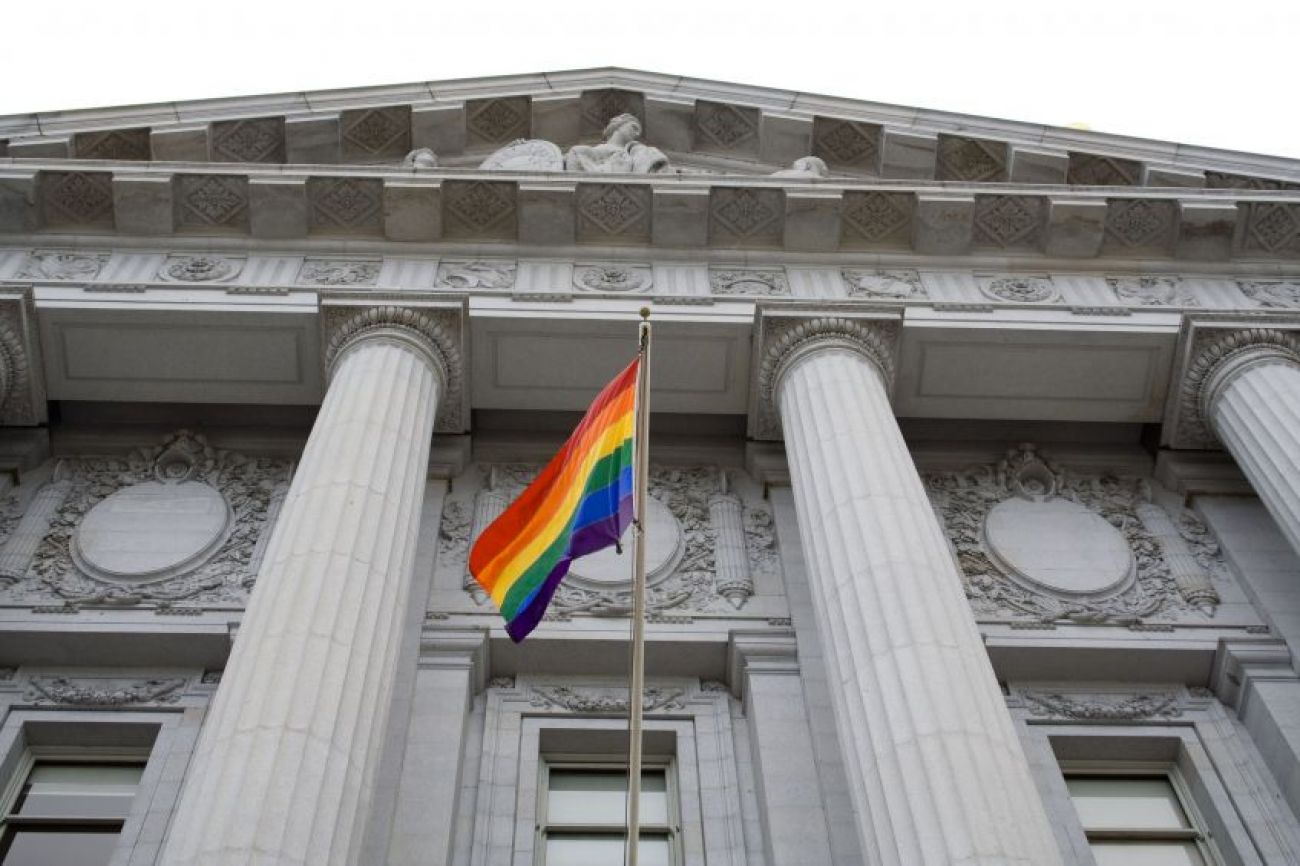 For Kent Love-Ramirez, pulling up stakes from Michigan was both difficult and necessary. Difficult because he was a lifelong Michigander with a good job and family and friends nearby. Necessary, he and his partner Diego concluded, to take care of their family.
The Love-Ramirezes recently moved to Minnesota, where a new law allowing same-sex marriage was celebrated with gay pride flags flying on the temporarily renamed "Freedom to Marry Bridge" in St. Paul. The mayor of Minneapolis traveled to other Midwestern states to urge gay and lesbian couples in states with gay-marriage bans to come to his city to marry, or even to live.
Kent Love-Ramirez said he fully expects Michigan voters to eventually repeal a 9-year-old constitutional ban on gay marriage, with gay advocates planning a ballot initiative in two years; that is, if a legal challenge now playing out in federal court in Detroit does not overturn the ban. But largely because the couple has an adopted young son, they felt they couldn't wait.
"We didn't want to feel like we were throwing in the towel for our battle for equality in Michigan," he said. "But boy, 2016 is a really long time to not have protection for yourself as a couple and for your child."
While polls show support growing substantially for expanding gay rights, opposition remains strong, notably among Republican elected officials, who control the state House, Senate and governor's office. The debate also raises a broader policy question: Whether laws restricting gay rights and abortion, another hot-button social issue, are stunting Michigan's ability to attract talent and sustain its economic recovery?
A number of experts on economic and community development say Michigan policies on gay rights and women's access to abortion are creating barriers to growth and prosperity. While states like Minnesota and Illinois reach out to gay individuals and families, proponents of stronger protections for gays and women say the same-sex marriage ban and a new law that will require women to purchase an insurance rider to cover abortions send a different message.
"Increasingly, the economy is driven by talent," said Lou Glazer, president of Michigan Future Inc., a nonprofit that focuses on boosting the state's economy and talent pool. "Talent comes in every dimension, and if you are not welcoming, they are not coming here."
Some Republican lawmakers, meanwhile, say they are increasingly wrestling with the question of how to balance respect for individual freedoms with competing concerns of personal faith and shifting public sentiment.
Sen. Roger Kahn, R-Saginaw Township, is among those who have denounced the anti-gay rhetoric of Michigan's Republican National Committeeman David Agema, but don't see a need to translate that sentiment into broad legislative action. Kahn said he's willing to consider specific legislation – for instance on domestic-partner benefits – but believes that marriage should be between a man and a woman. "I think it's a slippery slope question ... there's a line I'm not willing to cross on marriage, at least for now."
Michigan's gay marriage ban
In November 2004, Michigan voters joined voters in 10 other states in banning same-sex marriage. Fifty-nine percent of Michigan voters supported the one-sentence addition to the Constitution:
"To secure and preserve the benefits of marriage for our society and for generations of children, the Union of one man and one woman in marriage shall be the only agreement recognized as a marriage or similar union for any purpose."
The anticipated impact of the amendment was fiercely debated at the time, and its meaning has been subsequently challenged in the legislature and courts. Today, gay rights advocates say it's clear that residents who are gay, lesbian, bisexual and transgender are treated as second-class citizens. They note that their religious and civil commitment ceremonies lack the legal standing of marriage, which has an impact on issues like health insurance, tax obligations, retirement benefits and child custody rights. Like Arizona, which recently drew controversy for a bill that was widely viewed as providing cover to discriminate against gays, Michigan currently has no law that protects people who are fired or denied housing for being gay.
"At every point in the average person's life, when we are trying to take care of our partner or our children, it (the gay marriage ban) hinders our ability to do so because we don't have equal rights under the law," said Emily Dievendorf, managing director of Equality Michigan, a LGBT advocacy group.
But others oppose what they see as an effort to grant special rights to gays and lesbians. Limiting marriage to a man and a woman "has been pretty much the law of the land since the founding of the country," said John Truscott, a Lansing political strategist who frequently works with Republicans. "It's pretty tough to say it's discriminatory when it's been in place for a long time."
In 2004, Michigan was riding the political tide in banning same-sex marriage; Massachusetts stood alone in legally permitting it. In recent years, the landscape has changed dramatically. Gay marriage spread across the East and West coasts, to places like New Mexico and Iowa, and, last year, to the Great Lakes states of Illinois and Minnesota. In all, 17 states and Washington, D.C. now recognize same-sex marriage.
Despite Republicans' political dominance in Lansing, legal challenges have made Michigan's situation fluid. Gay rights advocates are hoping that a federal judge will strike down the ban on same-sex marriage in a trial that began last week. Absent that, supporters plan a petition drive to put a constitutional amendment on the ballot in 2016 that would allow gay and lesbian couples to marry. Polls show it has a reasonable chance of success.
Fighting the brain drain
After a decade-long economic downturn in Michigan, many things are looking up. The economy is improving, the domestic auto industry survived and is thriving, and Michigan's population has inched upward after years of decline.
But serious challenges linger, key among them building the skilled, creative talent pool that fuels economic growth and attracts high-paying jobs to the state. Michiganders are less likely to have college degrees than other Americans. In 2012, only 26 percent of Michigan's adult population 25 and older had a bachelor's degree, 37th in the nation.
And too many young college graduates continue to leave the state, whether for better opportunities or lifestyle choices.
Amid this fragile economy, it's difficult to quantify whether laws affecting gays and women are affecting Michigan's financial fortunes, or the state's ability to draw educated, creative professionals and entrepreneurs. Likewise, there is little reliable data on demographic shifts in the state's LGBT community. But gay rights advocates argue that the states that are the most prosperous are taking a different approach to gay issues than Michigan.
Michigan leaders have been trying to improve the talent pool for years. Former Gov. Jennifer Granholm set an audacious and unachievable goal of doubling the number of college graduates, and she launched a Cool Cities initiative promoting vibrant downtowns to lure young entrepreneurs, among others. In January, Gov. Rick Snyder created the Michigan Center for New Americans to attract and retain immigrant talent. He has also asked the federal government to provide 50,000 new employment-based visas for skilled immigrants who work and live in Detroit.
Michigan's highly regarded public university system holds the potential for enhancing the state's standing in the talent race – if young graduates can be persuaded to stay. But about two of every five new graduates move to other states, according to the Presidents Council, State Universities of Michigan. As Bridge has reported, Michigan has seen a net annual loss of 19,000 college graduates over the past five years. Forty-two percent of the Michigan residents leaving the state have college degrees, compared with just 38 percent of those moving here.
While many leave for job opportunities, nearly two-thirds of young college graduates nationally say they look first for the place they want to live, then for a job in that location, according to a 2006 study by CEOs for Cities, a network of urban leaders. In a web-based survey of 1,000 young people, more than three-quarters said they wanted to live in a community that "will allow me to lead the life I want to lead."
Add to that overwhelming evidence of support for same-sex marriage among the young Michiganders upon whom the state's economic future depends, which includes a desire to live in communities that welcome diversity. A May 2013 poll by Lansing-based EPIC-MRA showed that 72 percent of Michigan voters ages 18 to 34 support same-sex marriage, compared with just 24 percent in opposition. (Among all ages, 55 percent favored gay marriage, 41 percent opposed.)
Those sentiments may help explain why places like San Francisco and Chicago have become migration magnets for Michigan millennials.
"If you look at the states across the country that have the most prosperous economies and have the largest concentration of talent, they are gay-friendly, immigrant-friendly, women-friendly, better on race issues," said Glazer, of Michigan Future.
Research by Michigan Future found that states permitting gay marriage are typically the most prosperous, at least in part because they cast a wider net for talent. Most leading states in private-sector income, including Massachusetts, Illinois and Minnesota, allow gay marriage. States at the bottom, such as Mississippi, Idaho and Arkansas, have same-sex marriage bans.
Kahn, the Republican state senator, said Michigan should support policies that encourage everyone to come to Michigan, rather than seeking to attract any particular group. Ari Adler, spokesman for House Republican Speaker Jase Bolger, said Republicans already have an effective strategy for building a state attractive to millennials.
"Young, talented people want to live where they can find a job and raise a family in a healthy economy, with good schools, good roads and strong public-safety initiatives. That's where House Republicans have been focusing their efforts," Adler wrote in an email. "We will continue to look at issues necessary to continue driving Michigan's recovery forward."
Making choices
The decision by Kent and Diego Love-Ramirez to leave Michigan came gradually. Kent grew up outside Lansing, graduated from Michigan State University and was communications director for the MSU College of Law. Diego, a Delta Airlines pilot, moved to Michigan after meeting Kent 11 years ago.
Their exchange of vows at the MSU Alumni chapel in 2007 lacked legal standing. They married again in Washington, D.C. (after gay marriage was legalized there), but that wasn't recognized here, either. After the U.S. Supreme Court overturned the Defense of Marriage Act last year, the federal government recognized their D.C. marriage. But Michigan's ban on same-sex marriage remains in place unless or until voters change the Constitution or the courts find Michigan's ban unconstitutional.
The couple started seriously considering moving when when their adoptive son was born in 2011. Michigan law prohibits joint adoptions by same-sex couples, which means that only one of them is legally Lucas' parent. (They won't say which because they reject the notion that they are not both his parents.) They can rectify that with a stepparent adoption in Minnesota, and plan to adopt a second child.
The prohibition on second-parent adoptions is a huge problem when one partner dies or the couple splits up, they said. In a divorce, the adoptive parent has no obligation to the non-adoptive parent to maintain visitation or have any contact whatsoever, Kent Love-Ramirez said.
"With every advance made around the country and throughout the world, it makes Michigan and states like Michigan look more and more repressive, backwater, … uninviting," said Kent Love-Ramirez, now director of communications for the University of Minnesota's Humphrey School of Public Affairs.
"As a lifelong Michigander for 43 years, it really makes me sad."
Recruiting talent
The University of Michigan and, more broadly, the Ann Arbor area, are among the most welcoming communities to gay individuals and families in the state. U-M created the nation's first university-funded office to support gay and lesbian students some 40 years ago, and more than 20 gay and lesbian organizations operate on campus. University officials carefully refashioned U-M's domestic partner benefits to ensure that they continued after the state gay marriage ban.
R. Van Harrison, professor of medical education and coordinator of the U-M LGBT Faculty Alliance, says he served on a faculty search committee where the preferred candidate was a woman in a committed relationship with the biological mother of a handicapped child. Although the university offers health benefits for families like this, she turned down the position.
"Given the nature of the laws in the state, she said, 'Look, I cannot afford to come here and make my life and try to build a career and find out that three years from now, a Republican majority in the legislature has found a way to prevent the university from offering this benefit,'" Harrison recalled.
The idea that embracing diversity and inclusion can be tools for strengthening communities and economies has grown largely out of the work of urban theorist Richard Florida and the Creative Class Group that he founded.
Florida's research showed that housing values were substantially stronger in regions with larger concentrations of gay and lesbian residents, as well as artists and musicians. And in focus groups, educated mothers said they were attracted to communities with higher percentages of people who were gay and lesbian, "partly because they found it to be more open and welcoming and really provided the diversity they were looking for," said Steven Pedigo, director of research for the Creative Class Group.
The group's work with the Gallup Organization on the "Soul of the City" project showed that people often choose places to live where they can be themselves. "If you have a community that is open and tolerant, there are many more niches for people to fall into," Pedigo said.
Seeking civility, common ground
Amid the gay and abortion rights controversies, there are signals that some proponents and critics are trying to reach common ground. Many Republicans in addition to Kahn have, for instance, denounced the anti-gay, anti-Muslim statements made by Agema, the Republican national committeeman.
Kary Moss of ACLU of Michigan has engaged in serious discussions with Republicans, Democrats and business leaders about legislation that would prohibit discrimination in employment and housing based on sexual orientation.
"I think the climate has shifted dramatically in the last 12 months," said Moss, who added she hopes the legislation will be enacted this year.
Bolger, the Republican House Speaker, believes in protecting individuals from discrimination but is struggling with finding the balance between personal liberty and religious freedom, his spokesman Adler said.
"He has spoken to many people on this issue and while everyone immediately agrees that something should be done, not one person has been able to provide a solution that protects everyone from intimidation and discrimination – be it for their sexual orientation or their religious teachings," Adler said.
In the meantime, 30 Michigan cities and townships have approved local ordinances providing protection to gays against employment or housing discrimination, rather than wait for the state.
And Kent and Diego Love-Ramirez are building a new life in Minnesota.
We're not just a news organization, we're also your neighbors
We've been there for you with daily Michigan COVID-19 news; reporting on the emergence of the virus, daily numbers with our tracker and dashboard, exploding unemployment, and we finally were able to report on mass vaccine distribution. We report because the news impacts all of us. Will you please support our nonprofit newsroom?