On day he's impeached, President Trump implies John Dingell may be in hell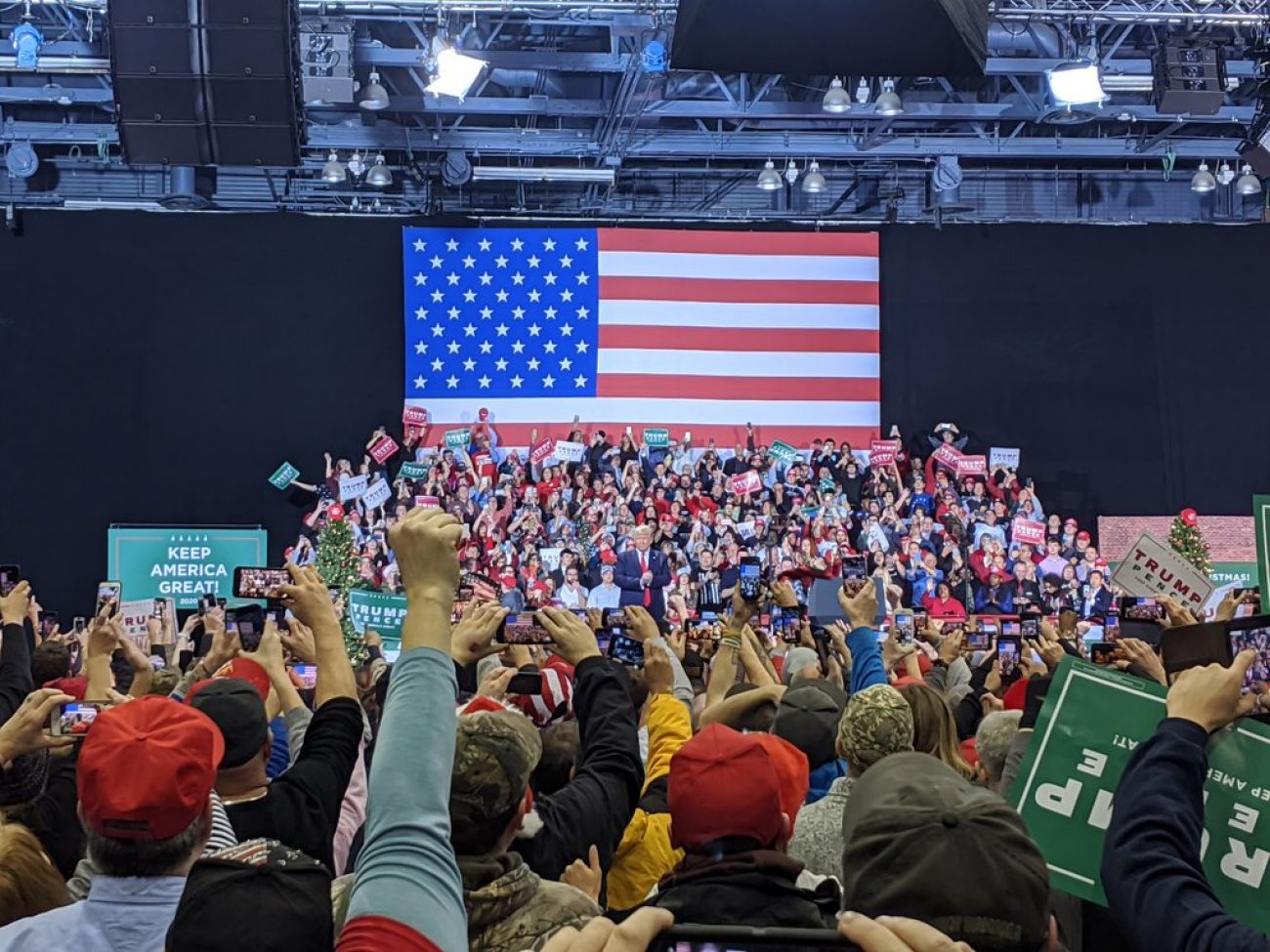 BATTLE CREEK — President Donald Trump lashed out at Democrats here on Wednesday night as the U.S. House took a historic vote to impeach him, singling out Rep. Debbie Dingell of Michigan and implying her late husband may be in hell.
"Maybe he's looking up — I don't know," Trump said of former U.S. Rep. John Dingell, a Dearborn Democrat who died in February at the age of 92 and had been the longest-serving member of Congress in U.S. history.
The comment sparked controversy but was met by a mixed response in the Kellogg Arena, where a capacity crowd of 5,500 supporters gathered for a Trump re-election campaign rally at the same time the House was voting to impeach the Republican president in Washington D.C.
Related: Welcome to Michigan, President Trump. About that economy you promised …
Trump criticized Congresswoman Dingell for supporting impeachment after she had previously thanked him for granting what he called "A+" memorial and funeral honors for her husband. "I didn't give him the B treatment, or the C or the D. I could have," he said.
"Mr. President, let's set politics aside," Dingell, a Dearborn Democrat, tweeted in response. "My husband earned all his accolades after a lifetime of service. I'm preparing for the first holiday season without the man I love. You brought me down in a way you can never imagine and your hurtful words just made my healing much harder."
State Rep. Aaron Miller, a Sturgis Republican who attended the Trump rally, said he thought the president's comment about the late John Dingell was "unacceptable."
"Not a good thing to say at all," Miller told Bridge Magazine. "Unfortunately, I heard some people laughing."
The president's comment also drew swift condemnation from several federal lawmakers, who spoke out on Twitter.
U.S. Rep. Fred Upton, a St. Joseph Republican who voted against impeachment Wednesday night, said Trump should apologize.
"I've always looked up to John Dingell - my good friend and a great Michigan legend," Upton tweeted. "There was no need to 'dis' him in a crass political way. Most unfortunate and an apology is due."
Trump's attack was "reprehensible" said U.S. Sen. Gary Peters,D-Bloomfield Township. "Shameful," said U.S. Rep. Haley Stevens, D-Rochester Hills, who noted John Dingell was a devout Catholic and World War II Veteran. Attacking him "demeans you and your office," U.S. Rep. Elissa Slotkin, D-Holly, said in a tweet directed to Trump.
"Debbie, we are here for you," added independent Rep. Justin Amash of Cascade Township. "So many people loved and respected John. Praying for you and your family."
The president's jab at the Dingells punctuated a rally that was decorated with holiday themes but wasn't especially jolly.
Speaking on a stage flanked by Christmas trees topped with red "Make America Great Again" hats, Trump repeatedly criticized Democrats who that night made him the third president in U.S. history to be impeached.
"It doesn't really feel like we're being impeached," Trump the enthusiastic crowd inside his "Merry Christmas" rally while more supporters -- and protesters – stood outside in 14-degree weather.
"The radical left in Congress is consumed with hatred and envy and rage," Trump said, speaking as the U.S. House approved its first article of impeachment charging him with abuse of power for pressuring a foreign government to investigate political rivals.
"This lawless and partisan impeachment is a political suicide march for the Democratic Party," Trump argued while House Democrats approved a second article of impeachment charging him with obstructing the congressional investigation.
But Trump found reason to celebrate: After roughly 50 minutes on stage, he learned that every House Republican voted against impeachment. The articles were approved with support from Democrats and Amash, who left the Republican Party in July and represents Battle Creek in Congress.
"The Republican Party has never been so affronted, but they've never been so united as they are now," Trump said, predicting backlash against the impeachment will help him in the 2020 election. The GOP-led Senate is not expected to convict him on the impeachment charges.
Fans brave bitter cold, bad roads
Trump supporters huddled outside the Kellogg Arena ahead of the rally — some since Tuesday night — wearing winter coats, gloves and headbands under their red Make America Great Again hats. At least one vendor was selling Trump-themed Snuggies for warmth.
"I told myself long ago that if he ever got anywhere close to here, I was going," said Julie Dodge, a 54-year-old manufacturing worker from Vicksburg who had never attended a presidential rally before. "My 401(k) right now loves President Trump."
Dodge rolled her eyes at the prospect of congressional impeachment, saying she's "never ever seen the Democrat Party so full of hate" and would rather see the parties work together on issues like infrastructure.
"Have you seen the roads in Michigan? We need a lot of help," Dodge said before explaining that she does not support Democratic Gov. Gretchen Whitmer's push to fix crumbling roads and bridges by raising state fuel taxes.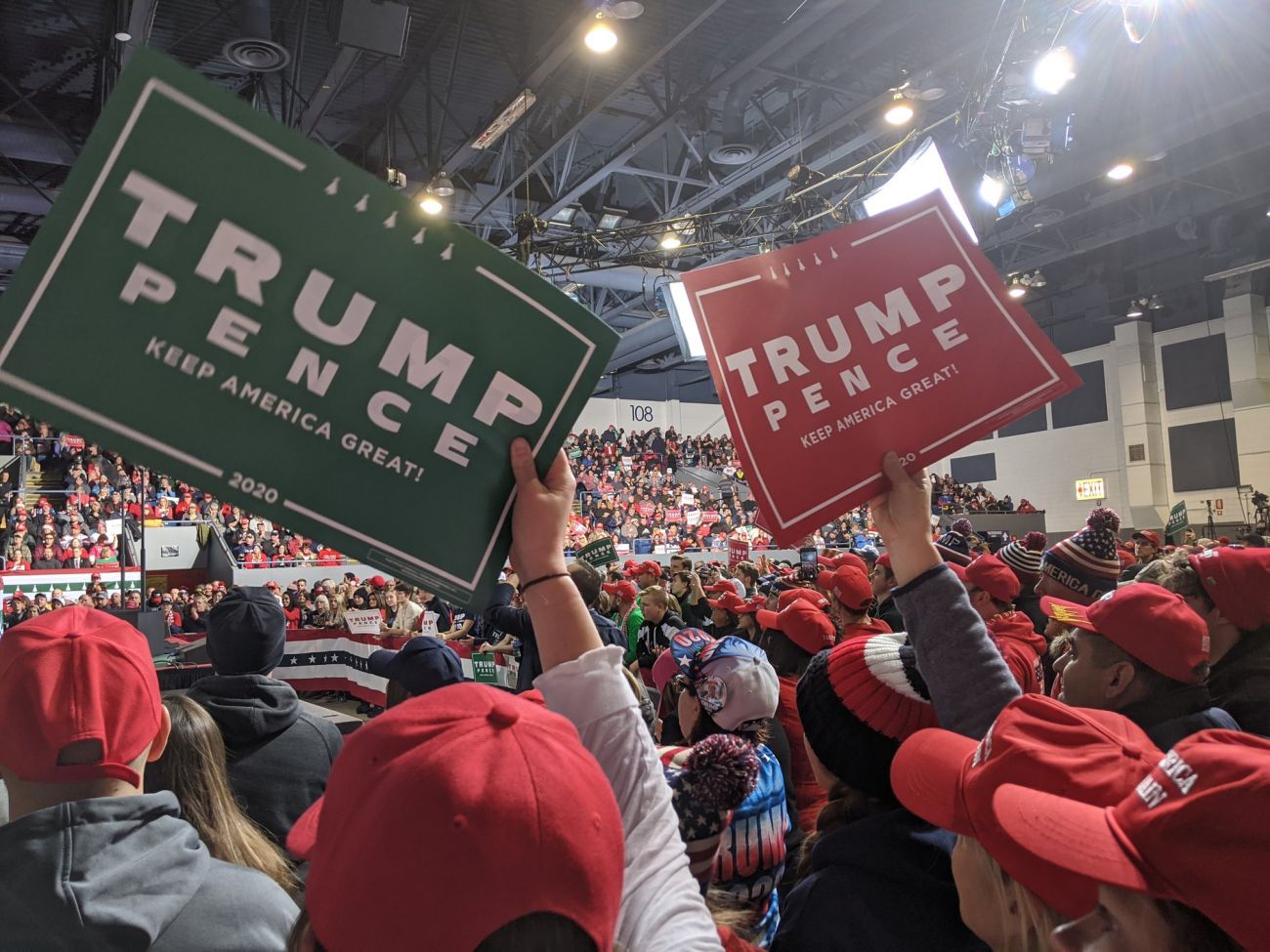 Trump used his speech later that night to criticize Whitmer, who won election last year on a pledge to "fix the damn roads" but faced stiff opposition in the Republican-led Legislature when she proposed a 45-cent fuel tax increase to fund repairs.
"She's not fixing those potholes," Trump said.
"I know your previous governor was a Republican, but I was not a big fan of his," Trump said, referring to former Gov. Rick Snyder, who did not endorse him in the 2016 election. "But I'm not a big fan of the one that can't fix the potholes" either, he said.
Trump also campaigned on a pledge to improve infrastructure, but bipartisan negotiations on a potential $2 trillion federal spending plan broke down amid congressional investigations of the president's conduct.
The impeachment hearing is "a waste of time," said Jacob O'Connell, a 19-year-old community college student in Battle Creek. "If he would have actually done it, I think they would have caught him much sooner."
Trump is "just getting things done, more than what Obama or Bush did," said O'Connell, who is preparing to vote in his first presidential election. "The economy is much better."
During his speech, Trump touted what he called "greatest economy in the history of this country," and promised even more jobs if re-elected as president.
Amash, Dems back impeachment
Trump's speech began just as the House approved articles of impeachment, mostly along party lines. Two Democrats voted against impeaching him for abuse of power, while a third joined them in opposing impeachment for obstruction of Congress.
The articles charge the president with pressuring Ukraine to launch an investigation that could damage former Vice President Joe Biden, a potential general election opponent in the 2020 presidential election, and for obstructing the congressional impeachment probe.
All Michigan Democrats supported impeachment, including Stevens and Slotkin, two first-term lawmakers who represent swing districts Trump won in 2016. They were joined by Amash.
"President Donald J. Trump has abused and violated the public trust by using his high office to solicit the aid of a foreign power, not for the benefit of the United States of America, but instead for his personal and political gain," Amash said during a floor speech ahead of the vote. "It is our duty to impeach him."
Doing nothing is "not an option," said Rep. Rashida Tlaib, D-Detroit. "Looking away from these crimes against our country is not an option. This is about protecting the future of our nation and our democracy from corruption, abuse of power, criminal coverups and bribery."
While Trump drew thousands to Battle Creek -- filling the arena while more supporters stood outside -- voters supporting impeachment rallied Tuesday night in cities across Michigan, including Detroit, Lansing, Grand Rapids and Flint.
"There's a lot of anger in this state because of what the president has done," Michigan Democratic Party Chairwoman Lavora Barnes said Wednesday ahead of Trump's rally. "Folks took the streets last night to show their anger, to shout 'impeach him.' I'm excited by each and every one of them turning out to vote in November."
Expect more Trump in Michigan
Vice President Mike Pence rallied with supporters in Saginaw Township earlier Wednesday before joining the president in Battle Creek, touting the administration's efforts to crack down on illegal immigration, cut taxes, renegotiate NAFTA and slash business regulations despite what he called "unprecedented opposition" from Democrats in Washington D.C.
The Saginaw Township rally was part of a statewide blitz from the Trump campaign that also included a Tuesday night event with Lara Trump in Sterling Heights and culminated with the president's speech in Battle Creek. Combined, they rallied in three of the 12 counties that Trump flipped in 2016 and he will likely need again to win the state in 2020.
"The president realizes the No. 1 rule of politics: You keep what you won," Michigan Republican Party Chairwoman Laura Cox told reporters in Battle Creek.
It was Trump's second campaign visit to Michigan this year following a March rally in Grand Rapids. Pence traveled the state on a bus tour two weeks ago.
"We will be back in Michigan many times, and we're going to hit different parts of the state over the course of the next 11 months," Tim Murtaugh, director of communications for Trump's national campaign, told Bridge Magazine.
We're not just a news organization, we're also your neighbors
We've been there for you with daily Michigan COVID-19 news; reporting on the emergence of the virus, daily numbers with our tracker and dashboard, exploding unemployment, and we finally were able to report on mass vaccine distribution. We report because the news impacts all of us. Will you please support our nonprofit newsroom?