The first thing you need to know about Sam Singh, the second-term Democratic floor leader in the Michigan House of Representatives, is that he has run with the bulls, and we're not talking about his colleagues in Lansing.
Singh has stood on the dangerous side of the barrier in the narrow streets of Pamplona, Spain during that city's San Fermin Festival, when fighting bulls are released from pens and run to an arena half a mile away.
Not that anyone would say Singh, who first ran for elective office as a college student and spent the early part of his career working in the nonprofit sector, is the uber-macho Ernest Hemingway type. A consensus-building policy guy, the son of immigrant parents, fond of service work and otherwise a mainstream modern Democrat, he visited Pamplona as part of a 17-month around-the-world ramble he took a few years ago, to better understand this shrinking planet of increasingly complex interconnectedness. And when in Pamplona...
Singh's own account of the event, recorded on the blog he kept along the way, is hardly on a par with Hemingway, more comedy than "Death in the Afternoon." It ends with Singh, having taken a number of first-timers under his wing and sagely counseling them to wait, to not run too soon, glancing over his shoulder at the oncoming bulls and screaming, "Ahhhh!!! Run! Run!"
Once you've looked an angry toro in the face, how hard is Medicaid expansion, really?
Leveraging a minority role
Having survived Pamplona's horned beasts, Singh said he returned with clearer ideas about the sort of policy Michigan needs.
"How do we position the state in a global economy?" Singh asks. "We're in a unique position. With our proximity to Canada, we should be known as the state that's the global headquarters for the world."
Those attitudes weren't revealed to the 44-year-old on his trip, but they were refined along the way. He'd always been an enthusiastic traveler, but in 2008 he cashed in the money he'd been saving to earn an executive MBA and hit the road. He wanted to have a truly international experience, and moving into his late 30s, he knew it was now or never to set foot on all seven continents, carrying only a backpack and the resolve to see what he could see, live like the locals and volunteer often.
But before he traveled like a vagabond, he shipped off like a rock star. Being a connected guy – he'd already served as mayor of East Lansing, and on its city council – Singh led 30 friends and family members to the Bahamas for a New Year's party/send off.
"When we're together, Sam's the one who makes friends quickly," said Michael Baird, his best friend since college. "It always seemed to come easily to him. He knows people all around the world because he might have been sitting in a bar in Kuala Lumpur and struck up a conversation with the person sitting next to him."
On his travels, he often stayed with locals that he met online, or through friends. He witnessed the global financial meltdown in Hong Kong, staying as the guest of an investment banker.
"I watched (the effect) our economy had on Asian economies," he said. He could hardly have asked for a more vivid example that the barriers between nations, and states, have never been more porous.
Today, that's a message that "resonates with business people," he said, a crowd that tends to vote Republican. Which brings up an obvious question: What's an ambitious, results-oriented Democrat doing in the current Michigan legislature, where his party is outnumbered in both houses and out of the governor's office? Besides marking time, that is?
Playing a parliamentarian game, Singh said.
"Sometimes you're the loyal opposition, sometimes you have to highlight issues so they get attention, sometimes you have to make alliances," he said. There's a strategic art to remaining relevant, since his party doesn't have the blunt instrument of sheer numbers.
That has yielded a few hard-won victories.
For example, Gov. Rick Snyder's first budget, in 2011, cut higher-education funding by 15 percent. Over the years, Democrats have worked with Business Leaders for Michigan to restore it, Singh said. Democrats were also instrumental in getting Medicaid expansion approved.
"We'll be the voice of an idea," he said. "And outside advocates are important."
Seizing a Republican divide
In the age of the tea party, sometimes Snyder and other more mainstream Republicans have to find allies from the other party, and that's another road to Singh finding value in his role.
"It's no fun being in the minority," said Brandon Dillon, a Grand Rapids Democrat who serves with Singh. "But we understand our agenda is more closely aligned with the governor's than with many of the House Republicans."
Dillon agreed with Singh that triangulating efforts with outside groups "that are mortified by the agenda of the more extreme Republicans in the House" can be an effective strategy.
But, Dillon added, "I believe we've been fairly successful in a lot of ways, by sticking together and being disciplined." The Dems were able to hold their own in the negotiations over the road-funding deal that put unsuccessful Proposal 1 before the public in May, and the party is more aligned with business than many Republicans on such issues as LGBT rights and the urgency of road repair, he said. (Though the elusive nature of such alliances was highlighted when Snyder signed bills last week that would allow faith-based agencies to turn away LGBT individuals seeking to adopt children.)
"We need to make sure we're prepared for those opportunities when the majority party can't cobble together votes. And Sam has been a big part of that."
Dillon calls Singh one of the best legislators in the Capitol, "respected within the caucus, very good on policy, with a good historical perspective. He understands that good legislation requires compromise, and he knows when to do that as well."
Meeting in the middle
Nowhere is this more evident than in budget negotiations, Singh said, particularly in the most recently hammered out education budget. Democrats were able to leverage their support into increased funding for bilingual education, at-risk schools and other priorities.
Singh has also made international relations a focus, sponsoring a resolution in his first months in office to raise the cap on H-1B visas, to allow more skilled workers into the country.
But, he added, sometimes being in the minority is more about holding a lamp in the darkness, hoping it illuminates an issue of importance to your constituency. It also means framing debate in a way that opposition Republicans will find meaningful.
"Education is most important in East Lansing, both K-12 and higher ed, and that's all about the budget," he said. "I've used my floor speeches to make the business case for investing in higher education." To many in Michigan, higher learning is a moral goal, but in today's Lansing, Singh said, "You speak using the opposition's arguments. It's just more effective."
A U.P. family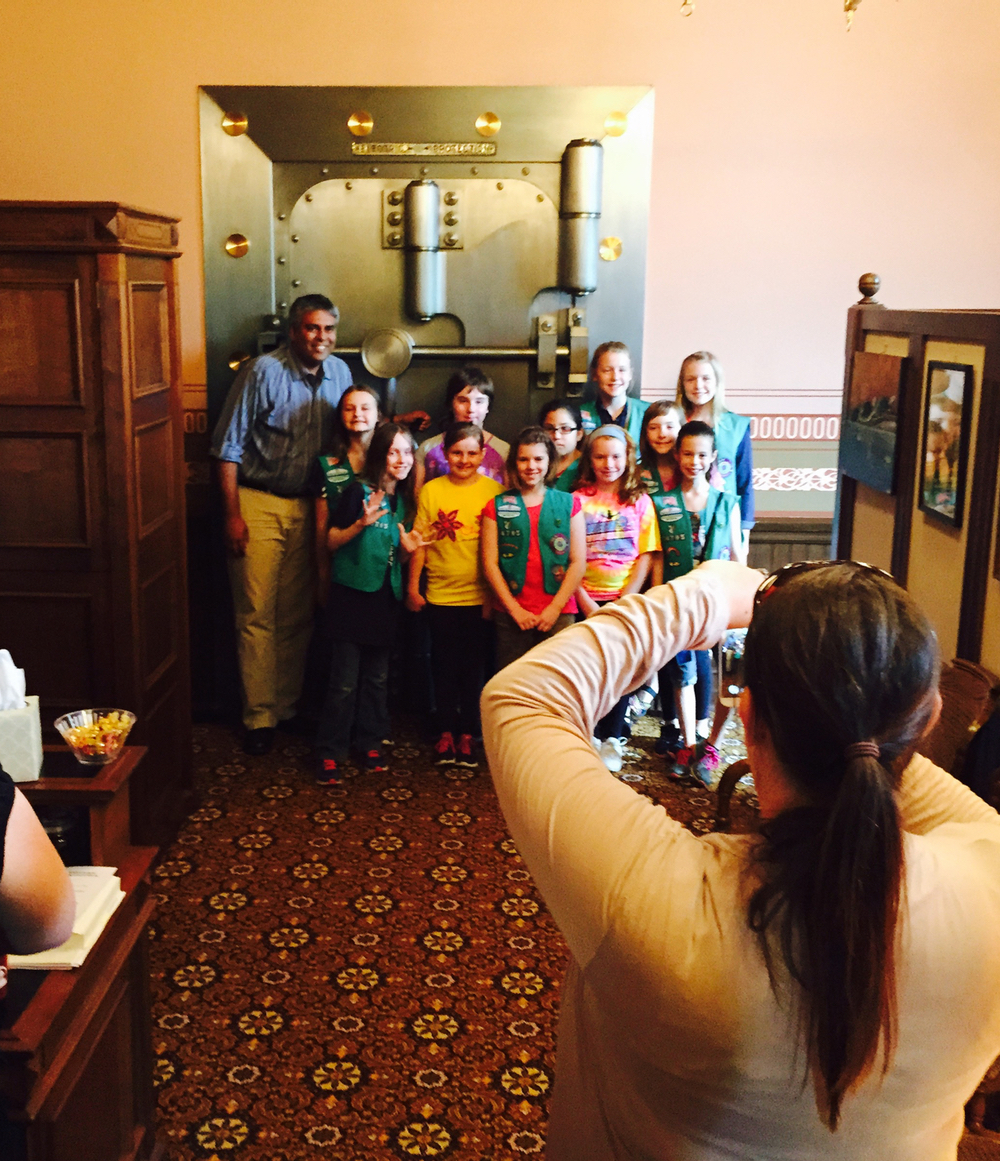 Sam Singh poses for a photo with a visiting Girl Scout troop in his Lansing office. The floor leader's office was once that of the state treasurer, hence the vault, a popular photo location. (Bridge photos by Nancy Derringer)

Other than the year-and-a-half journey, Singh followed a typical path to lawmaking, a son who fulfilled his immigrant parents' wish that their family prosper in the U.S.
The elder Singhs immigrated in the 1960s from the northern Indian state of Uttar Pradesh. Their son sometimes uses their home state as an icebreaker, telling Michiganders, "My family's from the U.P., too."
Raised in Livonia, he arrived at Michigan State University for college and never left the area, getting involved in student government, then city government, thinking he'd eventually attend law school.
But the more he became involved in learning via public service, the more he felt drawn to nonprofit work, and when he graduated in 1994, Singh went to work for the Michigan Nonprofit Association, eventually rising to its president and CEO.
"It's a chamber of commerce for charities," Singh said. "We needed a presence in the capital, a voice in public policy and budget."
But his success came well before he was 30 and, after a decade in the job, Singh felt the time for adventure was closing. Hence the liquidation of his education fund and a different sort of education.
"Taking the trip he took was such a massive gamble," said Baird, his friend. "He had a great job, great people working for him. That was a big step to take in the middle of a promising career. He had to reestablish a lot of contacts when he got back."
Singh didn't spend the trip just doing tourist things like taunting fate with bulls. He volunteered with charities for a week or two before moving on, and stayed with locals whenever possible. His travel blog is studded with pictures of Singh posing with new friends, often in a Michigan State T-shirt. And considerably thinner, too. Singh jokes that the book he plans to write about the trip should mention how he lost 50 pounds along the way, some of which caught up to him after he got home. (Today he wears a Fitbit.)
His final hitch was with a Tanzanian orphanage before boarding a flight back to Michigan in April 2009 (and lucking into tickets for the NCAA men's basketball tournament Final Four in Detroit, featuring his Spartans). He was running low on funds by then, and ready to get back into the smaller world of Michigan, and his own work.
Since then, he met and married his wife, Kerry Ebersole, a consultant, and sought and won his seat in the House. The couple hope to start a family, and Singh, should he win re-election next year, will then be term limited. And he will have to start thinking about his next adventure.