Democrats push Michigan gun reforms. Here's what the laws are now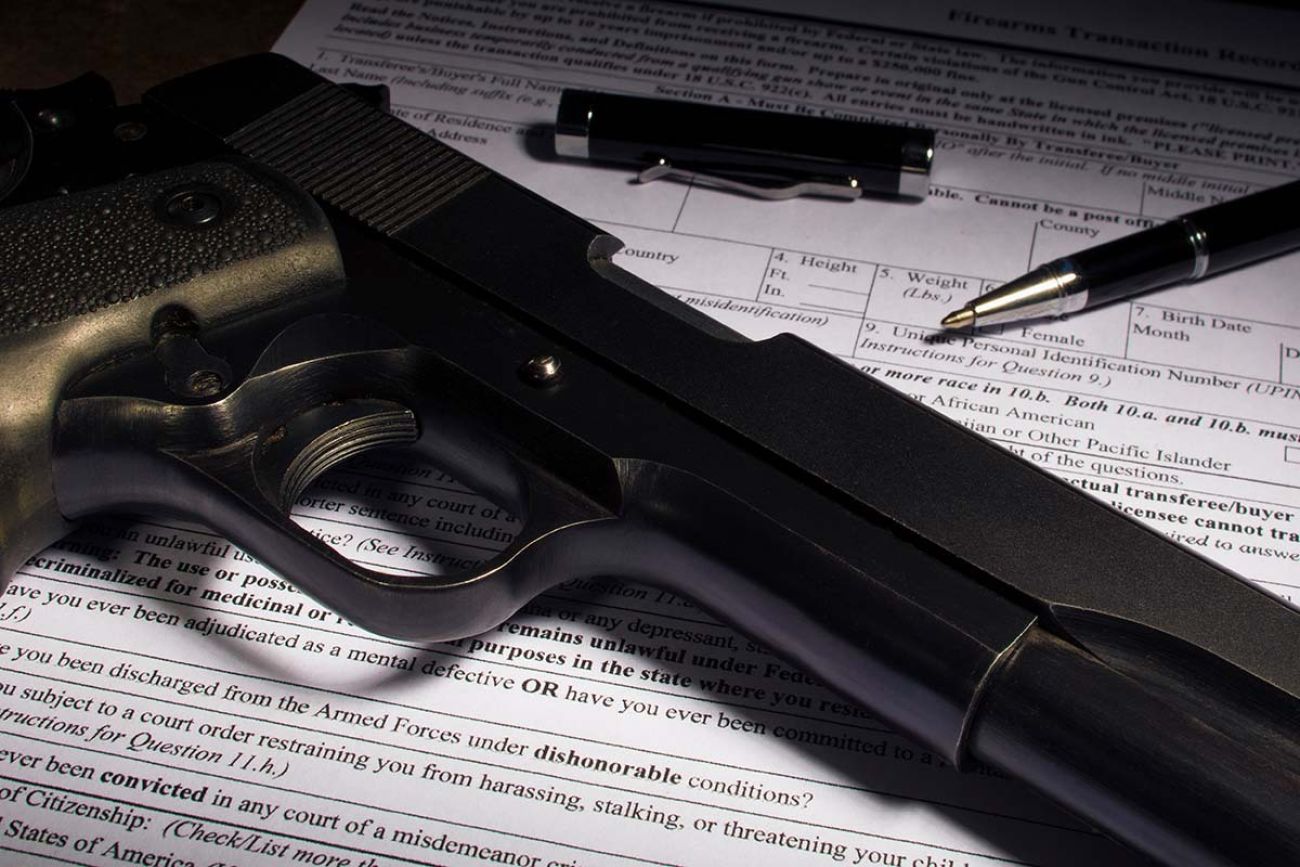 Michigan residents have gone on a gun-buying frenzy in recent years, according to the limited data authorities have on gun purchases and ownership. (Guy J. Sagi / Shutterstock.com)
The Michigan Legislature is considering toughening the state's gun laws
Current laws can be confusing about who can buy guns and where they can carry them
More than one in 10 Michigan adults holds a permit to carry a concealed handgun
---
April 25: Livingston declares itself 'Constitutional County' to resist gun reforms
April 19: Michigan 'red flag' gun reform plan heads to Gov. Gretchen Whitmer
April 13: Whitmer signs gun safe storage, background check bills; 'red flag' vote next
March 29: Democratic gun safety laws met with a shrug in Michigan gun country
March 27: Michigan is passing gun safety laws. Most counties may not enforce them
It seems like a simple question: How old do you have to be to own a gun in Michigan?
In most cases, if you're 18, you can buy a rifle or shotgun. If you're 21, you can buy a handgun. But you can buy a handgun at 18 if you purchase it from a private seller rather than a federally licensed gun shop.
And even if you can't purchase it, you can carry a weapon when you're younger than 18 if, for example, you're accompanied by someone over 18 and going hunting. But if you're stopping at a diner for breakfast before the hunt, you may not be able to carry the weapon inside — that's up to the owners.
Unless you have a concealed carry permit, which allows you to carry weapons in more places.
But you can't get that until you're 21.
Related:
As Michigan reels from its second school mass shooting in 15 months, state lawmakers are considering a host of gun laws that would alter a hodgepodge of laws that now govern ownership and the carrying of weapons.
The proposals would, if passed by the Legislature and signed by Democratic Gov. Gretchen Whitmer, tighten current gun regulations with laws that range from universal background checks for gun purchases, safe storage requirements for gun owners and so-called red flag laws allowing judges to temporarily confiscate a gun from someone deemed to pose a risk to others or themselves.
Those changes could matter a lot to Michigan residents: those pushing for stricter gun safety measures and those who have stocked up on weapons and concealed carry permits in the past decade.
No one knows how many guns are in the state, but we do know that there have been more than 14 million background checks for new purchases of weapons since 2000 – in a state with 10 million residents. More than one in 10 adults has a permit to carry a concealed handgun.
What are Michigan's current gun laws? Here are the highlights.
Who can own a gun?
In Michigan, gun purchasers must be 18 years old to buy a weapon more than 26 inches long (such as rifles and shotguns), and 21 to purchase a handgun from a federally licensed dealer.
But an 18-year-old can purchase a handgun from a private seller, with a handgun purchase license.
Those laws don't restrict those younger than 18 from possessing weapons if they're using them to hunt, target practice or skeet shoot.
What about assault rifles?
Semi-automatic rifles, sometimes known as assault rifles, can be purchased in Michigan, and follow the same rules for purchase as other rifles.
Are there adults who can't buy or own a gun?
Michigan is one of 36 states with laws to restrict felons from legally possessing firearms and one of 31 states to do this indefinitely, according to gun research group Everytown Research and Policy.
Other restrictions:
People with a personal protective order filed against them, or who are charged with domestic violence, can't buy or possess a firearm.
Nor can people under an order of involuntary commitment in an inpatient or outpatient setting due to mental illness, or who have been found to be unable to manage one's affairs because of a mental condition determined in a court proceeding.
Where can I carry a gun?
Michigan is an "open carry" state, meaning gun owners are generally allowed to walk around with weapons if the weapons are not concealed.
That's not because of a specific law, but because there is no law that has been passed to prohibit it.
Gun owners can carry long guns in their vehicles, though a concealed carry permit is generally required to transport a handgun in a vehicle anyplace other than to a shooting range. Both long guns and handguns must be unloaded while in a vehicle, and carried someplace that is not readily accessible to passengers, such as a trunk.
Michigan law puts some limits on open carry, including prohibitions on carrying guns into:
Banks and credit unions
Churches or other places of worship
Courts
Theaters
Sports arenas
Daycare centers and schools
Hospitals
Bars
Private businesses also can set their own policies on weapons in their establishments.
What if I have a concealed carry permit?
Many of those limitations go out the window for those with a concealed carry permit, as long as the handgun is concealed. Concealed carry permits only apply to handguns, not long guns such as rifles and shotguns.
One twist: In Michigan schools, people with a concealed carry permit can carry a handgun into Michigan schools, but only if the weapon is not concealed.
Who can get a concealed carry permit?
You have to be 21 or older to apply for a concealed carry permit, and meet the following requirements:
A citizen of the United States or an alien lawfully admitted into the U.S.
A resident of Michigan for at least six months
Completed an eight-hour minimum handgun safety training course certified by the state, or by a national or state firearms training organization.
Not the subject of specified court orders, such as a personal protective order or a charge of domestic abuse
Never been convicted of a felony, and no felony charge pending
Not been dishonorably discharged from the United States Armed Forces
Not been convicted of a misdemeanor violation in the last eight years relating to specified crimes, including: serious vehicle offenses; displaying sexually explicit materials to minors; assault or domestic assault; certain weapons crimes; or stalking
Not been found "guilty but mentally ill" of any crime and has not offered a plea of not guilty or acquitted of any crime by reason of insanity
Never been subject to an order of involuntary commitment in an inpatient or outpatient setting due to mental illness
Not have a diagnosed mental illness that includes an assessment that the individual presents a danger to themselves or others
Not under a court order of legal incapacity
A valid state-issued driver license or personal identification card
How many concealed carry permits are there?
As of Feb. 1 in Michigan, there were 797,000 approved Concealed Pistol Licenses (CPLs), also known as concealed carry permits, a number that represents more than one in 10 Michigan adults. That number applies to the number of people holding a permit, not the number of individual guns owned by a permit-holder.
There is a $115 licensing and fingerprinting fee, paid at application, and a $115 fee for renewal every five years.
The number of concealed carry permits has increased dramatically in the past decade, from 453,950 in 2014 to 797,000 through January, a 75 percent increase in a state where the population has stayed roughly the same.
Most people who apply for a concealed carry permit get it. In the year from October 2021 to September 2022, there were about 160,000 applications for concealed carry permits, with 3,100 rejected (just under 2 percent).
Among those who had their applications rejected, about half were turned down for having a misdemeanor conviction for a crime that bans CPL's, such as assault, domestic assault, or stalking. Other reasons for CPL rejection included pending felony (218) or misdemeanor (469) charges.
In that year, 64 applications were rejected for mental health issues. That's one in every 2,500 applications.
Also that year, 1,922 existing concealed carry permits were revoked, 91 percent because of a felony or misdemeanor conviction.
Do we know how many guns are in Michigan?
No. Michigan has no system of gun registration. Retail firearms sellers are required to keep a record of all gun sales. Handgun sales must be reported to law enforcement, but there's no record of private sales or guns that have been in families for years.
Even without a record on private gun sales, there are indicators that Michiganders have stocked up on weapons in recent years. Michigan jumped from 40th in the nation in FBI background checks to buy guns per 100,000 residents in 2011, to 23rd in 2021.
There were more than 1 million background checks for Michigan gun purchases in 2020, during the first year of the pandemic. Checks fell in 2021 to 970,000 and in 2022 to 789,000, but that's still far above levels in pre-pandemic years.
Those figures are likely an undercount of total gun sales, because a person can purchase multiple guns on the same day with one background check.
Even with the likely undercounted data, there have been at least 14.7 million guns purchased from retail dealers since 2020 in Michigan, a state with 10 million people.
How many are killed and wounded by guns?
In 2020, there were 1,454 firearms deaths in Michigan, according to the National Center for Health Statistics. The rate of firearms deaths was 14.6 per 100,000 residents, which was similar to the national average of 14.7 and lower than rates in Ohio (15.1) and Indiana (17.2). Nearly six in 10 gun deaths in Michigan are from suicide.
Nonfatal gunshot injury data is limited, but one study by Everytown for Gun Safety, a national organization that advocates for stronger gun laws, found that Michigan had a rate of 35.2 nonfatal gunshot injuries per every 100,000 people in 2017, or about 3,500 people. In cases involving nonfatal gunshot injuries in Michigan, 51 percent were linked to assaults against people, 47 percent were attributed to unintentional or undetermined shootings, and 2 percent were suicide attempts.
Only donate if we've informed you about important Michigan issues
See what new members are saying about why they donated to Bridge Michigan:
"In order for this information to be accurate and unbiased it must be underwritten by its readers, not by special interests." - Larry S.
"Not many other media sources report on the topics Bridge does." - Susan B.
"Your journalism is outstanding and rare these days." - Mark S.
If you want to ensure the future of nonpartisan, nonprofit Michigan journalism, please become a member today. You, too, will be asked why you donated and maybe we'll feature your quote next time!