From the gunfire at MSU, an emerging class of determined gun activists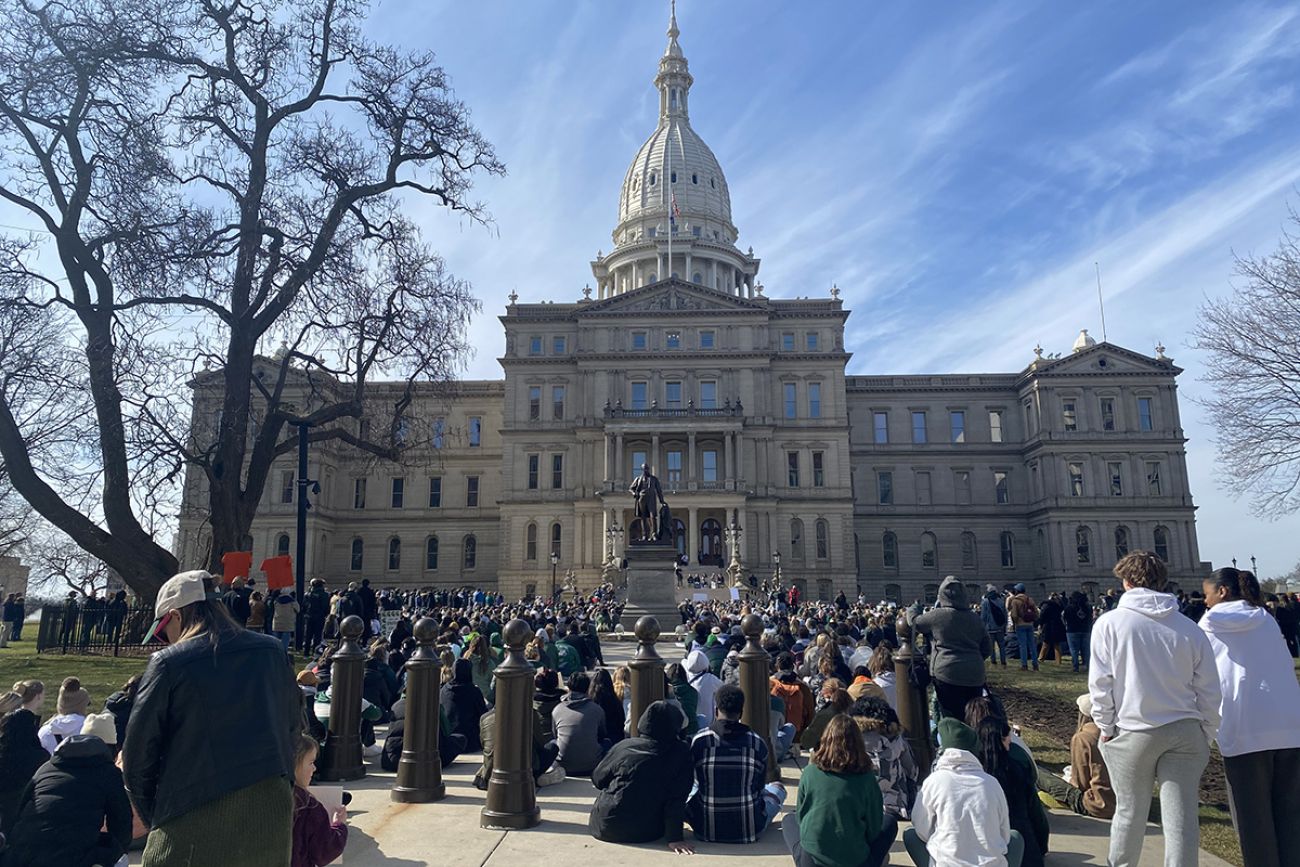 Several hundreds of MSU students protest at the Capitol on Monday, Feb. 20. They called for action to stop gun violence. (Bridge photo by Isabel Lohman)
After a gunman shot eight people at MSU, a group of students has taken the lead in pushing for change and accountability
They have pressed lawmakers, testified at Capitol hearings, organized rallies and tended to fellow students
They have also tried to learn from student leaders at other schools that experienced gun violence
---
EAST LANSING —Two days after a gunman shot eight students on the Michigan State University campus, killing three and leaving thousands sheltering in terror, Jo Kovach, the student body president, was among a handful of students meeting with state lawmakers in the Capitol.
The students listened as Senate Majority Leader Winnie Brinks and Senate Majority Floor Leader Sam Singh explained the planned rollout of a Democratic package of gun bills. There were measures to require universal background checks, safe storage laws and so-called "red-flag" laws to keep weapons out of the hands of dangerous people.
The newly empowered Democratic majority planned to introduce the gun laws at some point in the spring.
Related:
The students, who'd had little sleep amid the chaos and grief that accompanied the attack, were grateful for the legislation. But unimpressed by the timeline.
"It was a lot of 'Please be patient with us, like we just got in the power,'" recalled Carl Austin Miller Grondin, one of the student leaders at the meeting.
"And a lot of us said, 'Bull,' we've seen politics be played our entire lives. There have been ample times to work with the other side of the aisle to get things done."
Message sent.
"We heard loud and clear that people wanted to see action," Singh later told Bridge Michigan about the meeting.
The next day — just three days after the mass shooting — gun bills were introduced in the Michigan Legislature.
"I do truly believe that the meeting that we had is what was a catalyst for those 11 bills coming forward so quickly," said Grondin, vice president for internal administration for ASMSU, the student government body.
Nearly a month since the shootings, Kovach and Grondin are among a loose collection of MSU students leading efforts to help the campus heal, while simultaneously working to improve school support for students and push for gun laws they hope will reduce the odds of future gun violence.
The students have spoken at legislative hearings, organized online petitions, attended rallies, helped raise money for injured students and their families while staying in the ears of political leaders.
Brinks told Bridge that while Democrats worked on the gun bills for years, the meeting with MSU students provided a "layer of urgency and accountability" for their efforts.
"They know they don't have the power to change these laws," Brinks said, "and they're very aware that we do."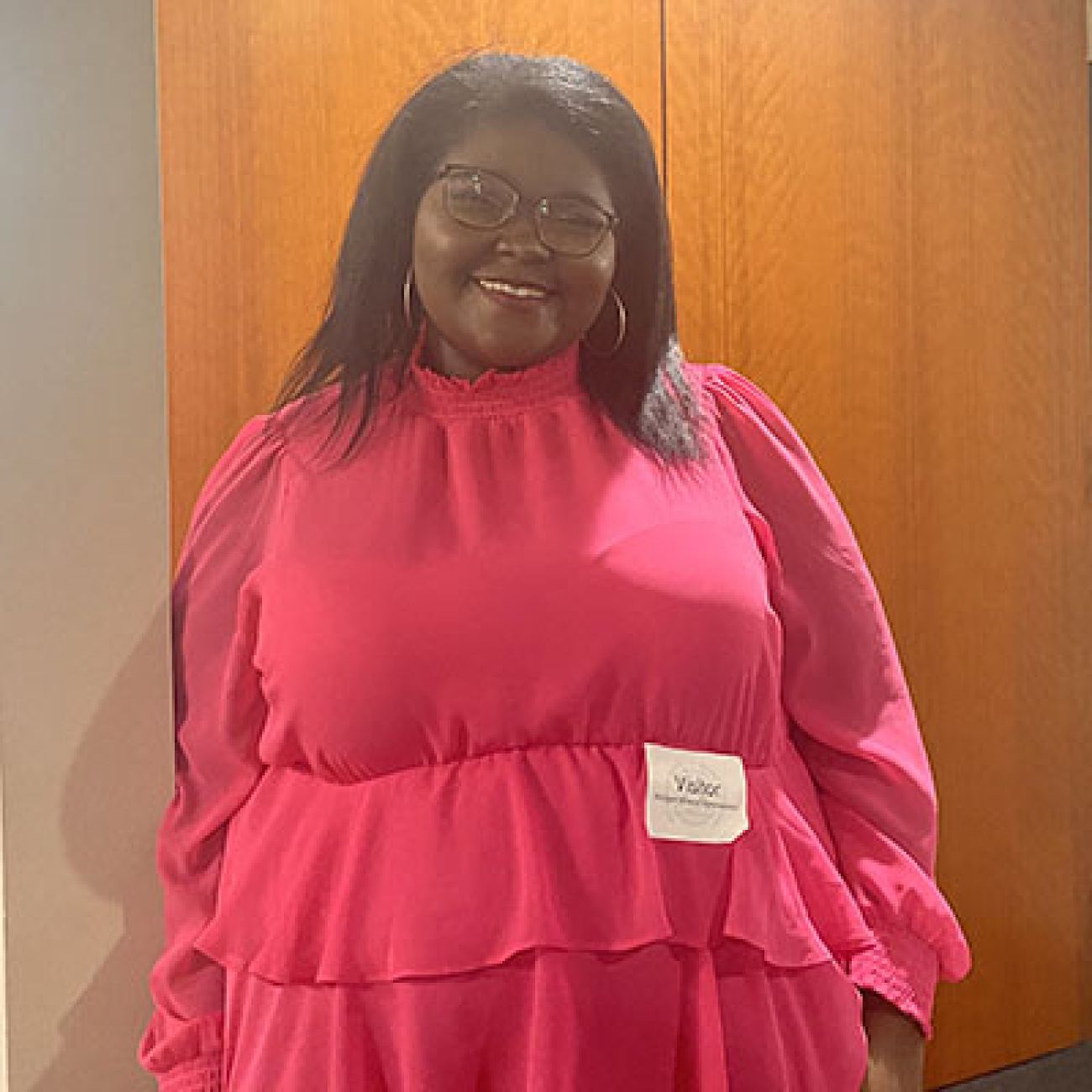 Asha Denny stands outside of a hearing room for the House Judiciary Committee. She testified in support of safety control laws the next day at the Senate Civil Rights, Judiciary, and Public Safety Committee. (Bridge photo by Isabel Lohman)
Among the student leaders to emerge from the shootings is Asha Denny, who spent the Sunday after the gunfire helping classmates make posters for a student rally the next day. She is pushing MSU to adopt more academic flexibility for traumatized students and release a comprehensive report on the MSU Police response to the shootings.
"I am tired of being strong," Denny told the crowd at the rally on the Capitol steps a week after the shooting. "We shouldn't have to be strong, we shouldn't have to be strong after a night of helicopters, and SWAT and missed phone calls and hugs from moms and wishing that we were just home and this wasn't happening but yet it is. We are tired and weary."
And there's Maya Manuel, a psychology major, who also attended the Capitol meeting with lawmakers. That same day, she organized a rally at the state Capitol where students sat on the ground to simulate the active shooter drills they grew up performing at school. Since then, her group, Sit Down MSU, has helped organize two other events.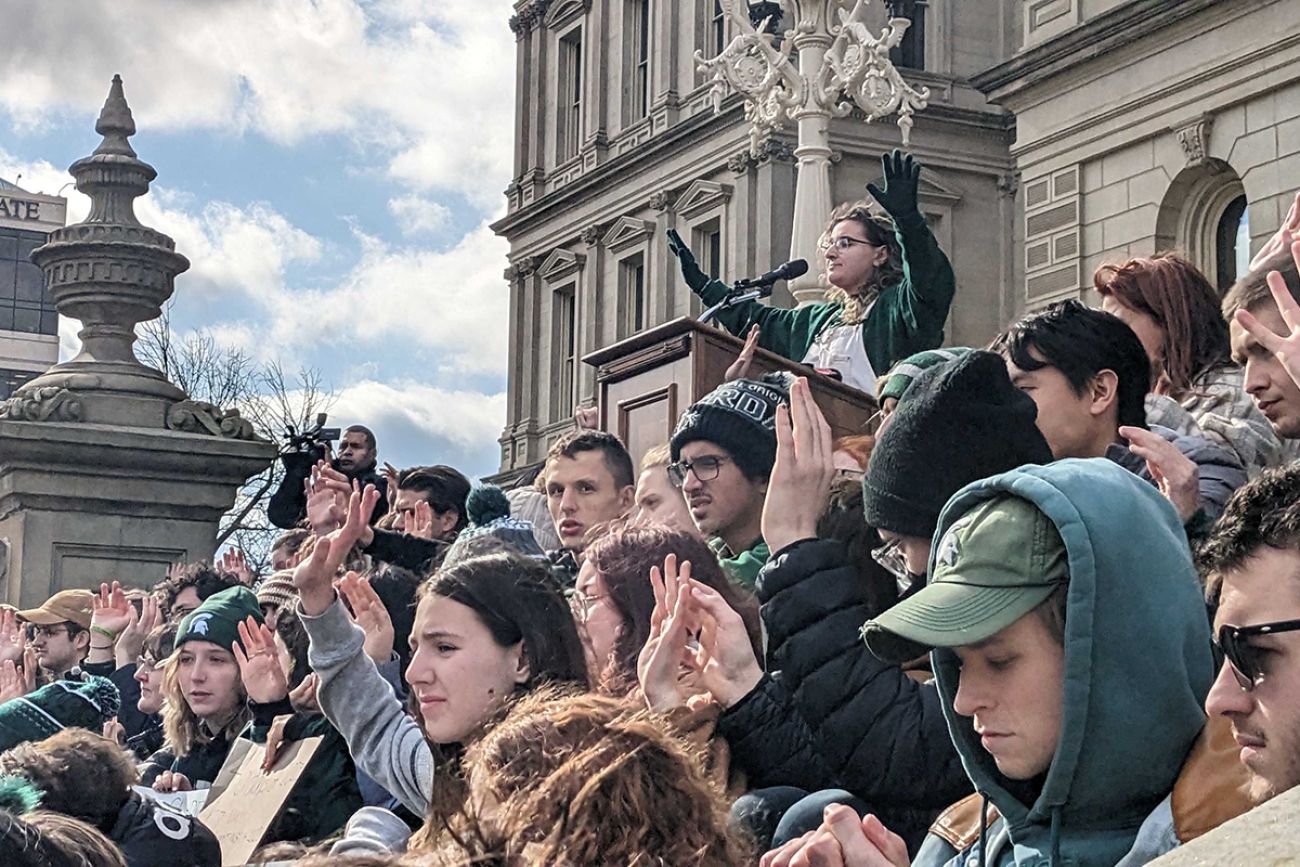 MSU student Maya Manuel speaks at a student demonstration at the Michigan Capitol two days after a deadly campus shooting. (Bridge photo by Jonathan Oosting)
This leadership group often finds itself working in concert, like a Venn diagram, said Kovach, the student president, advocating for gun safety legislation while ensuring MSU administrators provide students with the ongoing support they need.
Kovach, who uses the pronouns they/she, said the students understand that campus efforts are critical, but not enough.
MSU "can put as many safety procedures out as possible," they said. "But if there's still not laws that are appropriate — that are making sure that guns aren't getting in the hands of people who are not going to be safe with them — then we don't want to put a false sense of security here."
Kovach said there is comfort knowing other MSU students are focusing on lawmakers, which means "I don't necessarily have to do a ton of it, which is fantastic because this is where I need to be right now."
These student leaders are juggling coursework, clubs and friends while coping with the trauma of being sheltered in place for almost four hours. They sometimes forget to eat. And they have come to terms with the fact that, for now, and perhaps for the rest of the spring semester, academics will not always be front of mind.
Manuel said she feels like her brain has "scrambled eggs" when she tries classwork.
For Kovach, who studies social relations and policy at MSU's James Madison College, it's a deliberate choice.
"I'm a first-generation college student and my education means everything to me," Kovach told lawmakers at a recent Senate committee hearing on gun safety. "But there are matters of greater importance right now."
Singh, the senate floor leader, said he's been impressed that the students "who, even through their pain, were able to advocate for policy change, both here at the Legislature but also back at Michigan State University, as well."
He said Democrats privately talked of accelerating the pace of gun legislation in the aftermath of the Feb. 13 shootings, but it was the student meeting that "reinforced the need to move up the timeline."
Both the House and Senate heard testimony in the past two weeks on gun laws. The House passed a background check bill Wednesday night and the Senate Civil Rights, Judiciary, and Public Safety Committee advanced several bills Thursday afternoon.
Singh said he now hopes the Legislature can send a gun bill package to the governor ahead of the planned legislative break in the last week of March.
MSU administrators, meanwhile, announced security upgrades they vowed to complete in the next several months.
The school said it would add locks to classroom doors and require students and faculty to attend Active Violent Intruder Training in the fall.
The school is also restricting key-card access to campus buildings earlier in the evening.
"I think I would feel safer if it was 24/7, throughout the whole day," said Maddy Quinlan, a junior studying genomics and molecular genetics, who co-organized the Sit Down MSU group with Manuel. "But I think it's a phenomenal start."
The leadership group includes both seniors scheduled to graduate this spring and others who have more time to institute change at the school. They say they are all determined to ensure their work continues.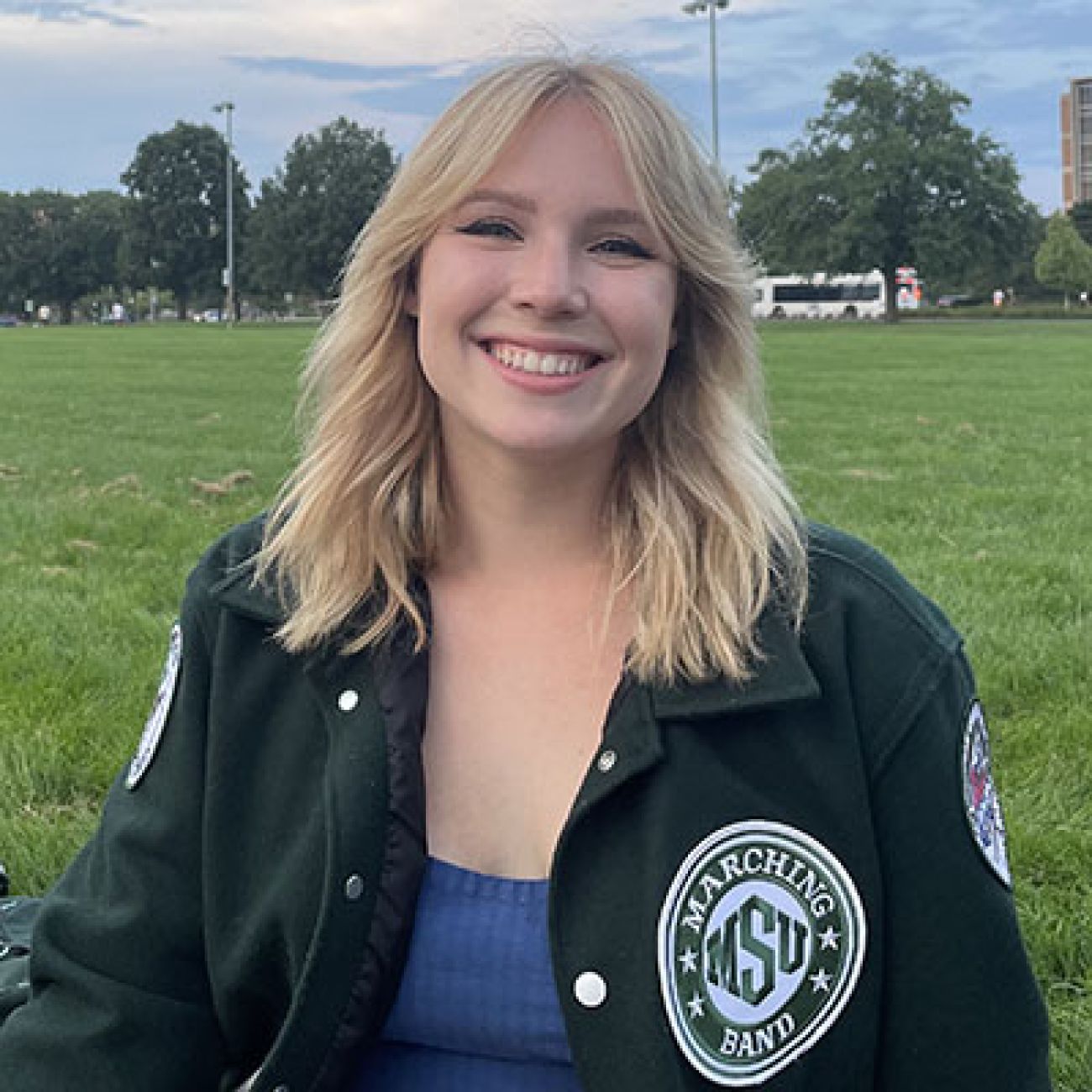 Maddy Quinlan is a junior who has co-organized Sit Down MSU, a new group that formed after the deadly campus shooting. Quinlan said that even if Michigan passes new gun laws, she wants to continue to advocate against gun violence.
Quinlan, for instance, noted that Sit Down MSU is trying to become a registered student organization and, in the long term, may try to establish chapters on other campuses.
She and others say they have questions about why it took authorities hours to find the gunman.
Kovach said a comprehensive report from the police on what happened that night could help provide comfort to some students in knowing where the gunman was, and where he wasn't.
"It's hard to process when you don't know what happened, really," Quinlan said.
A comprehensive review could also help answer questions about information heard on a police scanner, which included plenty of false rumors.
"A lot of the trauma came from those police scanners," Manuel said. "We thought we were in the biggest mass shooting in history."
Meetings, vigils and kickoffs
As student body president, Kovach meets regularly with MSU administrators.
There are weekly sessions with the MSU president and provost and regular meetings with campus police.Kovach helped create the Spartan Love Fund to raise money for student organizations to help bring the campus together.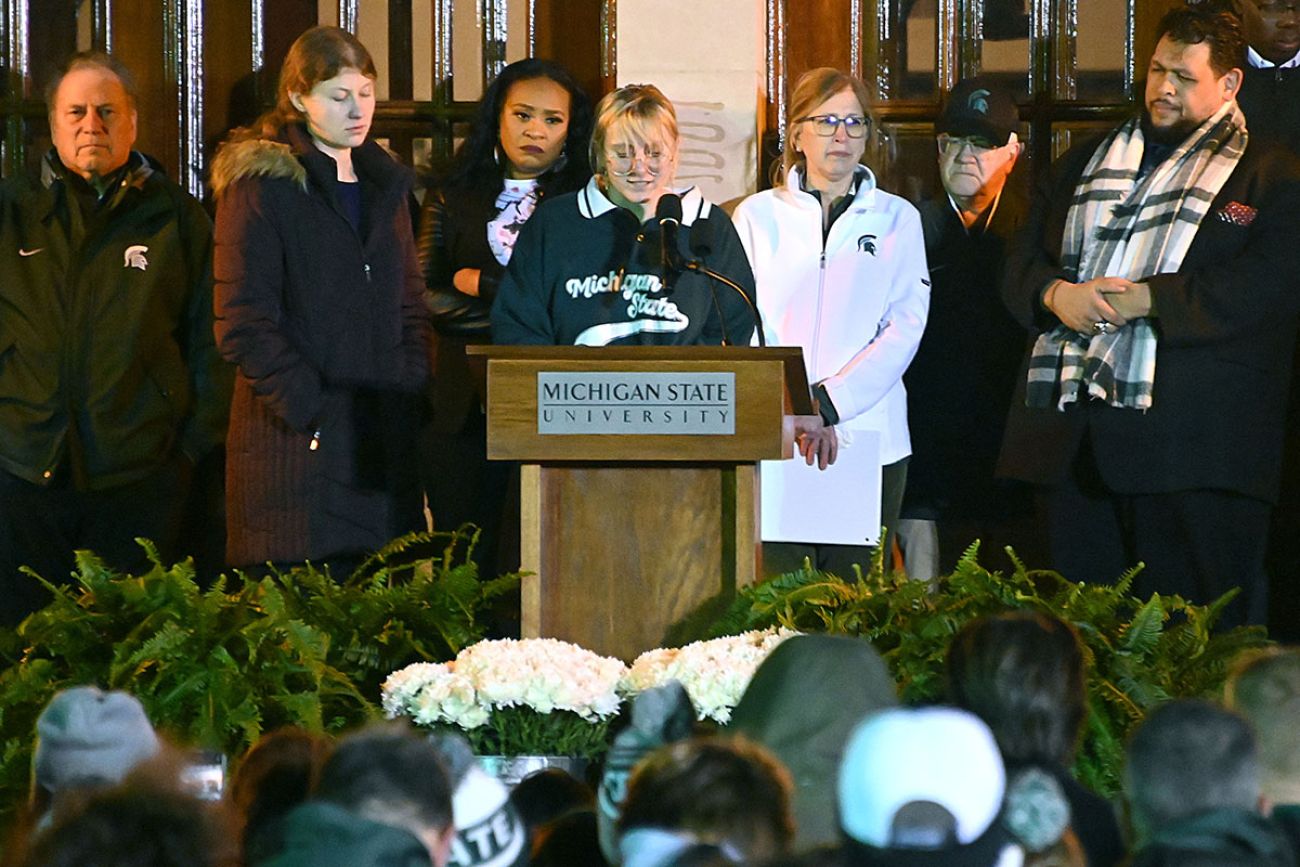 Jo Kovach is the president of the Associated Students of Michigan State University. Kovach spoke at a campus vigil held two days after the school experienced a deadly shooting. (Bridge photo by Dale Young)
Kovach pours through the social media app Yik Yak to see what fellow students are sharing anonymously. From there, Kovach works with others in student government, the associate provost for undergraduate education and the provost on ideas to better support students.
That includes expanding the incomplete grading option, lengthening the period in which students can drop a course this semester and moving the time when people can apply for future courses.
"The word of the semester needs to be 'options,'" Kovach said.
Kovach and others say they want to work with MSU to improve the emergency system in place to alert students. Police faced scrutiny after acknowledging it took 12 minutes from the time they first learned of the shooter until the agency sent students a campus-wide alert.
And some students said those alerts do not look much different from more mundane alerts the school sends out to report, say, a stolen moped.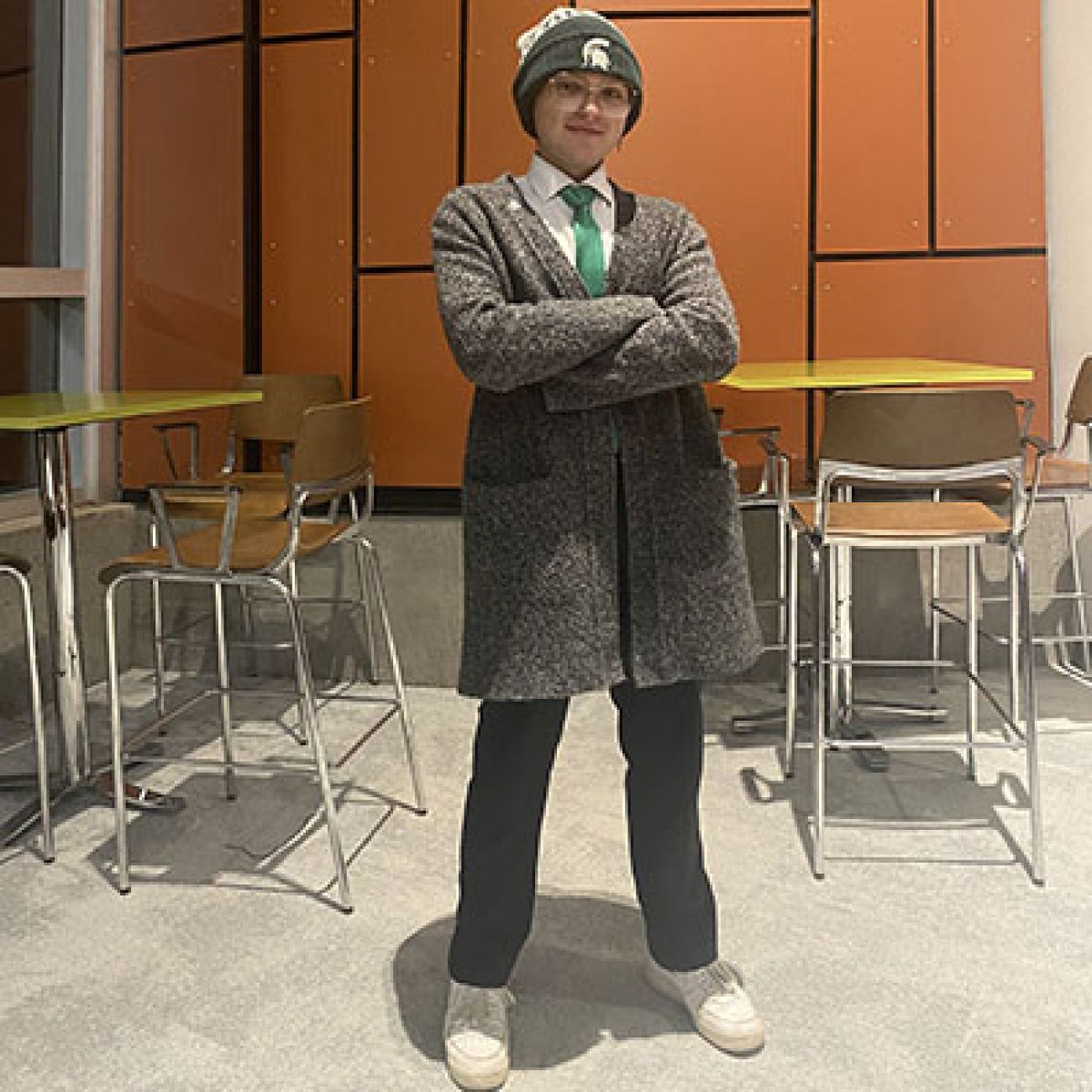 MSU student Carl Austin Miller Grondin is a vice president of student government at MSU. He has met with lawmakers, spoken at press conferences and attended campus events with the hope of ensuring students are heard and laws changed. (Bridge photo by Isabel Lohman)
A club nobody wants to be in
The student leaders also talked about the importance of learning from other students who survived other campus attacks.
On the same day Kovach met with lawmakers, Kovach met virtually with students at the University of Virginia, which experienced a campus shooting in November.
Kovach said the Virginia group noted that not all students will feel safer with having more police on campus. One possible idea, they said, is to create an MSU ambassador program where students can reach out to a trusted trained person if they see something that looks suspicious.
Marlon Lynch, the police chief, offered a similar possibility, telling Bridge he hopes to have a peer-to-peer program set up by the fall that would include a trained liaison and students. The program would be called Spartan Envoy and be based on different neighborhoods at MSU.
"Not everyone is comfortable with someone coming in with a uniform," he said.
Dylan Morris, a senior at Oxford High School, where a student opened fire on classmates in 2021, testified twice in the last two weeks about the gun safety bills.
He told Bridge one of his pieces of advice for young people trying to change gun laws is to be consistent and persistent in messaging.
"Small bits and pieces equal the large sum," he said.
The MSU students seem to be taking that advice to heart. Denny and Kovach testified March 2 before a Senate committee. Grondin and another student testified March 1.
MSU students Sawyer McClure, left, and Carl Austin Miller Grondin, right, testify at a packed House Judiciary Committee meeting on Wednesday, March 1. Grondin told lawmakers about the many frantic calls he made the night of the shooting trying to ensure his younger sister and his friends were safe. (Bridge photo by Isabel Lohman)
Several MSU students also met with David Hogg, the gun safety activist who survived the high school shooting in Parkland, Florida five years ago.
He encourages students to pace themselves and take the long view.
"It took decades for it to get this bad," Hogg told Bridge, "it's going to take decades for it to get less bad now. And that's why we really need to practice taking breaks and knowing that this is a marathon and not a sprint."
Creating a legacy
The MSU students know that none of their efforts are guaranteed to succeed. So much can change, or fall short. Will the external review the school promised get to the bottom of MSU's handling of the shootings? Will students continue to have their voices heard on a broader, statewide level? Will the gun bills sponsored by Democrats become law?
When listening to testimony on gun bills where some raised questions about the need for more laws, Kovach was reminded that not everyone agrees on the need for gun reform. Attending the hearing "was like a wake up call again of like…'we're not all going to agree that this was a monumental thing that needs to have change happen after it.'"
Kovach said, though, that there are "a lot of the students are going to be making sure that we're not forgotten" and there's a rising generation of students behind them who have grown up on mass shootings drills, demanding change.
In the meantime, they said, they will plan and organize. On Sunday, MSU students Hannah Greenspun and Kirin Krafthefer plan to have a walkout for 2:13 p.m., a time that correlates with 2/13, the date of the shootings.
Students will write about the night of the shootings on postcards, which will be collected at the event and made part of an exhibit at a campus museum, said Krafthefer, who also launched a site, Spartan Stronger, filled with testimonials from fellow students.
And Grondin said he too will move forward, despite the exhaustion and grief of the past month.
"Right now," he said, "the only thing keeping me going and the only thing that shows any form of light in my life right now is knowing that the students won't stop."
Only donate if we've informed you about important Michigan issues
See what new members are saying about why they donated to Bridge Michigan:
"In order for this information to be accurate and unbiased it must be underwritten by its readers, not by special interests." - Larry S.
"Not many other media sources report on the topics Bridge does." - Susan B.
"Your journalism is outstanding and rare these days." - Mark S.
If you want to ensure the future of nonpartisan, nonprofit Michigan journalism, please become a member today. You, too, will be asked why you donated and maybe we'll feature your quote next time!