Fewer cops, abandoned parks, and why more cities will crumble unless Michigan changes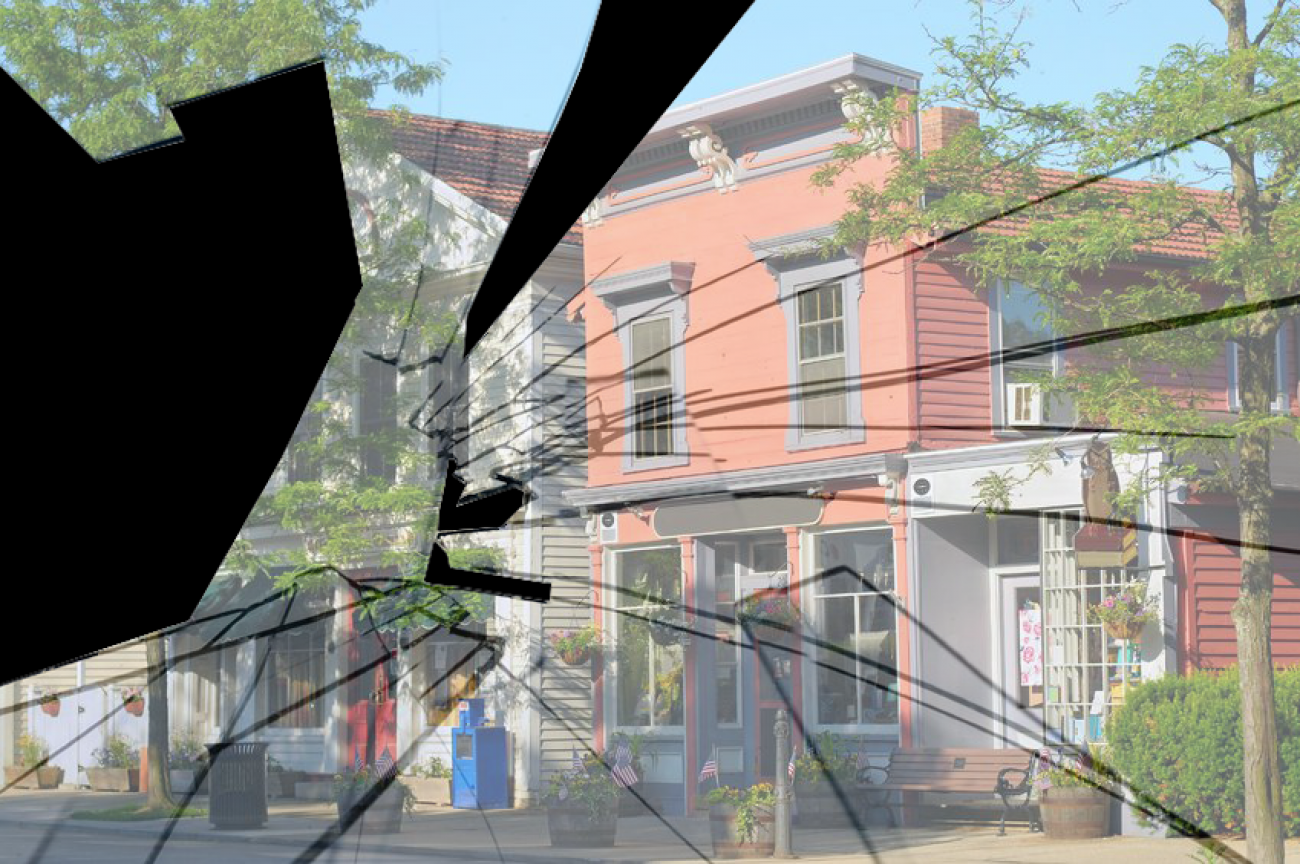 Michigan Government
Fewer cops, abandoned parks, and why more cities will crumble unless Michigan changes
In one decade, Michigan cities lost 2,300 police officers.
That's like laying off every Michigan State Police trooper. Twice.
Ann Arbor lost 23 percent of its police force; Saginaw, 41 percent; Troy, 48 percent.
And it only happened here. No other Midwestern state witnessed anything close to the massive police layoffs that occurred in Michigan between 2005 and 2014.
The distinction isn't about crime rates but the arcane issue of municipal finance. Simply put, Michigan funds its cities differently than most states. As a result, the old industrial city of Flint is in notably worse financial shape than the old industrial city of Toledo, just across the state line.
The disappearance of one in five city police officers may be the most noticeable impact of Michigan's growing municipal finance crisis, but it's far from the only one. In some cities, dwindling revenues have meant abandoned parks or cuts to youth programs. Other communities have deferred maintenance on streets and buildings, or are holding fundraisers to buy basic fire equipment.
And then there's Flint, where high levels of lead in the drinking water potentially caused life-long neurological damage to thousands of children. The series of bad decisions that led to the drinking water crisis in that cash-starved city emerged from the same milieu of state-level choices cracking the budgets of cities across Michigan.
Flint, with its tragic decision to save money by switching its water source without properly safeguarding the new water supply, is only the most grievous example. But it is hardly alone among Michigan cities and towns that are facing seismic decisions about how to provide basic services to residents in the face of grim revenue numbers.
Call it the Flint Syndrome, where systemic, long-term disinvestment has imperiled the safety and frayed the quality of life for residents of many Michigan cities.
And the grim choices cities must make are likely going to get worse, unless the state makes fundamental changes to the way cities are funded, say municipal finance experts.
"Cities are bound and gagged financially by the state," said Mitch Bean, former long-time director of the nonpartisan House Fiscal Agency. "And there's no way out."
State's role in starving cities
Josh Sapotichne, assistant professor of political science at Michigan State University, looked at a map showing the locations of financially distressed cities in the U.S., and noticed something odd. Most distressed cities were clustered in only a handful of states.
Michigan is one of only three states with a double-digit number of cities designated as financially distressed since 2000, according to data he shared with Bridge. Michigan has had 11 designations (Flint and Hamtramck, twice); Ohio, 13, and Pennsylvania, 14. California cities have had their own financial struggles, with several declaring bankruptcy, but the state has no state program to take over the books of cash-strapped municipalities.
"It's not like Michigan is the only state in the nation with cities that are dealing with the consequences of post-industrialism," Sapotichne said. "So why is it happening here and why hasn't it happened elsewhere?"
The surprising answer, according to a report by Sapotchine and a group of MSU researchers: most cash-starved cities weren't broke because of something they'd done; they were broke because of things their state had done.
Related: City blues: MSU study finds state tax polices cripple cities
"Michigan incubates municipal financial distress," Sapotichne told Bridge. "There's a reason why cities in North Carolina or Tennessee are not experiencing the same kinds of financial pressures. Even an all-star team of city officials and managers could not design a strategy to manage their way through the constraints Michigan's policies place on a Flint, an Ecorse, or a Benton Harbor."
Those restraints, the report suggests, are an accumulation of decisions by legislators and the public that date back 40 years. Those decisions include:
Headlee Amendment
In 1978, the Headlee Amendment limited increases in property tax revenue collected by cities to the rate of inflation. So during years when property assessments increased more than inflation, millage rates were reduced so total property tax revenue matched the inflation rate. But cities could bump their millage rates back up in years when property tax increases were going to be below the inflation rate. The result: cities lost a lot of revenue in years when property values were skyrocketing, but could make up only some of that loss in other years.
Proposal A
In 1994, voters approved Prop A, which put a cap on property assessment increases of 5 percent or the rate of inflation, whichever was less. In simplest terms, property tax revenues, the bread-and-butter of city budgets, could go down quickly and steeply when property values spiraled, as they did during the Great Recession, but could never go up quickly.
Farmington Hills, for example, lost so much property value during the Great Recession that, given Prop A's limits on increases, it will take until 2038 just to get back to pre-recession assessment levels – without taking inflation into account, according to calculations by Robert Kleine, former Michigan treasurer.
Prop A also nixed the provision in Headlee that allowed cities to "roll up" their millage rates when the rise in taxable value was less than inflation; that revision made it easy for cities to lose money, but impossible to gain it back. Combined with Headlee, Michigan devised the second-tightest local taxation limits in the nation, ahead of only Colorado.
Revenue sharing
All of which left Michigan cities more reliant on revenue sharing, which is a share of sales tax collected by the state and distributed to cities, villages and townships. The state is required by the state constitution to distribute 15 percent of sales tax revenue to these local governments; a 1998 law passed by the Legislature sets the distribution of another 21.3 percent of the first 4 percent of sales tax revenue to cities. But while setting that distribution level, the law doesn't require the appropriation. So every year, the legislature decides whether that money actually goes to cities, or is used for other things in the state budget. The Legislature and a series of Republican and Democratic governors have routinely kept some of that 21.3 percent for other uses. By 2015, about $5.5 billion in revenue sharing had been diverted from the cities and towns that were supposed to benefit from that money (another estimated $2 billion has been kept from counties).
With full revenue sharing since 2002, Grand Rapids would have $82 million more in its coffers; Lansing, $63 million; Flint, $62 million.
"Cities are on the bottom of the food chain," Sapotichne said. "If the state needs to balance a budget, they can not make good on these commitments on revenue sharing made in the '90s."
You can look up how much your community has lost in revenue sharing here.
"For most cities, about 75 percent of revenue comes from property taxes and revenue sharing," said Anthony Minghine of the Michigan Municipal League, which advocates for Michigan cities. "One is horribly restrained and the other is cut drastically. So cities are never getting ahead of the game."
Gideon D'Assandro, spokesperson for House Speaker Kevin Cotter, R-Mt. Pleasant, suggested to Bridge in November that Michigan cities have no one to blame but themselves for their financial mess.
Legacy costs - expensive retiree health care and pensions - is hurting cities, D'Assandro said. Sapotichne's report also cites legacy costs as a contributing factor in city budget problems. "There do appear to be some bad deals out there," D'Assandro said.
Shedding police
The impact of fiscal limitations can be seen in police departments in cities across the state.
Michigan's 22 largest communities and 48 of the top 50 had fewer police officers per capita in 2014 than a decade earlier. (St. Clair Shores and Muskegon had slightly more police per capita.)
Michigan cities fell even farther behind the nation and the Midwest. On average, Michigan cities had 17 percent fewer cops than their Midwestern neighbors in 2005; by 2014, Michigan cities had 24 percent fewer police officers (1.6 police per 1,000 Michigan city residents, compared to 2.1 across the Midwest).
While Michigan has the fewest city police officers, its cities have the highest rate of violent crime and motor vehicle theft in the Midwest. Minnesota added officers in the decade, despite having the lowest violent crime rate in the Midwest.
Flint, with one of the highest rates of violent crime in the nation,was forced to cut its police force from 244 in 2005 to 102 a decade later. By comparison, fellow rust belt city Toledo has more than twice the number of cops per capita, despite a lower violent crime rate than of Flint.
In Hazel Park, the police force has been trimmed from 40 to 33 in recent years. "There's a minimum number of human bodies you need to perform services," said City Manager Edward Klobucher. "Nobody wants to relocate to a community that can't protect itself."
The impact on public safety is not immediately clear. There's no crime data to suggest the decline in police officers in Michigan cities has made cities less safe. Crime rates in Michigan have dropped over the past 20 years, as they have nationally.
But police do more than investigate murder, rape, assault, car thefts and burglaries. They are there when there's a car accident, or when a woman is menaced by her spouse or partner (domestic violence is a crime but not in federal crime statistics). They do crowd control and catch speeders. They line the street when there's a parade and stroll the stands at Friday night football games.
And in places like Wayne, near Detroit, where the force has shrunk from 42 to 23 officers over the past decade, they routinely work 12-hour shifts to keep residents safe. "Every night I go to bed and I pray that they come home okay," Wayne Mayor Susan Rowe told Bridge of her city's overworked patrol officers. "I fear for their safety."
The impact of fewer officers may show up in other ways.
In Bay City, for example, drunk driving arrests have declined with the number of police officers.
"With less people … less gets done," Bay City Public Safety Director Michael Cecchini told MLive in 2013.
In Ann Arbor, where the police force shrank 23 percent, the decline has meant the elimination of the drug education DARE program in schools and dedicated foot patrols on the city's main thoroughfares.
Because the cuts occurred over more than a decade, there has been little public notice that a police force that once stood at 198 is down to 122, with officers working 12-hour shifts, said Ann Arbor Police Chief Jim Baird.
"I think the public has been shielded (from the cuts)," Baird said. "Police are always going to provide the core services. It's the other stuff that falls by the wayside."
Other public-safety funding cuts are harder to hide. In Battle Creek, the police station smells of sewage, and office supplies are stored on shelves in the women's bathroom.
Back in the city of Wayne, community members held a fundraiser at a bowling alley to raise funds for new fire hoses.
"Wayne has a stable population, middle-class housing stock and a large, operating industrial complex, and it's still almost bankrupt," said Minghine of the Michigan Municipal League. "That's the world we live in."
Because the financial squeeze on local governments happened gradually, deferred maintenance on sewer systems, old playground equipment and outdated public safety vehicles aren't noticed by the public until there's a problem. MSU's Sapotichne compared it to a man eating bacon cheeseburgers every day. Outwardly, his health may seem fine, right up to the day he has a heart attack. "We're feeling the cumulative effect of 40 years of choices," Sapotichne said. "This structural financial gap is toxic to cities.
"Cities are going to make mistakes, because they're being squeezed," Sapotichne said. "And the consequences of those mistakes are exacerbated because of this financial structure."
Those mistakes could mean bankruptcy.
In Flint's case, it meant poisoned water.
"If all these cities are struggling, it tells you there's something wrong with the model," Minghine said. "We lose sight of how everyone is dancing on the edge of the cliff."
We're not just a news organization, we're also your neighbors
We've been there for you with daily Michigan COVID-19 news; reporting on the emergence of the virus, daily numbers with our tracker and dashboard, exploding unemployment, and we finally were able to report on mass vaccine distribution. We report because the news impacts all of us. Will you please support our nonprofit newsroom?