Flint 101: In business schools and seminars, a tough grade for Snyder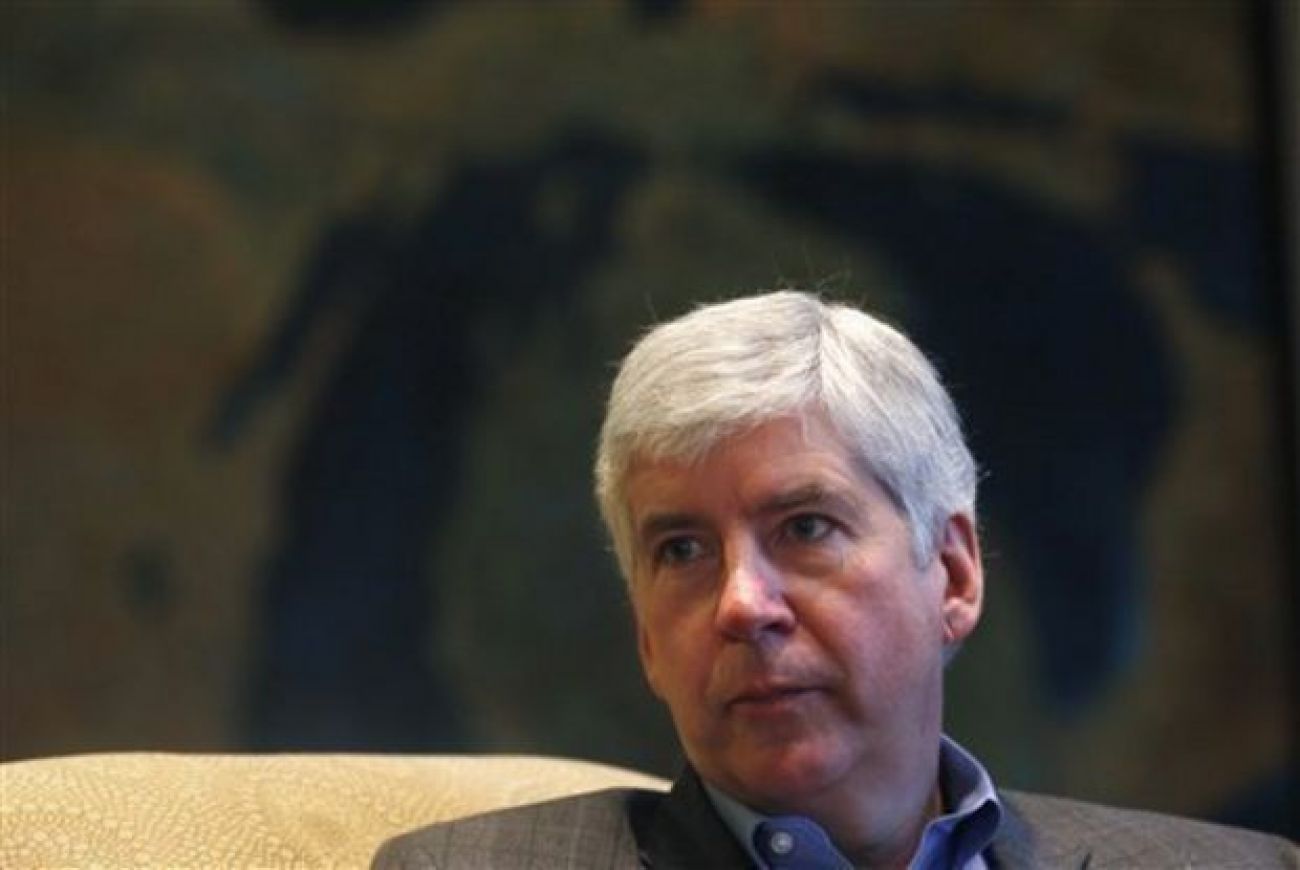 This is not how Gov. Rick Snyder wanted to make it into college classrooms.
Snyder's mishandling of the water crisis that exposed thousands of Flint children to possible lead poisoning is already being used in business school lectures as an example of epic organizational failure, along the lines of the BP Deepwater Horizon oil spill and the Catholic Church's response to priest child molestation scandals.
"Crisis researchers will see this as one of the most important events in this time," said Matthew Seeger, dean of the School of Fine, Performing and Communication Arts at Wayne State University, and longtime expert on crisis communications. "We have other awful examples (of crisis management) such as the space shuttle Challenger explosion and Hurricane Katrina. Flint will be that big of a deal."
The state's mismanagement of the Flint water crisis will be the theme of a doctoral seminar at Wayne State this summer, and was the subject of a forum at Harvard University. It may be a case study in an upcoming issue of a national academic journal and will be incorporated into management classes at Grand Valley State University in the fall. It's already an area of study for several political science researchers at Michigan State University, as well as a senior capstone project by an MSU master's student.
The name of that master's project: "How Michigan Failed Flint."
Snyder has acknowledged the crisis will be an unfortunate part of his legacy, saying, as governor, he's ultimately responsible for the decisions and delays that led to lead leaching from pipes into the water system of Flint.
But the governor has also attempted to insulate his own office's management decisions from the crisis, alternately blaming "career bureaucrats" or "civil service people" at various levels of government for giving his office bad information. Snyder has been particularly biting in castigating the "culture" within the state Department of Environmental Quality and the Department of Health and Human Services, while denying similar problems in the governor's office itself.
There's a decidedly different tone, however, being taken in college classrooms across the state.
"If he were a CEO, he'd be fired," said Marie McKendall, a business professor at Grand Valley State University. "There was a pronounced lack of problem-solving and communication. It almost seems in the end they forgot they were there to serve the people. That's an organization that is lost."
McKendall and colleague Nancy Levenburg are writing a case study for the North American Case Research Association journal, and say they will present their findings at a national conference in October.
If their case study is accepted for publication in the journal, business classes at colleges around the world may study for years the organizational missteps that lead to the poisoning of Flint children.
McKendall says she plans to use Flint in her business ethics classes next fall. "There are lessons about structure, ethics, culture, decision making," McKendall said. "It's a very rich case."
Harvard's Phillipe Grandjean, an expert on environmental pollution, called the state's handling of the water crisis "infuriating," where "decisions on water treatment were primarily made on the basis of cost and feasibility."
Staff members at Harvard's Global Health Education and Learning Incubator say they are building teaching tools for what the center calls "possibly the most egregious example of unsafe, lead-tainted water supplies in this country," ranging from multimedia video and simulation exercises, for secondary and university classes.
Wayne State's Seeger sees parallels to management decisions made by NASA before the space shuttle Challenger explosion, in which warnings of problems were ignored.
"Engineers had a good idea that the Challenger would not launch and tried to talk managers out of launching," Seeger said. "Almost every crisis has a failure of risk recognition, a sort of breakdown in decisional vigilance, not because of malicious intent, not because people are evil, but because of the way people process information."
Lead is a neurotoxin that hinders development of the brain and nervous system, particularly in young children. Thousands of children were exposed to water with high levels of lead for more than a year, despite increasingly vocal fears from residents and outside experts.
Emails released by the governor's office reveal that state officials stuck to (often faulty) data analysis generated by their own experts while ignoring, and at times trying to discredit, data analysis by outside experts. Emails also reveal that Snyder's own inner circle of advisors discussed growing concerns Flint water with each other, but apparently failed to share that concern with the boss.
See Bridge Magazine's Flint water crisis timeline
Seeger, who's authored several books on crisis management and communications, will lead a doctoral seminar on Flint this summer examining the failures of crisis communication in the ongoing man-made health disaster.
"It's hard to understate the capacity of humans to ignore risks," Seeger said. "You probably know some people who smoke. The surprising thing for people like me who study crises is that we don't have more cases like Flint, where people ignore the flashing red light."
Throughout the first three quarters of 2015, the governor and his then-chief of staff, Dennis Muchmore, said nothing publicly to contradict the official line of state agencies that the water coming from the taps in Flint met safe drinking water quality standards, even after residents and outside experts publicly contended otherwise – a trait Seeger said often happens as organizations create "tenacious justifications for what's going on. By trying to be on the same page, people lose track (of what's important)," he said.
For his part, Snyder disputes that his office's own culture is dysfunctional, or that aides were disinclined, or even afraid, to tell the governor of troubling information trickling in from Flint.
To the contrary, Snyder told Bridge, he has always made it clear that problems need to be addressed openly if they are to be solved.
"We need to create a culture where people can say, 'You know, we need to try things, be more open, be more inquisitive, and try different things.' And that's the culture we largely have," Snyder told Bridge last month in New York, where he spoke to a group of journalists at a conference.
But the released emails tell a more complicated story, including multiple instances in which staff members in his own office were trading concerns about Flint health issues in the year before Snyder says he first learned there were high levels of lead in the water system.
In one notable case, Harvey Hollins III, Snyder's director of Urban and Metropolitan Initiatives, was told in March 2015 about an increase in Legionnaire's disease in Genesee County that appeared to correspond with the state's decision to switch to the Flint River as a source of water for Flint, but didn't tell Snyder. Hollins said there was not enough information at that time for him to take the concern to his boss.
That points to a culture problem within Snyder's inner circle, said McKendall, the Grand Valley business professor. "The culture is the culture the governor wants to create. And there were some very powerful norms these people were following."
Don Conlon, professor of management in the Eli Broad School of Business at Michigan State University, drew a parallel to yet another crisis that likely will make Snyder grimace: the recent terrorist attacks in Paris and Brussels.
"People operate in silos and the data is so fragmented no one can draw conclusions," Conlan said. "In Europe, (police) have the same information-sharing problem. Perhaps there are some terrorists that all the countries know, and others that only one country may know of, and that information is not shared."
In the case of Flint, DEQ officials were focused on lead levels in the water, while state health officials at DHHS were independently examining lead levels in children.
Snyder has said he could "kick himself" for not asking more questions as Flint residents complained about the water flowing through their faucets. But he has also said that, given the size of government, any governor has to rely at least somewhat on experts.
"The challenge is, and I don't use it as an excuse but, when you've got 47,000 people (in state government), there's a lot of pockets that you need to get to and this is one that we didn't," Snyder said in New York.
"And it's tragic, it's just terrible, and ...I don't want to use that as an excuse, they work for me. And so, I'm trying to represent the values that you'd hope to see people do, to say that if it happens on your watch you need to take responsibility and you need to go fix it. And if anything people can see that I have a passion to fix it as much as anyone given the fact that these people work for me."
Crises happen in all organizations, said Lynn Wooten, an associate dean at the Ross School of Business at the University of Michigan, and an expert on crisis leadership. (You can see Wooten talk about crisis leadership here.) But she said that how leaders respond to that crisis can either help limit the damage, or make it worse.
"I don't know the inner working of the governor's office, but it sounds as if you have a culture that isn't willing to face the brutal facts," Wooten said. "Everyone knows there is a problem, but they want to stay in denial."
Wooten compared Snyder's early response to Flint to the initial response of British Petroleum CEO Tony Hayward in 2010 to the Deepwater Horizon oil spill in the Gulf of Mexico.
In public statements, Hayward underplayed the amount of oil that was leaking from the well, and later said the Gulf of Mexico was so large the spill wouldn't do much damage. The spill ended up being the worst offshore, man-made environmental disaster in U.S. history.
Hayward was ousted as CEO in the wake of his tone-deaf responses to the tragedy.
Wooten said Snyder and other state officials should have been more open to the data of outside researchers, such as Dr. Mona Hanna-Atisha who found increased rates of lead poisoning in Flint children, and Virginia Tech's Marc Edwards, who found dangerous levels of lead in the drinking water. CEOs need to listen to experts with different points of view. "You need insiders and outsiders on a good team," Wooten said. "They may drive you crazy in meetings, but you need people who are willing to tell you the truth."
"There's a phenomenon called escalation of commitment to a bad decision," said Levenburg, the Grand Valley management professor. "A group rationalizes its decisions (despite) increasingly negative outcomes. Under this phenomenon, once you start to see things go bad, you dig in."
Wayne State's Seeger said the state's mismanagement of Flint reveals the need to "build organization systems that are very sensitive to risks when (risks) come up. We need ombudspersons and anonymous tip lines so leaders can get these kinds of concerns."
Exploring how the state bungled the Flint crisis may be studied for years, but it is more than an academic exercise for Snyder and future governors. "I want the governor and the state to resolve this," Wooten said, before then next crisis.
CLARIFICATION: An earlier version of this article suggested Snyder's and Muchmore's inaction was based on a "belief" that Flint's water was fine, long after residents and outside experts contended otherwise. In fact, we don't know what they believed. We know only what is documented in publicly available email records. Which is that the Snyder Administration did not take concrete steps to address the Flint water crisis until October 2015, months after a memo by EPA water expert Miguel Del Toral chronicling high lead levels in Flint was publicly reported by the ACLU Michigan.
Only donate if we've informed you about important Michigan issues
See what new members are saying about why they donated to Bridge Michigan:
"In order for this information to be accurate and unbiased it must be underwritten by its readers, not by special interests." - Larry S.
"Not many other media sources report on the topics Bridge does." - Susan B.
"Your journalism is outstanding and rare these days." - Mark S.
If you want to ensure the future of nonpartisan, nonprofit Michigan journalism, please become a member today. You, too, will be asked why you donated and maybe we'll feature your quote next time!