William Milliken was a Republican who never formally left the party but grew apart from it later in life after decades as a champion for conservation, social justice and urban affairs.
LANSING -- Former Michigan Gov. William Milliken, hailed as a protector of the environment and a "passionate moderate" whose civility and grace is scarcely recognizable in contemporary politics, died Friday evening at age 97. 
Milliken was a Republican who never formally left the party but grew apart from it later in life after decades as a champion for conservation, social justice and urban affairs.
He died in the city where he was born, Traverse City. That proximity to the Great Lakes informed an appreciation for Michigan's water and land that came to define his legacy even more than his unlikely and lasting friendship with Detroit's firebrand Democratic mayor, Coleman A. Young. 
"We all benefit from a whole host of steps he took as governor," said Bill Rustem, a senior policy adviser to Milliken who became a lifelong friend. 
Rustem rattled off a slew of the governor's environmental successes, often over the considerable influence of agricultural and other industry interests — the Natural Resources Trust Fund; helping Michigan to become the first state to ban the harmful chemicals DDT and PCB, and Milliken's patient, seven-year battle to pass a state bottle bill. 
"I saw an eagle the other day and I thought to myself: 'What if Gov. Milliken didn't have the courage to do what he did?' " Rustem told Bridge Magazine late Friday. "Would I have seen that eagle today?" 
The state's current governor, Gretchen Whitmer, honored Milliken's personal qualities.  
"Governor Milliken was a true statesman who led Michigan with integrity and honor," she said in a statement. "I extend my deepest and most heartfelt condolences to Governor Milliken's family for their loss. May we all continue to learn from his lifetime of service." 
Warm tribunes poured in throughout the evening, from past and current politicians on both sides of the aisle, and with politics mentioned only secondarily. 
"Gov. Milliken was a friend, always," Republican Congressman Fred Upton wrote on Twitter. "He encouraged me on many fronts and led a life with no regrets. His infectious smile charmed and disarmed all who knew him, and his bipartisan style served as a role model of days gone by and certainly needed today!" 
Former Democratic Gov. Jennifer Granholm said he was 'the personification of decency" and "an honest and true gentleman. If only we had more like him in this moment of division and acrimony."  
The Michigan Republican Party noted his "kindness and civility" while Lana Pollack, a Democratic former state senator and former president of the Michigan Environmental Council, called him "the best good guy I ever knew in politics. He's everything you want your kids to grow up to represent."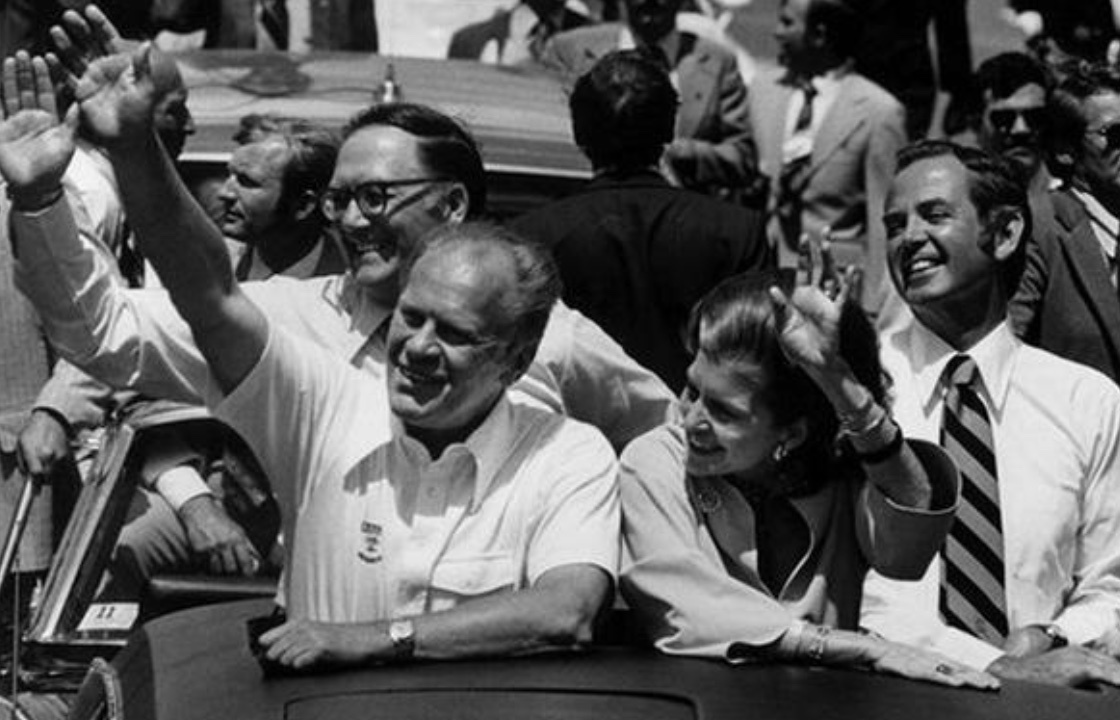 A lifetime of service
Milliken would point to his years in the military as a building block for a career in public service that included a record 14 years as governor from 1969 to 1983, an era that predated term limits and allowed for more bipartisan relationship building.  
He interrupted his studies at Yale University in 1943 to enlist in the Air Force during World War II. Milliken flew 50 missions over 10 months in Italy as a waist gunner before returning to the states, where he married his wife Helen and completed his college degree. 
Milliken took over his family's retail business in Traverse City before winning election to the state Senate in 1960, following in the footsteps of his father and grandfather, who had both represented the region in the Legislature.
He joined Republican Gov. George Romney's administration as lieutenant governor in 1965. Four years later, Milliken became governor after President Richard Nixon appointed Romney Secretary of Housing and Urban Development.
Milliken began pushing an environmental message during his first State of the State address and used his first year in office to deliver special messages on water pollution, urban affairs and education. 
"We tell our visitors, 'If you seek a pleasant peninsula, look about you,'" he said in his first statewide address, echoing the state's motto. "Let us never be forced to add, 'But don't go near the water.'"
Milliken won his first full term in 1970, narrowly defeating Democrat Sander Levin in what was otherwise a tough year for Republicans. Voters approved a proposal Milliken had opposed banning public funding for religious and other private schools. 
But his election at the top of the ticket "clearly reflected his personal popularity in a sharply divided state," biographer Dave Dempsey wrote in a 2006 book on the former governor. 
Milliken's early tenure was marked by landmark environmental legislation, including attaching his signature to the Michigan Environmental Protection Act, which gave any citizen standing to file a lawsuit in the face of environmental threats. 
His first term was also marred by the state's sluggish response to public health crisis that began in 1973, when a company in the central Michigan town of St. Louis mislabeled a plastic flame retardant known as PBB and distributed it as farm feed. 
The state eventually slaughtered 23,000 heads of cattle, 1.5 million chickens and other livestock, but thousands of residents had already ingested contaminated animal products. Experts today continue to study the impact on exposed residents, including higher rates of some cancers and pregnancy complications.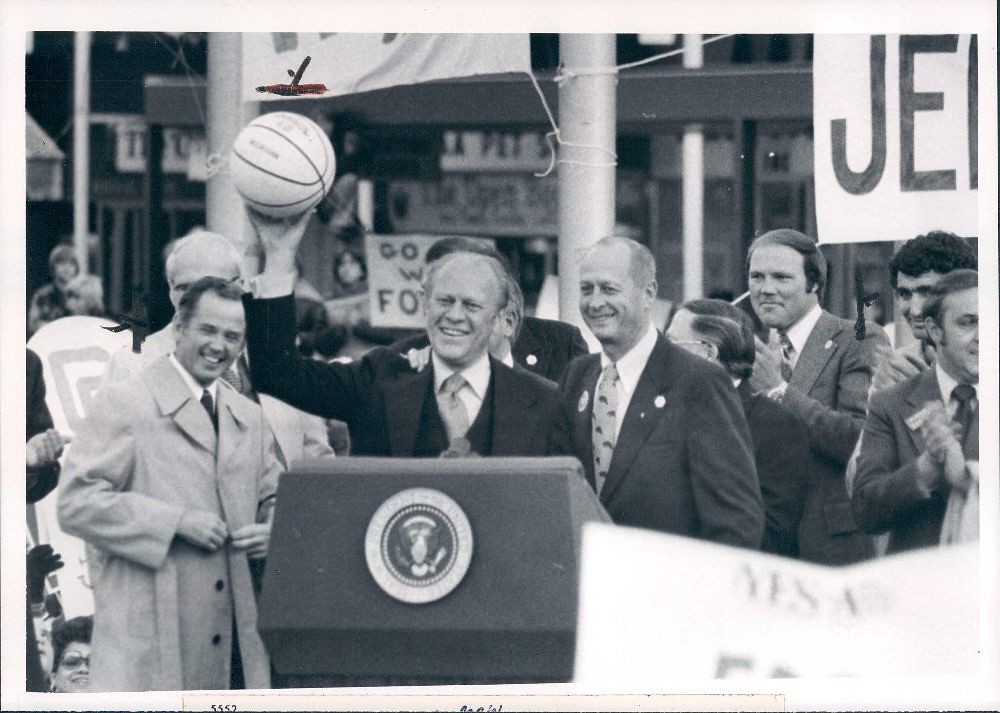 President Gerald Ford and U-M basketball coach Johnny Orr, with then-Gov. William Milliken, Detroit Tigers catcher Bill Freehan in 1976. (Creative Commons)
On the environment, Pollack remembered Milliken as a man "committed to something well beyond himself, in a sense he felt [a] responsibility to protect the Great Lakes."
The fact that he lived on those waters factored into that passion.
"He grew up in Traverse City and was surrounded by woods and water in his childhood," Dempsey, his biographer, told Bridge Magazine on Friday. 
Pollack noted that there "were times when he may have stumbled with the PBB thing." But, she added, "that too is an example of how if there was a problem, he didn't try to bury or deny it. He tried to solve it."
In 1976, Milliken championed a petition drive to create Michigan's 10-cent bottle deposit law, supplying the first signature on a citizen petition drive after legislative efforts had failed amid opposition from industry wholesalers and retailers. 
A year later, he publicly backed a state rule limiting the phosphorus content of laundry detergent that had been linked to algae outbreaks in Lake Erie, angering powerful GOP donors who owned the Amway Corp., in West Michigan. 
He would later oppose efforts by members of his own party to roll back environmental protections he had fought for. 
"In the end, the image of Milliken the guardian was as important as any of the more than three dozen major environmental and conservation laws he signed during his 14 years as governor," Dempsey wrote in his book. 
Milliken created an environmental framework that remains today, said former state Senate Majority Leader Ken Sikkema. "It'll last forever."
Milliken's environmental focus did not always go over well in his own party, said Sikkema, who served as majority leader after Milliken left office.  
Neither did Milliken's decision to raise taxes amid a recession at the end of his tenure.
"He seemed to have the ability to stand for something and not really let critics deter him from it," Sikkema told Bridge. "He would listen to people, but he seemed to have a sense of what was really important and he was willing to pay a political price to see it happen."
One Michigan. Forging ties with Detroit. 
Milliken became governor less than two years after social rebellion rocked Detroit, and his steady hand helped guide the state through a time of significant racial tension. 
A civil rights supporter who had joined Dr. Martin Luther King's Detroit Walk to Freedom in 1963, Milliken used his public pedestal to promote the concept of "One Michigan" in an attempt to unify the state. 
Rustem recalled Milliken's support for the state Elliott-Larsen Civil Rights Act and, as important, his determination that the state not quit on economically struggling Detroit in the 1970s. 
"The emphasis he placed on the City of Detroit and the need to rebuild helped to change public attitudes toward Detroit," Rustem said. "He insisted on putting money in the city knowing that the state couldn't be successful unless this city was successful."   
The white governor appealed to African Americans with a series of early cabinet appointments and developed a lifelong friendship with Young, Detroit's outspoken mayor. Dempsey called their relationship "one of the most remarkable partnerships in Michigan political history."
Milliken walked a fine line in 1972 when a federal judge ordered busing to racially integrate public schools in Detroit and its surrounding suburbs, fueling a national debate that resurfaced in a recent exchange between 2020 Democratic presidential candidate Joe Biden and Kamala Harris. 
At the time, Milliken publicly opposed busing as a method to achieve integration but opposed calls for a constitutional amendment to ban the practice. In the early 1980s, he supported Mayor Young's use of eminent domain to clear the city's "Poletown" community for a General Motors factory, a land grab that remains controversial nearly four decades later.
Still, Milliken's long running support from Detroit earned him praise from local leaders. As he prepared to leave office, Young surmised the courtly Republican would "probably go down as one of the greatest governors."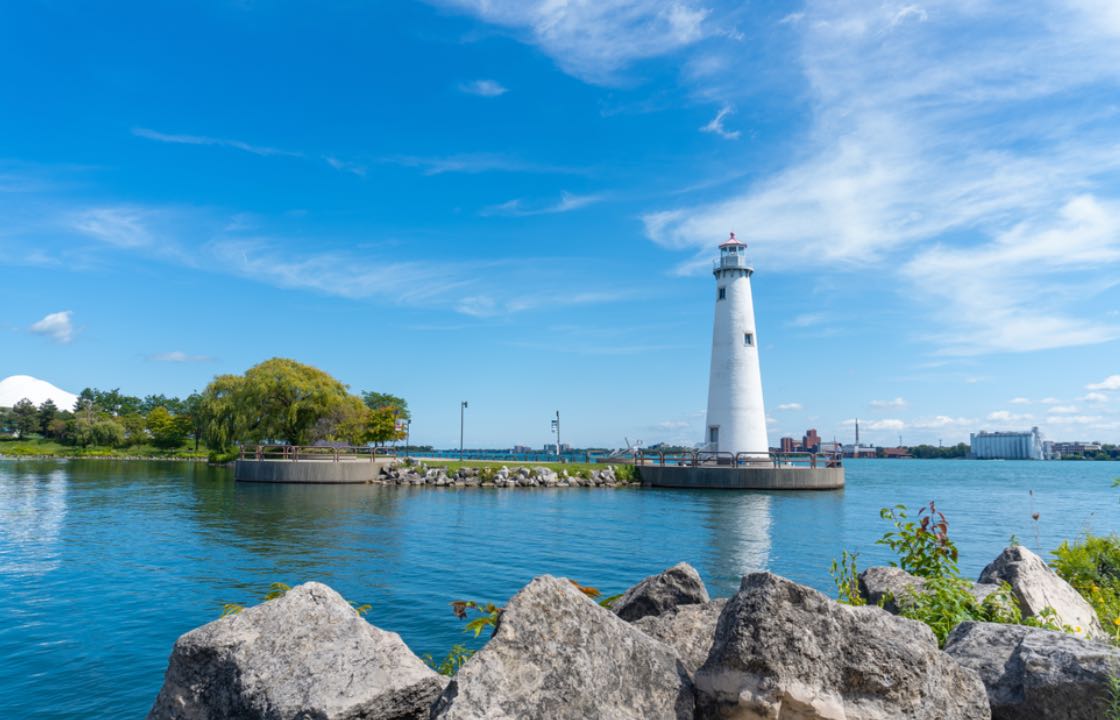 The William G. Milliken State Park and Harbor, east of downtown Detroit, contains 31 acres of  wetlands, paved trails and a 52-slip harbor of refuge.  Milliken grew up in Traverse City surrounded by woods and water, which factored in to his passion for the environment. (Shutterstock image)
When Dempsey later interviewed Milliken for his book, Milliken "was very open about his mistakes and his regrets." 
Dempsey said Milliken told him he regretted signing the "650-lifer law" – approved in 1978 — requiring life in prison without parole for manufacturing and delivering 650 grams or more of cocaine. Milliken later tried to reverse it, Dempsey said. 
Post-office drift from GOP 
Milliken chose not to run for re-election in 1982 and also turned down calls to run for the U.S. Senate. Instead, he vowed to dedicate his final year in office to campaigning for Michigan in a bid to promote "the interests of the state I love."
With the state's economy slumping anid a General Motors strike and reverberations from sky-high petroleum prices, Milliken said 1981 had demonstrated "just how vulnerable Michigan is to economic factors beyond its control, and how vulnerable it is to the partisan conflict and confrontation that all too often allow special interests to thwart the public interest."
Detroit Free Press, the liberal paper of record in the state's largest city, surmised that Milliken's success as governor was the result of both his personality and a "unique coalition" he built of moderate Republicans and progressive Democrats reelecting outstate and urban interests.
"His reputation for decency is reflected in the goodwill with which even his political enemies tend to regard him," the Free Press wrote as Milliken prepared to leave office. "A political balance that has endured for years is severely shaken, and perhaps upset forever."
Milliken later became president of Chicago-based Center for the Great Lakes nonprofit and appeared to step away from politics for several years. [Disclosure: Milliken was one of more than a dozen leaders across the state to serve on the steering committee of the nonprofit Center for Michigan, which includes Bridge Magazine.]
After his hand-picked successor lost the GOP nomination in 1982, Milliken largely avoided endorsing in gubernatorial elections. 
But he made waves in 2004 when he broke from his party and endorsed Democrat John Kerry over incumbent Republican President George W. Bush, the first in a series of endorsements that frustrated Republicans and led to his eventual ouster by the local party. 
"My Republican Party is a broad-based party, that seeks to bring a wide spectrum of people under its umbrella and that seeks to protect and provide opportunity for the most vulnerable among us," Milliken said in a statement announcing the Kerry endorsement. 
"Sadly, that is not the Republican Party that I see at the national level today."
Milliken biographer Dave Dempsey said the former governor "was very open about his mistakes and his regrets."  Dempsey said Milliken told him he regretted signing the "650-lifer law" – approved in 1978 — requiring life in prison without parole for manufacturing and delivering 650 grams or more of cocaine and later tried to reverse it. (Bridge file photo) 
Milliken endorsed Republican Gov. Rick Snyder in 2010 but backed Democratic U.S. Sen. Gary Peters in 2014 and Democratic presidential nominee Hillary Clinton. The latter earned him a rebuke from the Grand Traverse Republican Party. 
In 2015, Milliken signed on to a legal brief asking the U.S. Supreme Court to legalize same-sex marriages, which the justices did that June.
The quality of grace  
Milliken was remembered by some on Friday for what he wasn't. He wasn't a yeller, he didn't call adversaries names. He was willing to compromise with lawmakers when one chamber or the other was controlled by Democrats during his time in office. 
"I learned the quality of grace," said Rustem, who later would serve as director of strategy for another GOP governor, Rick Snyder. 
"I learned not to shout but to listen if you really want to accomplish anything. I learned that sitting down with people and looking them in the eye was really important. 
"You can't just send an email, or go on Twitter. You've got to look them in the eye." 
Republican Lee Chatfield, the current Michigan Speaker, who was not even born when Milliken left office, noted that the former governor is worth emulating today, saying that Milliken has "been the standard for leadership and bipartisanship for the past 50 years." 
That sentiment, too, crossed party lines in Lansing. 
"At a time like this," said Pollack, a former Democratic lawmaker, "we need to remember that there can be good guys in government." 
Bridge reporters Jim Malewitz and Mike Wilkinson contributed to this article.