Gerrymandering never died in Michigan. It still haunts county boards, foes say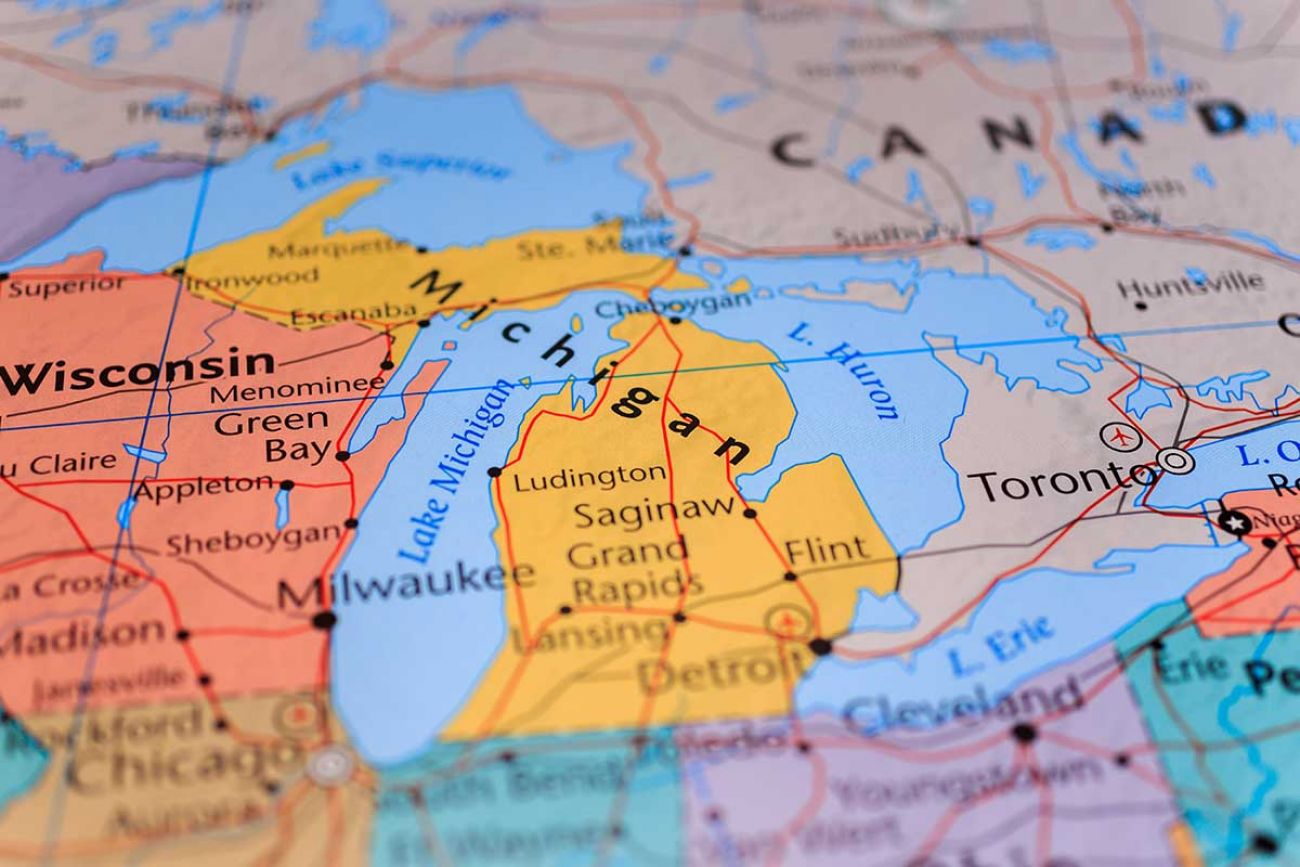 Critics say that county commissions in Kent and Macomb counties, among others, are unfairly drawn. The state Supreme Court declined to take up a challenge to the districts. (Shutterstock)
Michigan Government
Gerrymandering never died in Michigan. It still haunts county boards, foes say
Michigan voters created a bipartisan commission to draw state legislative districts in 2018 after years of gerrymandering
County commission districts are drawn at a local level, though, and critics say some favor one party
Backers of the districts say voters don't always favor one party, especially in local races
---
In 2018, Michigan voters overwhelmingly voted to create an independent citizens' commission to draw state legislative maps, wresting control of the process from politicians.
In November, those redrawn maps helped Democrats win both the state House and Senate, a feat they hadn't accomplished since the mid-1980s despite sometimes winning more total votes in legislative elections than Republicans.
So gerrymandering is dead in Michigan, right?
Related:
Not quite, argue critics from both parties who contend that county commission districts are still overly partisan because they are still created by politicians rather than the independent commission.
Consider:
In Genesee County, Democrats won eight of nine seats in November — even though Democrats only received 50 percent of all votes for county commissioners.
In Macomb County, Republicans won eight of 13 seats with 52 percent of the total votes, excluding the one district in which the Republican had no Democratic challenger.
In Kent County, Republicans won 12 of 21 seats with just 50 percent of all commissioner votes.
Democrats were so outraged by the maps in Macomb and Kent counties that they challenged them in court and lost. The state Supreme Court declined to hear appeals of the two cases.
But that may not be the end of it: Former Kent County Commissioner Phil Skaggs, a Democrat who won a seat in the state House in November, said he may draft legislation to amend the current apportionment rules when he gets to Lansing.
"The system is (drawn up by) politicians and party bosses," Skaggs said. "It's almost the worst system you could devise."
Legislative boundaries are redrawn every 10 years, after the census,and county commission boundaries in 82 of 83 counties are crafted by panels composed of the county prosecutor, treasurer and clerk, along with the leaders of the local Democratic and Republican parties.
The maps help decide who serves on county commissions, bodies charged with spending hundreds of millions of dollars each year and allocating policies for law enforcement, public health and economic development. In some counties, commissioners took an active role to limit COVID-19 restrictions like mask mandates.
The only exception is Oakland County, whose commission draws its own boundaries.
In 2021, Democrats held an 11-10 majority on the commission.
Members approved new maps which shrunk the size of the commission by two seats and helped Democrats win 13 of 19 seats in the county that is increasingly Democratic. Gov. Gretchen Whitmer, a Democrat, won the county by over 145,000 votes.
By one measure of potential gerrymanders, called the "efficiency gap," which estimates how many party's votes are "wasted" to allow the other party to win more seats, Oakland's new maps are not gerrymandered.
Tell that to Oakland County Commissioner Bob Hoffman, a Republican from Highland Township in the northwest corner of the county.
Hoffman said he voted for the legislative districts because they were the "lesser of two evils." Even though the Democrats' plan pitted him against another Republican incumbent, another proposal would have hurt even more Republicans.
Besides, when Republicans were in power after the 2010 census, they drew commission maps to benefit themselves, Hoffman said.
"I think that's the way it's been, protect your own turf," said Hoffman said, who won his seat in November.
Unequal weight
With the adoption of new rules on drawing state and federal legislative boundaries, the state Constitution includes a provision that the bipartisan citizens commission not create maps that give a "disproportionate" partisan advantage to either party.
Other rules require the districts to have the same population and recognize Michigan's diversity and "communities of interest."
At the county level, the rules that date to 1966 also include a guideline to avoid maps with a "partisan political advantage."
But it's the last of eight priorities.
Given the difficulty sometimes of drawing maps, the requirement is easy to "ignore" if others — such as keeping communities intact — are met, argued Mark Brewer, a Democratic attorney.
In the Macomb and Kent cases that he lost in 2021, Brewer asked the state Supreme Court to revisit one of its own decisions, from 1982.
In that case, the court said that the eight guidelines used to draw maps should not be used in descending order; Brewer said he wanted the court to consider the guideline on avoiding partisan advantage as equal to the other guidelines.
'Totally' gerrymandered?
In 2020, Macomb County Republicans won seven of 13 county commission seats, when Republican President Trump won the county by over 40,000 votes.
In November, the political winds shifted and Whitmer won the county by 30,000 votes.
But Republicans, running on a map drawn by Republican Prosecutor Pete Lucido, picked up a seat on the county commission, winning eight of 13 seats.
Using the "efficiency gap" measure, the county is gerrymandered. That's because Democrats "wasted votes" equal to 9 percent of the total votes — above the 8 percent threshold for gerrymandering.
Republican political consultant Jamie Roe, who lives in the county, said the maps are better than the alternatives because they kept more communities together.
He said the plan submitted by Ed Bruley, the chair of the county Democratic Party, would have pitted two incumbent Democrats against each other and split more communities.
Roe worked on Lucido's plan, which also split communities.
For instance, Democrat Julie Matuzak won a commission seat in 2020 by just 215 votes over Republican James Perna in a district entirely in Clinton Township.
After redistricting, the most Democratic-leaning portion of Clinton Township was no longer in Matuzak's district but in District 8, which another Democrat easily won in November.
The new district included parts of Clinton Township precincts but also parts of Republican-leaning Shelby and Macomb townships.
"In the end no Democrat even ran in that district," Bruley said.
Matuzak chose not to run, instead opting to run for a seat as a Clinton Township trustee, which she won.
Perna ran unopposed in the new District 7, which leaned narrowly in favor of Whitmer — 49.8 to 48.8 percent — out of nearly 34,000 votes. But in the portions of Clinton Township that had been in the district, Whitmer handily beat Dixon by nearly 5,000 votes and 58 percent to 40 percent.
Overall while Republicans were winning, on average, their Macomb County seats by nearly 3,300 votes, Democrats won their nine seats by an average of 4,200 votes, a sign of "packing" the Democratic areas into fewer districts and spreading out Republican votes.
"It was totally gerrymandered," Bruley said.
Not so, Roe said. He noted that four Republicans won in county commission districts where the Democratic Whitmer beat Republican Tudor Dixon.
"Candidates and campaigns matter," he said.
Not everyone is unhappy
In Eaton County, Democrats and Republicans seem to take turns winning elections; it's the definition of a "swing" county.
But because Republicans hold the prosecutor's and clerk's position, they were a majority on the apportionment commission.
However, the new boundaries they created in 2021 did not turn into a big GOP win: Republicans won eight of 15 seats — one fewer than the nine they had won in 2020 — even though Whitmer won the county by 4,500 votes.
Bob Robinson, the Democratic county treasurer who was on the apportionment board, said his Republican peers did a good job, and they did not make a lot of changes.
"My feeling is the reapportionment went very fairly," he said.
One thing counties can do when they redraw lines is add or subtract districts.
In Oakland County, the commission reduced them by two; they added two in Kent County, two in Grand Traverse County and one in Ingham County. Counties can have from five to 21 members.
Brewer said it's another way a county can "hide" gerrymandered districts. In Kent County, Skaggs said the addition of two districts ensured Republicans had a three-seat majority.
Republicans won 12 seats in Kent County by an average margin of 21 percentage points — but Democrats won their nine by an average of nearly 37 percentage points.
In two commission centered in Grand Rapids, the Democrats won by 57 and 71 percentage points. No Republican won their seat by more than 35 percentage points.
Skaggs said change is needed.
"The people were clear they don't want gerrymandering," he said. "I don't think they should have it anywhere."
Only donate if we've informed you about important Michigan issues
See what new members are saying about why they donated to Bridge Michigan:
"In order for this information to be accurate and unbiased it must be underwritten by its readers, not by special interests." - Larry S.
"Not many other media sources report on the topics Bridge does." - Susan B.
"Your journalism is outstanding and rare these days." - Mark S.
If you want to ensure the future of nonpartisan, nonprofit Michigan journalism, please become a member today. You, too, will be asked why you donated and maybe we'll feature your quote next time!