GOP leader: Michigan doesn't need COVID mandates — or to impeach Gov. Whitmer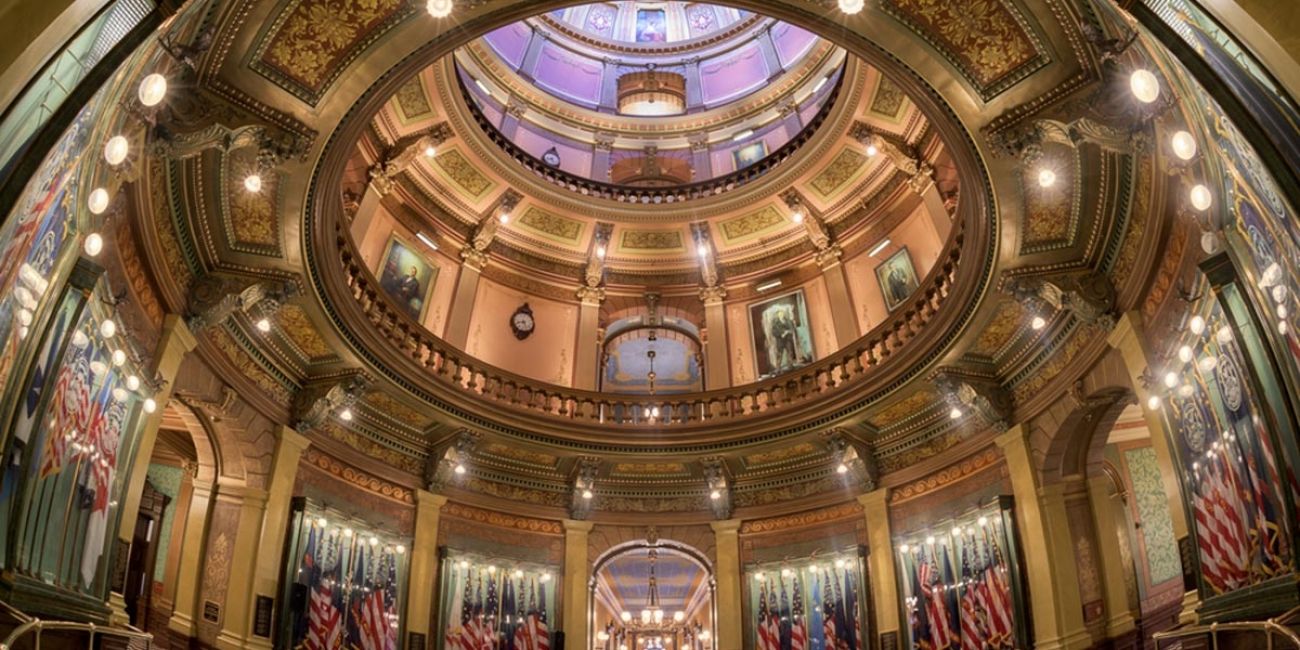 Michigan Government
GOP leader: Michigan doesn't need COVID mandates — or to impeach Gov. Whitmer
LANSING — Michigan's new COVID-19 restrictions will unfairly punish compliant businesses and appear "misdirected," but so does a conservative push to impeach Gov. Gretchen Whitmer, Republican Senate Majority Leader Mike Shirkey said Tuesday.
In a wide-ranging interview with Bridge Michigan, the Clarklake Republican blasted a new epidemic order that, beginning Wednesday, will close Michigan restaurant and bar dining rooms, high school and college classrooms, movie theaters and bowling alleys for at least three weeks.
Shirkey said the GOP is not planning any immediate legislative action to fight COVID. But he called the new restrictions an attack on the "little guy," noting that many businesses that will be closed had developed "terrific protocols" to protect customers and staff.
Related stories:
Public health officials have praised the latest order from Michigan Department of Health and Human Services Director Robert Gordon, calling it a smart and targeted approach to fighting the surging second wave that threatens to overwhelm hospitals.
A handful of Republican lawmakers, however, responded to Sunday's announcement by renewing their calls for GOP leaders to begin impeachment hearings for Whitmer, a rare step they contend is warranted because the governor has "ignored court orders" and the Legislature.
Shirkey does not support an impeachment inquiry, telling Bridge it would amount to "an exercise in frictional loss." Even if Republicans in the Michigan House were to approve articles of impeachment, Senate Republicans would not have the supermajority needed to convict.
"I don't think it's got the legs necessary, and frankly, I think it's a distraction from what we should be working on now," Shirkey said. "I understand why people feel that way. I vigorously and vehemently disagree with many of the actions our governor has taken over these last few months, but I think that our energy would be better spent on other things besides that."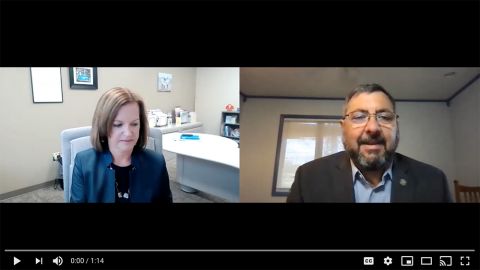 'We don't need mandates'
While the GOP plans no immediate bills to fight what Shirkey called "runaway" cases, it is posting a series of new videos on social media urging residents to be safe.
"We don't need mandates," he told Bridge. "We need people to be informed, inspired and given something they can do: calls to action."
Whether public service announcements from Michigan lawmakers will inspire residents remains to be seen. An initial video posted by Sen. Jim Stamas, R-Midland, had been shared by three Facebook followers and viewed by 80 people on YouTube in its first five hours.
Stamas, reading from a script, suggests Michiganders should take extra "precautions" this year during the holiday season. He's joined by Dr. Lydia Watson, chief medical officer of Mid-Michigan Health, who urges residents to wash hands, social distance and wear masks.
It's one of roughly a dozen videos that Senate Republicans are scheduled to post on social media in coming days, according to Shirkey, who said he invited Whitmer and Senate Democrats to participate in the initiative but got no response.
Whitmer has been busy helping develop and tout the state's new epidemic order, which she's calling a three-week "pause" to bend the curve. She also released a new "mask up" public service announcement with six other Midwest governors, including Republicans Eric Holcomb of Indiana and Mike DeWine of Ohio.
Asked if Senate Republicans have a plan of their own to battle the COVID surge, Shirkey offered an axiom instead: "Leadership is less about the statements one is willing to make and more about the questions you have the courage to ask."
Shirkey said he thinks the state should be "digging deeper" on ways to quickly establish new care and recovery centers for nursing home residents who contract the virus, "so that we can offload the non-acute patients from the hospital that are taking up bed space."
Senate Republicans are not planning to take any legislative action on COVID-19 until December, when they return from a Thanksgiving break, Shirkey told Bridge. But if hospitals need more funding for personal protective equipment, "we will be quick to respond."
House Republicans last month proposed legislation that would allow counties to opt out of statewide orders if local case counts fell, a plan that has not advanced amid record-breaking case numbers.
GOP leaders have resisted Whitmer's call for the Legislature to codify the state's existing mask mandate. The governor argues that writing it into bipartisan legislation would send a strong signal to residents that compliance is expected.
"They dismissed the codification of what we all recognize to be our best tool and offered nothing else in terms of actions that they might take other than doing some public service announcements," Whitmer said Monday. "So that's why I think when I see the criticisms, it just doesn't seem particularly serious because they haven't done anything."
Shirkey has consistently recommended mask use but has refused to support the statewide mandate. The public service announcements are an attempt to encourage compliance without the threat of criminal prosecution, he said.
"We've blundered executive orders so badly that public trust in government orders is compromised, to say the least," Shirkey said. "So instead of trying to use old habits and old methods that frankly were basically abused, we should try a different approach."
Mounting frustrations
Michigan's GOP-led Legislature sued Whitmer in May after she locked down the state to fight the first COVID wave, and the state Supreme Court ultimately invalidated an emergency powers law she had used to issue executive orders, calling it an unconstitutional delegation of authority.
Shirkey has criticized the administration for continuing to "go it alone" but said Tuesday he has no plans to pursue another lawsuit against Gordon, the health director who has used epidemic powers to issue COVID-19 orders of his own, with Whitmer's blessing.
"The governor's orders were clearly outside of the lines," but MDHHS appears to be "coloring right at the lines" or "maybe in some cases just outside the lines," Shirkey said, drawing a distinction between their legal authority.
"It does deserve a review later, after we get through these, to see if [the public health code] needs to be updated or not … but I'm not gonna get into a contest over that right now."
One area where Shirkey and Whitmer agree: The COVID surge means Michigan families should make alternative plans for Thanksgiving.
"Wear a mask when you leave home, especially if you're unable to socially distance, and yes – and this is not popular – consider postponing or limiting get-togethers through this upcoming holiday season," he said.
GOP leaders contend Whitmer has shut them out of the state's COVID-19 response, a narrative she disputed in a Monday call with reporters.
Republicans have been invited to "modeling calls" to examine data with Michigan Chief Medical Executive Joneigh Khaldun, Bureau of Epidemiology Director Sarah Lyon-Callo and University of Michigan experts, the governor said.
"We have also made all of these experts available for one-on-one follow-up Q&A," Whitmer added. "[Republicans] have availed themselves of many hours of time of all of these experts, and I've been a part of these meetings and been on conference calls.
"They've been very involved. They still haven't done anything though."
Shirkey told Bridge that "a couple senators and a couple House members" have participated in those data calls, which he called a "good" step toward information sharing that he wishes "would have started in April."
Legislative staffers were communicating with the Whitmer administration on Friday and even Saturday, but Shirkey said they were not told of the governor's plans until Sunday, the same day she and Gordon announced the new epidemic order.
"There was no sharing," Shirkey said.
He told Bridge he is set to begin participating in weekly data calls with the Michigan Economic Recovery Council that Whitmer formed in the spring to help develop a statewide economic restart plan.
The council is a "fantastic resource" and he's excited to participate, Shirkey said. "It's just a few months late."
"The effort, the output, the content, the dialogue that's in that group has been impressive, but I don't think it's been utilized and leveraged to deploy its maximum use because we've been held at bay for having access to it."
We're not just a news organization, we're also your neighbors
We've been there for you with daily Michigan COVID-19 news; reporting on the emergence of the virus, daily numbers with our tracker and dashboard, exploding unemployment, and we finally were able to report on mass vaccine distribution. We report because the news impacts all of us. Will you please donate and help us reach our goal of 15,000 members in 2021?