GRAND RAPIDS–With Gov. Gretchen Whitmer's proposed 45-cent gas tax hike to fix Michigan's crumbling roads stuck in neutral, is there a legitimate Plan B in sight?
Judging by Thursday's roads summit in Grand Rapids, it's premature to lay money on that prospect.
Transportation experts and public officials again agreed on the obvious – Michigan's roads are a mess and getting worse. Indeed, a 2018 report by a firm that creates HD maps for self-driving cars rated Michigan's roads worst in the country.
Thursday's event in Grand Rapids, sponsored by The Center for Michigan (which includes Bridge Magazine) and the Grand Rapids Area Chamber of Commerce,  was the last of three Roads Solutions Summits, following previous gatherings in Detroit and Lansing. About 50 people attended the summit.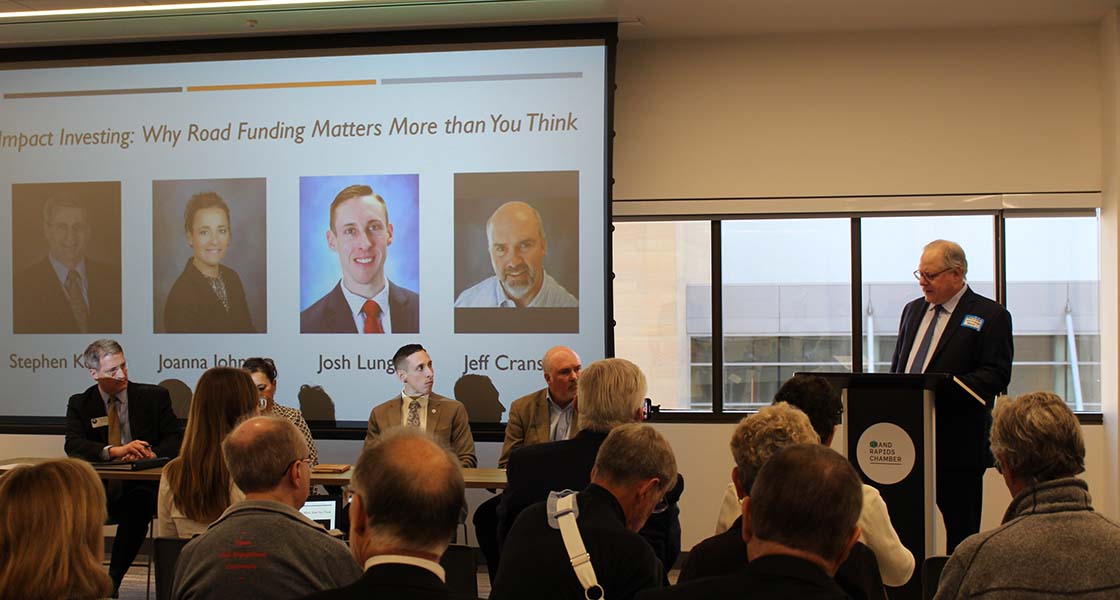 Assuming that Gov. Gretchen Whitmer's proposed 45-cent gas tax increase to repair Michigan's roads cannot get through the Republican-majority legislature, what might a compromise look like at the end of this year's budget battle? Panel experts in Grand Rapids did not see a clear path to a deal that would still raise the $2.5 billion needed annually to repair battered roads.
Nobody on the panel of experts could precisely predict where more than $2 billion in needed annual funding will come from if state legislators reject Whitmer's controversial plan to substantially increase the gas tax.
Her proposed tax hike has met stiff resistance from the GOP, as Senate Republicans moved forward this week on a 2020 budget with no tax hike. 
Related: Watch video, read quotes from experts at our Detroit roads summit
Further undercutting its chances, a recent statewide poll found 75 percent of residents oppose the suggested tax hike.
Senate Republicans say they won't release an alternative to Whitmer's plan until summer. House leadership called Whitmer's plan a "nonstarter," and have set no timetable to release a plan of their own.
Jeff Cranson, communications director for the Michigan Department of Transportation, told the audience it's a tough political environment in which to sell such an ambitious funding plan.
"We live in an unprecedented time of distrust in government, of people looking for somebody to blame and to say, 'I don't want to spend more. I don't trust government.' And that's on everybody."
Former GOP legislative leader Ken Sikkema said agreement between Whitmer and Republicans on a funding bill will be "a steep climb," though he held out hope a deal could be made.
"It's positive that both sides are saying we have a problem that needs to be fixed," said Sikkema, a senior policy fellow at Public Sector Consultants in Lansing. "Where it goes from there, and what period of time it takes, I don't have an answer. I don't have a crystal ball, here's how it gets resolved.
"I'm politically realistic, but I would urge them to go big," he said, noting that he co-chaired a bipartisan road funding study that recommended a 47-cent gas tax hike phased in over nine years that would raise $2.7 billion a year when fully implemented.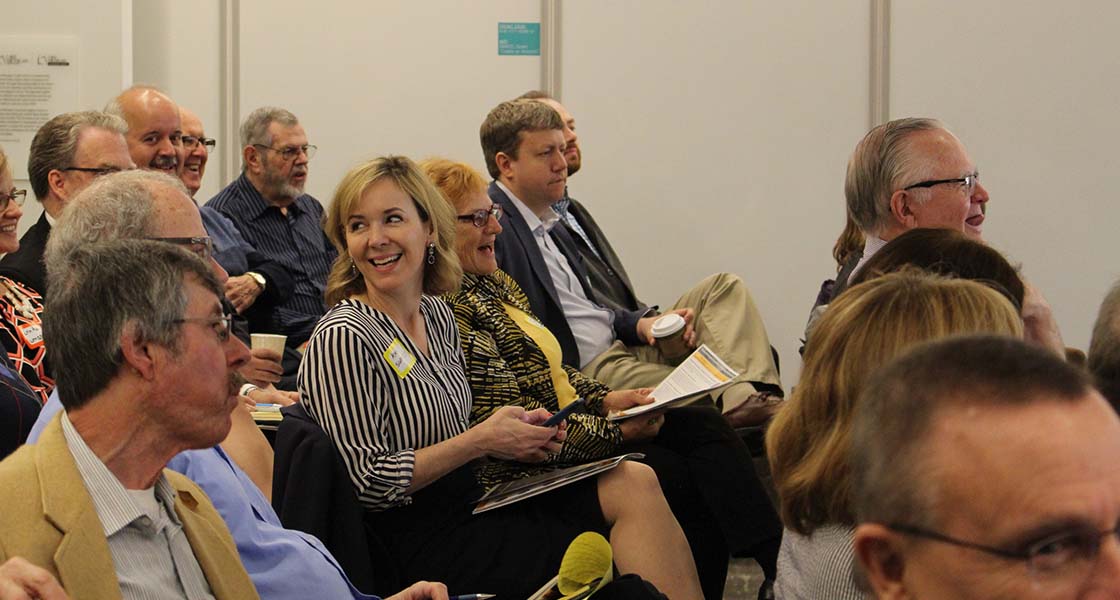 Thursday's audience at a roads summit in Grand Rapids.
Further complicating matters, the public may be wary of shelling out any more in fees or taxes after a $1.2 billion 2015 road funding deal that hiked fuel taxes and registration fees failed to do the job.
Recent tax increases signed into law this year in a trio of states – all with Republican legislatures – suggest that far more modest gas tax hikes could be politically feasible. But passage of a far less polarizing - and smaller - tax increase would mean road repair money would have to be raised elsewhere in the budget.
In Ohio

: A 10.5-cent gas tax and 19-cent diesel tax increase takes effect on July 1. A measure to index the gas tax to inflation, however, was not included in the final bill.

In Alabama

– The first stage of a 10-cent increase takes effect on Sept. 1 when the gas tax rate rises by 6 cents. Another 2-cent hike goes into effect in 2020 and another in 2021.

In Arkansas:

Diesel taxes will rise by 6 cents on Oct. 1 and gas taxes by 3 cents.
Steve Warren, managing director of the Kent County Road Commission, said he is optimistic some kind of road fund increase will get done.
Would it be a 45-cent hike?
"Not so sure," he told the summit.
If there was any common sentiment at the three summit events it was in the recognition that something must be done to rehab the state's terrible roads. Michigan's roads cost motorists $500 to $800 a year in added repair costs, tire wear and accelerated depreciation. Those costs seep into any business that relies on the roads for commerce.
Josh Lunger, director of government affairs for the Grand Rapids Chamber, said poor roads also hit the bottom line of heavy manufacturers across Michigan who have to move goods out of state.
"We need to connect to the world. A lot of our stuff goes out over roads," he said.
"The longer we wait, the bigger the problem becomes."