Lansing, we have a problem: Whitmer kills $2.5M rocket plan pushed by Snyder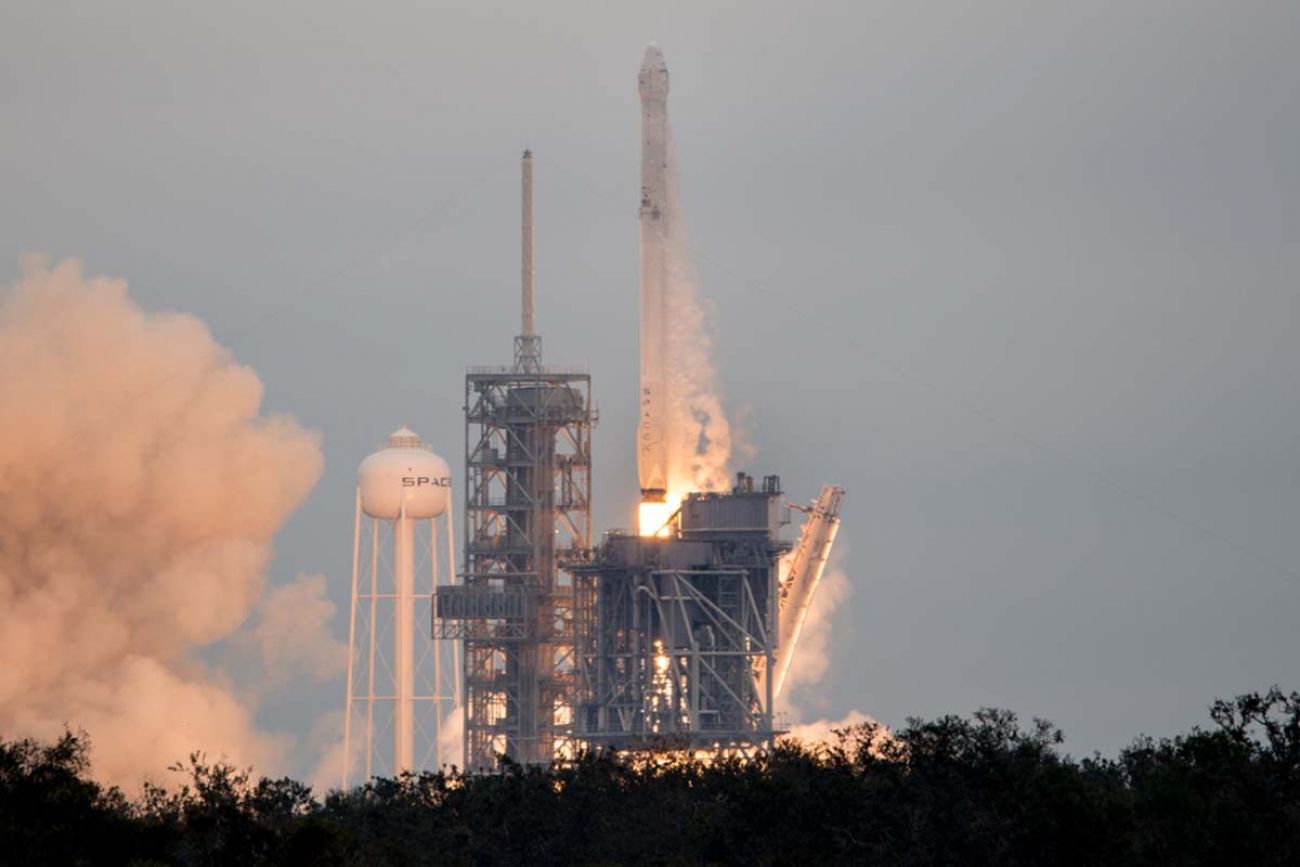 Michigan Government
Lansing, we have a problem: Whitmer kills $2.5M rocket plan pushed by Snyder
Update: All systems go once again for Michigan's $2.5M rocket plan
Northern Michigan may yet join the space race. But Michigan taxpayers no longer are on the hook for a $2.5 million grant to develop a commercial launch site there, Bridge Magazine has learned.
Gov. Gretchen Whitmer this week killed an under-the-radar effort to help develop a rocket-launching facility in Alpena, Gaylord or another city Up North.
Personally backed by outgoing Gov. Rick Snyder, a Republican, the grant was approved by GOP lawmakers on one of his last days in office – even though specifics were limited to a two-page report aeronautical experts described to Bridge as a "back of the napkin" plan.
The grant sought to add Michigan to the list of the states racing to tap into a growing commercial space market that major banks say could be worth $1 trillion to $3 trillion annually in a few decades.
But details of the Michigan Launch Initiative were so scant that Whitmer's administration won't fund the project, said Kurt Weiss, a spokesman for the Department of Technology, Management and Budget.
"We have no direction here," Weiss told Bridge.
The rocket proposal was perhaps the most unique among 75 pet projects, most sponsored by state Republican senators and representatives who used a $1.3 billion spending bill on Dec. 21 to tack on smaller grants to help fund infrastructure, health-care and cultural projects in their districts.
Whitmer has blasted the spending as pork politics at its worst, and this week signaled the state is – at least temporarily – withholding funding for the most controversial of the ventures: $10 million to bring water and sewer lines to land in Salem Township owned by Schostak Brothers & Co., whose CEO, Bobby Schostak is a former chairman of the state Republican Party.
The rocket project was included in the grants after Gavin Brown, executive director of the Michigan Aerospace Manufacturing Association, said he met with Snyder on Nov. 28, along with George Penna, a potential investor who runs a catering hall in Macomb County. (Penna had donated to $1,850 to Snyder's 2014 political campaign.)
When asked by Bridge which legislator or politician sponsored the grant, Brown was succinct: "It was Gov. Snyder himself."
Snyder did not return messages seeking comment from Bridge.
The launch project was combined with a separate proposal to build hangars at Willow Run, a cargo airport in Wayne County, for repairing commercial aircraft.
Gregory Behling, who wanted to develop the hangars, told Bridge his part of the project was slated to get $500,000 of the government grant, with the Michigan Launch Initiative getting the rest.
The legislation did not make that clear, Weiss said, one of several deficiencies that doomed the grant. Weiss also noted the proposed launch program is in an undetermined area of northern Michigan and possibly in Macomb County, neither of which are mentioned in the legislation.
Brown, contacted Wednesday, said his group had just learned about the grant's problems. He said his group is trying to decide it's next step and that he has met with Whitmer's staff about the idea, which he said could mean billions of dollars for Michigan.
"We still want to bring that opportunity forward," he said Wednesday.
Excitement Up North
Among the curiosities of the grant: The proposal never said where the launch facility would be built, beyond saying it would be "north of the 45th parallel."
In Michigan, that line stretches from the Old Mission Peninsula in Grand Traverse County on east to Alpena.
The benefits: few people and lots of land. It would allow the launch of rockets that would place satellites in what's called "low orbit" – up to roughly 1,000 miles above earth.
Brown also touted creating a "green" spaceport that is ecologically friendly, using biofuels for the rocket and leaving the land "as pristine as we found it."
Brown said he hoped to capture methane already released in Michigan to create those fuels, though he acknowledged a biofuel engine powerful enough to get into orbit has not yet been produced.
His venture hoped to be launching rockets by 2022.
Proponents across the country agree with Brown that developing an active spaceport would attract not just rockets and launches but also high-tech industries wanting to be near the facility.
Jobs could number anywhere from 1,000 to as many as 8,000, Brown said.
Before declining to fund the grant, state budget budget officials knew very little about it outside of a press release provided by Brown that claimed the $2.5 million in taxpayer money would help leverage another $70 million in private equity.
Asked by Bridge if he could share more information, Brown declined, saying his group feared "copy cats" might try to take advantage of his business plan.
Top academics at the University of Michigan's aerospace engineering department said it might have been a blessing that Whitmer killed funding for the launch program.
Anthony Waas, chairman of the department considered one of the best in the country, is wholeheartedly enthusiastic about Michigan joining the space race.
But he labeled the Michigan Launch Initiative proposal a "back of the napkin" idea and was surprised Snyder had not reached out to U-M's top scientists before greenlighting it.
"We don't know how the state can be talking about (a space program) without talking to us," Waas said.
That might sound like hubris, but Waas said university researchers are already leaders in developing small satellites and its engineers are working on all aspects of space. The university would gladly join a collaborative proposal to develop plans, he said.
Spaceports have sprouted up across the country in anticipation of a commercial space boom, with Elon Musk's SpaceX in California the most well known. Centers have been built in Oklahoma, Colorado, New Mexico and Texas, among others.
Brown said he hopes to bring one to Michigan as well and touts the state's many aerospace manufacturers, other engineers, ample and sparsely populated land as selling points.
He also acknowledged the dangers – a rocket exploded during a 2015 launch off the Virginia coast – but said his group hope to develop rockets as safe as jet aircraft.
The 'perfect spot'
The plan was to use the grant money to develop a "request for information" for northern Michigan communities – identifying how much land and infrastructure the launch initiative are looking for and using that to get more funding.
State Rep. Triston Cole, R-Mancelona, said he is wildly supportive of bringing space-related jobs to northern Michigan. It would boost an economy that has been slipping for decades.
"We're a perfect spot for them," Cole said.
Northern Michigan economic development officials likewise would welcome the jobs and development, they told Bridge before the grant was killed. But they weren't planning a ribbon-cutting just yet.
"We're excited about it," said Lisa McComb, executive director of the Otsego County Economic Alliance in Gaylord. If it happened, the facility would be the No. 1 employer in the region, she said. Still, local economic development officials are being cautious. "We need more information before we get really excited about it."
Both McComb's group and a similar one in Alpena have submitted letters of support for the launch initiative plan.
In other states, the investments have come in the form of subsidies and direct investment ‒ New Mexico, for instance, pitched in over $200 million to build a spaceport ‒ in hopes of grabbing a sliver of the money pouring into commercial space projects.
But with so many areas all chasing the same dream, the question is whether there will be enough business. In addition to competing with domestic launch sites, a number of countries are in the game as well.
"That's a good question. I don't know," said Kelly Whealan-George, a professor at Embry-Riddle Aeronautical University along Florida's space coast. "(Spaceports) run the risk of having too much capacity."
The rocket grant was one of five grants awarded during lame duck that the Whitmer administration has held up for fatal technical errors. A dam project in Gladwin County, a roads project in Muskegon Heights and a bridge project in St. Clair County were all scrapped because of the errors. Money for the Dearborn Heights Fire Department won't be granted, either.
Legislators cannot specifically name communities in legislation or the measure runs afoul of the state constitution. So the grants were written in language that is more general, even if they are intended for particular communities; such as by identifying cities or townships based on population rather than name. In each of the unfunded grants, there was an error in how the geography was defined, however.
In Dearborn Heights' case, the money was a for "a fire department located in a county with a population over 1,500,000 and in a city with a population between 98,000 and 99,000." But that could only be Dearborn, not Dearborn Heights, which has about 57,000 people.
The errors underscore criticism of lame-duck horsetrading: that there is not enough scrutiny given to rushed legislation. Because the grants were brought up on the last day of lame duck, there was no formal debate on them and most had never been reviewed by legislative committees.
The new Legislature could choose to clean up the errors and re-appropriate the money, but then it would be up to Whitmer, a Democrat, to sign or veto projects supported by her Republican predecessor and approved by the GOP-dominated legislature.
Feb. 27, 2019: Seven things to know about Gov. Gretchen Whitmer's debt-free college plan
Jan. 22, 2019: Whitmer administration changing tone around Michigan marijuana regulation
Only donate if we've informed you about important Michigan issues
See what new members are saying about why they donated to Bridge Michigan:
"In order for this information to be accurate and unbiased it must be underwritten by its readers, not by special interests." - Larry S.
"Not many other media sources report on the topics Bridge does." - Susan B.
"Your journalism is outstanding and rare these days." - Mark S.
If you want to ensure the future of nonpartisan, nonprofit Michigan journalism, please become a member today. You, too, will be asked why you donated and maybe we'll feature your quote next time!