Making Michigan lame-duck lame again. Plan to curb post-election hijinks.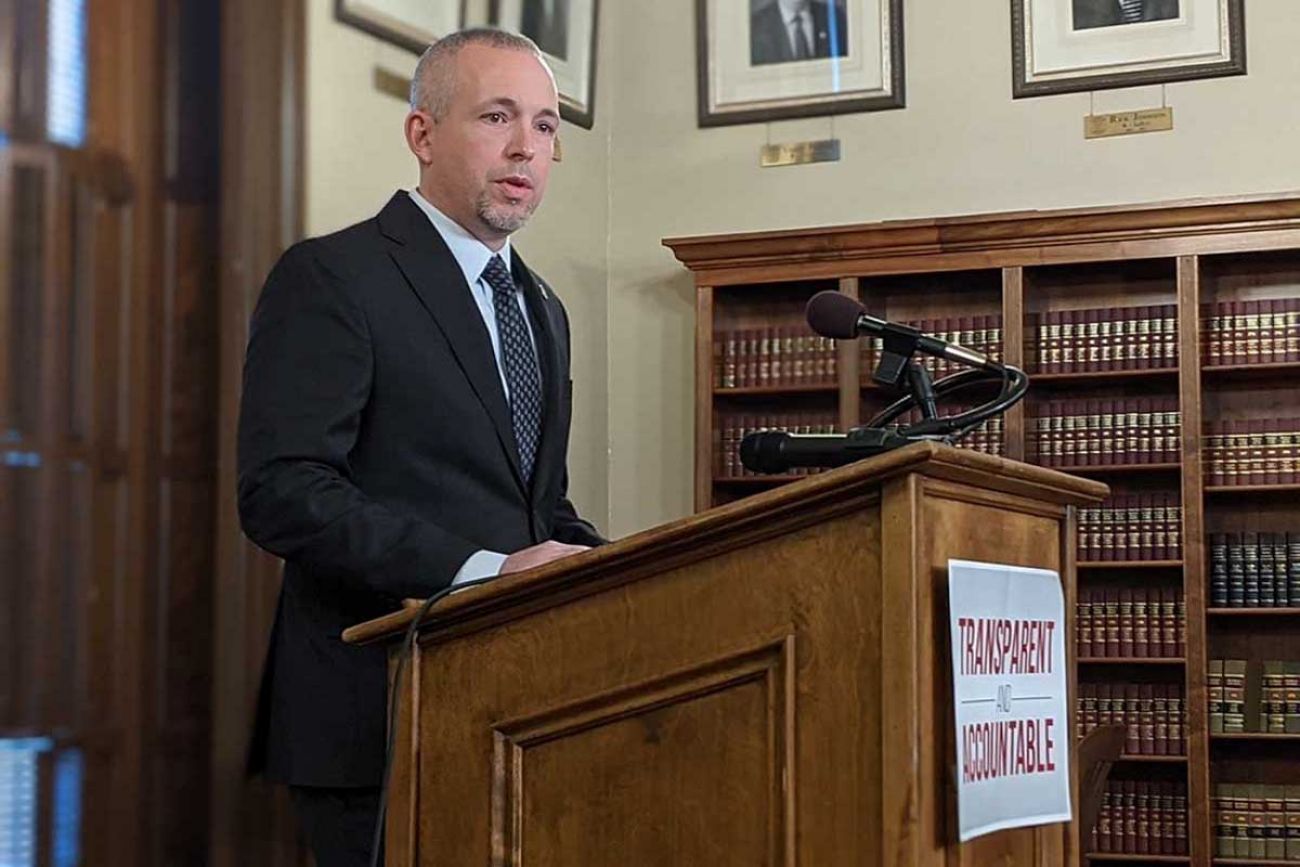 Michigan House Speaker Jason Wentworth, seen here in January, is sponsoring a new plan to rein in lame-duck legislation. (Jonathan Oosting / Bridge Michigan)
LANSING—State Rep. Gary Howell and his colleagues had been up all night when then-Gov. Rick Snyder called a morning meeting with House Republicans to brief them on a last-minute deal he'd brokered to finalize a massive rewrite of Michigan energy laws.
It was the final day of Michigan's 2016 lame-duck session, a biennial tradition of frantic and often partisan post-election legislating. Snyder was asking lawmakers to cap a marathon meeting by voting for a plan that spanned more than 200 pages and had been negotiated in the dark of night by his administration, electric utilities, environmental and business groups.
For Howell, a North Branch Republican who had been on the job less than a year after winning a vacant House seat by special election, the request seemed absurd.
"People weren't hardly conscious, let alone able to discern complex issues," Howell recalled in an interview with Bridge Michigan, describing a bleary-eyed morning meeting in which Snyder briefed legislators on "nuances" of a package the House and Senate would approve hours later.
"It really convinced me that this is almost the worst possible way to do legislation."
Howell has led a multi-year fight to fight to end lame-duck legislation in Michigan, which is among a minority of states that do not set an annual stop date for its Legislature. Proposals he introduced in 2017 and 2019 went nowhere in Lansing, but he has a powerful new ally.
Michigan House Speaker Jason Wentworth, R-Farwell, is sponsoring a new joint resolution to rein in lame-duck sessions. His plan would require a 2/3 majority vote in both the House and Senate to pass any legislation after the November election in even-numbered years, meaning bipartisan consensus would be needed to approve bills in the lame-duck period.
The proposal, which would require voter approval to amend the Michigan Constitution, would "put a stop to last-minute, late-night partisan deal making in the few months after an election," Wentworth said Tuesday in testimony before the House Elections Committee.
"If people don't trust their government or their leaders, they're not going to trust the process or the outcomes," he told colleagues, describing the reform plan as part of a broader effort to restore trust among voters and improve Michigan's failing grade on public transparency.
Wentworth's proposal could eliminate opportunity for the kind of hyper partisanship that marked lame-duck sessions over the past decade in Lansing. That's a period in which Republicans who controlled both the Legislature and governor's office ran rough-shod over Democrats every two years, until Democrat Gretchen Whitmer was elected governor in 2018.
But it could also face obstacles in the Legislature, where majority Republicans have already questioned why they would give up any of their own power to pass bills, and whether the proposed supermajority voting requirements could allow a small band of legislators to hold up critical bills even in the event of a post-election emergency.
Experts say the lame-duck session can lead to extreme legislation because it affords lawmakers on their way out of office a last chance to pursue pet projects or controversial policies without fear of voter backlash. Even returning lawmakers can be emboldened knowing that they are as far removed from their next election as possible.
Those dynamics paved the way for an especially aggressive lame-duck session in 2012, when Snyder and the GOP-led Legislature used lame duck to make Michigan a right-to-work state by eliminating union dues or fees as a condition of employment, a stinging blow to organized labor in a state that helped birth the modern union movement.
And just weeks after Michigan voters had chosen to repeal a controversial emergency manager law, Republicans used lame duck to adopt a new version allowing state appointees to continue running local governments and schools in predominantly Black cities like Detroit and Flint.
"They circumvented the will of the people," said Greg Bowens, a Democratic consultant who had helped organize the 2012 petition initiative. "These lame-duck sessions are treated almost like a Hail Mary, scorched-earth policy, particularly if one party or the other loses."
If approved by the full House, Wentworth's plan to limit lame duck would still face an uncertain future in the Michigan Senate, where GOP majorities have blocked other recent government reform proposals, including transparency legislation that would have expanded the state's public records law by including the Legislature and governor's office within its purview.
A 'free for all' for lobbyists, special interests
The lame-duck reform proposal sounds like a good idea "at first blush," Bowens said. But he questioned whether Republicans are only seeking to rein in lame-duck now because of a new redistricting process that could make it harder for them to retain legislative majorities in 2022, increasing the chance for full Democratic control of state government in coming years.
"The reality is that we have to be measured in our approaches to governing, and these wild swings don't necessarily help us," Bowens said of aggressive lame-duck legislation. "This could provide for a certain amount of stability in the long term."
State Rep. Matt Koleszar, D-Plymouth, said he is "intrigued" by Wentworth's proposal given the slew of controversial bills that have passed by "the slimmest of margins" in lame duck.
But Kolezar is hoping that if House and Senate GOP leadership do decide to act on the proposal, requiring the 2/3 supermajority votes in each chamber, they do so sooner rather than later so that the debate does not get tied up in election-year politics.
"If this is going to be a truly pure bill that's aimed toward good government, then let's not wait to see who has the gavel after 2022 or wait to see how the district lines are redrawn or anything like that," he said. "Let's do it in a pure form where we don't know any of that."
Gov. Whitmer — and her veto pen — provided a check against hyper-partisan legislating in 2020. But the 2018 lame-duck session was perhaps the most partisan on record as Republicans scrambled to finalize laws before Snyder departed, knowing Whitmer would not sign their measures once she took office at the beginning of 2019.
In the two months following the 2018 election, which Whitmer won by 406,659 votes, Republicans gutted liberal minimum wage and paid sick leave ballot initiatives they had previously adopted to keep voters from deciding them. They also approved laws to make ballot petition drives more difficult in the future, rushed to spend more than $1 billion in state reserves and created a new authority to oversee a proposed Mackinac Straits tunnel for Enbridge's controversial Line 5 oil pipeline.
In one of his final days in office, Snyder vetoed what critics had called a partisan "power grab" bill that would have allowed the Republican-led Legislature to intervene in any lawsuits brought against the state, which would have limited legal options for incoming Democratic Attorney General Dana Nessel.
Still, nearly half the bills Snyder signed in 2018 — 341 out of 690 proposals — were sent to his desk by legislators during the final two months of the year in lame duck. Lobbying expenditures surged at the same time. Other even-numbered years followed similar trends: 44 percent of all bills signed in 2016 were approved after the November election, 38 percent in 2014 and 44 percent in 2012.
Republicans used lame-duck to advance their own agenda in those years, but the ends do not justify the means, said Howell, the GOP legislator who has pushed lame-duck reforms.
"If you couldn't get it done in front of God and everybody during the session before the election, we should not be doing it after the election and just driving it through with political deals — either party," he told Bridge Michigan.
Howell described lame duck as a "free for all" and "opportunity for special interest groups and lobbyists to have a field day" in Lansing. The flurry of activity in lame-duck sessions makes it hard for legislators to analyze bills they are expected to vote on, and that's "made worse" by flexible rules allowing for quick action on bills introduced "literally in the last minute," he said.
"My other objection is you've got a lot of folks that are either defeated for re-election or term-limited that are making decisions, and I really think it's more appropriate for the ones picked by the voters in November to make those decisions."
A lame duck learns to fly
The term lame duck dates back to the 1760s, when it was used on the London stock exchange to describe a broker who failed to pay on bills due. It's been associated with American politics since at least 1863 as a way to describe a lawmaker on his or her way out of office.

The Michigan Constitution of 1963 did not explicitly envision lame-duck legislative sessions, let alone a year-round Legislature, said Eric Lupher, president of the Citizens Research Council of Michigan. Instead, constitutional authors anticipated the state Legislature would wrap up work each year by the end of June and only reconvene again for special circumstances.

But unlike several other states, Michigan's constitution does not specify an annual legislative end-date, and the Legislature grew itself into a full-time body in the 1970s, Lupher said. Still, while there were exceptions, lame-duck sessions were relatively tame until the 2010s.
"The Snyder years were really the anomaly, not the norm," Lupher said.
Some of the most controversial lame-duck laws signed by Snyder have been challenged in court, including the 2018 measure to make citizen petition drives more difficult by limiting the number of signatures that can be collected in any single congressional district.
The law poses "formidable obstacles to the exercise of direct democracy," according to an ongoing lawsuit filed by the League of Women Voters of Michigan and other groups. The Legislature "took advantage of lame duck" to pass the rules with "remarkable speed."
Lame-duck sessions were historically "intended for emergency situations, so it's not all bad," said Christina Schlitt, president of the League of Women Voters of Michigan, which is studying potential reforms but has not yet taken a formal position on the lame-duck proposal.
Still, a recent report by the League raised red flags, especially in regards to the speed by which legislation has been introduced and approved during lame duck. The legislative process is designed to encourage deliberation and debate, but flexible rules also allow leadership to discharge bills from committee and put them to an immediate floor vote, a rare move that is more common in lame-duck sessions.
"Bypassing the normal procedures during Lame Duck sessions results in a lack of transparency in the legislative process, a lack of legislative accountability for citizens, and a lack of time for legislators to adequately study the bills placed before them," said the November 2020 report from the League of Women Voters of Michigan.
"The lack of time for legislators to study the bills placed before them, often on short notice, is a great concern to legislators in both political parties."
Wentworth's lame-duck reform proposal remains before the House Elections Committee, where lawmakers began a public debate Tuesday but have not yet advanced it. As an amendment to the Michigan Constitution, it would require two-thirds majority votes in both the House and the Senate, followed by voter approval at the next statewide election.
"It's the right thing to do for the people of the state," Wentworth told colleagues, "and it's about time we got it done."
Only donate if we've informed you about important Michigan issues
See what new members are saying about why they donated to Bridge Michigan:
"In order for this information to be accurate and unbiased it must be underwritten by its readers, not by special interests." - Larry S.
"Not many other media sources report on the topics Bridge does." - Susan B.
"Your journalism is outstanding and rare these days." - Mark S.
If you want to ensure the future of nonpartisan, nonprofit Michigan journalism, please become a member today. You, too, will be asked why you donated and maybe we'll feature your quote next time!