There may not be a government program as misunderstood as Medicaid. The program's name has become synonymous with government spending and with a certain connotation on "welfare" -- good money going to people making bad decisions.
The facts about Medicaid are far different. In large measure, Medicaid is actually a middle-class entitlement program. So why does the mythology hold? I'm going to show you a couple of slides that illustrate how easy it is to spin the facts of Medicaid to make a political, rather than policy, argument.
The first slide is taken from Gov. Rick Snyder's 2013-14 budget proposal. It comes from the section on the Department of Community Health, which runs Medicaid.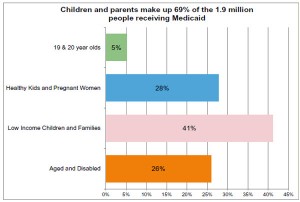 On page 35 of the budget document, the governor tells you "The Governor's proposed budget for fiscal year 2013 recommends total funding of $15 billion, of which $2.8 billion is general fund. (italics original). Below that, in bold type, we are told that Medicaid is 85 percent of the DCH budget.
Wow, that's a lot of money going to poor families, right? Well, the governor apparently wants you to think so because just a couple of pages down, you see the graphic at right that lists Medicaid beneficiary groups. As the headline states, "Children and parents make up 69% of the 1.9 million people receiving Medicaid." There you have it, folks, Medicaid is expensive -- and it's being used by poor families and their children. The political dots line up perfectly to make the argument that people who cannot care for themselves properly are costing the taxpayers big time.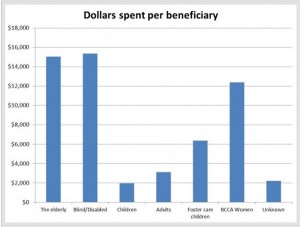 Now I'm going to show you another graphic. This slide was built by blogger Aaron Carroll, who recently posted an excellent analysis of why all the voter outrage isn't going to do much when it comes to cutting Medicaid. Carroll's graphic shows how much money is spent by each beneficiary. Look at it closely.
On a case by case basis, the real dollars are going not to poor children and adults, but to the elderly and the blind and disabled. Children and their families are the largest group of Medicaid beneficiaries, but the blind/disabled and elderly are where the dollars really go. (The term "BCCA Women" refers to women receiving assistance due to breast or cervical cancer.)
Now ask yourself, if you looked just at the governor's slide, what would be your conception of how Medicaid operates? Exactly -- you would be led to the assumption that the largest group of recipients (which children and adults are) is the largest cost driver. That's the mythology.
The reality is what you find when you look at the actual spending.
Medicaid is a boon to the middle class because much of this spending on elderly is to keep people in nursing homes.
In 2010, the Michigan Health and Hospital Association made a debunking attempt on Medicaid to help voters during that election cycle. The MHA noted,
"Seventy percent of the Medicaid budget goes toward coverage for middle-class and low-income elderly and disabled, covering two-thirds of Michigan nursing home patients." (empahsis added)
To put it bluntly, deep and lasting cuts to Medicaid would mean that lots of "Aunt Harriets" or "Great-Grandpa Bills" would suddenly be delivered to door steps in places such as Kentwood orTroy, courtesy of suddenly bankrupt nursing homes.
But we don't really want to talk about those costs, do we?