Michigan AG hopeful Tom Leonard's fundraising draws fairness concerns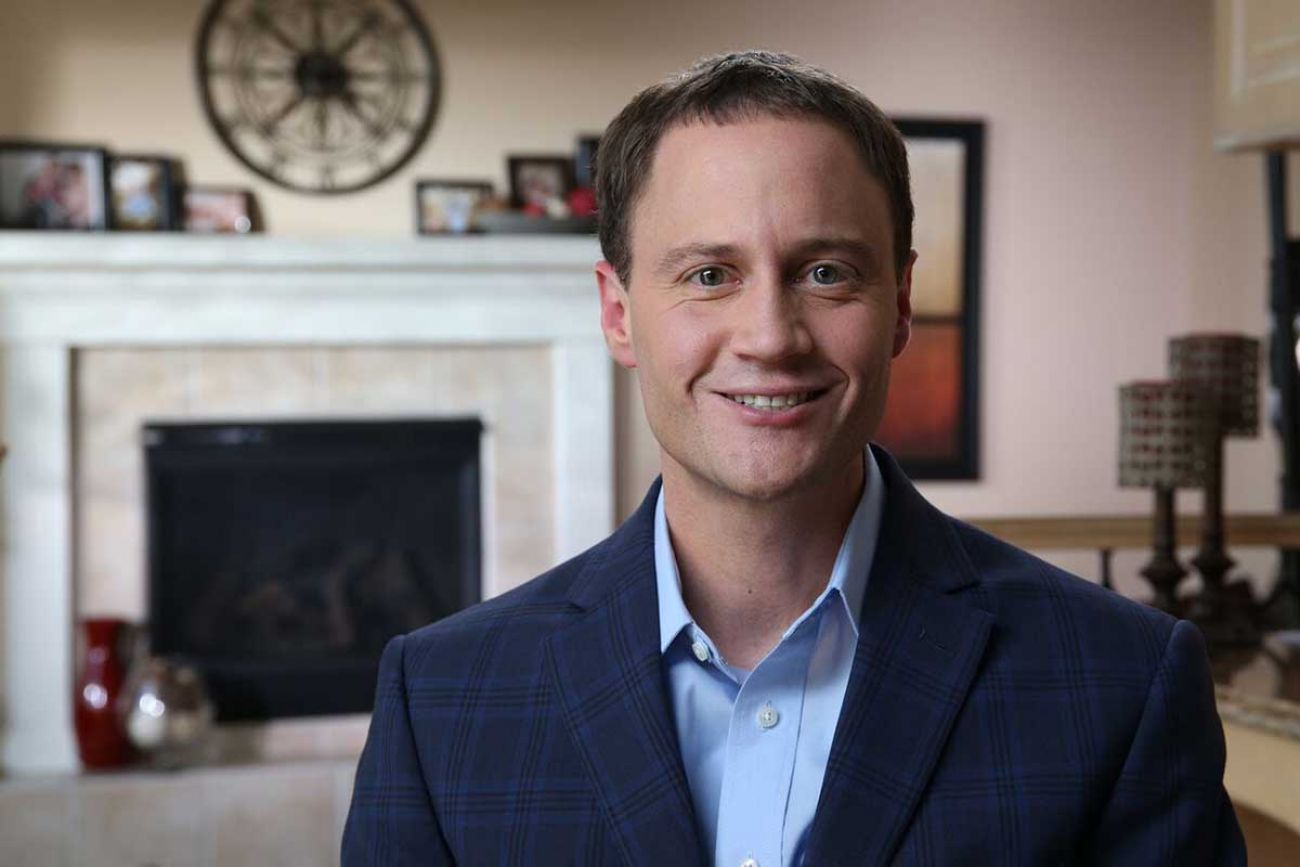 Seven donors have given the maximum individual contributions to Michigan AG hopeful Tom Leonard's campaign and also collectively gave more than $150,000 to his leadership PACs. (Bridge file photo)
LANSING—John Kennedy was sure who he wanted elected as Michigan's next Attorney General, and money was not a problem.
But Kennedy did not know how much money his desired candidate — former House Speaker Tom Leonard — needed to win. So he and his wife, Nancy Kennedy, asked Leonard for a figure.
"He gave us a view of what it's going to cost to run the race, and that was the basis of giving the amount," Kennedy, CEO of Kentwood company Autocam Medical, told Bridge Michigan last week. "We asked him what the maximum we could give to the campaign was."
Related:
The maximum an individual can give to someone running for statewide office in Michigan is $7,150. But on Oct. 5, Kennedy and his wife wrote multiple checks totaling $39,300 to support Leonard's bid.
How were they able to give beyond that contribution limit?
The Kennedys each contributed their individual maximum to Leonard's campaign, state records show. But John Kennedy then wrote a second check for $25,000 to one of Leonard's leadership PACs, the Michigan Values Leadership Fund.
Know your terms
Lawmakers and interest groups use different types of accounts to collect and spend money, and they have different levels of transparency. Here's a primer on the most common accounts.
Campaign committees: A committee set up by an office seeker to collect and spend donations for the purposes of seeking office. Reports must be filed to the Michigan Secretary of State.
PACs: This is an acronym for "political action committee." Contributions and spending are reported, and reports are filed statewide at the Michigan Secretary of State.
Leadership PACs: These are political action committees tied to a specific lawmaker. Their reports are filed with the Michigan Secretary of State. They can contribute 10 times the amount an individual can. With the four Chatfield controlled, he could give House allies $42,000 an election cycle.
501(c)(4): These are nonprofit "social-welfare" organizations that have become popular among politicians. The nonprofits can accept unlimited contributions from corporations without publicly disclosing donors. They must file reports with the IRS.

Source: The Michigan Campaign Finance Network
Leadership PACs are fundraising vehicles that allow elected officials to raise unlimited funds to support other candidates and themselves. Kennedy was clear about where he wanted his money to go.
"It's an overall support for Tom's candidacy and this is going to be a very expensive race both at the primary level … and then in the general election," Kennedy said of the nearly $40,000 in contributions. "He is not going to be able to raise enough just through the direct contributions, so that's the reason why you raise this money through the leadership PACs."
Kennedy was among seven Leonard donors who maxed out their individual contributions and then, on the same day or within days, contributed far more to Leonard's leadership PACs. In all, the seven donors contributed $158,700 to Leonard's PACs — more than half of what the leadership funds raised for the cycle. Those same PACs sent $112,500 to Leonard's AG campaign, according to a Bridge Michigan analysis of state campaign finance records for the 2022 election cycle.
This isn't the only fundraising pattern that raised concern among campaign finance experts and lawmakers, including some Republicans, who say the transactions appeared to allow Leonard's campaign to exceed individual donor limits.
According to state records, on at least three occasions, Leonard's leadership PACs contributed thousands of dollars to a sitting Republican lawmaker's re-election campaign on the same day these lawmakers' leadership PACs gave the same amounts to Leonard's AG campaign. On two other occasions, Leonard's PACs contributed to lawmakers' campaigns days before or after his campaign received donations from those lawmakers' leadership PACs.
For example, Leonard's leadership PACs last year gave a total $20,000 to the campaign of House Appropriations Committee Chair Thomas Albert, R-Lowell. On the same dates Albert's campaign received those funds, his leadership PAC — Albert Majority Fund — paid the same amount to Leonard's AG campaign.
These practices are not illegal in Michigan. But they can allow wealthy donors to circumvent contribution limits, raising questions about whether they will exert an outsized influence on a candidate's campaign and, if elected, their policies, according to five experts in federal and state campaign finance law interviewed by Bridge.
"People want to believe their lawmakers are there to represent them, and they may well be," said Beth Rotman, the money in politics and ethics program director at Common Cause, a national good-government watchdog group.
"But ultimately, we've seen this time and again, when someone has an outsized influence on the purse strings leading up to somebody's successful election, then they also have an outsized influence on the conversations that lead them into getting into office and, oftentimes, too much influence on what is worked on and whose phone calls are answered once they are elected."
Michigan Senate Oversight Committee Chair Ed McBroom, R-Vulcan, who is spearheading ethics reform in the Legislature, told Bridge he thinks the practices, which he calls "loopholes," must be addressed.
"Nothing illegal is going on, but it seems to be circumventing the original intent (of the law)," McBroom said. "I think that's an issue that definitely needs to be addressed and clarified."
When reached for comment, Leonard campaign spokesperson Phil Goodrich did not answer specific questions about the contributions analyzed by Bridge, or whether the practices give the Leonard campaign an unfair advantage.
"Our campaign account has done everything right, and we've been blessed to be supported by so many good people who want to see a real change in the attorney general's office," Goodrich said in a statement Monday.
Goodrich did not respond to follow-up emails.
The Michigan Secretary of State's office would not answer questions about the Leonard campaign donations, saying any investigation must be triggered by a complaint.
"We are not aware of any complaints filed against Leonard at this time," department spokesperson Aneta Kiersnowski Crisp said in an email. "To trigger the process of our Department interpreting the Michigan Campaign Finance Act, we would need a request for a Declaratory Ruling or Interpretive Statement filed."
A web of transactions
As of the end of 2021, Leonard's campaign for attorney general had raised $681,933 — more than the combined contributions to his two Republican primary opponents: attorney Matt DePerno of Portage and Rep. Ryan Berman of Commerce Township.
Incumbent Dana Nessel, a Democrat, had collected $2.2 million.
The three Republicans have raised concerns about each other's fundraising. Leonard, for example, has demanded DePerno explain how he spent the $400,000 raised through an "Election Fraud Defense Fund" while spreading false claims of widespread Michigan election fraud during the 2020 presidential election. DePerno has slammed Leonard as a "paid lobbyist from the Lansing swamp" and accused Leonard of accepting "dark money."
Leonard is not the only AG candidate with leadership PACs. Berman and Nessel also have them.
Berman and Nessel also have multiple donors who gave money to their campaigns and leadership accounts. But neither had donors doling out as much cash, and as quickly, as was the case with Leonard's organizations.
The seven donors who maxed individual contributions to Leonard's campaign gave more than $150,000 to his leadership PACs. In contrast, Berman did not have a single donor who gave the maximum to his campaign. Nessel's PAC received $2,000 from two donors who gave the maximum campaign contributions.
Leonard's campaign was also the only campaign among the AG candidates with a web of same-day transactions with other lawmakers' re-election campaigns and leadership funds.
"It appears that (Leonard's campaign), on perhaps advice from skilled campaign finance attorneys, has worked out this funding mechanism that may not be illegal, but … brings into question how these arrangements have been made," Bob LaBrant, longtime Michigan Republican consultant and author of "PAC Man: A Memoir," said of the contributions.
"There's more than a coincidence here," he added.
Leadership PACs aren't the only way Michigan politicians can rake in more cash. Democratic Gov. Gretchen Whitmer, who is up for re-election, deemed her campaign exempt from individual contribution limits for much of last year, citing a decades-old court ruling which allowed candidates facing recall attempts to raise unlimited amounts.
The first-term Democrat raised at least $3.8 million in excess of contribution limits, even though none of the recall efforts gained traction. The Attorney General's office later said in a court document that Whitmer could not spend the funds on her re-election bid, so the money was directed to the Michigan Democratic Party, which can still benefit Whitmer by promoting her candidacy and attacking her opponents.
Republicans cried foul, arguing Whitmer was able to indirectly funnel money to her re-election campaign. Legal challenges against Whitmer have been unsuccessful.
Experts: Campaign finance law 'broken'
At the federal level, leadership PACs are often used by elected officials to boost the campaigns of others, said Daniel Weiner, director of elections and government at the Brennan Center for Justice.
"Leadership PACs were never intended to primarily be a vehicle for the candidate to raise money for their own elections," Weiner said. "The point of a leadership PAC, as the name denotes, is supposed to be a way to raise money to create a political network."
But in Michigan, there's no law defining what a leadership PAC is, and leadership PACs often transfer money to the campaigns of the politicians they are named for.
Leonard's campaign is the top beneficiary of his leadership PAC spending. By the end of December, his leadership funds had infused $112,500 into his campaign, accounting for 37 percent of all expenditures made by the two PACs.
Though state law caps how much money such PACs can give to a campaign, it does not restrict who can establish them, who they can give to, or how many PACS an elected official can form.
The lack of restrictions, campaign finance experts argue, allow leadership PACs to flourish and donors to give "virtually unlimited" donations to candidate campaigns through them.
At the end of 2021, 83 of 148 sitting state lawmakers — 56 percent of the Legislature — as well as Nessel and Whitmer, had leadership funds, according to a Michigan Campaign Finance Network tracker. Two decades earlier, only legislators aspiring for leadership positions would have them, the MCFN reported.
In Michigan, a leadership PAC can give anyone running for statewide office up to $71,500 per election cycle. The cap — much higher than the federal limit of $5,000 PACs can give annually to a candidate — allows donors to effectively contribute much more to their favored candidate by giving to both their campaign accounts and leadership PACs, said Weiner of the Brennan Center.
"That creates a real risk that people will give to the leadership PAC in implicit expectation that the leadership PAC is going to send their donations back to the candidate, effectively allowing the donor to circumvent the limits on how much they can give directly to the candidate," he said.
A Michigan candidate can establish multiple leadership PACs, multiplying the maximum amount donors can give. Former House Speaker Lee Chatfield, who is being investigated for financial improprieties and sexual assault allegations, has four leadership PACs. Leonard, Chatfield's predecessor, has two.
"If a politician can multiply the amount of money they can receive from a single person for their campaign by simply setting up multiple political committees, then those contribution limits aren't as effective as they should be," Patrick Llewellyn, director of state campaign finance at the nonpartisan watchdog group Campaign Legal Center, told Bridge.
The end result, said Rotman of Common Cause, is "concentrated wealth going through these leadership PAC vehicles to specific candidates."
"There's this phenomenon of these leadership PACs becoming a much more powerful player in Michigan politics than any individual would ever hope to be," she said, "...which is the sign of a very broken campaign finance system."
'It's going to be used wisely'
Bridge reached out to all donors who contributed a total amount exceeding $7,150 to Leonard, Nessel and Berman's political committees. Only three responded.
John Kennedy, who acknowledged giving nearly $40,000 through different channels to benefit Leonard's campaign, told Bridge he knows full well not all his money will go toward Leonard's attorney general bid.
"I'm giving it with that knowledge (that) some of it may go into House and Senate races that I'm not giving to," he said. "I'm certainly giving the money up with the idea that it's going to be used wisely."
Kennedy defended giving to Leonard's campaign and leadership fund as "much truer and much more principled" than political donations to nonprofit 501(c)(4) social welfare groups, which can make political contributions without disclosing its donors.
"We tend to be people that I think others look to when they are trying to figure out whether they give to a candidate," he said of himself and his wife. "We are not ashamed of what we do and we think it's important to support good candidates that are willing to serve the public, as we think Tom will do."
Nina Lang, executive director of Southfield trauma treatment center TBI Solutions, gave $4,000 in September to Berman's attorney general campaign and a total $16,000 to his leadership fund. Lang told Bridge she did not intend for her leadership PAC donations to benefit Berman's AG campaign. Indeed, most of the money she gave his PAC was donated before Berman announced he was running for attorney general.
"If I want to (benefit) AG, I'd max out to AG," Lang said in a phone call. "If it's a leadership PAC, it's about all the other (Representatives)."
Berman told Bridge in an email there were no "improper correlations" between his leadership PAC and his campaign.
"No donations were made to circumvent campaign finance limits," Berman said. "I'm very transparent and I'm not beholden to anyone. Whether someone donates $5, $10, $100, a max donation or even nothing at all — everyone has the same opportunity of access to me. I make myself available to everyone, as I'm very easy to get ahold of. Ideas and concepts sway me, not people, associations or special interests."
Nessel's leadership fund was granted a reporting waiver Dec. 8, meaning her fund has not spent or received more than $1,000 since then, the minimum needed to require reporting, campaign spokesperson Sarah Stevenson told Bridge. The fund has received $75 since December, she said.
'Sophisticated' same-day transactions
LaBrant, the veteran Republican consultant, said he was also struck by the way funds tied to Leonard and other Republicans make identical donations to one another.
"It seems to me to be a very sophisticated way of evading the contribution limitations in the Michigan campaign finance law," LaBrant told Bridge.
In addition to the crossing contributions with Albert's fund, similar transactions took place with funds tied to Rep. Joe Bellino, R-Monroe, and Senate Majority Floor Leader Dan Lauwers, R-Brockway.
On the same dates Leonard's leadership PACs gave Bellino's candidate committee a total $15,000, Bellino's leadership PAC — Babe PAC — funneled an equal amount into Leonard's campaign. In Lauwers' case, that number was $5,000.
On three occasions, Leonard's leadership PACs contributed to a sitting lawmaker's campaign on the same day that lawmaker's leadership fund gave the same amount to Leonard's campaign. One expert says it appears to be a "sophisticated" plot to collect extra cash for Leonard's campaign. (Shutterstock)
None of the three lawmakers returned Bridge's calls for comment.
Sarah Reckhow, associate professor of political science at Michigan State University, had a similar reaction as LaBrant.
"It sounds like it's a workaround for individual donation caps," she said. "They are already giving the max to the attorney general candidate, and they are giving to the leadership PAC, and the money is simply circulating to other people then coming back."
On another two occasions, the money transfers took place not on the same day but days apart.
On Nov. 22, Leonard's campaign received $2,000 from Barrett Brigade Leadership PAC, which is associated with Sen. Tom Barrett, R-Potterville. Six days earlier, Leonard's leadership PACs had infused $2,000 into Barrett's congressional bid.
Barrett told Bridge that Leonard is one of his "longtime allies." They were groomsmen at each other's weddings, Barrett said, and they've been supportive of each other's political career since Barrett first ran for state House in 2014.
"We have supported one another's political races every single instance along the way," Barrett said in a phone call. "That's really all there is to it."
When asked if he spoke to Leonard about the amount to give each other, Barrett did not answer directly, stating "I talk to Tom Leonard frequently." Barrett also said he did not recall how much his campaign received from Leonard or his associated groups, but they "work within the limits of law and have to raise money for an effective campaign."
State Rep. Roger Hauck, a Mount Pleasant Republican running for the new vacant 34th state Senate district, told Bridge his leadership PAC contributed $10,000 to Leonard's campaign on Oct. 2, when he thought he would not seek re-election again. Two weeks later, Hauck said, he decided to run for Senate, and Leonard's leadership PAC gave him the same amount.
"I thought I was going to be done running, and I had money, so I decided to back Tom Leonard," Hauck said. "What happened is my Senate seat opened up, and he decided to donate to my campaign."
Hauck denied communicating with Leonard on supporting each other's campaign or how much to give to each other. Even if that was the case, Hauck said it would not be illegal.
"We've never specified the amount," he said. "All the campaign experts that I've read about said there's really nothing illegal about it even if that was the case. And if there was something illegal about it, I think the Secretary of State would look into it."
The network of transactions surrounding Leonard's political committees does warrant a deeper examination, said Weiner of the Brennan Center.
"In a situation like that where you have the appearance of money being repeatedly transferred between different entities and the effect of those transfers effectively bypassing the contribution limits, it certainly raises initial concerns, and it's the kind of thing you might expect regulators to look further into," he said.
McBroom, the Republican Senator, said leadership PACs have been "one of the longtime problems" he's "serious" about reforming.
"It really takes away power or autonomy from … the smaller, more vulnerable members because the big guys running for leadership positions soak up funding and then distribute it after you make commitments to them," McBroom said.
But he said any type of campaign finance reform takes time, because money always finds a way.
"I think we also have to recognize the unfortunate reality that people are going to find ways to always do workarounds," McBroom said. "No matter what we do, we are always going to end up chasing the next loophole."
Bridge reporter Jonathan Oosting contributed reporting.
Only donate if we've informed you about important Michigan issues
See what new members are saying about why they donated to Bridge Michigan:
"In order for this information to be accurate and unbiased it must be underwritten by its readers, not by special interests." - Larry S.
"Not many other media sources report on the topics Bridge does." - Susan B.
"Your journalism is outstanding and rare these days." - Mark S.
If you want to ensure the future of nonpartisan, nonprofit Michigan journalism, please become a member today. You, too, will be asked why you donated and maybe we'll feature your quote next time!