Firm: Michigan AG hopeful Matt DePerno fired over 'padded,' false billings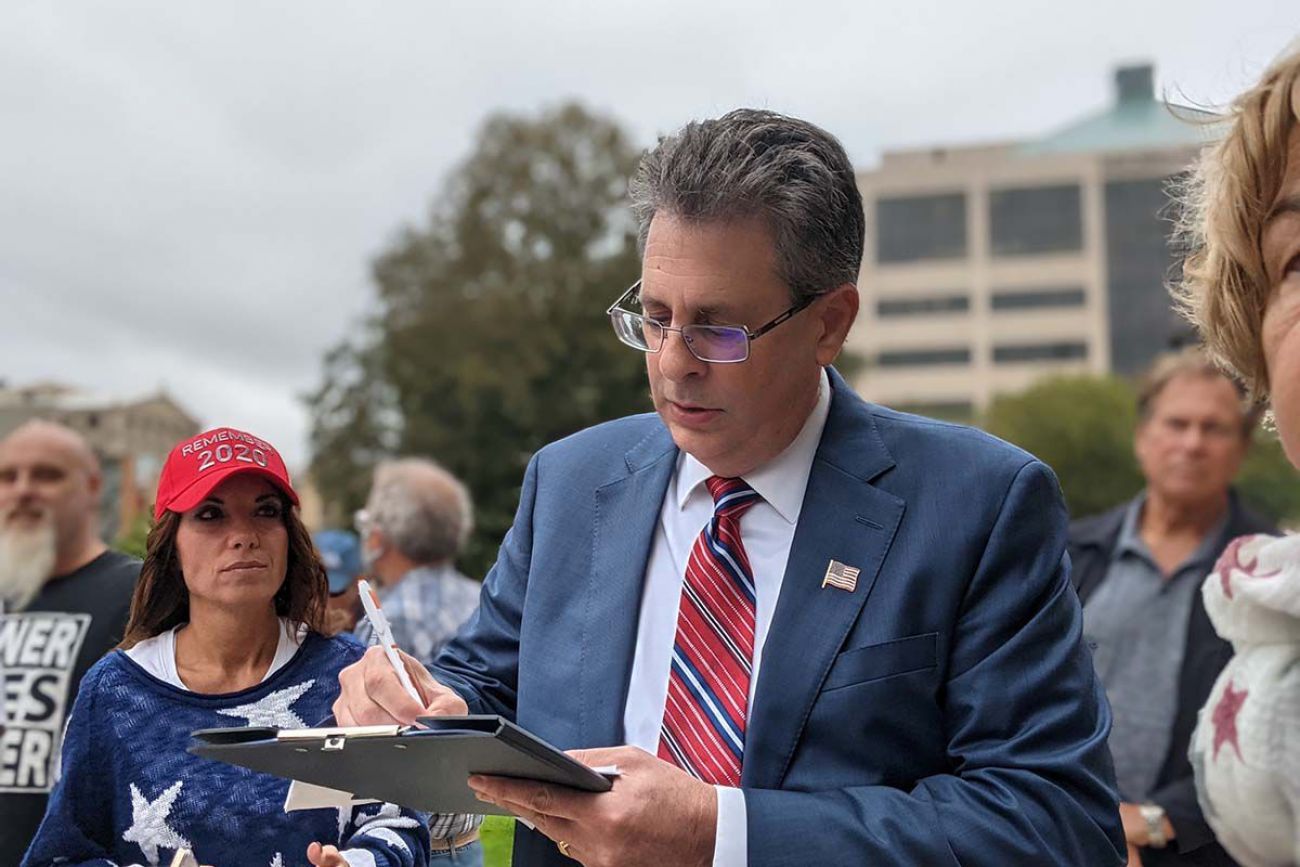 Matt DePerno, a Republican candidate for Michigan attorney general, has appeared at Capitol rallies calling for a "forensic audit" of the 2020 presidential election. (Bridge photo by Jonathan Oosting)
DePerno is best known for defending former state Rep. Todd Courser after a 2015 sex scandal cover up and challenging Antrim County election results in a failed lawsuit that spawned ongoing conspiracy theories about the 2020 election.
Related:
The Antrim County case made DePerno a national figure in Trump's campaign to overturn the election but prompted criticism from a Republican-led Michigan Senate panel that accused him of making false claims for personal profit, echoing allegations that marred DePerno's legal career nearly two decades earlier.
As a tax attorney who worked primarily in Kalamazoo and Van Buren counties, his legal career has been marked by discord. DePerno was fired from one law firm, fought over client records after leaving a second firm and was accused of assaulting a client amid a fee dispute, according to court documents and transcripts reviewed by Bridge.
DePerno "committed fraud, deceit and dishonesty with regards to bogus billing, duplicate billing and write offs, in addition to other wrongful acts," his former law firm — Kreis, Enderle, Calendar and Hudgins PC – alleged in a 2006 legal filing.
Those allegations, contained in never-before-reported documents out of Kalamazoo County Circuit Court, were only made public because DePerno sued the firm in an attempt to cash out his shares and transfer the lease on a company vehicle that was repossessed after his firing.
The sides eventually settled out of court in 2008. In an interview Tuesday, DePerno told Bridge he and colleagues had a "dispute on where the firm was going" but resolved the case with "mutual satisfaction." He declined to discuss specific allegations, citing the secrecy agreement.
In his original complaint, DePerno alleged he was wrongfully fired from his $110,000 job because he had raised questions about the financial operations of the firm. He alleged "oppression of a minority shareholder" and said his termination caused "extreme mental anguish, emotional distress, shock and humiliation."
In a related case, involving a malpractice claim against DePerno, he argued the Kreis Enderle firm "invented a claim of misconduct" to deny him state unemployment benefits. DePerno was able to obtain jobless assistance by presenting paperwork to the state indicating he was fired for failing "to promote a harmonious relationship with the firm," not fraud.
But court records show law firm colleagues confronted DePerno in October 2005 and presented him with evidence detailed in a "confidential memo" included in public filings, along with 190 pages of internal billing documents.
DePerno had "padded" billings, claimed "excessive" write offs, "manipulated" the firm's timekeeping system and logged hours with no explanation, according to the interoffice memo prepared by Kreis Enderle administrator Mike Beam.
In at least one instance, DePerno "admitted that he falsified billing to a client's account," the law firm's attorney said in a court filing.
The billing allegations could be a "disqualifying factor" for DePerno as a candidate, said John Truscott, a Republican public relations professional who served as press secretary under former Gov. John Engler.
"I think it's extremely problematic," Truscott told Bridge Michigan. "As attorney general, you're the state's chief law enforcement officer. If you can't abide by the laws and the rules, how do you have the moral authority to prosecute criminals?"
'I don't back down'
DePerno also has fiercely loyal supporters who defend his legal work, including clients, who contend he'd make a strong attorney general.
George Dernis, who DePerno has represented in a nearly eight-year legal battle over foreclosure of Michigan properties he'd used as collateral to purchase a grocery store, said DePerno helped guide his family through "hell and back."
"If it wasn't for Matt, we'd be out on the streets," Dernis told Bridge. "They don't make guys like him anymore. He fights the fight for the little guy, and for the good guy. And he's not afraid of what has turned into, unfortunately, a convoluted judicial system."
Bill Bailey, a real estate broker who DePerno is representing in the ongoing Antrim County election appeal, called him "one of the most honest, hardworking souls I truthfully have ever met."
DePerno is a "workaholic" who goes to great lengths for his clients and is like an "encyclopedia" of law and the Constitution, Bailey told Bridge.
"I don't have a bad word to say about him, and other than people he grew up with and has been around his whole life, I probably got to know him better than anybody since the November election," Bailey said.
While the Kries Enderle law firm and DePerno both declined to discuss his contentious departure given their confidential settlement agreement, DePerno downplayed the acrimonious split in general terms.
"People get into disputes and they say things about each other in litigation," he told Bridge in a phone interview. "That happens all the time, and then things are resolved."
Regardless, voters should trust him to run the state's largest and most powerful law firm – the attorney general's office – because he is "a fighter," DePerno said.
"I've always proven that I don't back down from anyone," he said. "And I continuously showed that throughout my career. I've taken on tough cases. I've taken on cases that people — even in the media — have disagreed with."
A Trump favorite
DePerno is considered a frontrunner for the Michigan Republican Party's nomination for attorney general, along with former state House Speaker Tom Leonard, the GOP nominee in 2018. State Rep. Ryan Berman is also running.
Michigan GOP precinct delegates will vote to endorse a candidate at an April 23 convention that will decide the party's de facto nominee to take on Democratic Attorney General Dana Nessel in November. The nomination won't be official until a separate August convention, but the early endorsement will allow a candidate to raise funds and campaign as the presumed nominee.
Getting Trump's endorsement was huge for DePerno's campaign. He also has a big fan inside the Michigan Republican Party: co-chair Meshawn Maddock, who endorsed him earlier this month, an unusual move considering the party traditionally is expected to stay out of contested convention races.
Maddock called DePerno and Secretary of State hopeful Kristina Karamo the "strongest candidates" to address "the stolen 2020 election" and push for a "forensic audit" of the state's voting in that contest.
Democratic President Joe Biden beat Trump by 154,188 votes in Michigan.
A Republican-led state Senate panel that spent months investigating the contest found no evidence of widespread fraud. Instead, the Oversight Committee urged Nessel to investigate "those who have been utilizing misleading and false information about Antrim County to raise money or publicity for their own ends."
Nessel, the Democratic attorney general, later acknowledged that her office is investigating DePerno but said she recused herself from the probe given the political implications and will appoint a special counsel if charges are warranted.
The probe is "completely ridiculous" and part of the reason DePerno decided to run for attorney general, he told Bridge, likening it "totalitarianism" since Nessel's office battled him as opposing counsel in the Antrim County case.
Another factor in his decision to run: Trump, who in July encouraged him to enter the race. "Him and I had discussions as to whether I should run," DePerno said.
Trump has thrown significant political weight behind DePerno, endorsing him, speaking on his behalf at a Mar-A-Lago fundraiser and announcing plans to stump for him and other endorsed candidates at a Michigan rally on April 2.
In a recent letter to Michigan GOP precinct delegates, Trump called DePerno an "incredible attorney" who "led the charge in calling out obvious voter fraud" by suing over the election in Antrim County, where an error by the Republican clerk skewed initial results in favor of Democrat Joe Biden but was quickly corrected.
Experts say there is no credible evidence of fraud in Antrim County, and a hand recount of paper ballots later confirmed the official results showing Trump won the area with 61 percent of the vote, just shy of his 62 percent showing in 2016.
An alleged assault
DePerno holds an English degree from the University of Michigan, a law degree from the University of Detroit Mercy and a graduate degree in taxation from the New York University School of Law. He cut his teeth as a tax attorney in southwest Michigan but eventually expanded his Portage-based practice.
Now calling himself a "constitutional attorney," DePerno told Bridge his favorite cases are those that "involve constitutional rights — people who have arguments that they've lost their rights because of government overreach."
He's helped a Portage high school student rejoin the tennis team after she had been kicked off following an "illegal search" of her car that revealed "remnants" of marijuana, DePerno said. He is currently representing an Ann Arbor firefighter who he said was fired for refusing to get vaccinated against COVID-19.
But DePerno's critics say GOP delegates should take a closer look at his legal career, which reveals a series of disputes with colleagues, judges and clients.
"The guy's got no ethics at all," William Buhl, a retired Van Buren County Circuit Court judge and former Republican, told Bridge.
In 2016, Buhl filed a request asking the Michigan Attorney Grievance Commission to investigate DePerno after he was accused of legal malpractice.
DePerno had represented an older couple — Ronald and Cathleen Moffit — whose home burned down in 2011. Their insurance company initially offered to pay them $123,360 for personal property losses and living expenses but asked a judge to determine whether another $80,000 should go to the Moffits or the IRS, whom they owed money to, according to court filings.
DePerno, who had worked with the Moffits on tax issues in the past, allegedly convinced the couple he could negotiate with the IRS. But he never did, the Moffits' attorney alleged in the malpractice suit. Instead, DePerno filed a "counter-claim" against the insurance company "without the knowledge or consent of his clients," which prompted the insurer to stop its initial payment.
Two years into what had become a vicious legal fight, DePerno allegedly pressured the Moffits to sign a fee agreement that put their property mortgages up as collateral in the event they could not pay DePerno's legal bills, which Buhl described as an unorthodox deal the kind of which he had "never seen" before.
A secretary at DePerno's second law firm — the Veritas Group — said in a sworn affidavit that she had heard yelling from the conference room as he met with the Moffits. And when DePerno asked her to enter the room to notarize mortgage documents, the secretary said it was clear Cathy Moffit had been crying and "did not want to sign" the papers.
A year later, with the fire reimbursement case seemingly resolved, DePerno presented the Moffits with a $109,879 check from their insurer — $13,421 less than the original payment offered three years prior — and a $137,779.38 bill for his legal services, according to the malpractice lawsuit.
Confused, concerned and ultimately "outraged" that DePerno was charging them nearly $140,000 after losing them $13,000, Ronald Moffit said he confronted DePerno over the legal bill, which led to what the couple's attorney would later call "battery and assault" by DePerno.
"On February 20, 2014, Mr. DePerno physically grabbed (me) by the shirt and informed me that if I did not immediately pay the attorney fees owed that my wife and I would lose our home in a matter of weeks," Ronald Moffit, who died in 2019, said in his sworn affidavit.
DePerno, speaking with Bridge, called the assault allegation an "outrageous" attempt by the Moffits to avoid paying their legal bills. The Moffits never filed a criminal complaint. And DePerno later sued their attorney — unsuccessfully — for defamation.
But six days after the Moffits refused to pay his fees, DePerno took action to try and collect: He began foreclosure proceedings to sell the Moffits new home and the land where their old home had burned down, according to court filings.
'The problem is you'
Thus began another unexpected legal fight, as the Moffits hired a new attorney to stop the foreclosure sale and sue DePerno for legal malpractice, alleging he fought their insurer without their consent, overbilled and "padded billings," including a $13,000 charge to "reassemble" their case file after DePerno parted ways with his law firm at the time, Veritas Group.
Buhl, the former judge, had already been retired for six years when he began observing DePerno's legal work because he was asked to serve as an expert witness in the Moffits malpractice suit. While the case was ultimately settled, what he saw in pre-trial hearings was "abhorrent," Buhl told Bridge Michigan.
"All (DePerno) was interested in was generating fees for himself and protecting his way to collect it," Buhl said.
"He picked the fight and then billed them $130,000. It just screams out: 'This is why people hate lawyers.' We don't need this in our profession."
Among the questionable billings: DePerno allegedly charged the Moffits $1,024.35 to videotape a deposition that a federal magistrate had ordered him to personally pay as a sanction for "obstructing" an earlier deposition, coaching a witness and raising "utterly meritless" objections.
DePerno "wasn't paying attention in first grade when he was told how to behave himself," Magistrate Joseph Scoville said in announcing the sanctions at a May 2012 hearing, according to a transcript reviewed by Bridge. "From beginning to end, the problem is you."
DePerno denied many of the accusations but eventually negotiated a settlement with the Moffits, whose attorney declined to discuss terms of the deal.
"Ultimately, I collected the fees that were due to me," DePerno told Bridge.
The settlement was complicated by another lawsuit from DePerno's professional liability insurer, who sued him in an attempt to drop him and cancel his policy. The ProAssurance Casualty Company alleged DePerno made "unreasonable demands" of attorneys they had hired to represent him in the Moffit's malpractice suit.
Two attorneys quit, saying they could not represent DePerno "without violating the canons of ethics." So DePerno represented himself, an unorthodox move the liability insurer asked a court to stop before also agreeing to a settlement with DePerno.
Buhl, the retired judge who had prepared to serve as an expert witness for the Moffits legal defense team, asked the Michigan Attorney Grievance Commission to investigate DePerno in 2016.
The grievance commission, the investigative arm of the Michigan Supreme Court, only makes its findings public if it authorizes formal charges against a lawyer with the state Attorney Discipline Board, which it did not do for DePerno.
The grievance commission can also privately admonish an attorney or place them on contractual probation, but those lighter punishments are not made public.
DePerno called Buhl's accusations "total nonsense" and told Bridge the matter was "ultimately dismissed" by the grievance commission, "as it should be."
While Buhl said the professional code of conduct for attorneys prohibits him from revealing results of the grievance commission investigation, he called DePerno's characterization of dismissal "the farthest thing from the truth."
'A dislike for rapists'
DePerno has never been publicly disciplined by the state, according to records from the Attorney Discipline Board. But court records show judges have repeatedly sanctioned or complained about his courtroom conduct.
In Ingham County, a judge overseeing Todd Courser's criminal case announced he might retire before his term ended because the headache of dealing with DePerno and the other attorneys started to "eat away" at him.
Courser, who was accused of using House staff and resources to help cover up an extra-marital affair, ultimately pleaded no contest to a charge of willful neglect of duty by a public officer, a one-year misdemeanor.
When Courser and DePerno sued The Detroit News over its original reporting on the sex scandal, Washtenaw County Circuit Judge Timothy Connors dismissed the case and ordered Courser and DePerno to jointly pay $79,701.63 in sanctions.
The parties later settled for $20,000, which Detroit News publisher and editor Gary Miles called "a message that frivolous lawsuits against news organizations for performing their duties under the First Amendment will not be taken lightly."
In another suit, the Michigan Court of Appeals dismissed a DePerno request to disqualify a judge from a lawsuit involving lakefront property easement, and highlighted an unusual comparison DePerno had made in a 2015 court hearing.
At issue was DePerno's effort to remove Cass County Judge Michael Dodge from the case, arguing the judge could not be impartial because he owned property on a separate lake.
"Incredibly," the appeals court noted, "DePerno made the following analogy: 'let's assume a Judge was raped. Could that Judge then rule on rape cases, or would that create a bias for the Judge? Especially if the Judge has expressed a dislike for rapists."
Kent County Circuit Court Judge Donald A. Johnston, who presided over the disqualification hearing, denied DePerno's request to remove Dodge, and noted that, "I don't know of any judges that have ever expressed a like for rapists."
The Michigan Court of Appeals ultimately upheld the decision to allow Dodge to remain a judge.
Dodge has since retired and told Bridge Michigan he did not remember the dispute well.
"Some attorneys are more challenging than others," Dodge said in an email. "Thank goodness that most of my cases were nothing like this one."
Only donate if we've informed you about important Michigan issues
See what new members are saying about why they donated to Bridge Michigan:
"In order for this information to be accurate and unbiased it must be underwritten by its readers, not by special interests." - Larry S.
"Not many other media sources report on the topics Bridge does." - Susan B.
"Your journalism is outstanding and rare these days." - Mark S.
If you want to ensure the future of nonpartisan, nonprofit Michigan journalism, please become a member today. You, too, will be asked why you donated and maybe we'll feature your quote next time!