Michigan budget steers millions of no-bid tax dollars to for-profit firms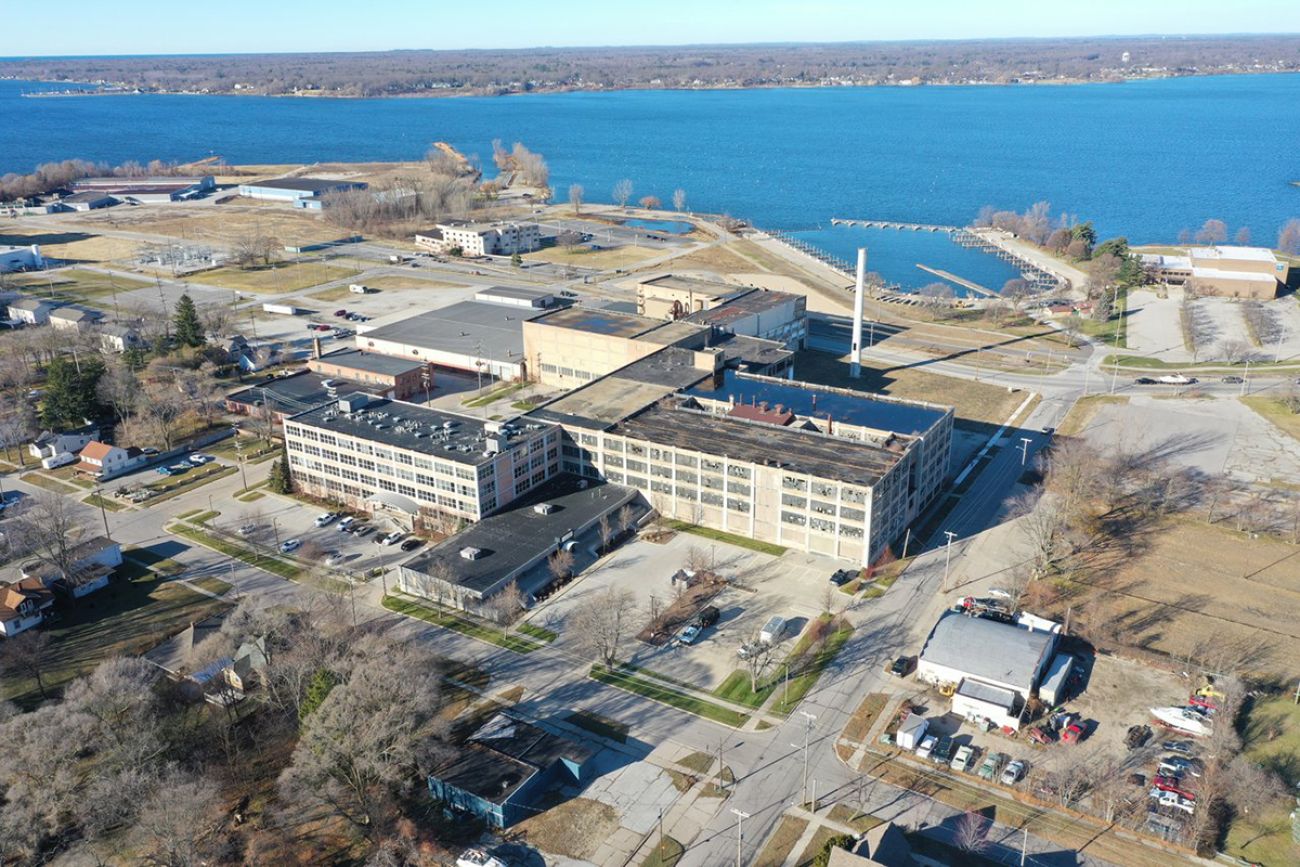 Michigan legislators are giving $18 million to Parkland Properties, a private firm converting the dilapidated former Shaw-Walker Furniture Co. in Muskegon into condominiums and apartments. (Courtesy photo)
Michigan budget directs millions of dollars in public funds to private firms
The process allows lawmakers to use coded language to conceal true recipients
$18 million is going for a condo project, while a health care firm has received $9 million over two years
---
LANSING — Michigan lawmakers used a record-setting $82 billion budget to steer millions in taxpayer dollars to private for-profit companies through no-bid grants.
In one case, lawmakers agreed to send $18 million to Parkland Properties, a private firm working to redevelop an abandoned factory in downtown Muskegon into apartments and condos.
In another, lawmakers used an intermediary nonprofit to direct $5 million to Corazon Imaging, a Southfield-based cardiac imaging firm that also received $4 million in taxpayer funding last year.
Related:
Those earmarks are among more than 240 special projects included in the general government budget that Democratic Gov. Gretchen Whitmer is expected to sign soon. The legislation uses coded language to conceal the ultimate beneficiary of funds and bypass a constitutional limitation on using public funds for "private purposes."
Lawmakers on both sides of the aisle backed the funding as a responsible use of tax dollars that will ultimately help low-income communities. But critics say benefits are outweighed by fairness and transparency concerns in the no-bid grant process, which lawmakers from both parties and Whitmer have used to dole out more than $2 billion over the past two years.
"We want our legislators to be focused on driving benefits to the public as a whole, not to any one legislators' particular interest," said James Hohman, director of fiscal policy for the Mackinac Center for Public Policy, a free-market think tank in Midland.
"It's an inappropriate way to budget. It's an imprudent way of going about this. And lawmakers ought to reconsider."
A Bridge Michigan analysis found that the majority of earmarks in the new budget will go to nonprofits and local governments.
But many will also benefit for-profit firms, including $5 million to redevelop the former Fisher Body Plant in Detroit into Fisher 21 Lofts, which has already a received $25 million tax break for environmental cleanup.
Other projects that could benefit for-profit firms include $1.9 million for expansion of an Alpena port; $30.3 million to prepare riverfront sites for health care industry redevelopment in Saginaw and $10 million for an unspecified "economic development" project on Five Mile Road in Wayne County.
While the state often uses tax incentives to help businesses expand or redevelop properties, those awards typically have "strings attached," such job creation requirements and forced payback if those goals aren't met, Hohman said.
That's not the case with earmarks, when lawmakers "direct money to these particular companies" that may only benefit certain parts of the state, he said.
Earmarks are vital to securing votes to approve Michigan's budget and deliver projects to lawmakers' home districts, but several have prompted ethical concerns in recent years, and calls to overhaul the process.
Among others, a $25 million health park campus in Clare championed last year by then-House Speaker Jason Wentworth was awarded to his former aide and suspended over concerns about double-billing. The state health department's inspector general is investigating.
Mobile heart health
Michigan lawmakers last year sent $4 million to Corazon Imaging, sparking controversy by singling out the for-profit health care startup that had lobbied Wentworth, R-Farwell, for the money.
The state House in May approved legislation that would have sent another $5 millionto Corazon, but the final budget deal now awaiting Whitmer's signature instead directs the money to the Michigan Fitness Foundation.
Officials say the Lansing-based nonprofit foundation will serve as a "fiduciary" for the $5 million state grant and help ensure Corazon meets new state reporting and compliance requirements that majority Democrats added to the budget in an attempt to quell concerns over earmarks.
As they worked to secure a second grant, Corazon officials met with new House Speaker Joe Tate, D-Detroit, and "numerous" other lawmakers to discuss company plans to expand its mobile heart health screening services to more "underserved" rural and urban areas, CEO Josh Katke told Bridge Michigan.
Taxpayers will benefit from "world-class cardiac imaging and world-class cardiac testing, that's going to improve outcomes in their communities" by helping detect problems before heart attacks or emergencies occur, he said.
"If you wanted to go to a hospital to get this, then it's a four-month wait… We can deliver that test tomorrow," Katke said.
Corazon is currently only offering screenings at clinics in Trenton and Dearborn, with plans to announce three additional metro Detroit locations in the next 60 days, Katke said. The firm has also filed paperwork for as many as seven clinics in mid-Michigan, including Clare, Gladwin and Osceola counties, he said.
Sen. Jim Runestad, a White Lake Republican who voted against the budget and has proposed more transparency in the earmark process, said he was skeptical of the Corazon funding because it was not publicly debated.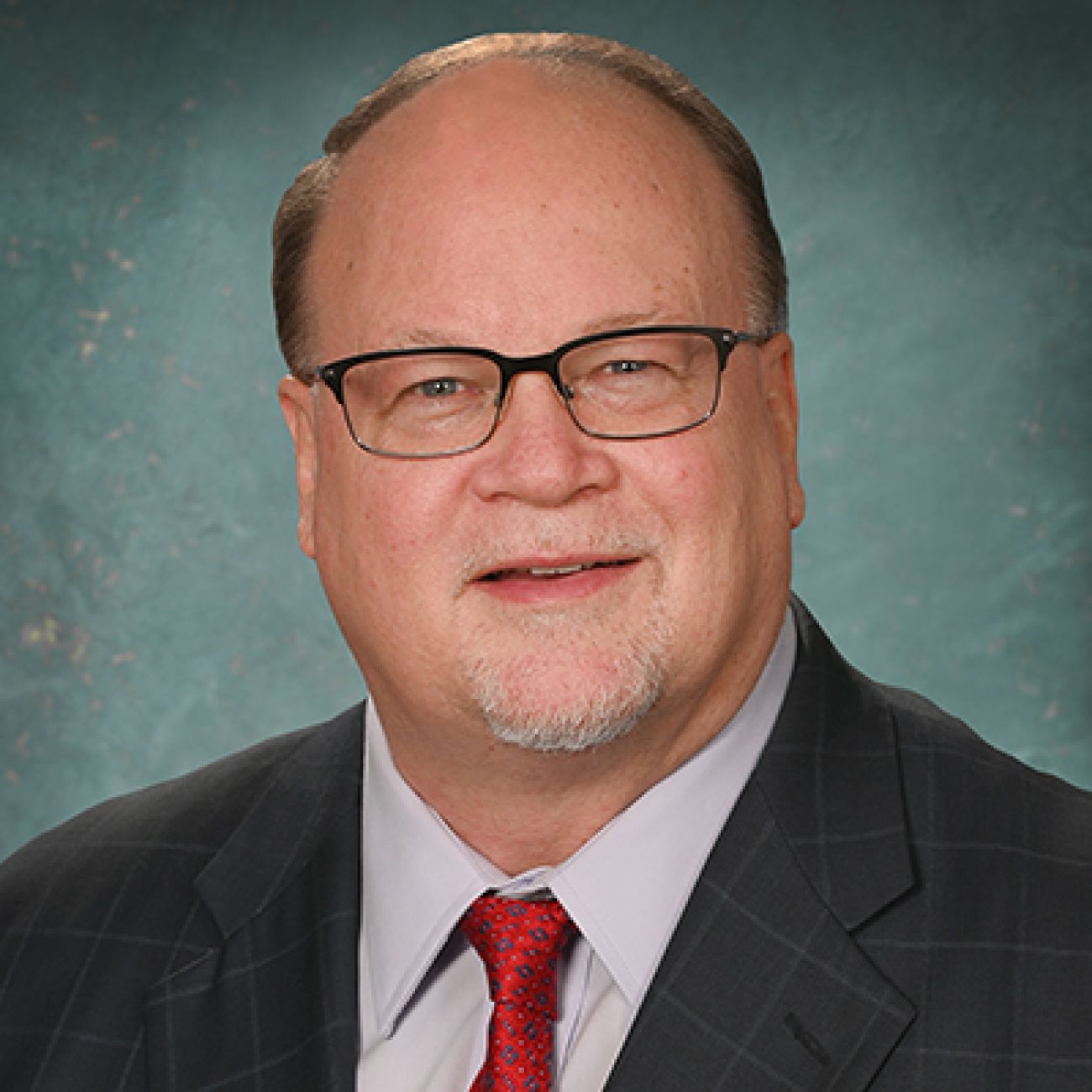 Sen. Jim Runestad, R-White Lake, voted against $1 billion in earmarks and says Michigan's budget process needs more transparency. (Courtesy photo)
He criticized "using taxpayer dollars for private entities that we know very little about" and noted it will be months before the lawmaker who sponsored the $5 million earmark must be publicly identified, as outlined in the budget deal.
"What are all the financial possible connections between the sponsor requesting this money and the tentacles that can run in every direction that would benefit that person?" Runestad asked.
But the health care startup has numerous supporters, including the Michigan Fitness Foundation, which agreed to help administer the grant because of shared goals with Corazon, said president and CEO Amy Ghannam.
"It's cutting-edge, in terms of what they're doing and what we're doing together," Ghannam said.
Because the outpatient imaging is not yet covered by Medicaid and isn't fully reimbursed by Medicare, the firm sought state funding to help expedite adoption by local doctors to serve low-income communities, Katke said.
"Just from an economics perspective, they're not going to change their pathway to offer something that doesn't that isn't profitable for them or even breakeven for them," Katke told Bridge.
'Attainable' housing from eyesore?
Lt. Gov. Garlin Gilchrist on Wednesday visited Muskegon to tout a separate $18 million appropriation for Parkland Properties, a private firm working to convert a sprawling and dilapidated former furniture factory into a mixed-use development with up to 550 apartments and condominiums.
A "large portion" of the former Shaw-Walker furniture factory will be devoted to "attainable housing" units reserved for individuals who earn 140 percent or less of the regional average median income, said Parkland owner John Rooks.
The project is expected to cost a total of $220 million, according to Rooks, who has spearheaded other major redevelopment projects in Michigan, including Union Square Condos in Grand Rapids.
While the company may also seek government incentives, it made sense to seek direct funding from lawmakers due to the scale of the project, said Rooks, who registered as a Michigan lobbyist in February, along with two other associates.
"It should be potentially the biggest adaptive reuse project in the state of Michigan," Rooks told Bridge. "And it's transformational for the whole region."
Developers plan a split between condos and apartments, with features including lakefront views, French balconies, tennis and pickleball courts, theater, a game room and restaurant, according to MLive.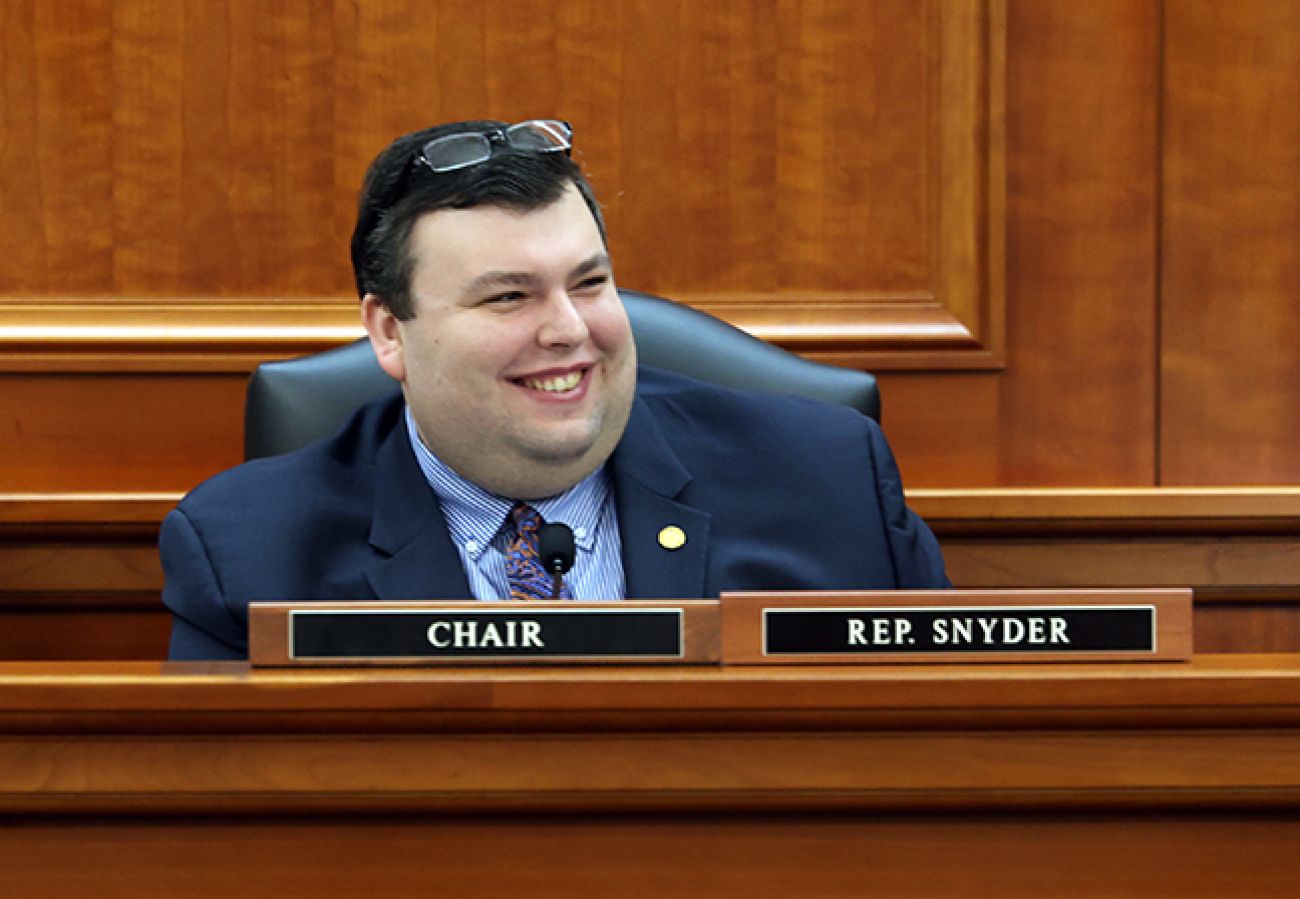 State Rep. Will Snyder, D-Muskegon, helped get an $18 million earmark into a lofts project for a former furniture factory in Muskegon, saying the project could alleviate a housing shortage in west Michigan. (Courtesy photo)
State Rep. Will Snyder, D-Muskegon, helped get the $18 million earmark into the state budget. In a Wednesday event with Gilchrist, he touted the redevelopment project as an important step to help "alleviate the housing shortage here."
Sen. Jon Bumstead of North Muskegon, the ranking Republican on the Senate budget committee, also supported the Parkland redevelopment project and told Bridge he is not concerned about sending public money to the private firm.
The building is "such an eyesore" but is still "salvageable" and could eventually produce tax revenue for the city and state if it is redeveloped, he said, suggesting the building could otherwise collapse and create local cleanup costs.
"If we have a developer that's willing to risk his neck out there, I don't mind helping a little bit," Bumstead said. "The developer has a history of getting a hold of projects and seeing them through, so I don't think there's going to be a risk."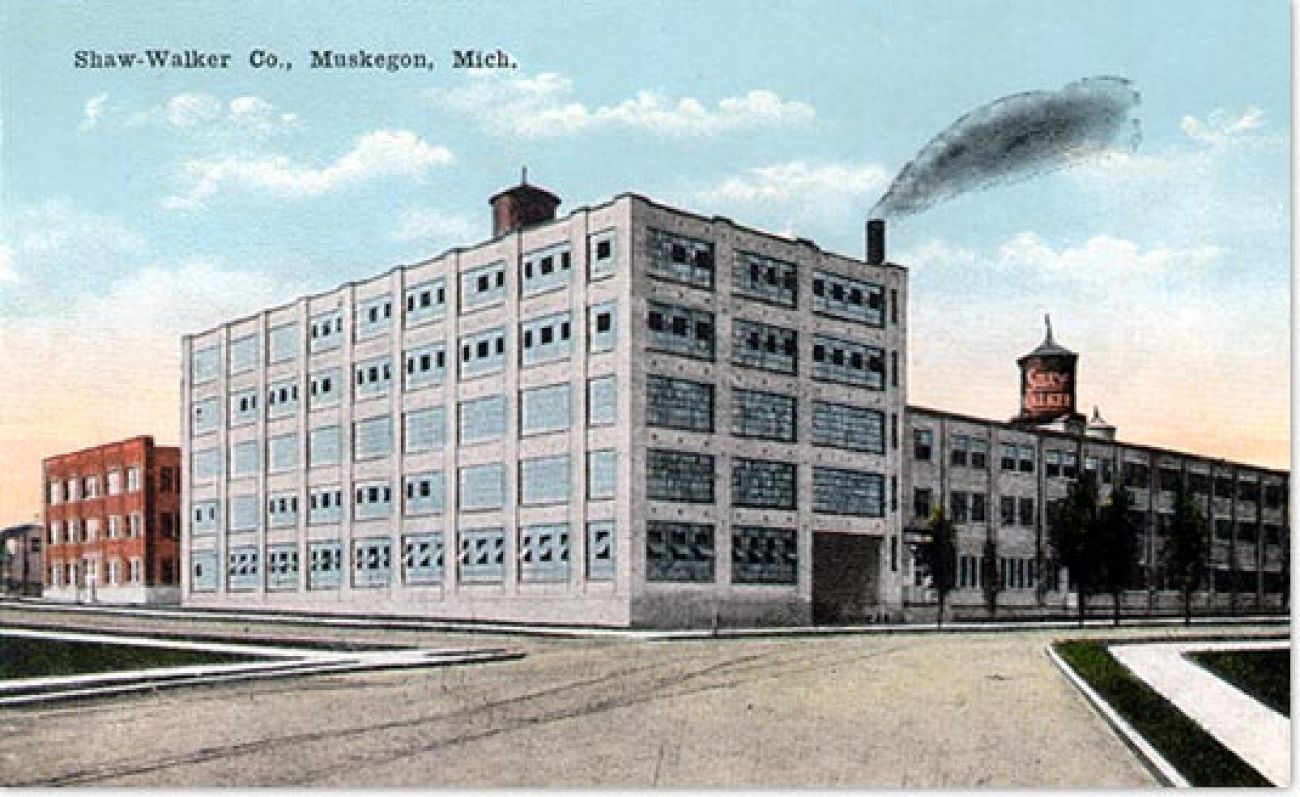 Shaw-Walker Furniture Co. was iconic in Muskegon for more than 90 years, becoming one of the world's biggest makers of office furniture and filing systems. It sold to Westinghouse in the late 1980s and has subsequently fallen into disrepair. (Wikimedia Commons photo)
New transparency, an old workaround
Bumstead was one of six Republicans in the Senate to vote for the spending bill, which gave Democrats enough votes to ensure "immediate effect" and balance the state budget by the new fiscal year, as required by the Michigan Constitution.
Democrats, in full control of state government for the first time in nearly 40 years, added some new reporting and transparency requirements for earmarks as they ramped up pork spending that Republicans had also enabled in prior years.
By Jan. 15, lawmakers will have to disclose to the state which earmarks they sponsored, and state departments will eventually be required to post that information on public websites — but not until Sept. 30. 2024, which is the end of the next fiscal year.
The budget also includes new "clawback" language designed to help the state recoup any misused or unspent funds from grant recipients who fail to comply.
"The Legislature focused on the responsible use of state dollars to support taxpayer priorities in the budget," said Amber McCann, a spokesperson for House Democrats and Tate, the House speaker.
While Runestad and some other lawmakers have called for additional transparency in the earmark process, Bumstead said he was generally OK with the new Democratic rules and felt this year's process was relatively fair.
"We were probably left out of a lot of decision-making, but we're not in power," Bumstead said of minority Republicans.
"I understand when we were in power, it's just kind of how it works. You either like a bill or you don't like a bill or how money was spent. But elections have consequences, and so be it."
But the earmark process that lawmakers are using to fund a growing number of local projects is not how state budgeting should work, said Hohman, the fiscal policy director for the free-market Mackinac Center.
In fact, the Michigan Constitution requires a two-thirds super majority vote in both the state House and Senate to use public money "for local or private purposes." But lawmakers have long evaded that spending barrier by using vague language to dole out funding for pork projects.
The $18 million for the Muskegon project, for instance, is technically earmarked for "a development firm founded in 1988 and located in a city with a population between 36,000 and 39,000 and in a county with a population between 175,000 and 176,000 according to the most recent federal decennial census."
Parkland Properties was founded in 1988, according to the firm's website. And only Muskegon meets those population parameters.
If the project is really as promising as supporters contend, it could have been funded through a competitive bidding process because it would have received "high marks" on any objective review, Hohman said.
"They're not trying to fund the best housing projects; they're funding housing projects in a particular legislators' district," he said of lawmakers.
"We really don't know what the best projects are, because they're not funding grant programs to select the projects that best serve the public's interests."
Only donate if we've informed you about important Michigan issues
See what new members are saying about why they donated to Bridge Michigan:
"In order for this information to be accurate and unbiased it must be underwritten by its readers, not by special interests." - Larry S.
"Not many other media sources report on the topics Bridge does." - Susan B.
"Your journalism is outstanding and rare these days." - Mark S.
If you want to ensure the future of nonpartisan, nonprofit Michigan journalism, please become a member today. You, too, will be asked why you donated and maybe we'll feature your quote next time!