Michigan clerks: Read fine print of Secure MI Vote. It could ban volunteers.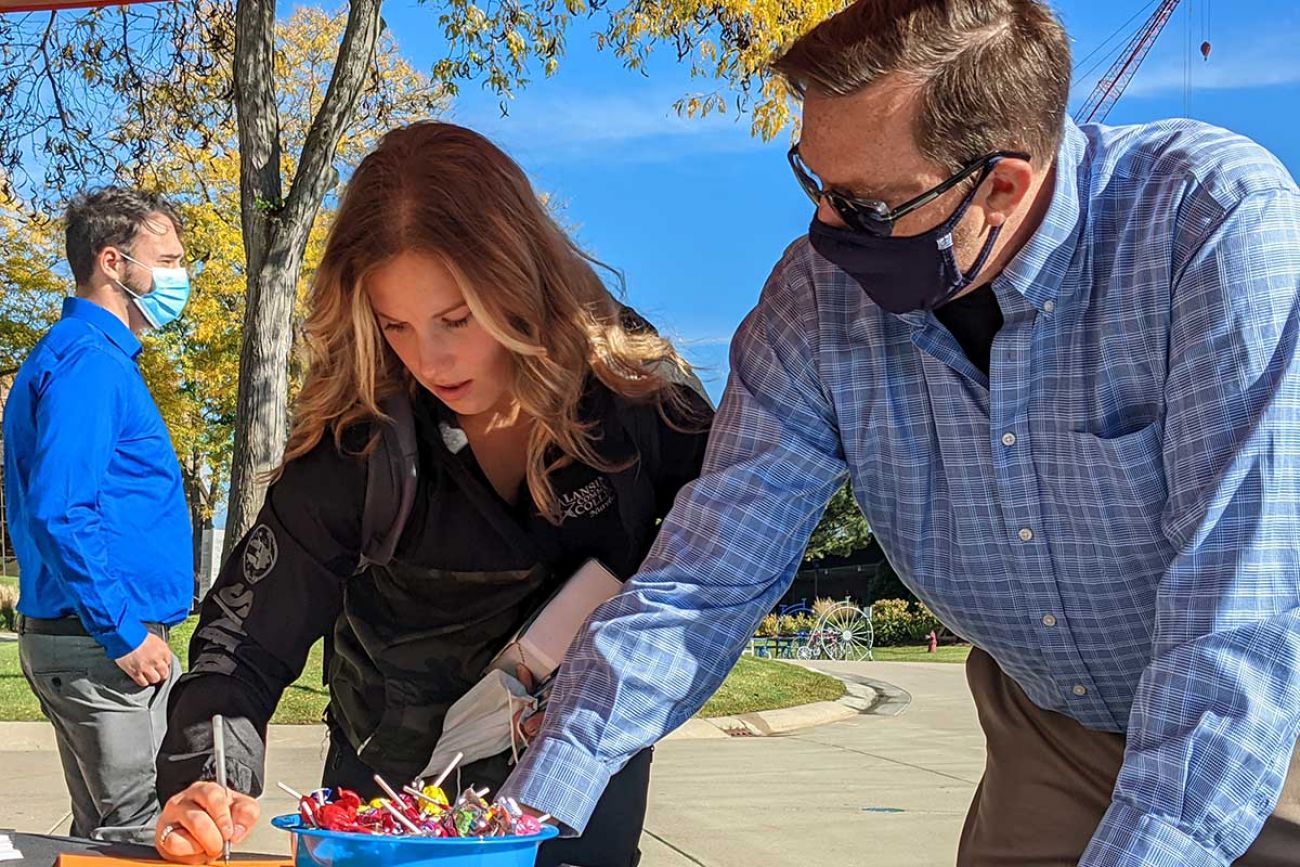 Elizabeth Pederson, a student at Lansing Community College, registers for an absentee ballot during a voter registration drive sponsored by City Clerk Chris Swope and the League of Women Voters. Such collaborations would be banned under a new Republican proposal to tighten Michigan voting laws. (Bridge photo by Jonathan Oosting)
Michigan Government
Michigan clerks: Read fine print of Secure MI Vote. It could ban volunteers.
Her questions rang across campus like an alarm clock prompting mute-button replies: A quick head nod, dismissive shake or an "I don't have time" from students rushing to class.
Related:
For Wicks, a volunteer with the League of Women Voters, the effort felt important even if only a handful of students stopped by the tent she staffed for the Lansing City Clerk, she told Bridge Michigan. Students will now be able to vote or cast their ballots by mail even if they're away from home at school.
But Wick's volunteer work could become more difficult under a Republican petition drive launched last week to tighten Michigan election laws and circumvent a promised veto by Democratic Gov. Gretchen Whitmer.
The Secure MI Vote initiative, which critics have blasted as attempted suppression because it would tighten voter identification rules, would also bar local clerks from accepting direct funding or free "in-kind" assistance for election-related activities from individuals or non-governmental entities.
About the petition
Secure MI Vote is a petition drive to change Michigan election laws. Here is a summary of the petition that was approved by the state Board of Canvassers:
Initiation of legislation amending the Michigan Election Law... to require partial social security number for voter registration; require photo ID for in-person voters; require driver's license, state-ID, partisan social security number or photo ID on absentee ballot application; require voters who don't provide this ID to present ID in person within 6 days after election to have their vote counted; provide state-funded IDs to applicants with hardships; specify minimum times clerks must accept absentee ballots for in-person or dropbox delivery; prohibit officials from making absentee ballot applications available except upon voter request; prohibit donations to fund elections.
Supporters say the provision is an important safeguard to deter corporate influence in election administration. Local clerks fear the measure would prohibit them from using volunteers for election preparation, including work like voter registration drives and absentee ballot mailers they describe as the nuts and bolts of democracy.
Secure MI Vote organizers concede the initiative would prohibit Michigan clerks from accepting donated space for use as polling places, including churches, which accounted for roughly 15 percent of the 3,400 state voting centers in the 2020 presidential election.
Organizers acknowledge the initiative would also prohibit clerks from partnering with groups like the League of Women Voters to share the cost of registration drives or other election-related activities.
Critics say that could make taxpayer-funded elections more expensive, leading to the consolidation of polling places that would make voting more difficult.
"It's frustrating for us, because we want to do the right thing and have people participate in democracy, and we just feel like we — and all Michigan voters — are being stymied by this proposal," said Christina Schlitt, co-president of the Michigan chapter of the League of Women Voters.
The nonpartisan nonprofit has more than 2,000 volunteers and routinely deploys them to help local clerks prepare for and execute elections.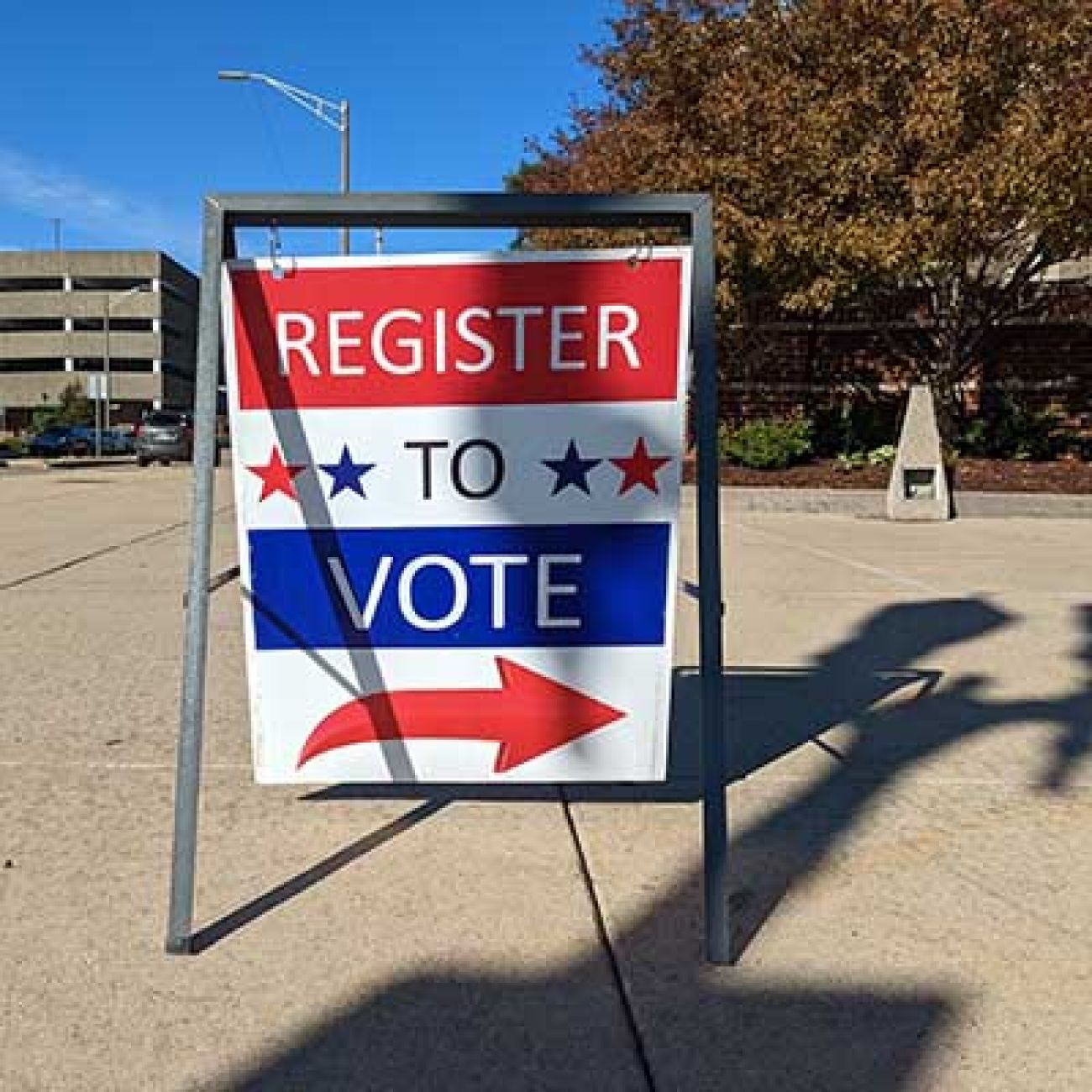 A voter registration sign outside a drive sponsored by the Lansing City Clerk and League of Women Voters. Such collaborations would be banned under a new GOP proposal to tighten Michigan voting laws. (Jonathan Oosting)
Last year, League volunteers worked with clerks in cities like Holland, Dearborn, Kalamazoo and Flint to mail absentee ballots after the local officials were bombarded by a flood of applications from Michiganders who chose to vote by mail during the COVID-19 pandemic.
Secure MI Vote spokesperson Jamie Roe argued that clerks should pay all election workers rather than rely on volunteer labor for essential functions.
"Nothing prevents the League of Women Voters or any other group from conducting their own voter registration drives," he said. "What we don't want is to have certain groups — regardless of their political affiliation — being given the imprimatur of government for their political activity."
An 'inherent government function'
The proposed ban on election administration assistance follows unprecedented spending by The Center for Tech and Civic Life. Using $350 million in donations from Facebook CEO Mark Zuckerberg, the Chicago-based nonprofit last year awarded "COVID-19 response grants" to local governments nationwide.
While clerks celebrated the grants, the money sparked debate over the ethics of private funding for public elections. Zuckerberg's involvement fueled GOP lawsuits alleging the grants were steered toward Democratic cities to hurt former Republican President Donald Trump, who continues to claim the contest was "rigged" against him.
As Bridge Michigan reported in June, CTCL sent grants to Republican and Democratic clerks alike in 465 Michigan cities, townships and counties. The nonprofit said it awarded funding to any clerk who applied to help them pull off a smooth election amid the global pandemic.
Detroit, the state's largest city and a Democratic stronghold, got the biggest award by far: $3.5 million, followed by Flint at $475,625.
While total amounts for Michigan aren't available, CTCL also awarded grants to hundreds of smaller municipalities, typically on a scale consistent with their size under a formula that included the number of registered voters.
"Administration of elections is an inherent government function," and the GOP petition seeks to reinforce that ideal, said Roe, the Secure MI Vote spokesperson.
"Foundations funded by corporate entities" should not be allowed to "fund parts of election administration that could perhaps favor their corporate ideals," he said.
If enacted into law, the initiative would specify that only "public monies" appropriated by the Michigan Legislature or a local government could pay for election administration, prohibiting any outside grants for clerks, some of whom have complained about state funding in recent years.
Private money ban
Secure MI Vote's ballot language spans several pages. Here is the text of the section banning the use of outside money to fund elections.
"Michigan elections shall be funded with public monies appropriated by the Michigan Legislature or by the county, city, township or village conducting the election. This state, a department, agency, commission or board of this state … shall not accept or use any private funds, in-kind contributions, or other considerations, from any individual or entity, either directly or indirectly, to conduct or administer an election. This prohibition applies to any election related activities, such as voter registration, voter eligibility review, mailing of election materials, sharing of voter information or recruiting or hiring precinct election inspectors, as well as election related equipment, such as tabulators, communication devices, signs, tents, voting facilities or locations, or absent voter ballot drop boxes."
Budget documents show Michigan spent about $7.5 million on election administration in 2020, the same amount as 2016.
Critics warn the funding limitations proposed by Secure MI Vote could have far-reaching consequences because the initiative does not allow any exemptions for outside assistance and does not define in-kind contributions, which are typically anything of value that is not money, such as time or resources.
Attorneys for opposition groups Promote The Vote and Protect MI Vote contend the initiative language is so vague and broad that a judge might conclude it even bars federal election funding, equipment loans between municipalities and election office volunteer work of any kind.
Charlie Spies, an attorney for the Secure MI Vote initiative, accused "partisan" opponents of creating "strawman arguments to distract from their extreme position against election security that improves voter confidence in the outcome of elections."
The "plain language of the initiative prohibits outside special interest groups from funding the administration of elections, but it does not prohibit assistance from the federal government or volunteers from assisting clerks leading up to Election Day," Spies said in a statement.
But as they begin asking voters to sign petitions, even Secure MI Vote organizers have offered different interpretations of the initiative.
Roe, the spokesperson, initially told Bridge Michigan he did not think the proposal would prohibit churches from donating space to be used as polling places, saying "that is absolutely not the case."
But Spies, the Secure MI Vote attorney, confirmed election clerks would be required to "pay fair value" for any outside facility they use as a voting precinct, including churches.
That, he said, will ensure they "avoid any appearance of impropriety."
A ban on free church space
The Secure MI Vote initiative could put election officials in a bind because it would bar outside funding for election administration while also creating new costs, said Delta Township Clerk Mary Clark, a Democrat and president of the bipartisan Michigan Association of Municipal Clerks.
Current Michigan law directs clerks to use publicly owned or controlled buildings for polling locations. But if those are not readily available, clerks are allowed to use buildings owned by tax-exempt organizations, including churches.
In Delta, Clark operates 16 election precincts but only has five township buildings available to use for voting. So most of her polling places are in non-governmental buildings, including 10 separate churches who provide her space at no cost.
The statewide clerks association has "severe concerns" that the Secure MI Vote initiative could impose a "financial burden" on local governments, Clark said.
"I'm going to give (GOP organizers) the benefit of the doubt that these are unintended consequences, but I don't know," she said.
Roe, with Secure MI Vote, said he believes local election officials that now rely on free space will be able to find room in their budgets to pay for all polling locations, since some already do.
Sterling Heights Clerk Melanie Ryska, a nonpartisan appointee, told Bridge Michigan she pays a "small stipend" of $150 for each of the three churches she uses as polling locations. But it's not clear if that would qualify as "fair market value" allowed under the initiative.
Voting rights advocates suspect the costs could be higher and may encourage clerks to consolidate polling locations.
Under current law, an election precinct can contain no more than 2,999 active registered voters, but clerks can combine precincts with up to 5,000 voters into a single polling location.
Officials say consolidation means some voters may have to travel farther and lead to confusion and delays if single buildings contain multiple precincts.
In Pontiac, a Democratic stronghold, appointed Clerk Garland Doyle said he has moved a few polling locations to make them more convenient for voters.
Most are in public schools, which cancel classes on Election Day, "but we do have some polling locations in churches or nonprofit organizations that are donated, and there is not really an alternative space that would be convenient for voters in that area," he told Bridge Michigan.
Volunteer work in dispute
Local election officials are also concerned the initiative could bar them from using any sort of volunteer staffers. An initial review by Michigan Secretary of State Jocelyn Benson's office suggests "the clerks are right," said Tracy Wimmer, a spokesperson for the first-term Democrat.
But Secure MI Vote organizers contend the petition would only ban election-related work by volunteers affiliated with outside groups such as the League of Women Voters.
Individual volunteers would not be prohibited because "there's no tangible valuation" for their work, Roe said.
If the Legislature eventually adopts the Secure MI Vote initiative to make it law, which Republicans could do without Whitmer's signature, the dispute over volunteer staffer language could ultimately be settled in court
"A statute is interpreted according to what it says, not what Jamie Roe or anybody else thought it meant," said Mark Brewer, an attorney for Promote The Vote who previously chaired the Michigan Democratic Party.
It's "pretty obvious" that the proposal would prohibit volunteers from assisting local election clerks because "it's very broad and there's no carve outs," Brewer said.
Lansing Clerk Chris Swope, a Democrat, said he believes the initiative would force him to either pay or fire six volunteer retirees, including some who have pitched in for more than a decade.
The Lansing volunteers have become friends while working six-hour days, three times a week in the run-up to local elections, said Mary Scoblic, 77.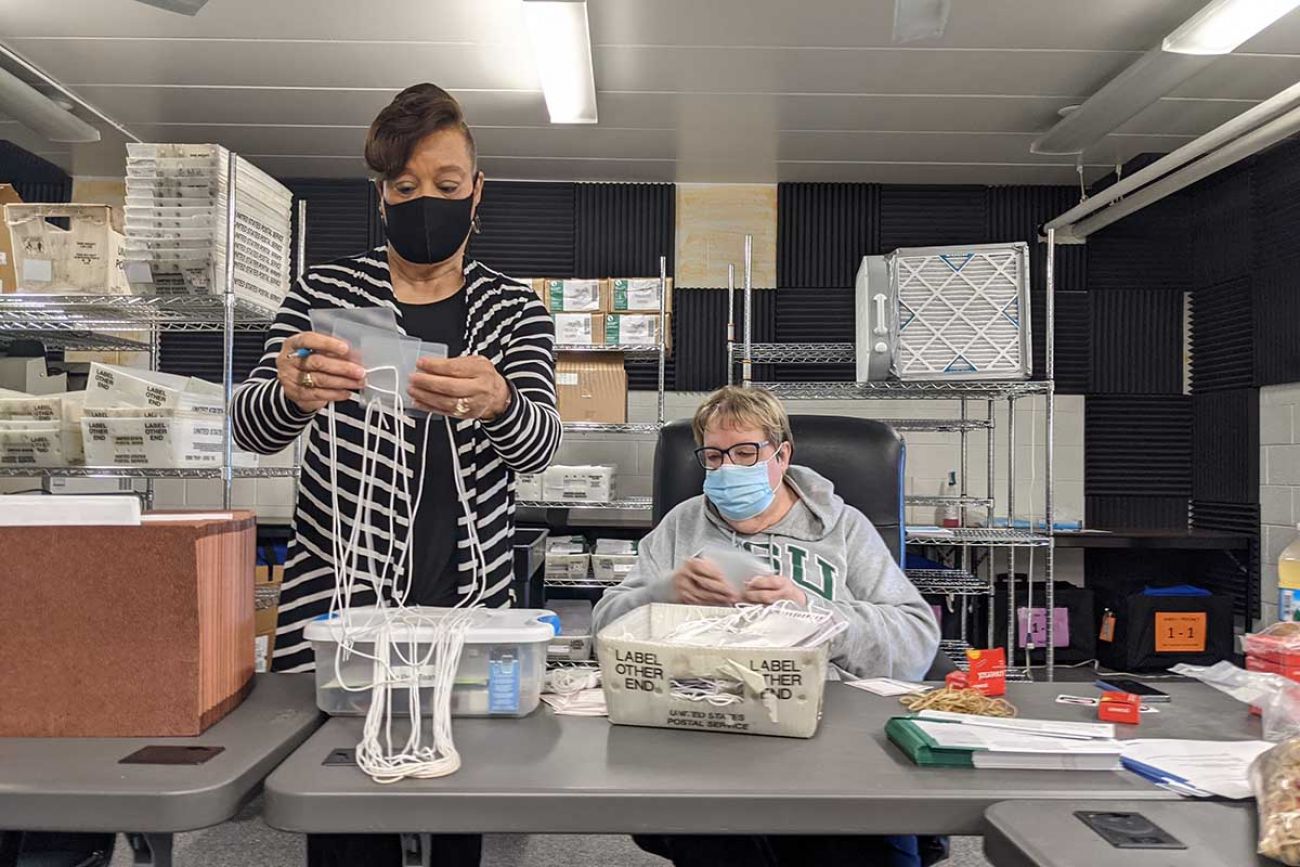 Barbara Artis, left, and Mary Scoblic prepare absent counting board name tags while volunteering in Lansing this month. City Clerk Chris Swope said he fears a GOP initiative could bar volunteer assistance. (Bridge photo by Jonathan Oosting)
It's something "interesting to do" in retirement, and limiting her from working for free would be "ridiculous," she told Bridge Michigan.
Last month, the volunteers helped put more than 13,000 absentee ballots, secrecy sleeves, instructions and "I Voted" stickers into envelopes that were then mailed out to Lansing voters ahead of a November municipal election. They were preparing another batch of ballots in early October.
It's "repetitive" but "important" work, Scoblic said, noting the job was much larger in last year's presidential election, when she and other volunteers helped send out more than 40,000 absentee ballots to voters who had requested them.
"The clerk's staff is pretty small, and they could not have done it," she said of 2020. "They really do need volunteer assistance in order to do this, because they have a number of other jobs to do."
Only donate if we've informed you about important Michigan issues
See what new members are saying about why they donated to Bridge Michigan:
"In order for this information to be accurate and unbiased it must be underwritten by its readers, not by special interests." - Larry S.
"Not many other media sources report on the topics Bridge does." - Susan B.
"Your journalism is outstanding and rare these days." - Mark S.
If you want to ensure the future of nonpartisan, nonprofit Michigan journalism, please become a member today. You, too, will be asked why you donated and maybe we'll feature your quote next time!