Michigan Democrats to tackle Right-to-Work. Unions are a top donor.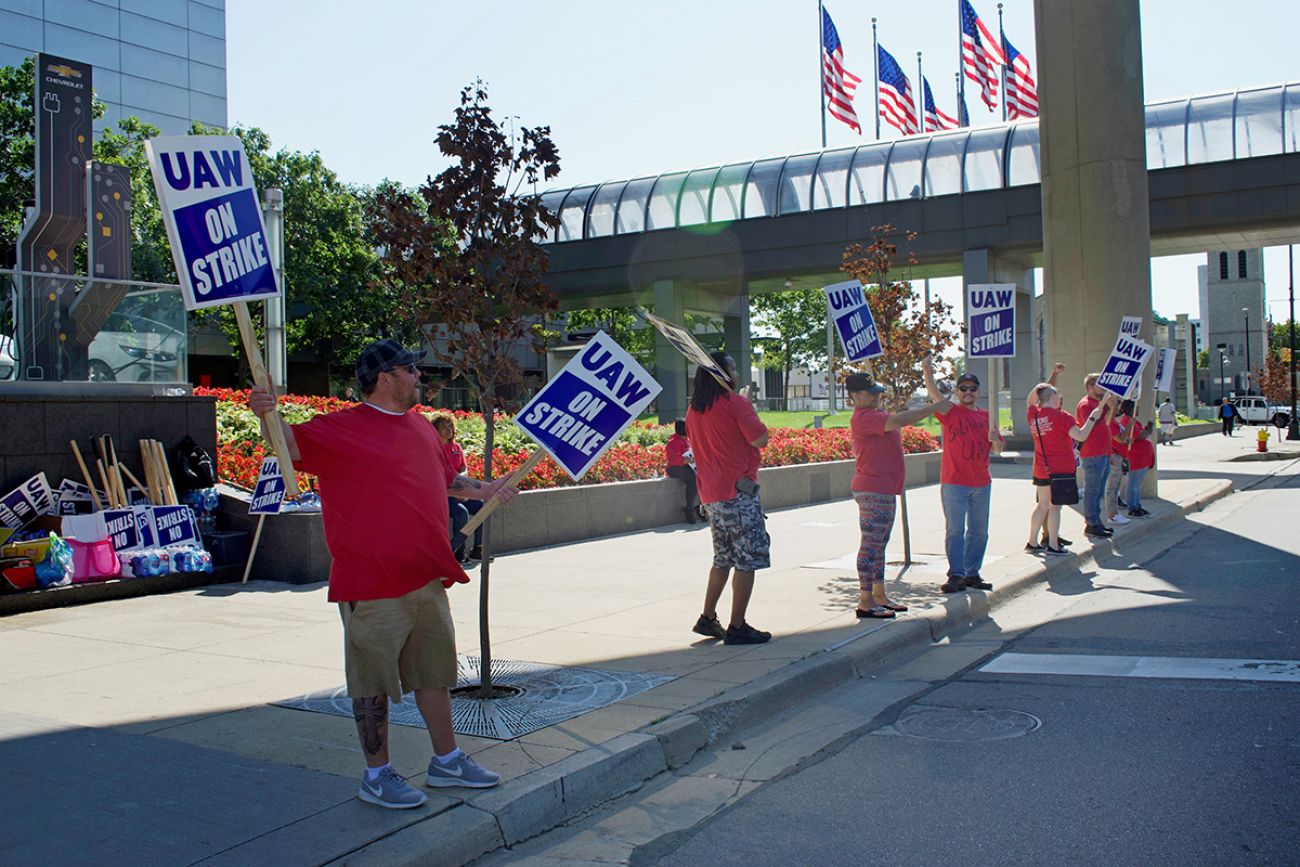 Michigan Democrats are poised to repeal the state's Right-to-Work law, which allows employees to forgo paying union dues but still enjoy union protections. Business groups say the law helps Michigan expand its economy, but unions argue it makes it harder for them to organize and retain members. (Linda Parton / Shutterstock.com of 2019 protest in Detroit)
Michigan Democrats want to eliminate the state's Right-to-Work law — a move labor unions have long wanted
Labor unions are a top donor to Democratic Gov. Gretchen Whitmer and incoming Democratic legislative leaders
Almost all political donations made by five major labor unions in Michigan went to Democrats
---
LANSING — Democrats want to repeal Michigan's Right-to-Work law that weakened union membership when the party takes control of state government in January, months after they were elected with significant funding from unions.
A Bridge Michigan analysis shows unions were among the top donors to Democrats, but especially Gov. Gretchen Whitmer and incoming legislative leaders Sen. Winnie Brinks of Grand Rapids and Rep. Joe Tate of Detroit. Combined, unions gave $577,500 to the three as of Nov. 28, comprising 31 percent of the $1.9 million the trio collected in group donations, according to a Bridge Michigan analysis.
Five big unions alone — the United Auto Workers, Michigan Region of Carpenters, the AFL-CIO, AFSCME and SEIU — made a total of $3 million in political contributions across Michigan during the election, all but $51,000 of which went to Democrats, the analysis shows.
Related:
Ray Curry, national president of the UAW, said the decision by Michigan Republicans to adopt Right-to-Work laws in 2012 was a "travesty," but he also told Bridge he doesn't believe "Gov. Whitmer owes us anything."
"I believe the members of the state who have advocated for this legislation to be repealed have voiced their concerns, and the UAW clearly has made their concerns known," said Curry, whose union is Michigan's largest, with some 133,000 members.
Republicans and business groups have called the potential repeal of Right-to-Work a "divisive" move that may hurt bipartisanship. Some Republicans, such as former Michigan Chamber of Commerce President Rich Studley, said he was "stunned" that Democrats placed Right-to-Work at the top of their legislative agenda.
Incoming House Minority Leader Matt Hall, R-Comstock Township, told Bridge on Tuesday he hopes Democrats "are not doing policy based on who their donors are."
"I would just say that if they choose to go down the road of divisive policies that are going to, right out the gate, be different than what we did the last four years … and they start doing hard partisan things that divide everybody, that's not what they ran on," Hall said.
"And it's going to lead to their downfall when the Republicans take the House back," he added. "When they look back, they'll look at this as why it happened."
Unions have long been one of the biggest blocs for Democrats, who have said for years they want to eliminate the law that allows private employees working under a collective bargaining agreement in Michigan to forgo paying union dues while still receiving the protection of union benefits.
After the law went into effect in 2013, union membership in Michigan plunged from 16.3 percent of workers in Michigan to 13.3 percent today. The Mackinac Center for Public Policy in Midland released a report this week that found more than 143,000 people left unions in Michigan since 2012. (Public employees are separately exempt from being forced to pay union dues under a 2018 U.S. Supreme Court decision.)
Republican majorities passed the controversial law during the "lame-duck" session in 2012, with then-Gov. Rick Snyder, also a Republican, signing on despite previously calling the issue "divisive." The swift actions set off protests from critics, who said the law was "jammed down everybody's throat" by conservatives without much discussion, said former Wayne County Executive Robert Ficano, a Democrat.
"It left a very bitter taste in … everybody's mouth," he said.
'Life blood of the labor movement'
Republicans and some business organizations cheered the law's passage and hailed it as a way to boost economic growth and attract jobs.
Studley previously compared repealing the state's Right-to-Work law to starting a "nuclear war."
Following last month's Democratic gains, business leaders have urged leaders to focus on what they call more pressing economic issues including job creation, workforce training and incentive programs to attract investment.
The ability to raise money via union dues is paramount to labor organizations, said Michelle Fecteau, director of the Center for Labor and Community Studies and a longtime union organizer who protested the passage of Right-to-Work law in 2012.
"It's like the lifeblood of the labor movement," she said. "That's why some Republicans were so keen on it. They felt … by defunding labor, you defund, in a lot of ways, the Democratic Party."
Historic support for Democrats
Labor unions have aligned themselves with Democrats for decades, emerging as a vital contributor to Democratic campaigns in the 1930s to help elect President Franklin Roosevelt.
Republicans were also amenable to labor issues, but that attitude has shifted, said Roland Zullo, an associate research scientist at the University of Michigan School of Social Work.
In the 1970s, former Republican President Richard Nixon signed the Occupational Health and Safety Act to improve workplace safety, Zullo noted. Today, however, it would be hard to imagine a Republican president willing to do the same, he said.
The election of Republican President Ronald Reagan marked a "critical shift" in union support for the GOP, Zullo said.
In the 1980s, he said, "Republicans firmly ensconced themselves within the language and philosophy of business and spent less time and less effort toward working people."
But just as unions need Democrats who are traditionally friendlier to labor issues, Democrats benefited from union groups' political donations and organizing efforts to boost voter turnout, especially during a race with low voter turnout, Zullo added.
"Each election cycle, union members are out there knocking on doors, talking to people, raising issues that are important to working people," he said. "That's as valuable, arguably more valuable, than any money sent (to candidates)."
Political giving leans Democratic
Labor unions in Michigan have traditionally given to Democrats and, in the final months leading up to the Nov. 8 election, union groups were among the biggest donors to Whitmer's campaign.
Communications Workers of America in Michigan — representing workers in communications and information industries — contributed $61,500 on Nov. 1, a week before Election Day. The group was the biggest donor during the one-month period between Oct. 24 and Nov. 28.
Between mid-August and mid-October, Whitmer's biggest donor was the Michigan Laborers' Political League — part of the Laborers' International Union of North America. It gave Whitmer $51,500 during the two-month period, bringing the total it contributed to the Whitmer campaign this year to $71,500.
In all, Whitmer's campaign raised $12.4 million in 2022 from donors who each gave more than $200, according to a Bridge analysis of campaign finance records. Of that, at least $1.7 million came from PACs, business organizations and union groups, the analysis shows. Donations from union groups — a total of $458,000 — accounted for more than 27 percent of what Whitmer raised from those groups in 2022.
Similarly, union groups gave Brinks, the incoming Senate Majority Leader, $40,850 in 2022, accounting for 43 percent of all group donations she received. For Tate, union donations made up 33 percent of all his campaign's group donations.
Tate told Bridge on Tuesday the union contributions demonstrate his labor organization support, which he contends is due to his "well established record of supporting labor and families." He disputed the notion that Democrats orient their policies based on their donors.
"(Unions) represent the interest of working people and the families across the state," he said. "I'm definitely happy and proud to have that support."
Beyond repealing Right-to-Work, he said he is exploring other policies that would benefit workers but did not mention specifics. "Everything's on the table," he said.
Brinks and a spokesperson for Whitmer did not return requests for comment.
Union contributions to Democrats are a way to "level the playing field" against business groups, which have traditionally given to both parties, said Ficano, the former Wayne County executive.
Not that the state's top Dems lacked business support this year.
Business groups — including trade associations and the political arm of individual businesses — contributed at least $733,090 to Whitmer, Brinks and Tate in 2022, the Bridge analysis showed. That accounts for almost 40 percent of the nearly $1.9 million they received in group donations — more than what they received from unions.
Businesses contribute to leaders in both parties to "cover all their bets" and gain access to key policymakers, said Greg Bowens, Democratic consultant in southeast Michigan. Labor unions can never match businesses' political contributions, Bowens said, but they still gain access to lawmakers by holding fundraisers or giving campaign funds.
"Just because you give money doesn't mean you have special status or something like that," he said. "But sometimes, the ability to get into fundraisers and talk to people outside of the state Capitol in a more relaxed environment is access that not everybody gets, because not everybody can afford to pay a fee to go to a … top-of-the-line fundraiser."
Candidates like Whitmer, who can attract dollars from both unions and businesses, should have the ability to bring both groups to the table and work together, Ficano said.
But Bowens urged Democrats to avoid catering to Republicans, who he contended have swung too far to the right. Democrats must go beyond repealing Right-to-Work in Michigan and address issues such as workplace protection and improving work conditions for supplemental workers and contractors, he argued.
"Democrats (could become too) concerned with the middle and with being conciliatory to the right … in a way that almost cripples us and blinds us many times to the needs of the working people," he said. "We are looking to not just stop the bleeding but to actually heal and get better."
Jonathan Oosting and Paula Gardner contributed reporting.
Only donate if we've informed you about important Michigan issues
See what new members are saying about why they donated to Bridge Michigan:
"In order for this information to be accurate and unbiased it must be underwritten by its readers, not by special interests." - Larry S.
"Not many other media sources report on the topics Bridge does." - Susan B.
"Your journalism is outstanding and rare these days." - Mark S.
If you want to ensure the future of nonpartisan, nonprofit Michigan journalism, please become a member today. You, too, will be asked why you donated and maybe we'll feature your quote next time!