Michigan Republicans want to extend the life of a tax break that so far is costing more than $40,000 for every job it helps create.
GOP lawmakers intend to introduce legislation, possibly before summer recess, to extend a tax incentive that allows companies to keep some or all of their new employees' income tax withholdings if the companies create hundreds or thousands of good-paying jobs.
The "Good Jobs for Michigan" program is set to end in December after awarding tax benefits worth $57.4 million to three firms, including drug giant Pfizer, that together promise to create 1,354 jobs within five years. Former Gov. Rick Snyder, a Republican, signed the program into law in 2017.
The breaks so far equate to about $42,000 per job. Republicans say the program is a valuable tool in the state's arsenal of job-creating incentives.
"We're getting a lot of great response with the Good Jobs for Michigan program, so I don't want to lose that," said state Sen. Ken Horn, R-Frankenmuth, who leads the Senate's economic and small business development committee.
Horn backed the creation of the program and said he intends to take up legislation to continue it. Horn said he's interested in creating other incentives, including one that could aid in research and development of self-driving cars.
"We know that we need to bring new jobs and migrate talent into Michigan to fill our talent gap," Horn said.
Tax incentives are controversial, not least because the state remains on the hook for billions of dollars in obligated payouts to companies through at least 2030 — more than $6 billion alone for the now-defunct Michigan Economic Growth Authority, or MEGA, program that Snyder ended in 2011.
In Detroit, meanwhile, the planned District Detroit development surrounding Little Caesars Arena, built by the Ilitch family's Olympia Development of Michigan, has come under scrutiny for not yet materializing despite receiving hundreds of millions of dollars in state subsidies.
While recent efforts to create incentives have earned bipartisan support in Lansing, including the Good Jobs program, some on both sides of the aisle reject them as "corporate welfare."
State Sen. Stephanie Chang, D-Detroit, voted against the Good Jobs plan two years ago while serving in the state House. She said creating jobs is important, but so is a broader discussion about how projects benefit neighbors.
She said she hears skepticism about incentives from her constituents in Detroit and Downriver during coffee meetings.
"How do we do economic development in a way that isn't necessarily taking away potential resources that could be used for meeting some of the basic needs for the most vulnerable in our communities?" Chang asked, citing issues such as a lack of health insurance, clean water or affordable housing.
"I had concerns [about the Good Jobs program] the first time around," she said. "Those concerns still exist, so I would really kind of have to look at the details."
The Good Jobs tax incentive is one of several possible in a package the state will offer to Fiat Chrysler Automobiles for its project to invest $4.5 billion to build a new vehicle assembly plant in Detroit and update several other factories, creating close to 6,500 jobs.
Chang has called on the company, the city of Detroit and the state to focus on protecting the environment and residents' quality of life as the project moves forward.
Gov. Gretchen Whitmer hasn't taken a public position on continuing the Good Jobs incentive. Her office said the first-term Democrat "supports the use of the economic tools at her disposal to attract and retain jobs in Michigan."
During last year's gubernatorial campaign, Whitmer indicated support for improving Michigan's selection of economic development tools, saying in a campaign issue paper that "Michigan has unilaterally disarmed when it comes to fighting for and attracting good jobs over other states" during the past eight years.
War for talent
Horn raised the possibility of revisiting the Good Jobs program as policymakers recently debated the 2020 fiscal year budget, including money for business attraction and tourism promotion.
The Senate last week approved $102.6 million for the Michigan Economic Development Corp.'s business attraction and community revitalization incentive programs, close to $2.8 million less than what Whitmer proposed.
But the Senate also increased funding for the popular Pure Michigan travel campaign, rejecting Whitmer's proposed $5 million cut to invest instead in roads and public schools.
And the Michigan Strategic Fund board, which approves economic development projects receiving state funding, last week created a job-training subsidy for companies looking to move to or expand in Michigan that have a need for training.
It won't require new money: The MEDC said it will dedicate up to $10 million from its pool of current business development cash grants to the new Jobs Ready Michigan program, which will offset the cost of employee recruiting and help businesses provide customized, on-the-job training.
"We are in a war for talent across the United States, and this program will help us proactively assist employees that we are actively recruiting to the state of Michigan," MEDC CEO Jeff Mason told reporters last week before the Michigan Strategic Fund board approved the Jobs Ready Michigan program.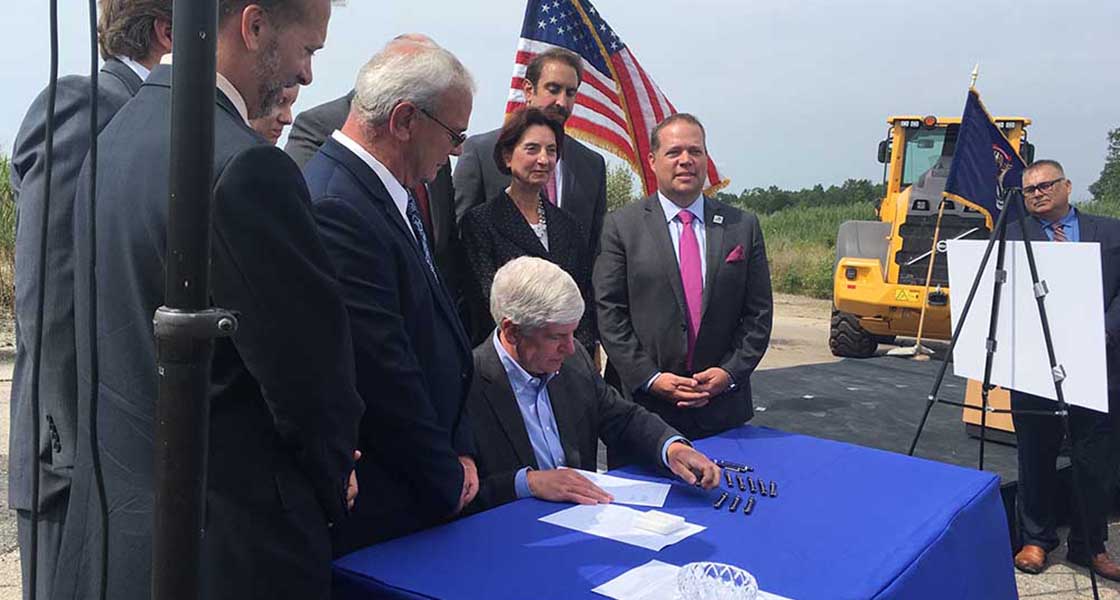 Gov. RIck Snyder signed the Good Jobs for Michigan incentive into law in 2017.   Since then, it has awarded $57.4 million in incentives to three companies, including drug giant Pfizer, that together promised to create more than 1,300 jobs within five years. (Bridge photo by Lindsay VanHulle)
Three recipients of incentive
An interstate war for talent was the rationale for the Good Jobs legislation two years ago.
The bills began moving through the Legislature about the same time Michigan was vying for Taiwan electronics manufacturer Foxconn Technology Group. Later that year, Michigan cities also bid for Amazon.com's second headquarters site.
Both ended in controversy. Wisconsin promised $4 billion in incentives to Foxconn, which has since scaled back its original plans and prompted questions about whether it will create 13,000 jobs.
And this year, Amazon dropped plans to build a second headquarters in New York when local leaders questioned $3 billion in incentives for the tech giant.
Michigan offered billions of dollars in proposed incentives to both companies, using the Good Jobs program in their bids.
To win votes for the Good Jobs incentive, lawmakers added an end date of Dec. 31, 2019, along with a $200 million lifetime cap. The package was overwhelmingly approved and to date, the incentive has been awarded to three companies:
Pfizer Inc., a New York-based pharmaceutical firm, for a $465 million project to build a new sterile drug manufacturing plant in Portage. The company plans to create 450 jobs, with 354 of them paying an average annual salary of $70,106 and eligible under the Good Jobs incentive, according to the MEDC. Pfizer's incentive is worth $10.5 million for up to 10 years.

KLA Corp., formerly KLA-Tencor Corp., for a more than $70 million project to build a research and development facility near Ann Arbor. The company, based in Milpitas, Calif., designs and builds machines that help in the production of electronic chips. KLA plans to hire more than 500 people in Michigan, most of them engineers, earning on average between $48 and $72 per hour, according to the MEDC. KLA's incentive is worth $16.2 million for up to eight years.

Aptiv PLC, an automotive supplier focused on self-driving technologies that spun off from the former Delphi Automotive, intends to consolidate a facility in Kokomo, Ind., into its Troy operation. The $20 million project is expected to create 500 jobs that pay an average annual wage of $103,667, according to the MEDC. Aptiv's incentive is worth $30.7 million for up to 10 years.
MEDC spokesman Otie McKinley issued a statement to Bridge Magazine saying "no policy decisions have been made and it would be premature to speculate on the program's future."
Mason, its CEO, in April told a Senate committee, also led by Horn, the agency is optimistic.
Good Jobs is "a modest but effective tool to help us to attract some very high-profile companies," Mason told the committee.
Ron Perry, site leader for Pfizer in Kalamazoo, told Bridge in a statement the company plans to break ground on the Portage facility in July and already has hired nearly 100 of the 450 employees it promised.
KLA recently closed on a $27 million, 18-acre land purchase from the University of Michigan in the Ann Arbor Technology Park, in Ann Arbor Township, where it plans to build a permanent facility starting this fall.
The Good Jobs incentive was "a big factor" in the decision to choose Michigan over competing sites in Dallas and Toronto, said John McLaughlin, senior director and Ann Arbor site leader for KLA.
The other locations had available space to lease that met the company's needs, he said, while the company would need to build a new facility in Michigan and move into temporary space.
"It would be a real mistake for Michigan to drop that program or scale it back, because that is exactly the kind of program we need to compete with these other states that have similar programs," said Doug Rothwell, president and CEO of Business Leaders for Michigan, the state's business roundtable, about the Good Jobs incentive.
"It's only been around now for a couple of years," he added, "so if we were to drop it, I think it would send a really negative message outside the state."
The Legislature should repeal Good Jobs, countered Michael LaFaive, a fiscal policy director with the Mackinac Center for Public Policy, a free-market think tank based in Midland that opposes economic development incentive programs.
Such incentives are ineffective and money spent on them could be better invested in things such as infrastructure, the Mackinac Center argues. And once tax incentives are created, they risk expanding during economic downturns, LaFaive said.
"The market has been creating jobs centuries before government got involved, and there's no reason to think they won't continue to do so, if only the state could prohibit itself from interfering in what would be a normal market process," LaFaive said.