Michigan Gov. Whitmer sets 'equal pay' rules to boost women in state hiring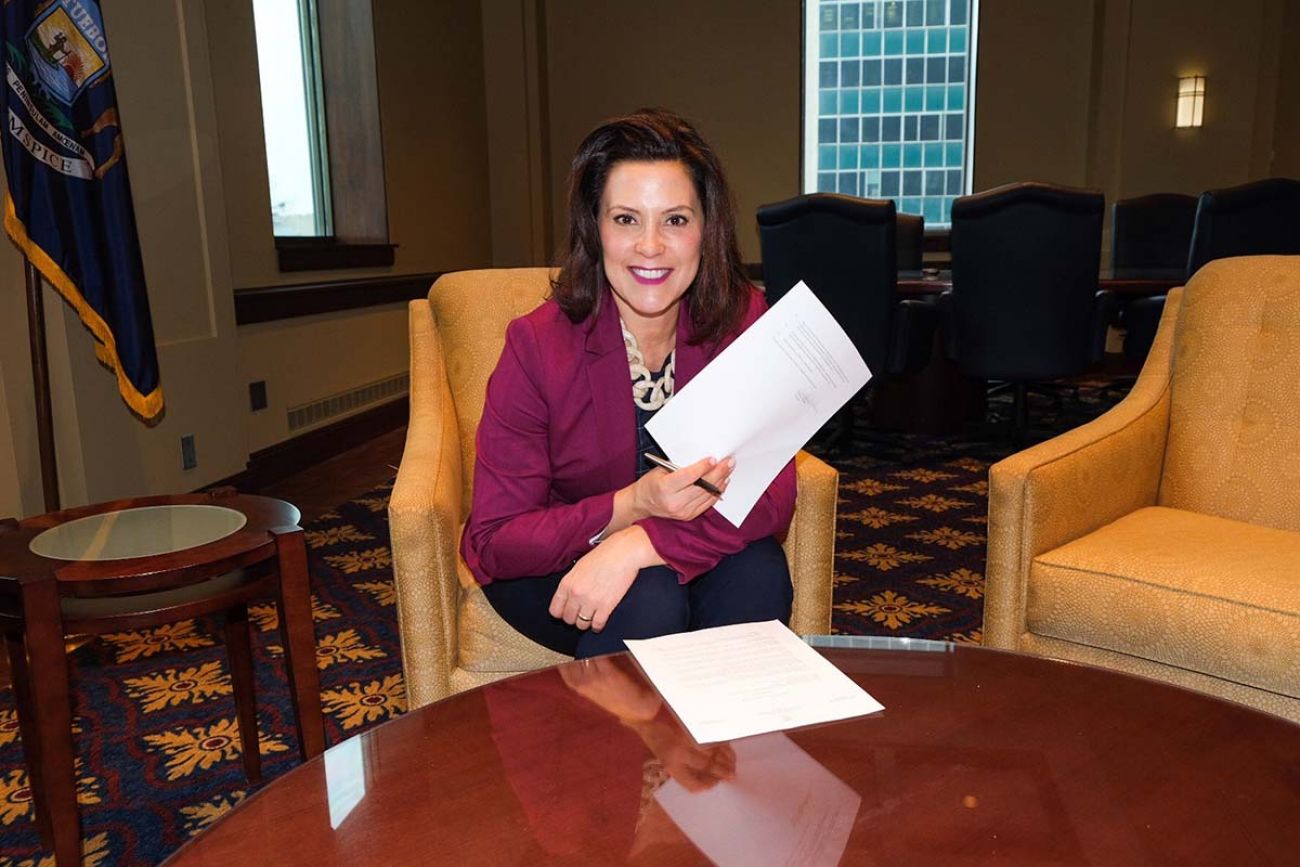 Related: Gov. Whitmer seeks speedy public record response, but not yet for her office
Related: Michigan Democratic leaders Whitmer, Nessel and Benson working in concert
Related: Whitmer administration changing tone around Michigan marijuana regulation
Michigan Gov. Gretchen Whitmer on Tuesday banned state departments and agencies from asking about a job applicant's salary before an employment offer is made, a move she said is meant to help close the wage gap between men and women.
The executive directive, Whitmer's 10th, also prohibits state agencies from asking an applicant's current or past employers about that person's salary history or searching for it in public records. Salary information could not be requested until a job offer, including compensation, has been extended.
"It's pretty simple, women deserve equal pay for equal work," Whitmer, a Democrat, said in a news release. "This is not just a women's issue," she said. "It's an economic issue that hurts working families."
Whitmer's order is limited to state government, though she noted in the directive that she wants the state to "be a model of equal opportunity" for employers across Michigan. She said that asking applicants about salary history can perpetuate pay disparities that have often seen women paid less than men.
RELATED:
The Michigan Chamber of Commerce and the Detroit Regional Chamber declined comment on the action Tuesday, saying they haven't had a chance to study Whitmer's directive and haven't taken a position. Other business groups could not be reached for comment Tuesday.
Whitmer noted that gender wage inequities persist in Michigan and cited the statistic that women earn 78 cents for every dollar earned by a man "for the same work." That figure is taken from U.S. Census Bureau data on median earnings for women and men who work full time, according to a September 2018 report from the National Partnership for Women and Families in Washington, D.C. The organization ranks Michigan in the bottom third of states when it comes to the size of its gender pay gap.
Other studies broadly acknowledge gender differences, but note that a good part of the disparity between men and women can be attributed to career selection, with men far more likely to take jobs in higher-paying fields, and other complicating factors such as hours worked and women being more likely to take career breaks to care for family.
Other economists have found the gap could be smaller than it appears, including if it's calculated using total compensation, rather than solely wages.
Closing gender gaps would have sweeping implications for families and children in the state, including the 284,000 Michigan families that were headed by a single female parent in 2010, according to the U.S. Census.
A 2014 analysis by the Michigan League for Public Policy, a Lansing nonprofit advocacy group, found 28 percent of female-headed households in Michigan lived in poverty in 2012. And more than 40 percent of 315,000 low-income families in Michigan were headed by women.
The pay gap is wider for minority women. African-American women earned 69 cents on the dollar compared with men in the state in 2013, according to a 2015 analysis by the Washington, D.C.-based National Women's Law Center; for Hispanic women in Michigan, the rate was even worse, 57 cents.
"This is a great first step for Michigan," Sarah Fleisch Fink, general counsel and director of workplace policy for the National Partnership for Women and Families, which also is working on the policy at the federal level, said of Whitmer's order.
Keeping salary information out of the conversation until after a job and compensation have been offered creates a situation where the employer and applicant are on "similar negotiating ground," she said.
"There's not one magic solution to eliminate the wage gap," she said. "But it makes sense that if you ask people what they were paid before, and that's how you set their pay, we're going to continue to perpetuate the same practices that have created a wage gap to begin with."
A number of states, led by Massachusetts in 2016, have banned employers — public and private — from asking applicants about salary history. Lansing, which has been under total Republican control until this month, moved in the opposite direction.
Then-Gov. Rick Snyder signed a GOP bill last year that prevents municipalities from passing ordinances that would ban employers from asking about salaries in job interviews. Business groups were among supporters of the Michigan measure, arguing that it would prevent a patchwork of varying local rules.
Whitmer's directive also prohibits state departments and agencies from considering any salary information discovered inadvertently during the hiring process in a job offer. It does, however, allow the information to be considered before an offer is made only if the applicant volunteers the information or if it's required by law. The new rules also state that an applicant's decision not to disclose the information can't be a factor in whether to extend a job offer.
Whitmer's directive was praised by some female Democratic state representatives and new Democratic Attorney General Dana Nessel, who said in a statement that she directed her human resources staff to "immediately comply" with Whitmer's directive.
"I am so proud to be working with Governor Whitmer and I am grateful for her swift action on pay equity," Nessel's statement said. "Women have been short-changed for years and it's time we led by example."
We're not just a news organization, we're also your neighbors
We've been there for you with daily Michigan COVID-19 news; reporting on the emergence of the virus, daily numbers with our tracker and dashboard, exploding unemployment, and we finally were able to report on mass vaccine distribution. We report because the news impacts all of us. Will you please support our nonprofit newsroom?