Michigan gridlock has blocked action on 50 gun reform bills this year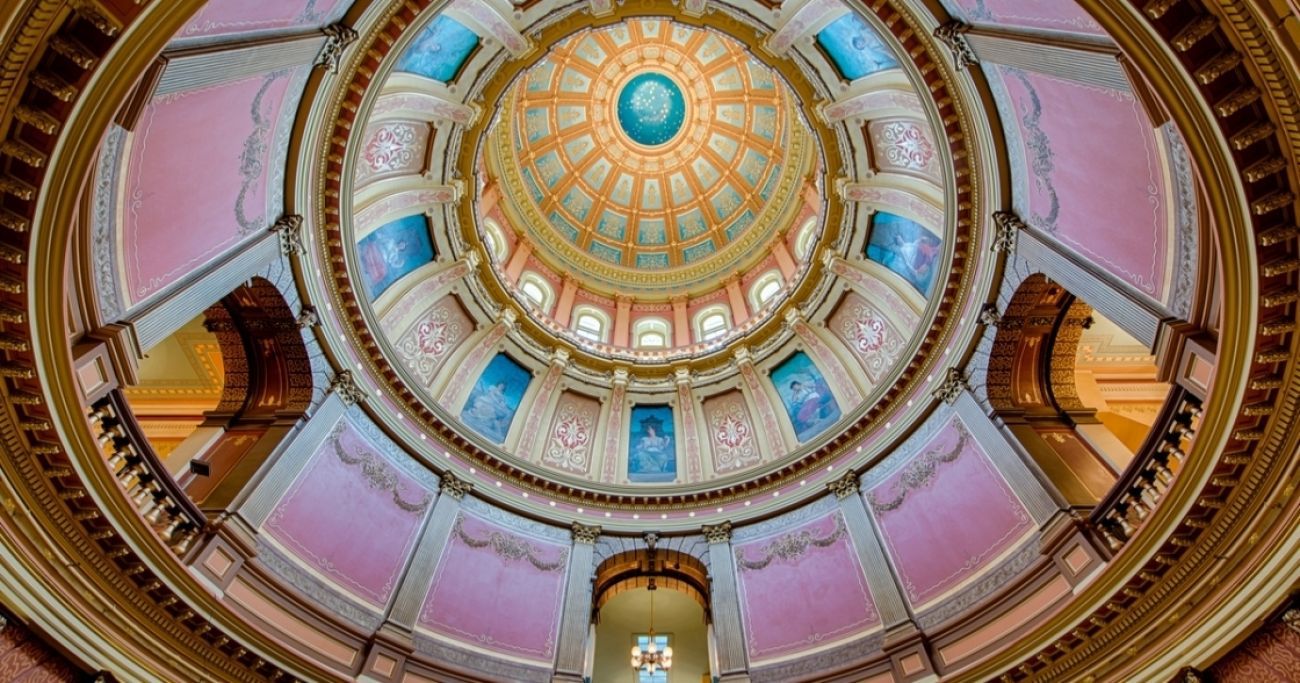 Democrats want tighter restrictions on guns. Republicans want to reduce fees and expand areas where they can be carried. As a result, little movement on gun legislation of any kind has gone anywhere in Michigan's Capitol. (file photo)
Dec. 9: After Oxford shooting, Michigan Dems seek to bar high-capacity magazine sales
Dec. 3: The case against the parents of Oxford shooting suspect: Gun was Xmas present
LANSING — Hours after a school shooting in Oxford that left three dead and eight others injured, gun control proponents renewed calls for aggressive action in Lansing, where gridlock has stymied proposed firearm regulations of all types in recent years.
"Our elected officials at every level must take swift action to pass policies and provide funding to help make our communities safer from gun violence," said organizers with the Campaign for a Safer Michigan, a new coalition pushing for gun control measures.
Democratic Gov. Gretchen Whitmer, who has generally advocated for tighter gun laws, shied from doing so Tuesday as law enforcement officials investigate the Oxford shooting. A 15-year-old male student is in custody and accused of opening fire on classmates with a semi-automatic handgun.
It's "too early to talk about policies that might need to change as a result of this," Whitmer said Tuesday evening near Oxford High, where she joined first responders and mourned a shooting that she called the "worst nightmare" of parents.
"At this point, I think we need to focus on the tragedy at hand," Whitmer said.
Related:
Until Tuesday, Michigan had avoided the kind of high-profile mass shootings that have triggered national debates about gun regulations. But legislators here have offered a laundry list of ideas, introducing at least 50 firearm related bills this year alone.
None of those bills have reached Whitmer's desk, as partisans on both sides of the aisle have largely spoken past each other.
While Democrats have proposed universal background check legislation to apply pistol licensing procedures to all firearm purchases, Republicans have wanted to eliminate all existing penalties for carrying pistols without a concealed weapons permit or registration.
Republicans, operating on the assumption that law-abiding citizens with guns can help prevent crime, have proposed weakening so-called gun-free zones by creating new concealed carry exemptions for elected officials and gun safety instructors.
Democrats want new criminal penalties for adults who fail to keep weapons out of the hands of minors.
Of the more than four dozen gun-related bills introduced in the Michigan Legislature this year, only a handful have been proposed by bipartisan co-sponsors. That legislation — to make it harder for domestic-violence convicts to get guns, and to increase penalties for drive-by shootings that injure minors — has not advanced out of committee.
With a Democratic governor sure to veto any bills that weaken gun laws, Michigan's Republican-led Senate has taken only symbolic action so far this year, adopting a non-binding resolution affirming support for the Second Amendment's constitutional right to bear arms.
But with the Oxford shooting sure to renew debate over gun regulations and spur new legislation, here is a look at some of the most notable firearm related bills already introduced this year in the Michigan Legislature.
While many of the bills have little to do with school shootings or the Oxford crime, they could attract renewed attention.
Democrats: Require 'universal background checks' for gun buys
Senate Bills 454-456 and House Bills 4869-4871 would require universal background checks for anyone attempting to purchase a firearm by extending a licensing process currently only required for pistols. The bills would also update criminal statutes and sentencing guidelines to apply penalties for lying on a pistol license application to lying on an application for any firearm.
Sponsors: Sens. Rosemary Bayer of Beverly Hills, Stephanie Chang of Detroit and Jeremy Moss of Southfield. Reps. Felica Brabec of Pittsfield, Brenda Carter of Pontiac and Regina Weiss of Oak Park.
Status: Stuck in committee since introduction in May
Republicans: Make Michigan a 'constitutional carry' state
While there are some differences between the packages, Senate Bills 489-492 and House Bills 5364-5367 seek to make Michigan a "constitutional carry" state by allowing Michigan residents to carry concealed weapons without a permit, provided they are not prohibited from doing so by some other state or federal law.
Sponsors: Sens. Lana Theis of Brighton, Tom Barrett of Charlotte, Aric Nesbitt of Lawton and Roger Victory of Hudsonville. Reps. Andrew Beeler of Port Huron, Greg Markkanen of Hancock and Beau LaFave of Iron Mountain.
Status: Stuck in committee since introduction in May
Republicans: Repeal pistol registry
Senate Bills 646-648 and House Bills 5312-5314 seek to repeal Michigan's pistol registry and require law enforcement to destroy all associated records, unless those records are being held as evidence in an ongoing criminal prosecution or civil lawsuit.
Sponsors: Sens. Tom Barrett or Charlotte and Lana Theis of Brighton. Reps. Matt Maddock of Milford, David Martin of Davison and Steve Johnson of Wayland.
Status: Stuck in committee since introduction in September
Republicans: Reduce concealed pistol permit fees
House Bill 4030 would cut concealed pistol permit fees by more than 50 percent, making them easier to obtain. Would cap application fee at $45, down from current fee of $100
Sponsor: Rep. Michele Hoitenga of Manton.
Status: Approved by House in 66-43 vote. Stuck in a Senate committee since May.
Democrats: Require, incentivize security to keep guns away from kids
Senate Bills 550-553 and House Bills 5066-5069 would require anyone who stores a firearm in an area accessible by a minor to either secure the gun with a locking device, store it in a lock box or keep it "in a location that a reasonable person would believe is secure." Failure to do so would be a felony punishable by up to five years in prison if a minor used the gun to injure or kill anyone, including themselves. The legislation would also exempt "firearm safety devices" from the state's 6 percent sales and use tax, reducing the total cost.
Sponsors: Sens. Rosemary Bayer of Beverly Hills, Jeff Irwin of Ann Arbor, Stephanie Chang of Detroit and Mallory McMorrow of Royal Oak. Reps. Felica Brabec of Pittsfield and Mari Manoogian of Birmingham.
Status: Stuck in committee since introduction in May and June
Republicans: Keep gun shops open and permits flowing during COVID
Senate Bill 11 would require county clerks to process concealed weapons permits regardless of any public health emergency or executive order, such as a COVID-19 lockdown. House Bills 5187-5188 would prohibit the governor from issuing any public health or emergency orders to close gun stores, seize weapons or otherwise prohibit lawful possession, a reaction to COVID-19 orders that closed retail stores in 2020.
Sponsors: Sen. Lana Theis. Reps. Andrew Fink and Pat Outman.
Status: All three bills await action in the Michigan House after committee approval. The GOP-led Senate has approved SB 11, meaning House approval could send it to Whitmer.
Bipartisan: Keep guns away from domestic abusers
Senate Bill 678-679 and House Bills 5371-5372 would prohibit persons convicted of a domestic violence misdemeanor from possessing a gun or ammunition until eight years after they have paid all fines and completed any jail or probation.
Sponsors: Sens. Stephanie Chang, D-Detroit, and Wayne Schmidt, R-Traverse City. Reps. Amos O'Neal, D-Saginaw and Daire Rendon, R-Lake City.
Republicans: Create new exemptions in gun-free zones
House Bills 4006 and 4010-12 would exempt elected officials and "qualified concealed pistol instructors" from an existing ban on carrying guns in so-called "pistol-free zones," including schools. They would be allowed to carry concealed in those locations.
Sponsor: Gary Eisen, R-St. Clair Township
Status: Stuck in committee since introduction in January
Democrats: Expand gun-free zones
House Bill 4023 would expand gun-free zones to include all buildings owned or leased by the state, including legislative offices and department headquarters. Senate Bills 34-35 would prohibit all firearms in the Michigan Capitol, where only concealed weapons are currently allowed after a commission that oversees the building banned open carry. Senate Bill 352 would allow local governments to regulate firearms within municipal buildings.
Sponsors: Reps. Julie Brixie of Meridian Township and Tyrone Carter of Detroit. Sens. Rosemary Bayer of Beverly Hills, Dayna Polehanki of Livonia and Sen. Jeff Irwin of Ann Arbor.
Status: Stuck in committee since introduction in January and April.
Bipartisan plan: Toughen penalties for drive-bys that injure kids
House Bill 5027 would increase criminal penalties for intentionally firing a weapon at or in a building, or at a vehicle, if a minor were physically injured or killed. Would be punishable by up to 30 years in prison, up from 20 years.
Sponsors: Reps. Cynthia Neeley, D-Flint, Graham Filler, R-DeWitt, Mike Mueller, R-Linden and Stephanie Young, D-Detroit.
Status: Debated in House Judiciary Committee following introduction in committee but not yet voted on
Democrats: Fund new 'gun violence prevention' programs
House Bill 5174 would authorize the state to spend $356,900 for "a gun violence prevention program aimed at reducing gun violence," including intensive training for certain individuals impacted by gun crimes "to make them mentors in the community with the goal of breaking the cycle of gun violence."
Sponsor: Rep. Kara Hope, D-Holt
Status: Stuck in committee since introduction in June
Only donate if we've informed you about important Michigan issues
See what new members are saying about why they donated to Bridge Michigan:
"In order for this information to be accurate and unbiased it must be underwritten by its readers, not by special interests." - Larry S.
"Not many other media sources report on the topics Bridge does." - Susan B.
"Your journalism is outstanding and rare these days." - Mark S.
If you want to ensure the future of nonpartisan, nonprofit Michigan journalism, please become a member today. You, too, will be asked why you donated and maybe we'll feature your quote next time!