Michigan hasn't passed bills to make schools safer, even after Oxford shooting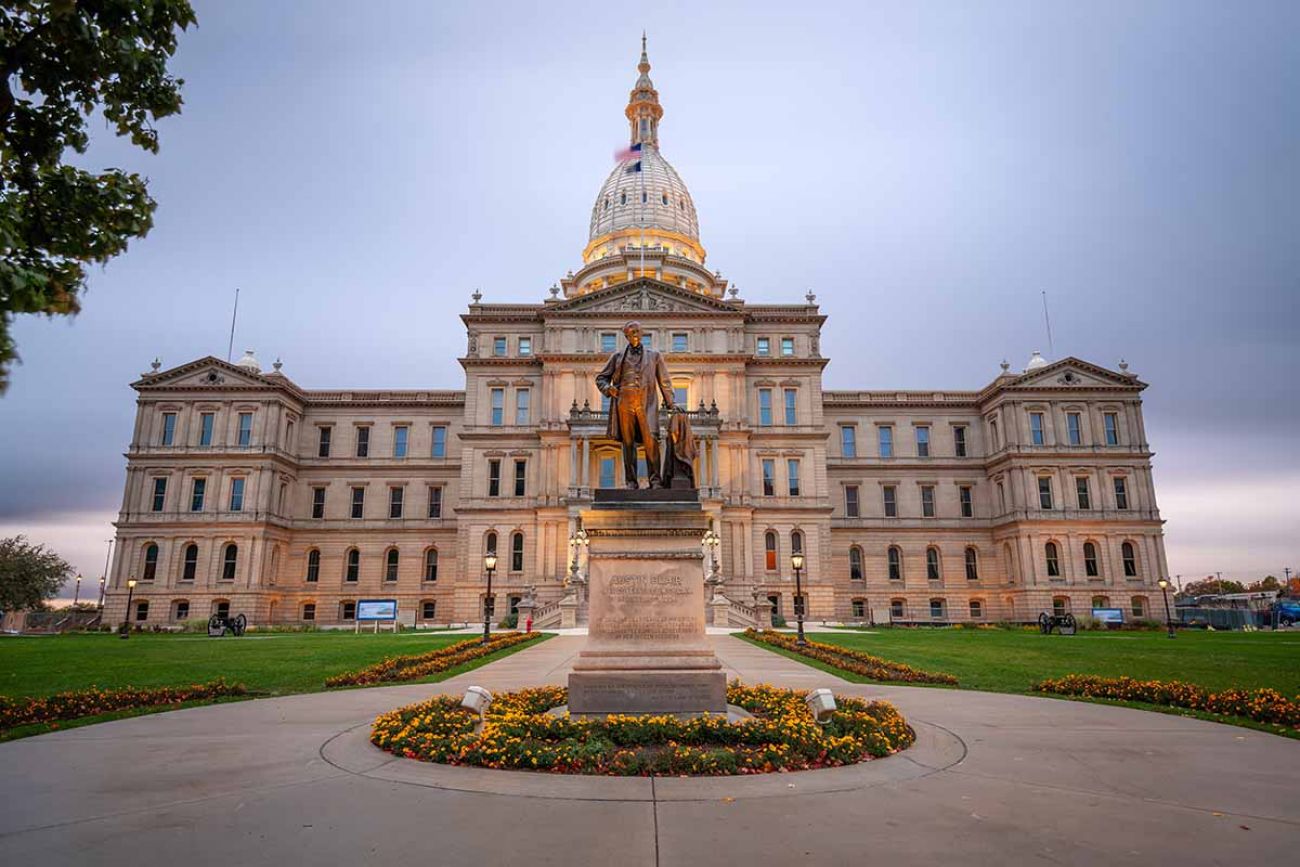 Michigan lawmakers haven't passed any major bills in response to gun violence, mental health or school safety, six months after four died in the Oxford High shooting in Oakland County. (Shutterstock)
Michigan Government
Michigan hasn't passed bills to make schools safer, even after Oxford shooting
Another school shooting in the United States this week prompted anger, sadness and calls for action to address gun violence in the Michigan Capitol.
Like other shootings, they were met with inaction, as a procedural effort by Senate Democrats on Wednesday to force a vote on long-stalled gun control measures was doomed from the start in the Republican-led Legislature.
Next Monday marks six months since the deadly shooting at Oxford High School in Oakland County. Lawmakers convened a task force to look into legislation that might make schools safer, but it's still winding through the legislative process. A final report is expected in the next few weeks.
Related:
Other actions with bipartisan support — including proposals to add $50 million to retrofit schools, money for mental health services and increased training — are pending.
While the Legislature has approved minor measures, such as allowing schools to install temporary locks on doors in school buildings without state approval, no major laws addressing school safety have passed since four students were killed in Oxford.
Rep. Luke Meerman, a Coopersville Republican who co-chairs the task force, said Wednesday he recognizes the urgency to pass reforms.
"We on the task force — and frankly, any of us here in the Legislature — should wear this around us as a burden," he said.
On Wednesday — hours after a school shooting in Uvalde, Texas, where at least 19 children and two adults were killed — Michigan Democrats sought to move gun safety bills out of committee to the Senate floor for a vote.
Taken together, Senate Bills 550, 551, 552 and 553 would require guns to be safely stored and implement criminal penalties for adults if minors access guns that weren't stored safely, as well as exempt lockboxes and other firearm safety devices from state sales and use taxes.
Ultimately, the move was rebuffed by Republican leadership, and the Senate chamber voted to refer the bills back to committee 22-14. Senate Democrats slammed leaders for not being willing to take action even after a school shooting occurred in the state.
"This is an urgent situation we are facing," said Sen. Rosemary Bayer, D-Beverly Hills, whose district encompasses Oxford.
Sen. Ken Horn, R-Frankenmuth, countered that lawmakers could "have an honest conversation" about what to do next without invoking the Texas shooting, arguing it was too early for politics.
"They don't give a flying frog what we do here in the Senate," Horn said, referring to the families currently grieving the loss of loved ones. "It's way too early to assign bill numbers to their grief."
Sen. Curtis Hertel, Jr., D-East Lansing, said meaningful action on gun violence shouldn't continue to be delayed.
"There's a place for prayers after tragedy, but those prayers at some point have to lead to action...Inaction is unacceptable," he said. "If today is not the day, then when is the day?"
Later in the afternoon, House Democrats attempted to tie similar gun-related legislation to a different bill, but were rebuffed by Republicans.
Last year, Michigan lawmakers introduced 50 gun firearms-related bills that would have required everything from Democratic-backed universal background checks to Republican-favored prohibitions on penalties for carrying pistols without a concealed weapons permit.
None reached Gov. Gretchen Whitmer's desk.
After the Nov. 30 Oxford shooting that killed four students, the House formed a bipartisan School Safety Task Force composed of four Republicans and four Democrats. The group's work built upon a previous school safety task force created by former Gov. Rick Snyder.
In its initial findings, the task force suggested the state commission an independent threat assessment for all Michigan schools, recommending the state provide money to address any security shortfalls that are identified.
The task force also recommended state funding for school-based health centers that can address mental health needs, especially in light of the trauma and isolation experienced during the pandemic.
Other recommendations include schools keeping lockdown kits on hand; improving communications between schools, local law enforcement and the state's OK2Say tip line; standardizing school floor plan maps; providing incentives for people to become school counselors; requiring ongoing training for school staff and adopting common definitions across school districts for terms such as "lock down," shelter in place" and "room clear."
A full report is expected in the next few weeks, at which point lawmakers intend to introduce bills and move the package, Meerman said.
He added that while Republicans and Democrats are unlikely to agree on policies related to guns, lawmakers are taking the issue seriously and recognize the need for expediency.
"I want to get things done and this kind of stuff can't wait," he said.
As part of the budget process, the House has also supported $50 million for additional police presence in schools and $6.5 million in funding specifically for Oxford High School, including funding for repairing damage and assistance for other expenses incurred in the aftermath of the shooting.
Another proposal pending in the Legislature hasn't gained traction: "red flag" legislation to allow a judge to issue an "extreme risk protection order" authorizing police to seize guns from those deemed a harm to themselves or others.
Michigan Senate Majority Leader Mike Shirkey, R-Clarklake, at one point agreed to hold a hearing on similar legislation, and Democrats have continued to pressure Republican leadership to allow one.
Gun advocates have taken umbrage to the suggestion of a hearing, accusing Shirkey of ​​ "caving to anti-gun demands."
We're not just a news organization, we're also your neighbors
We've been there for you with daily Michigan COVID-19 news; reporting on the emergence of the virus, daily numbers with our tracker and dashboard, exploding unemployment, and we finally were able to report on mass vaccine distribution. We report because the news impacts all of us. Will you please support our nonprofit newsroom?