Michigan lawmakers back transparency reform. Will Mike Shirkey let it happen?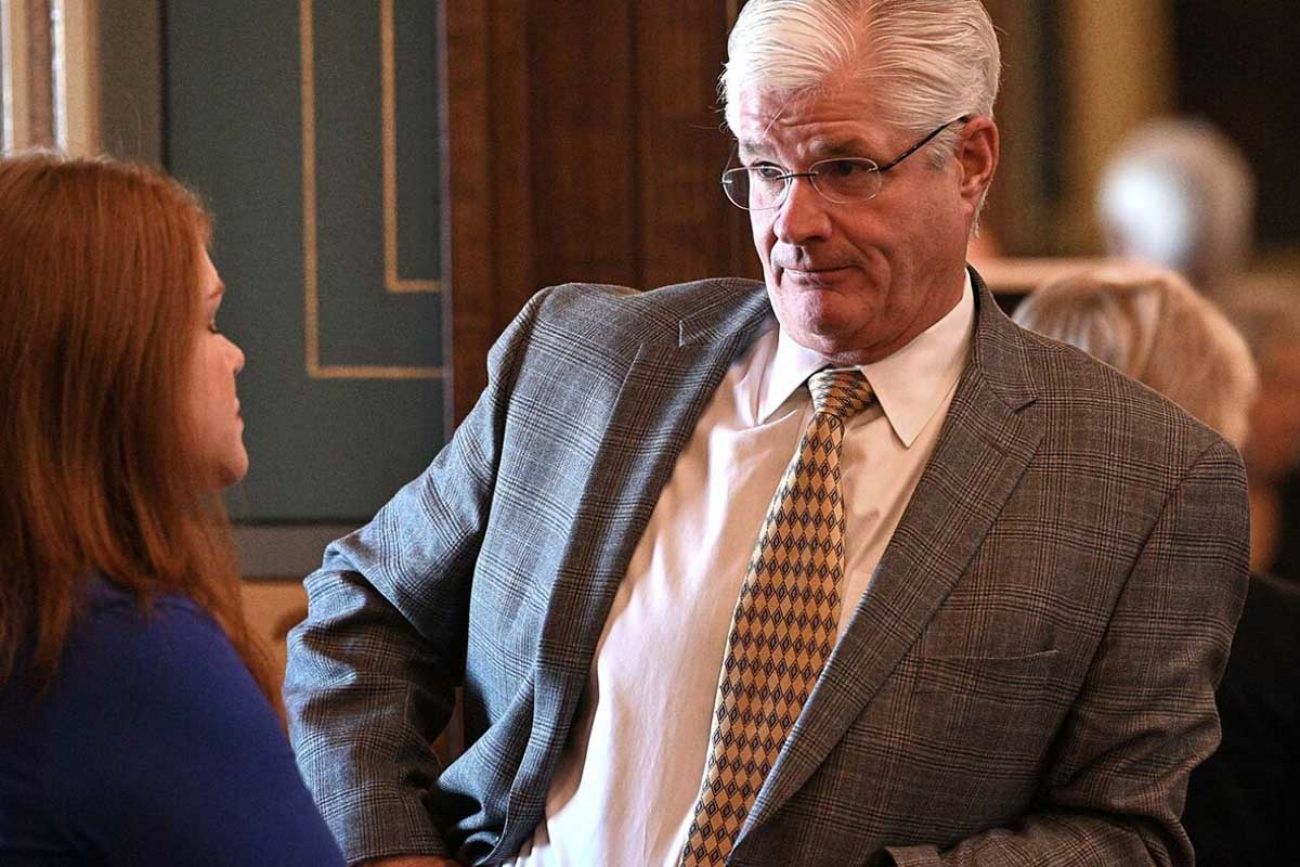 Senate Majority Leader Mike Shirkey, R-Clarklake, objects to the Detroit Regional Chamber's vaccine mandate for its annual gathering on Mackinac Island. (Bridge file art)
Michigan Government
Michigan lawmakers back transparency reform. Will Mike Shirkey let it happen?
Update: Michigan House passes transparency plan fourth time. Will Senate finally act?
LANSING — A supermajority of Michigan lawmakers supports repeatedly stalled legislation to open the governor's office and Legislature to the same public records requests as most of the rest of the nation.
A Bridge Michigan review of voting records shows two-thirds of Michigan senators (26 of 36) and most House members (95 of 110) have voted for or co-sponsored bills to expand the Michigan Freedom of Information Act to the governor's office and create a similar disclosure mechanism for the Legislature.
Michigan is one of two states with such exemptions, and the issue has gained resonance this week following the controversy over Gov. Gretchen Whitmer's separation agreements paying two former aides $241,000 in exchange for their confidentiality.
Related stories:
A 10-bill package reintroduced this week in the state House has passed the lower chamber in a similar form three times since 2016. But the legislation has repeatedly been blocked by Republican leaders in the Senate and died.
"This would pass the Senate if it were put up for a vote," said Sen. Jeremy Moss, a Southfield Democrat who has partnered with Republican Sen. Ed McBroom of Vulcan on the bills. "All the ingredients are there to get this moving."
Senate Majority Leader Mike Shirkey, R-Clarklake, remains the wildcard. He blocked bills last session, and makes no promises this year even though 12 of 20 Senate Republicans have supported similar bills at one point in their careers.
This week, Shirkey promised only to "review" the bills should they reach the floor. In the past, he said he feared allowing the public to obtain certain records from the taxpayer-funded Legislature could "discourage negotiations, discourage conversation" in Lansing.
"I'm always willing to give full consideration to any effort to promote accountability of elected officials to their constituents," he said Thursday. "I'll also weigh the potential for unintended consequences for personal communications, constituent concerns and the negotiations that go into passing laws."
Michigan's public records law gives governments broad exemptions to withhold materials and allows numerous delays. The law is among the reasons the state received a failing grade for ethics and transparency in a 2015 review by the Center for Public Integrity and Global Integrity.
The new bills, like previous versions approved in the House and introduced in the Senate, include a lengthy list of exemptions to assuage lawmaker concerns and make them subject to less stringent disclosure rules than other elected officials across the state.
Rather than simply expand the Freedom of Information Act, the package would create a Legislative Open Records Act to govern requests. Among other things, it would shield communications between legislators and constituents, except for registered lobbyists, along with any notes of an "advisory nature" used to make a final decision on policy or action.
And unlike FOIA, the proposal would not allow residents, journalists or other members of the public to sue if a request was denied. Instead, a denial could be appealed to the administrator of the Legislative Council, who is appointed by lawmakers on a bipartisan panel.
Whitmer's administration criticized that judicial exemption for the Legislature in 2019 but ultimately supported the House plan, which would create several new exemptions for the governor's office as well.
It would shield discussions about gubernatorial appointments, pardons or commutations, budget recommendations and information about the governor's residence, which Whitmer fortified with new security fencing last year after the FBI thwarted a plot to kidnap her.
Open government advocates have criticized those exemptions in the past. And Progress Michigan, a liberal advocacy group, this week announced plans for a separate ballot proposal organizers say "will not include carve outs" or "special treatment for the legislature, just straight up transparency the people of Michigan deserve."
Legislative backers suspect the threat of a ballot proposal may convince their colleagues to support the compromise plan they've fine-tuned over the past six years.
Also, recent fallout over severances make this "perfect timing" for the legislation, said House Oversight Committee Chairman Steve Johnson, R-Wayland.
He is promising an investigation into severances of $155,000 to former Michigan Health and Human Services Director Robert Gordon and $86,000 to former Unemployment Insurance Agency Director Steve Gray.
Both played critical roles in departments responsible for or impacted by COVID-19 regulations the Whitmer administration developed beyond closed doors — and the confidentiality deals mean neither will have to publicly answer questions about why they left.
Whitmer pledged transparency in her 2018 campaign, and even vowed to expand the Freedom of Information Act to her office voluntarily if the Legislature did not act.
More than halfway into her four-year term, she has not done so.
The House Oversight Committee is expected to vote on the public records legislation next week, setting up floor vote by mid-March and "sunshine week," an annual initiative designed to inform the public about the importance of open government, along with the dangers of excessive or unnecessary secrecy.
"We know that good government is above all else accountable to the people that it serves, but right now, Michigan ranks dead last in government transparency, and it's time for that to change," Rep. Darrin Camilleri, D-Brownstown Township, said in committee testimony.
Passage is all but guaranteed in the full House, where new Speaker Jason Wentworth, R-Farwell, has made government reform a top priority.
McBroom and Moss, meanwhile, are preparing to reintroduce a Senate version of the plan during "sunshine week." And McBroom, who chairs the Senate Oversight Committee, said he'll be ready to take up the bills quickly if Shirkey refers them to his panel.
McBroom said he's had "many good conservations" with Shirkey about the bills and hopes to win his support.
"I know that his heart is for openness and transparency as much as possible," McBroom said of Shirkey. "He's got legitimate concerns about how this impacts legislator's ability to do their jobs in discussion of policy with each other and with constituents."
Moss, who has championed public access in the state Legislature, said Shirkey is at least willing to listen, which was not the case with his predecessor, former Senate Majority Leader Arlan Meekhof, R-West Olive.
"I'm open for all people giving good ideas of how to implement this, because this is going to be institution-changing policy, and we need to hear those concerns," Moss said
We're not just a news organization, we're also your neighbors
We've been there for you with daily Michigan COVID-19 news; reporting on the emergence of the virus, daily numbers with our tracker and dashboard, exploding unemployment, and we finally were able to report on mass vaccine distribution. We report because the news impacts all of us. Will you please support our nonprofit newsroom?