Secretary of State Jocelyn Benson is warning that results in Tuesday's Michigan primary may not be available until Wednesday because of reforms passed in 2018 that allowed same-day registration and no-reason absentee voting.
"Michigan clerks and their teams will have significantly more work to do today than on previous election days, and that the results of today's elections may not be known until well into Wednesday," Benson wrote in an op-ed published Tuesday in USA Today. 
By the end of the day Monday, clerks across the state had sent 993,814 absentee ballots. That's up 97 percent from the 2016 primary.
More than 800,000 of those ballots had been cast by the end of the day Monday — the highest in state history. This year's absentee votes are closer to the 1.1 million cast in the presidential general election in November 2016.
"We're trying to set expectations to say look, twice as many ballots, this may take a little longer," Benson said on WDET's Detroit Today. 
Polls are open until 8 p.m. 
Usually, ballots cast in person are counted immediately at the polling place. Absentee ballots instead go to a central location and are tabulated by a counting board after first removing them from envelopes, which takes time.
"What we've been telling clerks [is] you've processed this many ballots before on an Election Day. Just treat this like it's November, in terms of resources and machines and people," Benson said. "The clerks who do that, I think, will see results in a timely fashion, but we're trying to give folks support and cover if they need a little extra time."
That influx was evident at the East Lansing City Clerk's office Tuesday morning, when nearly two dozen people packed the office's small lobby to register to vote, update their voter registration or vote absentee in-person. 
By 1:30 p.m., that number had climbed to around 75. 
Nearly 200 people came to register to vote on Monday, the day before the election, City Clerk Jennifer Shuster said. "At least 95 percent of them are college students. And this didn't start until yesterday because they were on spring break."
As of 2:30 p.m., 4,736 people statewide had registered to vote on Election Day, according to Secretary of State spokesman Jake Rollow, who added that officials expected the most in college towns like East Lansing.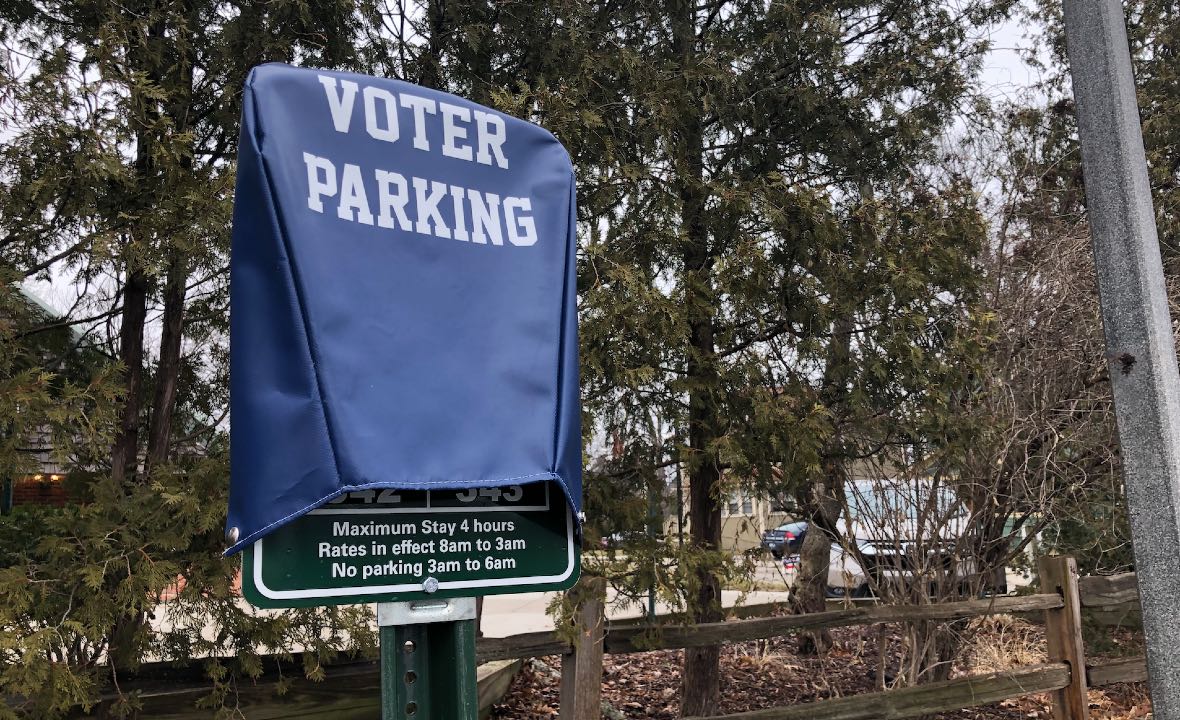 Michigan State University students Maya El-Saghir of Bloomfield Hills and Sara Hak of Troy voted in-person absentee at the clerk's office because they had to change their voter registration address. 
They both voted for Vermont Sen. Bernie Sanders. 
"He's the only candidate that's shown honesty and integrity before he was running for president," said El-Saghir, a 22-year-old environmental science major. 
"There's a lot of evidence of that before he was into politics. Even if I don't agree with all of his policies, we need some honesty in the American political system."
Leaving his polling place at MSU's student union, 20-year-old Joshua Jackson of Belleville said he favored Vice President Joe Biden.
"A lot of things that Bernie wants, I want that as well, but there's a lot of things that we have to do first in the Senate to accomplish all the things that he wants to do," Jackson said. 
"In the more realistic approach, I think Joe Biden will be able to go against Trump and have a greater chance of success."
It's unclear whether voter turnout is up this year, Rollow said.
Statewide, poll workers reported short lines but it's unclear whether that's because of the increase in absentee votes.
Rollow said coronavirus fears haven't seemed to impact turnout, but some poll workers are sanitizing booths after each voter.
There has been at least one surprise so far: In Coloma Township in west Michigan, a driver accidentally plowed her car into a polling place. There were no injuries and poll workers worked with police to re-open the precinct. 
"The driver said she needed to go speak with her insurance company, and then would return to vote," Rollow said. 
This is a new one in Election Day mishaps: SOS says someone accidentally drove into a polling place in Coloma Township. There were no injuries.

"The driver said she needed to go speak with her insurance company, and then would return to vote." pic.twitter.com/skr10zF89L

— Riley Beggin (@rbeggin) March 10, 2020