Michigan Proposal 2 redistricting group defends dark money as fighting fire with fire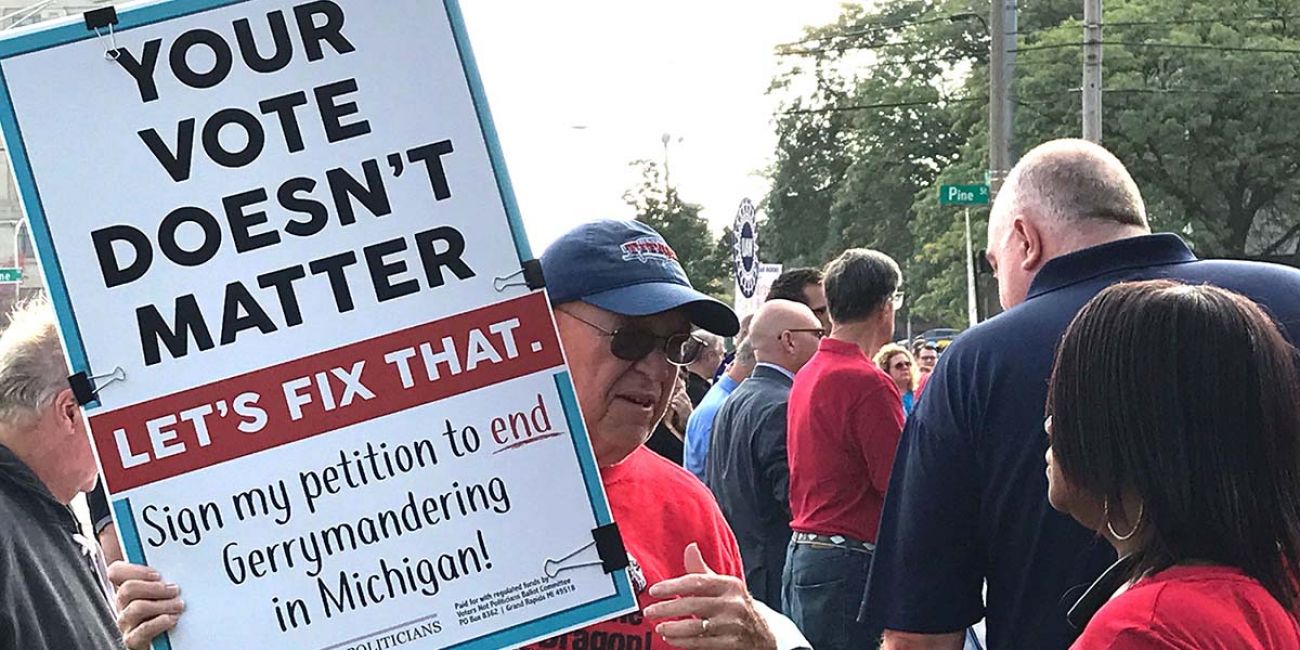 Michigan Government
Michigan Proposal 2 redistricting group defends dark money as fighting fire with fire
Organizers behind Proposal 2 have long portrayed themselves as a bipartisan coalition fueled by a grassroots army bent on reforming Michigan's redistricting system.
And for most of this election year, the group, Voters Not Politicians, has flourished in its underdog role ‒ improbably collecting over 400,000 signatures with volunteer canvassers to get the proposal on the ballot, then beating back a lengthy court challenge.
Then came Friday evening, when campaign finance filings revealed VNP had received a staggering $14 million in direct and in-kind donations over the past three months, much of it from out-of-state dark money groups with a history of supporting Democratic causes. VNP spent nearly $11 million, most of it on consultants, strategists and media specialists who serve Democratic causes and candidates.
Conservative opponents, who had derided Prop 2 as a waste of money at best and a front for a Democratic gerrymander at worst, now say they feel vindicated.
"This should dispel the myth that Proposal 2 is some kind of nonpartisan grassroots initiative," Lt. Gov. and former Republican gubernatorial candidate Brian Calley wrote on Twitter.
The Michigan Republican Party declared, without evidence, that VNP had been "caught in a scam" by accepting the dark-money contributions.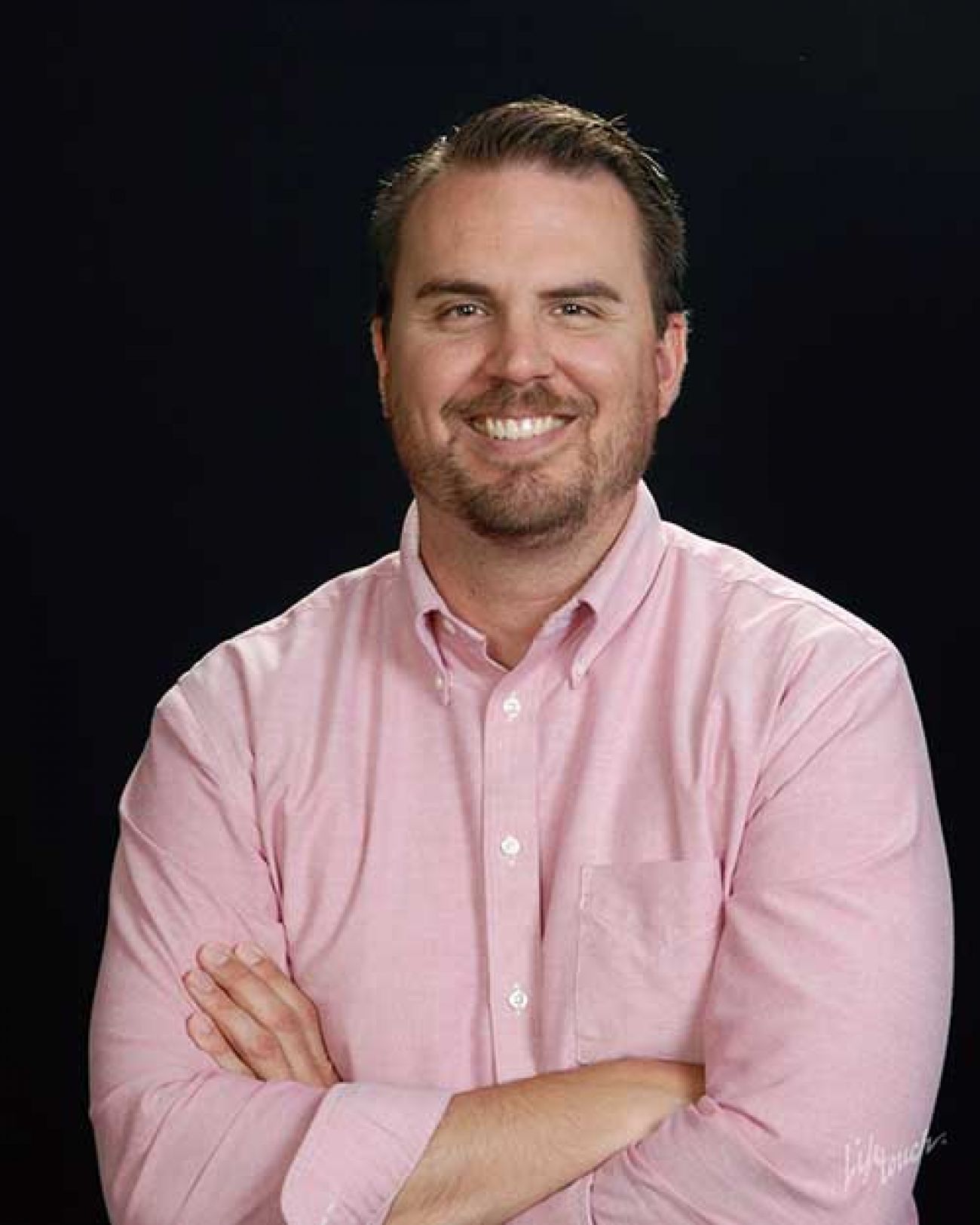 "Out of state liberal groups are literally spending millions to try and buy a space in the Michigan Constitution. Don't let this happen," conservative consultant Stu Sandler tweeted.
Voters Not Politicians and its leader Katie Fahey make no apologies for accepting millions of dollars from organizations that do not have to disclose their donors. She says the group can't afford to turn down donations against well-funded and politically entrenched opponents who accept support from similar groups. Despite the money haul, VNP says it remains a grassroots organization because it never gave up control of the ballot campaign.
"At the end of the day," Fahey told Bridge Magazine, "when you're up against other dark money, we don't want to lose because we can't fund a campaign."
Experts in redistricting policy and campaign finance say the Democratic-aligned contributions are no surprise. Because Michigan's current system for drawing legislative lines (in which the party in power in Lansing controls the process) has lately benefitted Republicans, Democrats have more to gain from backing a measure that puts those decisions in the hands of a citizens commission.
The 11th-hour wave of funding means national groups think Prop 2 is likely to pass, experts said, not that VNP's claim of grassroots support was necessarily a sham.
As of Friday, VNP had brought in nearly five times more money ($15.6 million) than opposition group Protect My Vote ($3.2 million), which also receives dark-money donations.
Big bucks from — and to — the left
The bulk of donations to VNP — $10.6 million of it — comes from two 501(c)(4) organizations, federal tax lingo for political nonprofits that can accept unlimited funds from individuals, unions and corporations. They are often considered to be "dark-money" groups because they aren't required to disclose the source of their funding.
The biggest funder is the Sixteen Thirty Fund, a Washington, D.C.-based group that has poured millions into progressive causes around the country. Sixteen Thirty Fund declined to disclose its donors when asked by Bridge.
Pete Quist, research director at the nonpartisan National Institute on Money in Politics, which tracks campaign finance spending, said the Sixteen Thirty Fund has supported ballot measures in other states to increase the minimum wage and expand access to Medicaid. In Michigan, Sixteen Thirty Fund also funded a ballot committee to require paid sick leave, which the Legislature adopted. Politico reported the group founded a network of state-level advocacy organizations dedicated to progressive causes, such as Floridians for a Fair Shake and Colorado United for Families.
"They're becoming quite a substantial player in campaign finance," said Liz Essley Whyte, a reporter with the nonprofit Center for Public Integrity who has covered money's influence over state ballot measures this election cycle.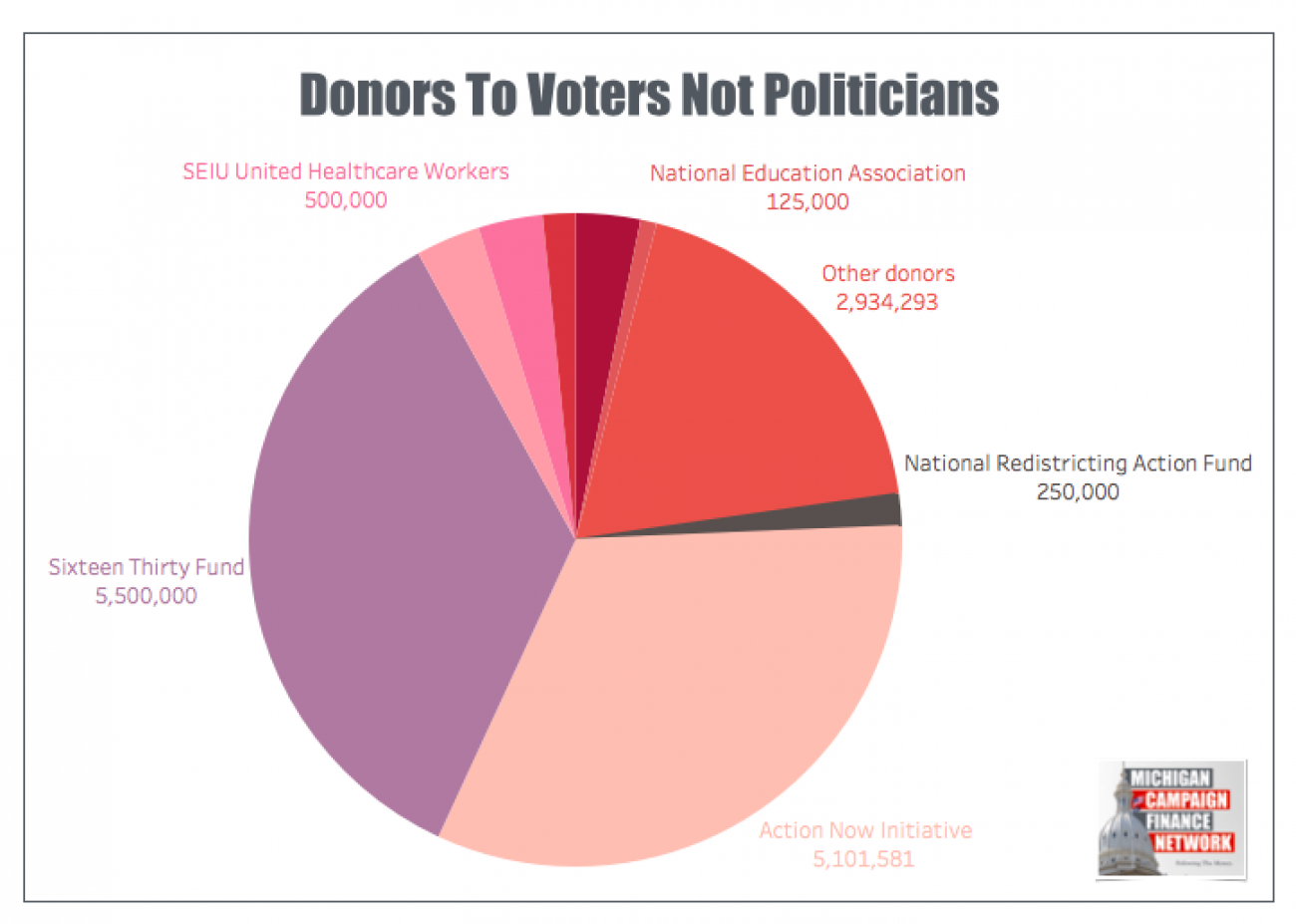 The Action Now Initiative, VNP's second-largest funder with $5.1 million in contributions, was founded by Texas energy hedge fund billionaires John and Laura Arnold. Its contributions are more politically diverse: It helped fund redistricting ballot measures in Colorado and Utah, an initiative to tax sugary beverages in Oregon and a proposal to institute ranked-choice voting in Maine. Recently, it has also given millions to Patients for Affordable Drugs, which works to reduce the cost of prescription drugs. Unlike Sixteen Thirty Fund, Action Now says it discloses donors; the fund's CEO Sam Mar told Bridge the entirety of its funding comes from the Arnolds.
Other recent VNP donors include unions SEIU and the National Education Association; environmental advocates Quadrivium Foundation and Green Advocacy Project; Samson Energy heiress Stacy Schusterman; the Beckwith Constitutional Liberties Fund (whose mission is the "elimination of prejudice and discrimination"); a Boston-based Democratic donor, and a redistricting advocacy organization founded by former U.S. Attorney General Eric Holder and backed by former President Barack Obama.
Despite multi-million-dollar donations, the vast majority of contributions to VNP remain modest. Before July 21, the average donation to VNP was $103 and the median was $25. In the last three months (which saw the massive contributions) that average climbed to $1,106, but the median stayed relatively steady at $30 — meaning there were as many donations under $30 as over it.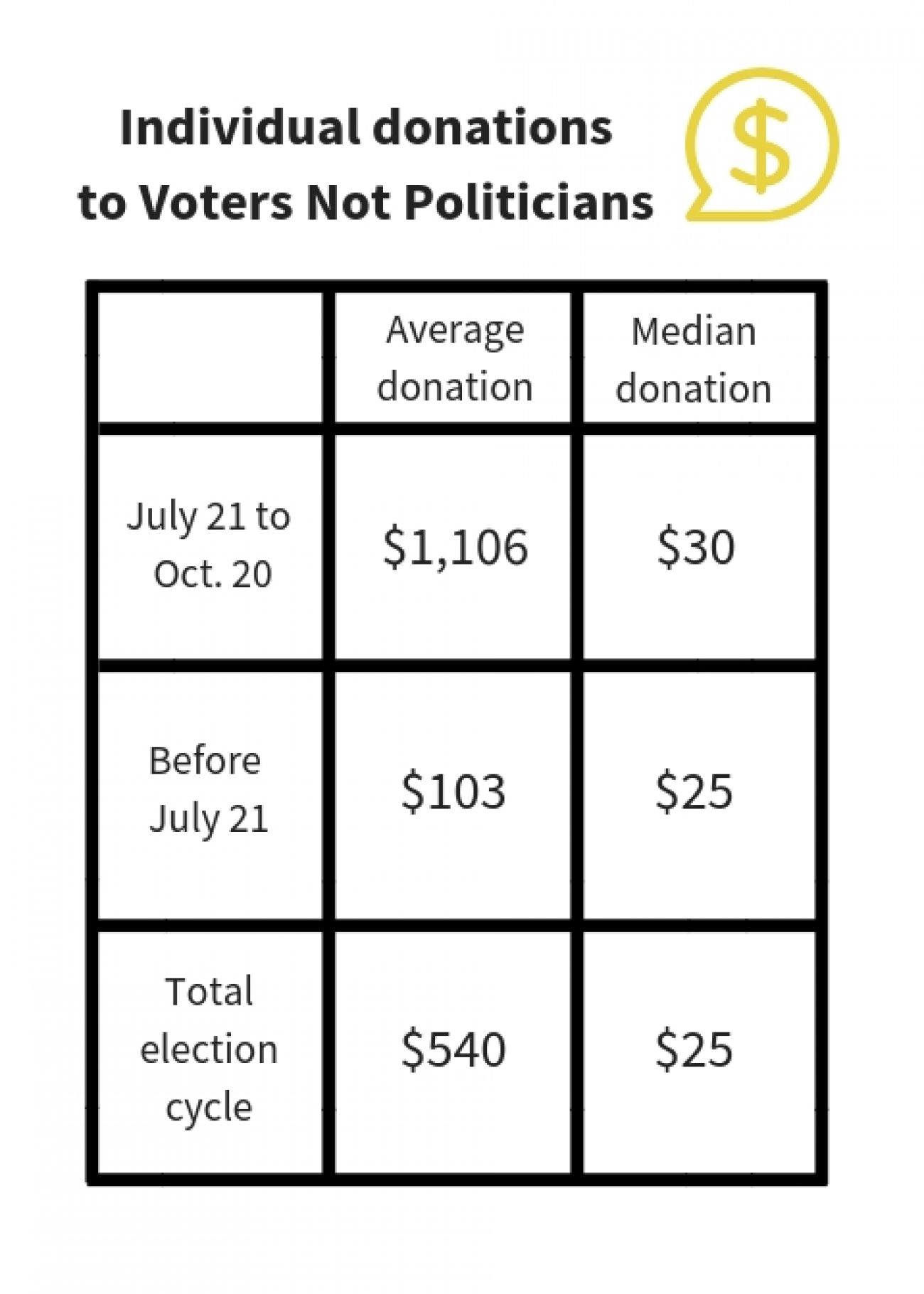 While VNP can't necessarily control who gives it money, it does control the people and groups it hires to help pass Prop 2. The latest campaign finance filings show it's spending that money with consultants and strategists serving progressive candidates and causes.
Records show it paid $7 million to Know How Strategies to buy broadcast ad time through another group, Sage Media Planning. Washington, D.C.-based Sage Media also worked for the Democratic Congressional Campaign Committee, End Citizens United and a variety of other Democratic candidates in 2018.
Trilogy Interactive, recipient of $1.1 million from VNP, has worked on campaigns for Democratic Sens. Chuck Schumer and Elizabeth Warren. Deliver Strategies, which received around $595,000, has worked for Planned Parenthood and the AFL-CIO.
Fahey, VNP's director, said this was by circumstance, not design. VNP's "request for proposal" bidding processes were open to both Democratic and Republican firms and it deliberately tried to hire conservative consulting and strategy firms, she said, but were rebuffed.
"I contacted a number of (Republican consultants) who I have found reasonable and thoughtful over the years and they let me know in no uncertain terms that the party would hold it against them if they participated," said David Waymire, partner of Lansing-based public relations firm Martin Waymire, which represents Voters Not Politicians.
And why not nonpartisan firms? "The reality is, they do not exist," Fahey said.
To those who say VNP's funding reveals partisan intent, Fahey replied, "read the language" of the ballot proposal. The proposal doesn't create a system that helps Democrats get elected, she said, it creates fairer elections for whoever is running.
Proposal 2 would create a 13-member commission comprised of four Democrats, four Republicans and five people not affiliated with either party, with voting requirements that require at least some consensus among the three groups to approve a particular map. Commission candidates would self-identify their political affiliation, which critics of Proposal 2 fear could lead to map manipulation.
Dark-money on both sides
Voters Not Politicians also notes that the group opposing it, Protect My Vote, is funded by a dark money group, the conservative Michigan Freedom Fund.
The difference between the dark money VNP and Protect My Vote have received, Fahey argues, comes down to the intent of each campaign.
The Michigan Freedom Fund is "spending millions to try to keep the status quo … which is rigged by politicians and the interests that are paying them," Fahey said.
As Bridge has reported, as the party in power for much of the past two decades, Republicans in Lansing have controlled how state and congressional legislative districts are drawn, leading to Michigan being one of the most gerrymandered states in the nation. Emails disclosed as part of a federal lawsuit challenging the state's redistricting plan reveal how Republican consultants, lawyers and officeholders strategized in 2011 to draw legislative boundaries to help GOP candidates and disadvantage Democrats.
Fahey argues that Proposal 2 forces those technical map-drawing decisions to be made publicly, rather than through self-serving backroom deals.
"I think we're doing the smart thing by the will of the people to make sure we can have a campaign that gets the word out about an issue that's low information," Fahey said. "Because right now, these decisions are made … behind closed doors."
Protect My Vote, the opposition group, was formed two days before the Michigan Republican Party's August convention, with not much known about it.
Through Oct. 21, the deadline for contributions in the last campaign finance reporting period before the election, Protect My Vote reported contributions of slightly more than $150,600, with 93 percent of it coming from just one group: the Michigan Freedom Fund. (Farm Bureau Insurance gave another $10,000.)
The day after the campaign finance reporting window closed, the Michigan Freedom Fund significantly upped the stakes, dropping another $1.2 million into Protect My Vote. A few days later, on Oct. 25, Michigan Freedom Fund gave another $1.6 million to the Proposal 2 opposition effort.
Tony Daunt, executive director of the Michigan Freedom Fund, said the group's nearly $3 million is before another $119,000 in in-kind contributions for such things as polling, research and staff time. The nonprofit advocates for conservative policies related to civil liberties, smaller government and lower taxes and has ties to the DeVos family, longtime Republican power brokers and donors from West Michigan.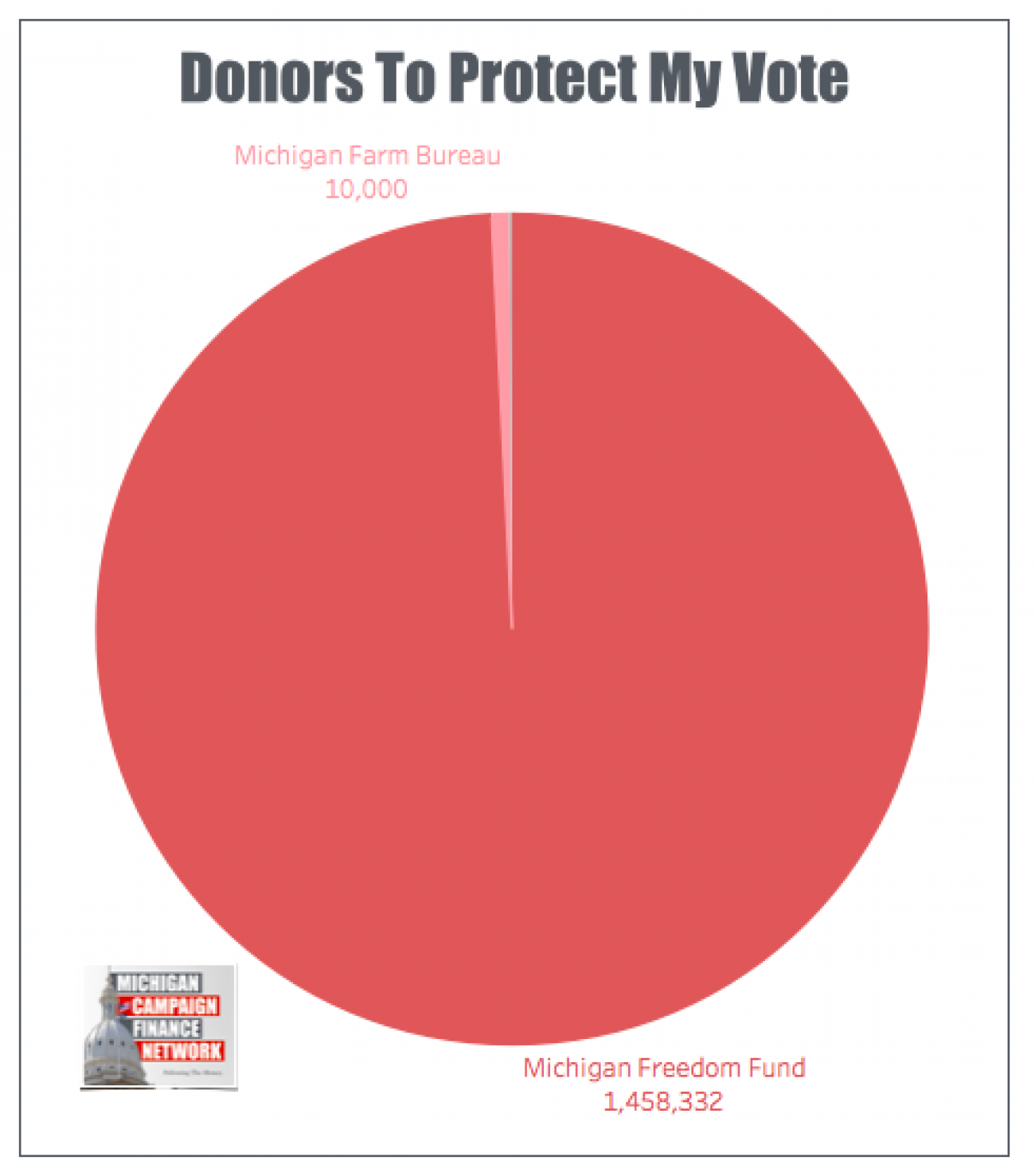 It, too, is a federal 501(c)4 nonprofit, meaning the Michigan Freedom Fund is not required to disclose its donors. Daunt would not voluntarily reveal the sources of its funding, nor whether any of its donors live outside Michigan.
"We follow the law according to disclosure of donors," Daunt said, "and we believe strongly in donor privacy."
The difference between Michigan Freedom Fund and Voters Not Politicians, he said, is that his organization hasn't crafted a public image around being nonpartisan.
"Michigan Freedom Fund has always been up front that we are a conservative organization, that we believe in limited government, we believe in less regulation," Daunt said. It "never purported to be something we're not."
The group also has been active in supporting and opposing state House and Senate candidates through its affiliated PAC, Michigan Freedom Network, state records show. (A "Michigan Freedom Fund" super PAC listed in state campaign finance records, which formed Aug. 21, is connected to the Republican Attorneys General Association, not Daunt's organization; the super PAC's only expenditures in the most recent quarter were to oppose Democrat Dana Nessel's candidacy for Michigan Attorney General.)
Protect My Vote reported two additional late contributions in state records — $50,000 from a political action committee connected to Business Leaders for Michigan, a statewide business roundtable, and $100,000 from the Michigan Chamber of Commerce's ballot issues PAC.
Anna Heaton, a spokeswoman for Business Leaders for Michigan, said the business group opposes Proposal 2 because it does not have a clear indication whether the redistricting initiative "would result in a better outcome than Michigan has under the present system."
Rich Studley, president and CEO of the Michigan Chamber, said the $100,000 contribution came because its board of directors indicated it wanted the chamber to continue to oppose Proposal 2.
"We thought it would be timely and helpful to make a meaningful contribution to the effort to defeat that proposal," Studley said. "We simply believe that it is bad public policy."
The chamber led opposition to Prop 2 this summer through a separate committee called Citizens Protecting Michigan's Constitution. The chamber contributed $135,000 in direct contributions and additional in-kind donations to the opposition committee, which unsuccessfully sued to block the redistricting proposal from appearing on the Nov. 6 ballot.
The chamber has faced criticism for its role in the current redistricting system. The federal lawsuit shows the extent to which chamber executives worked with Republican insiders to shape the state's 2011 maps.
Studley would not say if the chamber gave money to the Michigan Freedom Fund to fund Protect My Vote.
"We disclose and report everything that is required to be disclosed and reported," he said.
Is dark money a fairness litmus test?
Experts on redistricting say they are skeptical that the commission proposed by VNP could be leveraged to favor either party. That, they say, is why partisans who are left outside the current process tend to favor Prop 2.
"A move from a partisan process benefitting Republicans to a neutral process benefitting neither party is a move in a Democratic direction," said Matt Grossmann, director of the Institute for Public Policy and Social Research at Michigan State University. "So it is no surprise that Democratic consultants, donors and voters are more enthused about that move than the Republican side."
Jordon Newton, a research associate at the nonpartisan Citizens Research Council of Michigan, which has studied Proposal 2, echoed that idea: Whoever is in control is likely to be opposed to the proposal.
"As for the policy implementation side, it doesn't really affect our analysis that it probably will have better results in terms of partisan fairness than the current system," he said.
Republican interests would still be represented in the process, he said.
"The way the commission is designed, it's more likely to lead to buy-in from both groups, rather than the current process, when it ends up being under unitary control," Newton said.
Michael Li, an expert in redistricting at the Brennan Center for Justice, a nonpartisan law and policy institute at the New York University School of Law, said the late-stage funding does not necessarily mean Democratic groups were the hidden hand behind VNP's efforts from the start.
In fact, he said, when VNP first formed, there was "chatter (in national circles) that this was impossible" and held no interest among national donors.
"People recognize that there were problems in Michigan, that Michigan had sort of broken politics (and) one person told me 'Michigan is where good ideas go to die,'" he said. "'You just don't get things done in Michigan because people fight with each other, you can't put together the coalition, it's too complicated a state.'"
When VNP managed to get Prop 2 on the ballot relying entirely on volunteers to gather signatures, it "confounded everybody." Now, he said, the money is an indicator that those national donors want to be on the winning team.
Related: 2018 Bridge Michigan Voter Guide: Links to our relevant election coverage
Only donate if we've informed you about important Michigan issues
See what new members are saying about why they donated to Bridge Michigan:
"In order for this information to be accurate and unbiased it must be underwritten by its readers, not by special interests." - Larry S.
"Not many other media sources report on the topics Bridge does." - Susan B.
"Your journalism is outstanding and rare these days." - Mark S.
If you want to ensure the future of nonpartisan, nonprofit Michigan journalism, please become a member today. You, too, will be asked why you donated and maybe we'll feature your quote next time!