Michigan Republicans appeal gerrymandering ruling. What you need to know.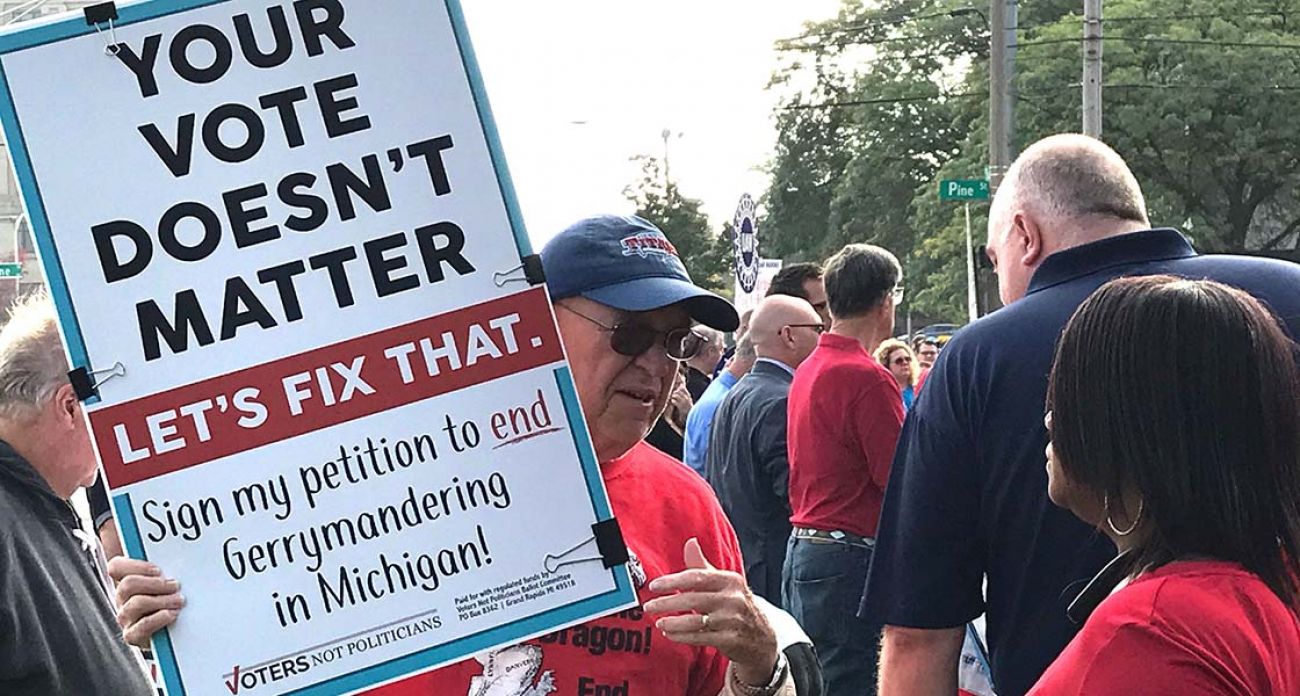 August 2019: Voters Not Politicians asks to intervene in Michigan GOP redistricting suit
June 2019: What the U.S. Supreme Court gerrymandering ruling means for Michigan
June 2019: Reaction in Michigan to U.S. Supreme Court gerrymandering decision
May 24, 2019: U.S. Supreme Court halts order requiring Michigan to redraw political lines
As promised, Michigan Republicans filed a notice of an appeal to the U.S. Supreme Court of a bombshell ruling that the state's political districts were illegally gerrymandered and must be redrawn in time for 2020 elections.
The short filing Tuesday includes no legal arguments, which will be filed separately. Republicans are also expected to ask that the lower court's ruling be stayed, or delayed, until the high court decides similar cases involving redistricting disputes in Maryland and North Carolina.
Amber McCann, a spokeswoman for Senate Majority Leader Mike Shirkey, R-Clarklake, said arguments in support of a stay will be included when the request is filed in court.
Signing on to the appeals were the Republican-controlled Michigan Senate and GOP Sens. Jim Stamas of Midland, Ken Horn of Frankenmuth, and Lana Theis of Brighton; and House Speaker Lee Chatfield, R-Levering, state Rep. Aaron Miller, R-Sturgis, and Michigan's Republican congressional delegation, according to federal court records.
The parties said little about the procedural action Tuesday, following last week's ruling in a lawsuit brought by the League of Women Voters of Michigan and several Democrats.
In the meantime, the state Senate will comply with the lower court's order to redraw existing districts by Aug. 1, McCann has said, though Senate leaders have not yet said how the map-drawing process might operate.
"The Senate is reviewing (the ruling) and will be deciding next steps in the next few weeks," McCann said Tuesday via email.
Here's what you need to know:
What happened?
Last week, a panel of three federal judges found that Michigan Republicans violated the 1st and 14th amendments by drawing political districts in 2011 that "deliberately dilute the power of [Democratic voters in Michigan] by placing them in districts that were intentionally drawn to ensure a particular partisan outcome."
The judges, two appointed by a Democratic president and one by a Republican, ordered state Republicans to draw 34 new districts, which must meet the approval of Gov. Gretchen Whitmer, a Democrat, by Aug. 1. Otherwise, a special master could be appointed to oversee the process.
Which districts are affected?
Plenty. At the very least, nine congressional, 10 state Senate and 15 state House seats would be redrawn, but redrawing those maps likely will have a domino effect that will require many others to be redrawn.
In Congress, the GOP-led Legislature would have to redraw the following districts: 1, 4, 5, and 7-12. Five of nine are held by Democrats.
In the state Senate, the Legislature would have to redraw these districts: 8, 10, 11, 12, 14 in Macomb County and southeast Michigan; 18, 22 and 27 representing areas around Ann Arbor, Brighton and Flint; 32 and 36 in mid-Michigan. Six of those districts are held by Republicans.
In the state House, the Legislature would redraw: 24 and 32 in Macomb County; 51, 52, 55 around Washtenaw and Livingston counties; 60, 62 and 63 around Kalamazoo and Battle Creek; 75 and 76 in Grand Rapids; 83 in Port Huron; 91 and 92 near Muskegon and 94 and 95 in the Saginaw area. Eight are represented by Democrats.
What happens now?
Good question.
Republicans long had sought to delay the League of Women Voters lawsuit, in part because the U.S. Supreme Court is set by June to rule on similar cases that could render any ruling in the Michigan case moot.
The high court has ruled that gerrymandering is illegal if it dilutes the votes of minorities. But it has yet to rule on whether drawing lines to help one party and hurt another – long known as gerrymandering – is illegal.
Republicans claimed in a recent federal trial in Detroit that Michigan's maps, although they were drawn in secret and helped the GOP maintain control of the Legislature for a decade despite getting half of total votes or fewer, were legally drawn because they met exacting standards.
In a blistering, 146-page opinion, the judges disagreed, declaring the 2011 maps a "political gerrymander of historical proportions."
The Supreme Court, however, is decidedly more conservative.
What does this mean for 2020?
Another good question. It will be the last election in which political districts are drawn by the political party in control of Lansing, after Michigan voters last fall approved the Voters Not Politicians ballot measure that creates an independent citizen panel to oversee the process. The first election under districts following the commission's work would be in 2022.
Any other questions?
Plenty. But one big one is what happens to state senators.
They typically serve four-year terms and are limited to two terms in Michigan. Normally, that would mean second-term senators elected in 2018 would serve through 2022. But the court's ruling last week orders them to stand for election in new districts in 2020.
That could cut their combined terms short to six years – or theoretically extend them to 10 years if the 2020 election counts as a special election. A judge likely will have to sort out the issue.
We're not just a news organization, we're also your neighbors
We've been there for you with daily Michigan COVID-19 news; reporting on the emergence of the virus, daily numbers with our tracker and dashboard, exploding unemployment, and we finally were able to report on mass vaccine distribution. We report because the news impacts all of us. Will you please donate and help us reach our goal of 15,000 members in 2021?