DETROIT – Michigan's crumbling roads need fixing and it's going to cost a pile of money, a number of road experts said Thursday during discussions that outlined the scale of both the problem and solution.
Though most residents may not like higher taxes, they're going to pay to either fix the roads or the cost of lost productivity, broken rims and wasted time that will continue to haunt Michigan unless the roads' problem is solved, they said.
With 25 percent of Interstate and main state roads in poor condition but nearly half of all other roads similarly bad, panelists said state leaders must find a solution or risk that the situation will quickly get worse.
"The need is tremendous," said Craig Bryson of the Oakland County Road Commission.
The discussion, a "Solutions Summit" sponsored by The Center for Michigan and Crain's Detroit Business, made clear that experts confirm what so many Michigan drivers have long experienced: the state's road and bridge network is in disrepair and needs a shocking amount of money –  anywhere from $2 billion to $2.5 billion more a year.
That would mean spending another $200 to $250 per person annually. But if that money isn't found, the bill to fix cars from damage –  now estimated at nearly $650 per driver – will only rise.
Related: Watch and read what experts said at our Lansing roads summit
"You're going to pay," said Beverly Watts, director of public services for Wayne County.
Watts and Bryson were joined by other road, political and research officials from around the state at Thursday's discussion, held at the M@dison Building in downtown Detroit.  About 65 residents from across the region attended the event, answering questions about how they felt about roads and how they would fix them.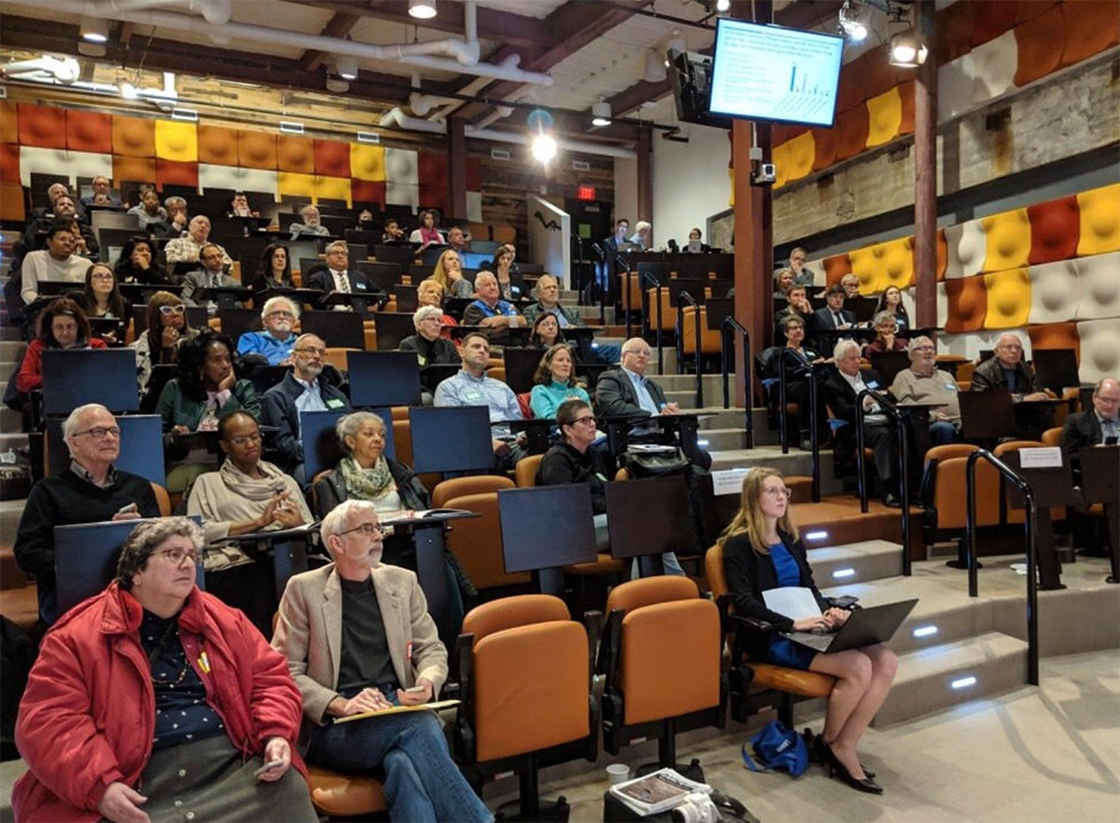 Michigan residents gathered Thursday to share what they think the state should do to repair the state's battered roads. With this audience, raising the gas tax was the most popular option among those presented to fill the $2 billion-plus annual funding gap identified by road experts. (Bridge photo by Amber DeLind)
Gov. Gretchen Whitmer, a Democrat, has proposed a 45 cent increase in the gas tax, which would raise an estimated $2.5 billion a year and give Michigan the highest gas tax in the country. Many have balked at the cost, including a number of Republican leaders.
Part of the reason some residents are upset is the Legislature and former Gov. Rick Snyder already raised gas taxes and vehicle registration fees in 2015. But that money just went toward the most heavily traveled roads like the interstate system and state highways, panelists said, leaving huge unmet needs on other roads across the state.
Whitmer's plan comes just a few years after motorists already saw their taxes and registration fees rise. That undermines their trust in lawmakers, panelists said.
"People don't understand we didn't fix the problem," said Ronald Brenke, executive director of the Michigan chapter of the American Society of Civil Engineers.
As a result, leaders in Lansing will need to undertake a campaign to educate state residents that what they ultimately do will address the issues and justify that potential $250-per-person bill.
Christopher Douglas, an economist at the Flint campus of the University of Michigan, said residents remember the 2015 tax increase and now they're being told "it's not enough.
"For those reasons I'm not sure they'll want to pay the 250 bucks," he said.
That distrust has created a hurdle, panelists admitted, and an opportunity for that education campaign. Residents have to be reminded they are already paying for dilapidated roads.
Eric Lupher, president of the nonpartisan Citizens Research Council of Michigan, said even farmers are getting hurt when fruit gets bumped and bruised as it heads to market along pock-marked roads.
"We need to get (residents) to understand they are already paying (the cost)," Lupher said. "We just have to repay it the right way."
Two more panel discussions are upcoming in Lansing on April 19 and one in Grand Rapids on April 28.
Download a PDF of Chad Livengood's introductory presentation.