Feb. 19: GOP lawmakers want Michigan Supreme Court to rule on minimum wage, sick leave
Feb. 13, 2019: AG Dana Nessel may review Michigan minimum wage, sick leave law
Dec. 14, 2018: Snyder signs bills that weaken Michigan minimum wage, sick leave law
Update: Group behind Michigan paid sick leave vows 2020 ballot drive if law gutted
It's easy to see how a state law mandating paid sick leave would help lots of Michigan families.
Low- and middle-income workers now without this benefit would be able to stay home when they or their children are ill without losing money needed for rent and groceries. Cash-strapped workers would be less likely to go to work when they are sick, keeping their illness from spreading to coworkers.
Susan Onan-Swartz sees, and lives, another side of the issue. She is executive director of BrickWays, a nonprofit that provides housing and services to disabled youth and adults in Traverse City. She says her organization barely scrapes by now.
If a Michigan law now on the books mandating paid sick days goes into effect in March, as planned, BrickWays' 18 employees, who currently do not get paid sick days, would get up to nine days of paid sick leave per year. That's the good news.
Related: Servers want $12 an hour. This restaurant owner says he can't afford it.
Opinion: Healthy workers will keep the Michigan economy growing
The bad news, she says: There would be fewer workers.
With no place left to cut in the budget, Onan-Swartz says she would be forced to lay off workers to cover the cost of paid sick time. Laying off employees would also inevitably mean cutting services for the disabled, she said.
"It would be devastating to our clients," Onan-Swartz said.
That's the balancing act small businesses and nonprofits across Michigan say they grapple with, as employers who don't currently offer paid sick days pour over spreadsheets gauging who will benefit, and who will suffer, from a policy passed by the Legislature and set to take effect next March.  
"When they legislate that, you're taking money out of someone else's pocket," Onan-Swartz said, referring to business owners. "We can be inventive and proactive, but there is only so much we can absorb."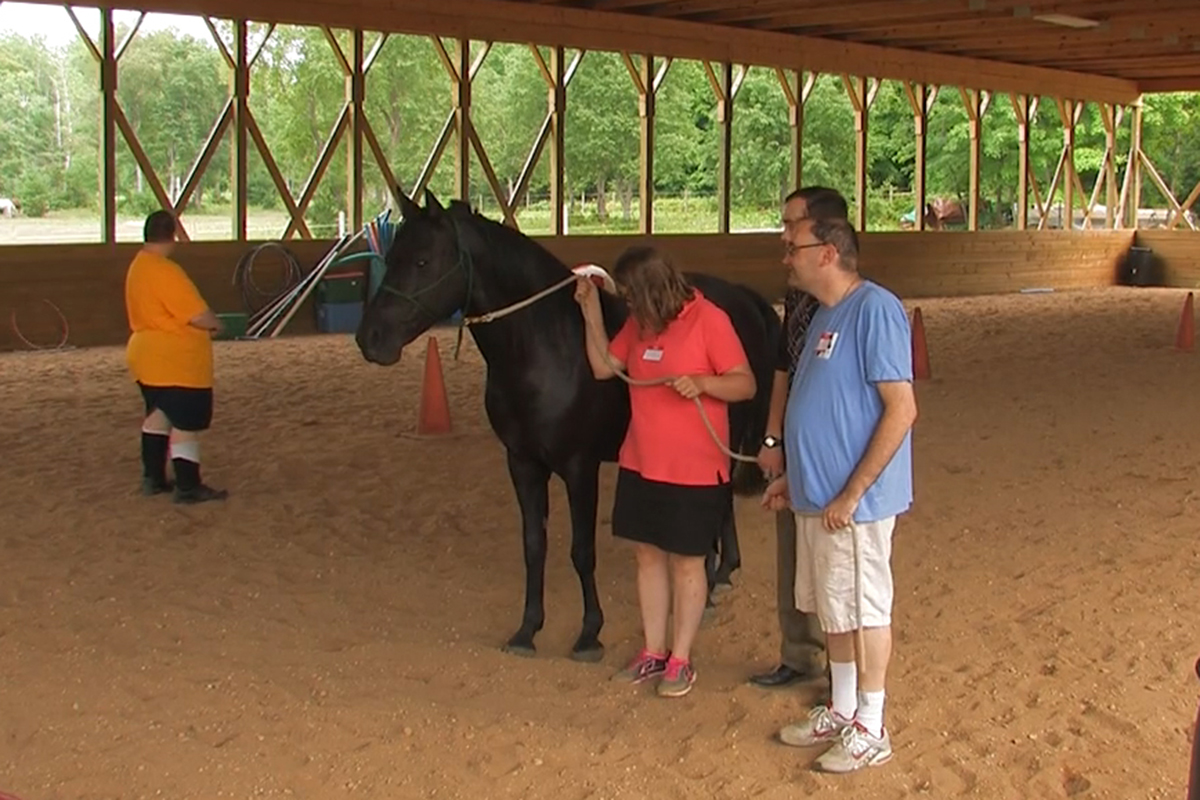 BrickWays in Traverse City says it would have to cut services for the disabled, like riding horses, to cover the cost of mandatory paid sick leave, which is set to go into effect statewide in March.
A sympathetic ear in Lansing
There is ample evidence the Republican-led Michigan Legislature already hears, and shares, the business community's concern.
In September, legislators approved the citizen-initiated initiative mandating that employers offer paid sick leave. The reason: so lawmakers can more easily kneecap the measure later.
The Republican majority didn't want the initiative, or a similar initiative that lawmakers passed to increase the minimum wage, to go onto the November ballot, where political insiders considered them likely to be approved.
Voter-approved initiatives can only be amended by a three-quarters majority vote of the House and Senate – a heavy lift even for the majorities Republicans now enjoy in both chambers. By approving the sick pay initiative in the Legislature, lawmakers can then amend it with just a majority vote.
The law, as written today calls for:
Up to 72 hours (nine days) of paid sick leave for all employees, full-time and part-time. Sick leave is accrued at a rate of one hour for every 30 hours worked.

The law applies to all employees, and applies to all employers – profit and nonprofit. Employers with fewer than 10 workers are required to offer 40 hours of paid sick leave and 32 unpaid.
You can read an analysis of the law by the nonpartisan House Fiscal Agency here.
Republican leaders make no secret of their plan to water down the law – likely as early as the lame duck session, which runs from after the Nov. 6 election until a newly elected legislators take over in January.
Rob Fowler, president of the Small Business Association of Michigan, said his organization is advising members not to worry about the paid sick leave law until they see what changes are made by the Legislature.
Little fat to cut in Traverse City
Onan-Swartz said she hopes the law is changed to lessen the impact on her organization, which has struggled with its budget for years.
In 2001, the executive director of BrickWays was paid $80,000, Onan-Swartz said; today, Onan-Swartz earns $55,000. The organization used to pay for employee health insurance that had a $100 deductible for services; today, employees pay 50 percent of the premium on health insurance that has a $1,000 deductible.
The number of employees at BrickWays has plummeted from 34 to 18.
The cuts have been caused partly by payments from the state Community Mental Health Services program that have not kept up with rising costs, Onan-Swartz said.
"We've been really frugal," said Onan-Swartz, who drives to work in a 20-year-old car. "Our staff has worked with us. We already have our backs to the wall because we've been doing this for years. We have no revenue to offset this because we're a nonprofit. There's no profit going to some rich owner that can be cut."
Onan-Swartz said she told her staff in a meeting recently that if BrickWays is required to restore paid sick leave (72 hours for full-time employees), the non-profit will lay off employees and/or turn some full-time positions into part-time jobs.
"A couple people said, if this goes through, if they lose their full-time position, they will have to look for another job," Onan-Swartz said. "I told them I understand, they have families.
"We are an exceptional organization. We offer flexibility for school schedules for moms, staff can trade shifts when they are sick," Onan-Swartz said. "I think forcing any employer to offer paid time off is ridiculous."
Low-paid workers more likely to lose pay  
Nationally, 62 percent of private industry workers in companies with fewer than 100 workers have paid sick leave. That figure rises to 79 percent in companies with 100-499 employees, and to 87 percent of workers at large companies, according to the U.S. Bureau of Labor Statistics.    
In Michigan, one survey found 42 percent of Michigan workers do not have access to paid sick leave. And low-income workers, the ones who can least afford to it, are far more likely to go unpaid when they are ill. Among those earning less than $15,000 a year, the survey showed 68 percent lose their pay when they are sick.
Ten states require paid sick leave, though none besides Michigan are in the Midwest. One difference in Michigan's law as it is currently written is that it requires paid leave for more types of employers, and also requires more hours of paid time off, according to an analysis by the nonpartisan Citizens Research Council of Michigan.
Critics say paid sick leave will force layoffs and cause some small businesses to close. But that wasn't the experience in Connecticut, where business closures were flat and business openings increased 7 percent in 2012, the first year of statewide, mandated paid sick leave.
Advocates of paid sick leave argue it helps provide job and income security to low-income workers, the group least likely to already have the benefit, while opponents point to the economic burden it imposes on employers.
While no specific changes to the law have been put in writing yet, Senate Majority Leader Arlan Meekhof, R-Olive Branch, suggested at the time the Senate passed the initiative that one possible change would be to eliminate the "paid" part of the law – and instead model the state policy on the federal Family and Medical Leave Act.
That law allows workers to take up to 12 weeks off for the birth of a child, medical care for a spouse, child or parent who has a serious medical condition, or a serious medical condition of the worker, but does not require a business to pay workers for that time away.
The Family and Medical Leave Act is also something the Small Business Association of Michigan's Fowler mentions as a model. "Our mindset is to make it align with Family and Medical Leave Act," Fowler said
Aside from not requiring paid leave, the FMLA does require an employer to give workers time off for serious health issues, a nebulous term that may or may not include, say, the flu, and may or may not require a doctor's note.
The FMLA already applies in Michigan, so it's unclear what additional benefits workers would receive if the state law is changed to mirror the federal law.
Running a business
Proponents of mandated paid sick leave, said Onan-Swartz, don't realize what it's like to make budgets balance in a workplace now, without more strains created by a state policy.  
"When these laws take place, people think that we can magically make it work," Onan-Swartz said. "We already have to have donor funding to make ends meet. If necessary, we'd have to terminate some of our programs for individuals with disabilities that we don't receive compensation from.
"I am sure the international mega-corporations can take this in stride, but the non-profits, small business owners and professional workers in the middle class have been hit beyond their capacity to recover."