What: Citizens for More Michigan Jobs radio interview
Who: Emily Palsrok, Citizens for More Michigan Jobs spokeswoman
Truth Squad call: Technical foul
Backers of a proposal to add eight private casinos in Michigan sell it as a jobs plan for the state. They promise up to 16,000 in construction and casino jobs and $300 million in added revenue if voters approve the constitutional amendment.
Citizens for More Michigan Jobs dropped off 509,777 petition signatures to the Bureau of Elections, considerably more than the 322,609 valid signatures needed to place it on the Nov. 6 ballot.
Opposition, they say, stems from existing casinos fearful of competition.
Questionable statements
In an interview with a Detroit radio station, Emily Palsrok, spokeswoman for Citizens for More Michigan Jobs, said, "We know there is more room for competition." She added: "They don't want the competition. They don't want to see more casinos pop up."
Michigan currently has 25 casinos, including 22 tribal casinos and three private casinos in Detroit. Funding for Protect MI Vote, the group opposed to the plan, has thus far come from existing casino interests.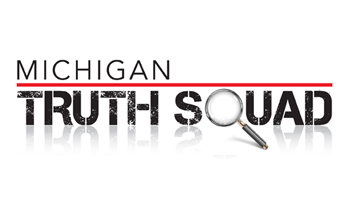 The ballot proposal would raise the tax on private casinos from the 19 percent now levied on the Detroit casinos to 23 percent. That would presumably cut into the Detroit casinos' profit margin. Tribal casinos do not pay tax, but do make payments to local governments and in some cases, the state.
The assertion more casinos will be an economic boon to Michigan is difficult to prove, particularly in the dimensions Citizens for More Michigan Jobs projects. The size and scope of the proposed casinos have yet to be fleshed out, so job and revenue projections remain speculative.
State estimates in 2006 put casino employment at nearly 15,000 and it is believed to stand today at about 20,000.
Studies differ over the economic impact of casinos on regions or states. One study found a short-term positive impact that "dies out in the longer term," perhaps due to competition from other casino venues or the cannibalization of non-gaming industries.
A 1999 study ordered by Congress found evidence casinos spur growth in the hotel industry and add to local revenues, but also cited evidence that casinos resulted in "no change in per capita income" as increases in certain industries were offset by drop-offs in others.
A study commissioned by the Grand Rapids Chamber of Commerce concluded that a proposed casino in Allegan County would have a negative impact on the region and an economic loss to neighboring Kent County of more than $50 million a year.
Is there room for eight more casinos without hurting the existing 25?
Added competition seems likely to have some effect, given that four new casinos in Ohio are projected to cost Detroit $30 million a year in casino revenue.
Overall Impression: Given the lack of detail on investors and individual casino scope, Citizens for More Michigan Jobs overstates the economic impact of casino expansion, while failing to acknowledge potential "saturation" effect on existing casinos. The group also fails to account for the potential loss in local consumer spending on rival tourist and hotel ventures.
Truth Squad call: Technical foul.