GRAND RAPIDS – A gleaming bus pulls to a stop along a mostly barren street south of Grand Rapids. As the bus pulls away, the scene morphs and the bus is now surrounded by millions of dollars in development ‒ sprouting as if by magic.
Such was the promise in this animated promotional video for a $35 million transit route called the Silver Line, launched with great fanfare in 2014.
Backers said it would transform a nearly 10-mile stretch of South Division Avenue from downtown Grand Rapids to the suburbs with dedicated lanes for hybrid electric buses. Commuters would trade in their cars. It would return $160 million in new development.
Four years later, most of South Division is virtually the same ‒ and daily rides are about half what was predicted.
Across the state in Detroit, the QLine, a $140-million electric streetcar line that connects downtown to Midtown along Woodward Avenue, attracted less than half of its projected riders for several months its first year. It's been beset by delays, crashes and falling popularity.
And in Lansing, transit officials pulled the plug last year on a controversial $133 million bus rapid transit (BRT) line when expected federal funds dried up. Nearly $6 million in state and federal funds had already been invested ‒ in a project whose backers also forecast dramatic development benefits.
All of which beg some important questions: Are big-city mass transit projects  overpriced and overhyped? Or are these three Michigan cities simply taking the wrong approach?
One national analyst of public transit and urban development noted that BRTs have proven themselves in places like Cleveland, where the HealthLine has been called a catalyst for $6 billion in development along its 6.8-mile route.
But he urged caution in cities and mass transit advocates making extravagant promises of development tied to such projects. Success in Cleveland doesn't guarantee the same in Grand Rapids.
"There are no sure bets," said Christopher Zimmerman, a vice president of Smart Growth America, a Washington D.C.-based nonprofit that advocates for walkable communities with diverse transportation choices. "It's going to depend on many factors."
Bus rapid transit is more likely to succeed when its serves densely populated corridors in places where auto congestion can make mass transit more appealing than driving.
"You want to see nice, compact development where everything is close together," Zimmerman told Bridge. Those factors do not necessarily apply to the streetscape along much of Silver Line route.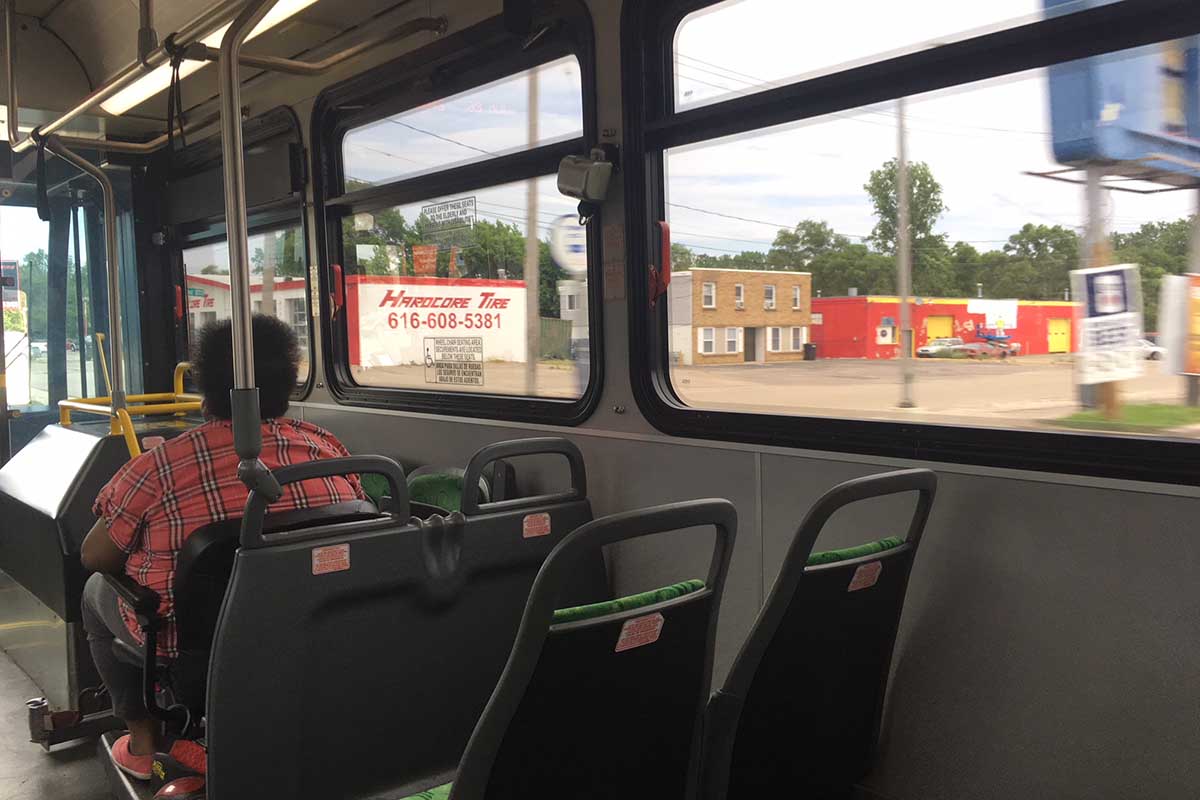 Projected development along the Silver Line route has failed to materialize. (Bridge photo by Ted Roelofs)
Another national transit advocate said Michigan's historic love affair with the car might make mass transit more difficult.
"There is certainly a car culture in Michigan," said Art Guzzetti, vice president for policy in the American Public Transportation Association, a Washington D.C.-based nonprofit advocacy organization.
But Guzzetti – who rode the Silver Line at its opening – said it's premature to assess its success or failure, or that of Detroit's QLine.
"These things have to be judged over time."
Guzzetti argues that robust public transit is a foundation for healthy urban areas, pointing to research showing millennials prefer cities that are walkable with good public transit. "Put down a freeway and you put down sprawl," he said.
In the meantime, local anti-tax advocates and groups backed by oil billionaires Charles and David Koch are fighting mass transit projects in cities across the country. The Koch-backed group helped defeat a $5.4 billion Nashville transit plan in May that it argued was a gross misuse of taxpayer funds.
A persistent critic of the Silver Line considers it just that.
"It's a big waste of public funds," said Jeff Steinport of the Kent County Taxpayer's Alliance, an early critic of the Silver Line.
"It's a drain on the system and it doesn't appear to be adding anything."
Conrad Venema, a planner for the Grand Rapids transit system, insists however that transit officials are "happy" with the Silver Line's performance – even though it's serving just over half the projected 5,000 weekday riders a day.
"In this case, the ridership projection is when the route meets maturity," Venema said. "It's a little bit subjective when a route meets maturity."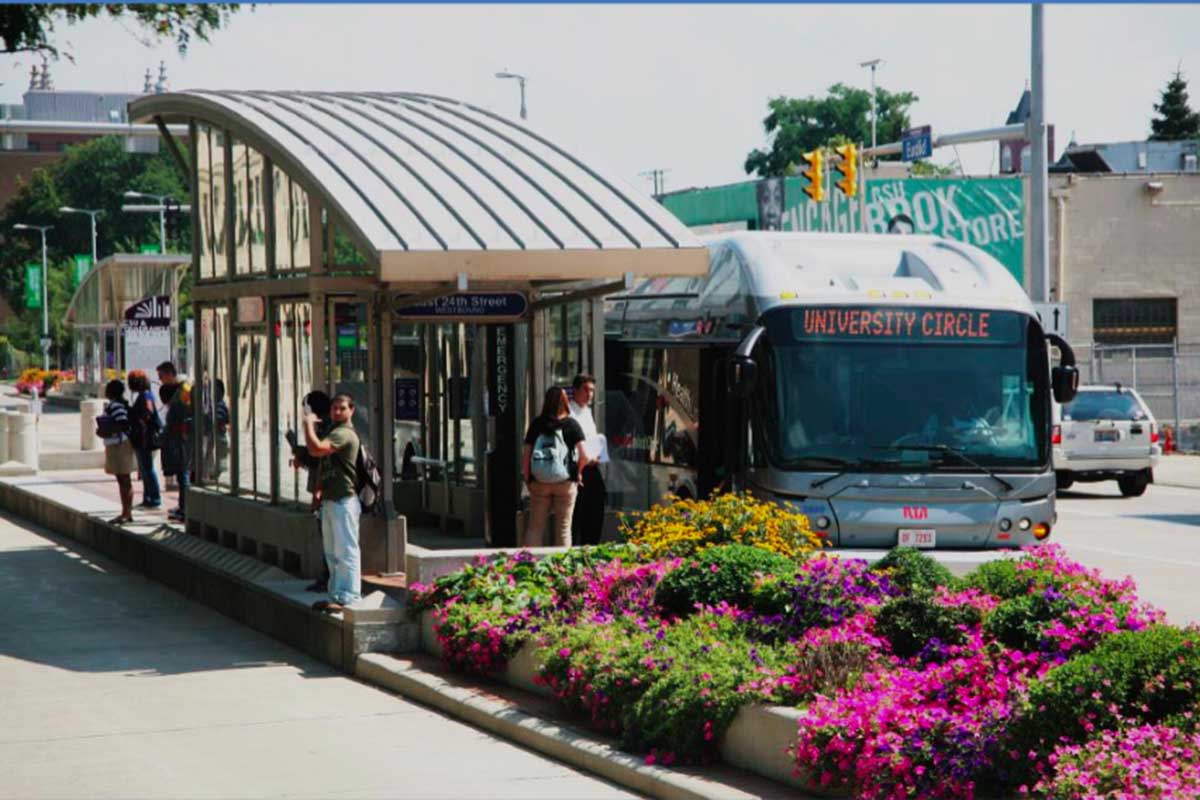 The Cleveland Healthline bus project is considered the gold standard for how to implement bus rapid transit along a busy urban route.
Venema noted that daily rides – including a second traditional bus line that preceded the Silver Line – are up along the South Division corridor from about 3,300 riders before the Silver Line to more than 4,400 by 2017.
As for predictions it would spawn $160 million in development, he conceded: "We're not there yet. We haven't experienced the kind of economic development we want to see."
Fewer people riding buses
But it's not only high-profile transit projects in Detroit and Grand Rapids that are under-performing. Bus ridership – down around the nation – has been falling in Michigan cities as well.
In the Lansing transit system, rides peaked at 11.4 million in 2011. That number fell 15 percent to 9.7 million riders by last year.
In the Grand Rapids bus system, which also serves five surrounding cities, rides fell from 9.5 million in fiscal 2014 – the year the Silver Line started – to 8.5 million in fiscal 2017.
Nationally, bus ridership fell 4.3 percent from 2016 to 2017 and another 4.1 percent the year before that.
Analysts say a variety of factors have chipped away at ridership, including falling gas prices between 2012 and 2016, an increase in employees who work from home and the rise of personal ride-hailing services like Uber.
All this poses a challenge to public transit.
As with other BRT projects, the Silver Line is aspirational, driven by a kind of "Field of Dreams" conviction: If you build it, they will come.
BRTs have been around since the 1970s, often promoted as a cheaper and more efficient alternative to light rail. Pittsburgh claimed the first U.S. BRT in 1977 with its South Busway, followed by two other routes that operate on bus-only roads.
But it's Cleveland's HealthLine that's most often identified as the BRT success story.
It opened in 2008, with $200 million in public funding. While $50 million of that went to specialized buses with two doors on each side and raised bus platforms, the project also poured $150 million in street improvements along the corridor. Annual ridership has increased about 60 percent since its opening.
HealthLine connects the city's central business district with the Cleveland Clinic medical center and cultural attractions on the east side including the Cleveland Museum of Art, Case Western Reserve University, Severance Hall, home to the Cleveland Orchestra, as well as University Hospitals.
It also encompasses the three-mile Health-Tech Corridor, which includes four hospitals and more than 170 high-tech and health-tech companies.
Waiting for development in Grand Rapids
In Grand Rapids, Silver Line buses reserve the right-hand lanes on two-thirds of the route weekdays during morning and late afternoon rush hours. The buses are equipped with GPS signaling devices that can hold a green light for a few seconds if the bus is behind schedule.
Passengers board on 33 raised and sheltered stations, entering the bus at floor level without stepping up. Stations are equipped with ticket vending machines so passengers don't have to fumble for fares. Buses arrive every 10 minutes in rush hour.
Transit officials say it shaves six minutes off the time of a traditional bus from its southern end to the edge of downtown. Would that be enough to drive ridership and subsequent development?
The year before it opened, GOP Gov. Rick Snyder spoke at its groundbreaking.
"Our young people are really looking at mass transit more and more," Snyder said. "Public transportation is how they want to get around…You really will see strong economic development right along this line."
The public stakes in this project are considerable.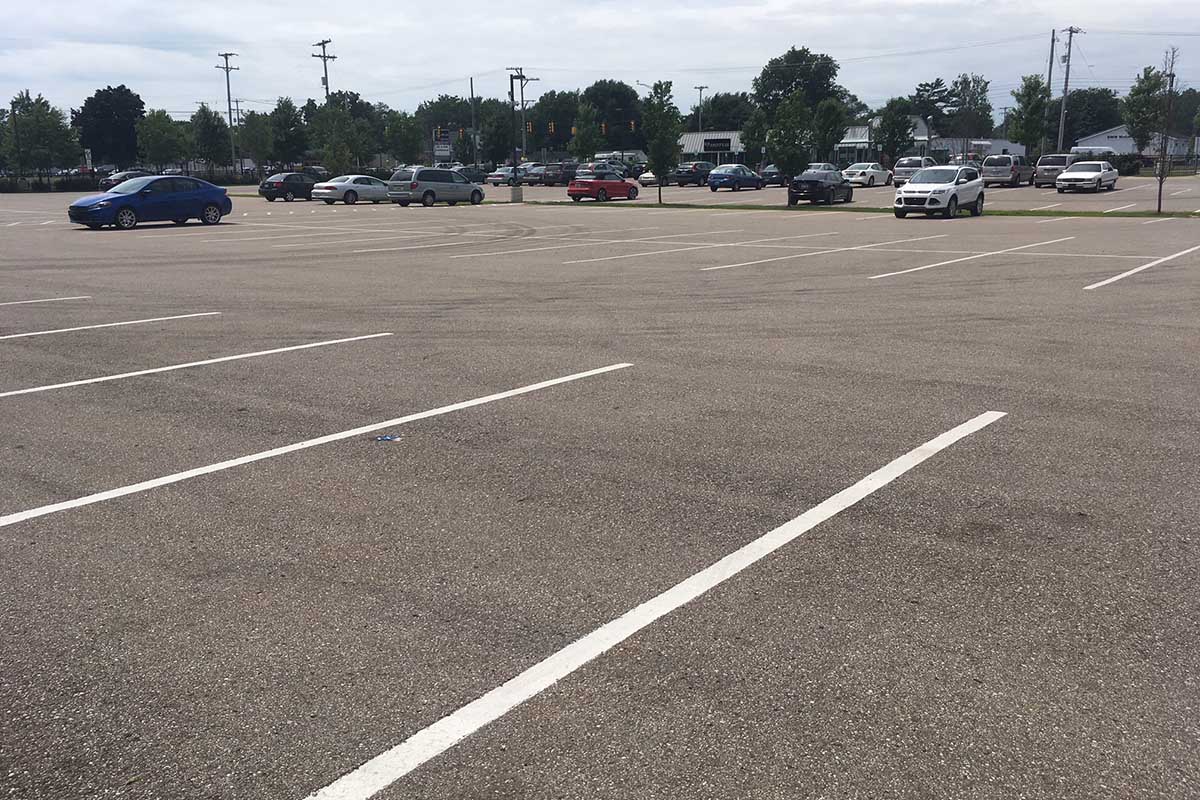 A 200-space Silver Line commuter lot is mostly empty most days. (Bridge photo by Ted Roelofs)
A $31 million federal grant in 2012 nudged the Silver Line forward, along with nearly $8 million from the state. The project actually came in at $35 million, so excess funds were turned to other federal transit projects. It costs about $2 million a year to operate, with about a third of that coming from a six-city tax increase approved in 2011 and renewed in 2017.
But looking out the window of the Silver Line, a passenger views the same drab parade of used car dealerships, modest strip malls and fast food outlets that have been there for decades. Week-day daily ridership, once projected at 7,200, stood at about 2,700 in fiscal year 2017.
Just north of the intersection depicted in the transit system's promotional video for the Silver Line – 54th Street and South Division – a 12-year employee of a gun shop and shooting range stepped outside recently to survey the streetscape. He looked at an abandoned golf driving range across the road and a used car lot with five cars on display. Next to that, a closed tire shop.
"It's pretty much the same," said Mike Visser, the shooting instructor. "I sure haven't new any new apartment complexes going up."
Irrational exuberance in Detroit?
In Detroit, early returns on the QLine have been underwhelming as well.
Ridership on the 3.3-mile streetcar line along Woodward Avenue dropped from about 4,300 a day its first six months to about 2,700 a day, after it began charging $1.50 for passes in September. QLine backers had forecast 5,000 to 8,000 riders a day.
While it received nearly $50 million in state and federal funds to build it, it is to be operated and paid for by a private group until 2027.
The QLine does draw people going to concert halls and sports venues along the route. But it offers little in the way of creating an integrated transit network that experts say the larger metro Detroit region desperately needs, particularly for low-income Detroiters who need reliable transit to reach jobs outside the city. That remains elusive after voters in 2016 rejected a $4.7 billion regional transit upgrade. Transit officials were working to put a new $5.4 billion transit plan before voters in November; however, Bridge has learned that the deal is dead, for now.
Metro Detroit remains the only major U.S. urban area without an integrated public transit system, which is why the story of Detroit resident James Robertson – who rode buses and walked 21 miles a day to and from a factory job in Rochester Hills – went viral. The city also reportedly lost out as a contender for a second Amazon headquarters in part because the region lacks strong mass transit.
Megan Owens, executive director of Transportation Riders United, a Detroit transit advocacy group, said she expects the QLine to boost business along the route. But she said it has "limited value" to commuters.
"It seems to be used primarily by people who are visiting downtown," she said, adding: "It's not the most reliable and quickest way to get around. I've heard people say, 'I'd love to ride it, but I don't know when it's going to come and or how long it's going to take.'"
Detroit transit advocate Megan Owens of the QLine, which connects downtown and Midtown Detroit: "It's not the most reliable and quickest way to get around." (Courtesy photo)
Meanwhile, Owens said, the larger issue of a sub-par regional transit system remains unsolved.
"Some people are very upset when you have people who have to take two and three buses to get to where they need to go. This (QLine) feels to them like a rich man's toy."
QLine advocates, however, ask for patience and predict better days ahead.
"New systems take time to mature, (for) people to understand their options and ridership to grow," Mario Morrow, spokesman for the Regional Transit Authority, told Bridge Magazine earlier this year.
"As Detroit grows, so will the numbers for the QLine. We will continue to support the QLine, and do whatever we need to do in our power to make it a success."
Lost funding and faith in Lansing
In Lansing, plans for a $133 million BRT from the state Capitol to Meridian Mall 8.5 miles to the east faced opposition from groups that included business owners, the Lansing Regional Chamber of Commerce, Michigan State University and the Meridian Township Board. After nine years on the drawing board, the transit board shelved it after $99 million in anticipated federal funds fell through.
As in Grand Rapids, backers promised the Lansing project would spur development, much like Cleveland's HealthLine.
At the time of the vote last year to scrap it, board member Donna Rose said "Donald Trump did us a favor" by cutting federal funds for the project.
"There are better things ahead for transportation than BRTs," Rose said.
Bradley Funkhouser, CEO of the Lansing-area transit system, declined to say if officials would seek to reinstate the project if federal funds become available.
"There has been no discussion about reinstating a BRT as originally presented," he said in an email. He declined comment on the potential merits of the project.
One opponent asserted that funds would be better spent on improving overall service within the system. (See related story on Ann Arbor transit.)
Fred Wurtzel, vice president of the National Federation of the Blind of Michigan, said members of the Lansing area blind community were also concerned about access to the buses on the proposed center lane to be used for service.
"You could take those funds and put it into improved services and get a lot more out of it. We need good transit, but not this project," Wurtzel said.
Zimmerman, of Smart Growth America, said dense population along a BRT corridor can be a key predictor of success. Ideally, it should be within a quarter mile of where lots of people live and work.
But that doesn't describe much of the Silver Line route in Grand Rapids, particularly the southern end, where South Division is dominated by commercial lots and surrounded by low-density single-family housing. There are no large housing complexes near this end of the line.
Unlike Cleveland's HealthLine – which connects the central business district to major hospitals and a cluster of cultural institutions – the Silver Line has no such magnet on its southern end.
And comparatively speaking, Grand Rapids isn't all that congested when it comes to automobile commutes. According to a 2017 study, Grand Rapids drivers spent an average of 13 hours in congested traffic in 2016 – compared to 42 hours on average in 240 U.S. cities. On most weekdays, traffic into the city moves relatively smoothly on principal commuting routes like U.S. 131 and Int. 196.
That might help explain why just 2 percent of workers take public transportation to jobs in downtown Grand Rapids.
When the Silver Line opened in 2014, the transit authority built a 200-space park-and-ride lot at its southern terminus with expectations it would be embraced by commuters.
There's plenty of room. Roughly three dozen cars sat in the lot one recent Friday morning at rush hour.
That included a van belonging to Erin Choi, a physical therapist who works at Spectrum Health Butterworth Hospital downtown. She's been riding the Silver Line since it opened, driving from her home five miles away.
She cites a host of benefits, including that Spectrum pays for her parking pass, as it does for any employee who rides the transit system.
"It's just a lot more convenient than driving into work," she said. "It's better for the environment. Plus, I can read on the bus. I can't do that in a car. And it does ease congestion downtown.
"I think people are becoming more aware it is an option," she said. "I would hope that it would grow."