In redrawn districts, Macomb once again could decide Michigan power balance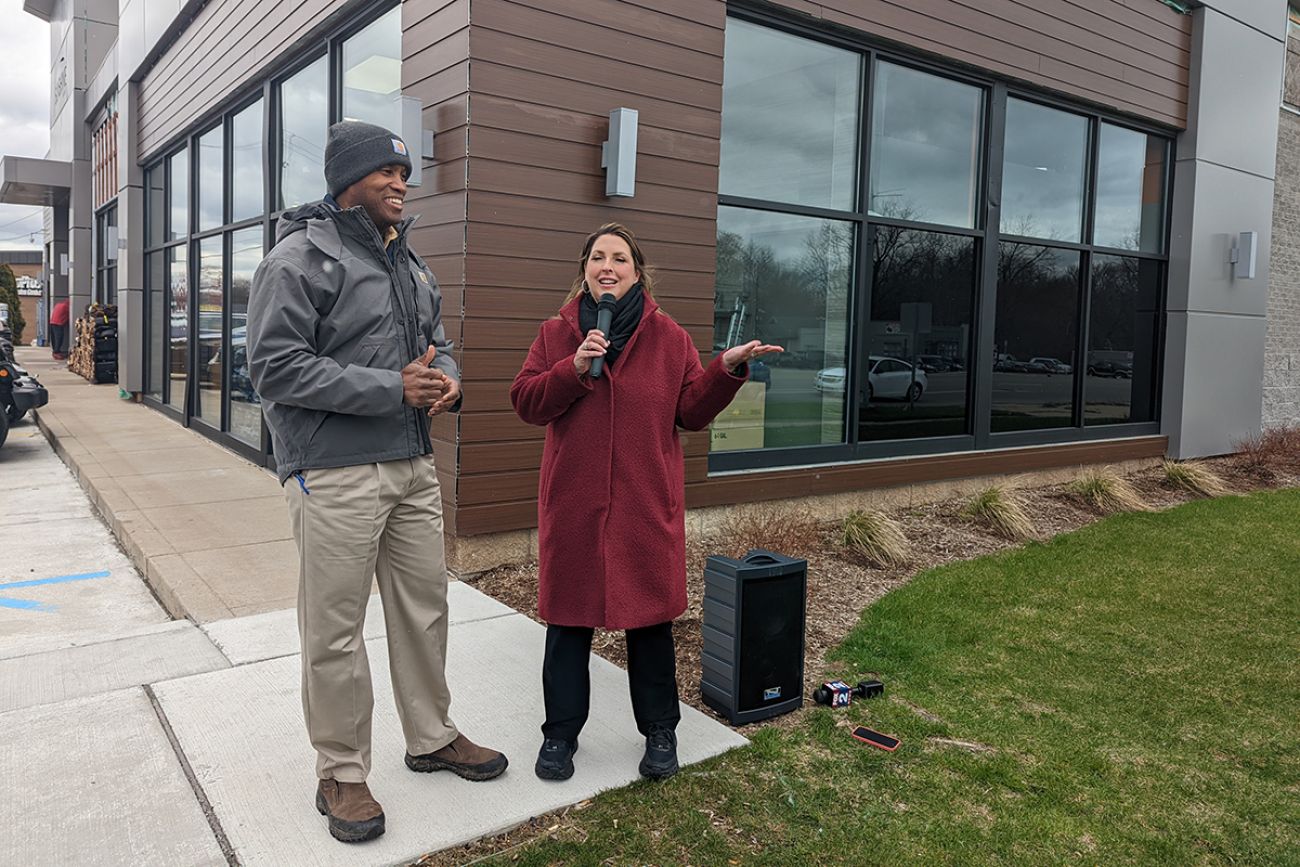 John James, a Republican candidate in the 10th Congressional District, and Republican National Committee Chair Ronna Romney McDaniel speak during a campaign event in Utica last month (Bridge photo by Lauren Gibbons)
WARREN — Macomb County has long been considered Michigan's bellwether, mythologized for its working-class roots and penchant for flipping party loyalties in dramatic fashion.
Now, the southern half of the southeast Michigan county anchors a new congressional seat, one of the power shifts created in the aftermath of Michigan's first-ever citizen redistricting process. Come November, district voters could be the deciding factor in whether the state's congressional delegation, now split 7-7 but losing a seat next year, leans Democrat or Republican next term.
The new district appears to lean Republican — based on 2020 election results, the district favored Republicans 49.9 percent to 48.9 percent. In 2016, the spread was 50.5 percent to 45.1 percent for Republicans.
Conservatives are banking on favorable political headwinds as inflation rates skyrocket and Democratic President Joe Biden's approval ratings tumble, as well as a strong showing from GOP candidate John James, a businessman and a third-time candidate for federal office
10th Congressional District candidates at a glance
Republicans:
John James, a southeast Michigan businessman, military veteran and third-time candidate for federal office
Tony Marcinkewciz, a Macomb software engineer
Democrats:
But it's not a slam dunk for James, who currently lives outside the district in Farmington Hills in Oakland County. The five Democrats vying for the seat believe it can be won — they just have to battle it out amongst each other first.
Related:
Big money is pouring into campaigns on both sides, and both national parties have plans to target the race as the election cycle progresses.
In this new Macomb-centric district, prepare to expect the unexpected.
"This county can flip back and forth," said Ed Sarpolus, a longtime pollster whose firm, Target Insyght, conducted some of the first polling in the 10th congressional race. "It's a purple county, and it depends on what independents show up."
A wide open seat
Bisected by major thoroughfares and sprinkled with strip malls, southern Macomb County is home to the state's third and fourth largest cities, Warren and Sterling Heights.
A rural region turned industrial stronghold, Macomb's population boomed in the 1950s and 1960s as former Detroit residents flocked to the suburbs.
The region remains predominantly white — the new district is 75.75 percent white, 12.09 percent Black, 5.78 percent Asian and 2.56 percent Hispanic — and voters in several communities in the district have lower educational attainment levels than the statewide average. Many voters in the region identify as Catholic, and countywide, more than half the population has German, Polish, Italian or Irish ancestry.
But particularly in southern Macomb County, region is becoming far more diverse: Eastpointe's Black population, for instance, has increased to 52 percent from 5 percent in the past 20 years.
And in Warren, Michigan's third-largest city, the 2020 Census data showed population increased for the first time since 1970, largely due to an increase in Black and Asian residents. The city, which was once almost all-white, is now 20 percent Black.
Candidates for the new district reflect that change — only two are white men, while there are three women running in the Democratic primary and both James, the GOP favorite, and Democrat Rhonda Powell are Black.
See the new 10th congressional map
Five Democrats are running in the new 10th Congressional District primary. There are no incumbents and although much of the territory is currently represented by Democrats, the district leans Republican politically, potentially giving the party an edge in the race.
Source: Michigan Independent Citizens Redistricting Commission, State of Michigan's GIS Open Data portal
Warren, Sterling Heights, Eastpointe, St. Clair Shores and other southern Macomb County communities currently represented by U.S. Rep Andy Levin, D-Bloomfield Township, were previously looped into the same district as reliably Democratic strongholds in Oakland County.
The new district only includes a small piece of Oakland County: Rochester and Rochester Hills. It also extends farther north to include some of the solidly Republican territory currently represented by U.S. Rep. Lisa McClain, R-Romeo, who is running in the redrawn, Thumb-based 9th District.
Ultimately, the two incumbent congressional Democrats who had ties to the region passed on the district to go up against each other.
U.S. Rep. Haley Stevens, a Democrat from Rochester Hills, opted to move into the new neighboring 11th district, a Democratic-leaning district that includes most of her current constituents.
Levin, D-Bloomfield Township, already lived in the new 11th and chose to stay, setting off an incumbent-vs.-incumbent primary and leaving the new 10th wide open.
Levin, a longtime Oakland County resident, told Bridge Michigan his decision to stay in the 11th came down to "running for reelection where I live and where my kids are the fifth generation of my family to live."
He said he believes Democrats have a good shot at winning the 10th, particularly if the primary winner has deep ties to Macomb County.
"The new 10th is now like a 90 percent Macomb County district," he said. "And I think it's time for somebody from Macomb County to run there and win there. I think if we have a strong candidate from Macomb, we can absolutely win that seat."
The decisions by Levin and Stevens show that Oakland and Macomb have flipped allegiances, some say.
Oakland — once a GOP stronghold — is nor far more reliably Democratic, while Macomb — which leaned Democratic — is more reliably Republican, said David Dulio, a political science professor and Director of the Center for Civic Engagement at Oakland University.
"Any one of (the Democratic incumbents) could have run there, given the rules in Michigan, and they all decided not to," Dulio said. "And that's for a reason."
Although Republicans will likely have an advantage this cycle due to projected midterm enthusiasm, the way the district is constructed means the 10th could become more favorable for Democrats in future election years, Dulio said.
'There are no layups'
In the mid-1980s, pollster Stanley Greenberg famously described Macomb County voters as "Reagan Democrats" — white, working class union workers who, disillusioned with the Democratic Party, defected to vote for former President Ronald Reagan in droves.
In presidential cycles since, it's been a rite of passage pit stop for presidential candidates on both sides of the aisle. At Macomb Community College in Warren, Reagan told a gathered crowd: "I didn't leave my party, my party left me."
In a 1992 campaign speech on the same campus, former President Bill Clinton called Macomb County voters the "heart and soul of the American dream."
Macomb County became a national story yet again when, after two election cycles of voting for Democratic candidate Barack Obama, voters countywide supported Republican Donald Trump in both 2016 and 2020.
Trump has repeatedly campaigned in the county, most recently in April to stump for Attorney General candidate Matthew DePerno and Secretary of State candidate Kristina Karamo.
Standing outside of a Utica gas station in mid-April to protest high fuel prices, James and his guest, Republican National Committee Chair Ronna McDaniel, hoped to harness that energy for his congressional bid.
James has a primary challenger in Tony Marcinkewciz, a software engineer from Macomb, but has lined up key endorsements and posted big fundraising numbers.
Two former Republican members of Congress, Candice Miller and Mike Bishop, are advisers on James' campaign. And James recently earned the endorsement of Trump, who praised him as tough, "very smart" and "a job creator and a problem solver who knows how to deliver for Michigan."
While accompanying James on the campaign event, McDaniel said the RNC considers the 10th a top pickup opportunity for Republicans: "The only way we retire (House Speaker) Nancy Pelosi is right through the 10th district," she told the crowd.
Thus far, James has been the top fundraiser of any candidate in the district, reporting $1.5 million in fundraising and $1.25 million on hand in last month's campaign finance reports.
James said he hopes to be a voice for people in the district who "feel left behind, who feel like they don't have a shot."
"In an area where people know my name, I want to make sure they know me," he said. "I want to make sure that they understand what my values are."
But he acknowledged to a small group of supporters and media that "there are no layups" in a newly-created seat that remains competitive.
'I see how it can be won'
Although Macomb County overall went to Trump in 2020, Biden made inroads in southern Macomb that could prove key in the 2022 congressional race, outperforming 2016 Democratic candidate Hillary Clinton in Warren and flipping Clinton Township.
Biden also flipped Rochester and Rochester Hills in his favor, defeating Trump in both cities in 2020 — although James earned more votes than his opponent in both those cities in his 2020 Senate campaign.
Democrats argue that James has significant liabilities, pointing to his unsuccessful bids for statewide office and that he's not a resident of the district. A spokesperson for James said he is currently working with a realtor to move.
It's James' third time running for federal office in as many cycles, following losing campaigns against Sens. Debbie Stabenow, D-Lansing, and Gary Peters, D-Bloomfield Township, in 2018 and 2020.
Although James carried Macomb County overall in 2020, earning 51.8 percent of the votes to Peters' 46.1 percent, Democrats point out that both Peters and Democratic Gov. Gretchen Whitmer performed strongly within the new district's boundaries.
"Michigan's 10th Congressional District already rejected John James in the past two elections because he always puts himself and his extreme partisan politics over what's best for Michigan," said Elena Kuhn, spokesperson for the Democratic Congressional Campaign Committee.
In interviews with Bridge, the Democratic candidates largely avoided criticizing their primary opponents, instead highlighting their own attributes and asserting that a Democratic victory is possible.
"Of course, it's going to be a challenging, difficult, close election," said former Macomb County Judge Carl Marlinga, a Sterling Heights resident and one of five Democrats running in the primary. "It's just that I see how it can be won."
Marlinga, who recently stepped down from his position as a Macomb County judge and previously served as county prosecutor, said the district's new configuration works in his favor, noting he's already won several races in the region and has performed well in Shelby Township, a more Republican area of the new district.
The state Republican Party recently challenged Marlinga's eligibility for the ballot on grounds the state Constitution states a judge cannot seek political office within a year of leaving their position. It was rejected by the Secretary of State.
Other Democratic candidates in the race are Powell, a former Macomb County government official, Sterling Heights City Council member and former state Rep. Henry Yanez, Warren City Council member Angela Rogensues, Macomb civil rights attorney Huwaida Arraf.

Democrats running for the 10th Congressional District are, from left to right: Huwaida Arraf, Carl Marlinga, Rhonda Powell, Angela Rogensues and Henry Yanez (Courtesy photos)
Arraf has an early fundraising lead among Democratic candidates, reporting raising nearly $383,000 as of the latest campaign finance filing deadline last month. She was followed by Rogensues, who raised $196,500, and Marlinga, who raised $140,000.
"There's a reason why it tends to be a bellwether for what usually happens in the rest of the state," Arraf said. "We have a union, working class, middle class families here, and I am a fighter for them."
Several Democratic candidates in the district said they were compelled to run in the aftermath of the U.S. Capitol riots that occurred on Jan. 6, 2021, following former President Donald Trump's loss to President Joe Biden, including Yanez, who said it's crucial to "maintain the principles that we've come to enjoy both under Democratic and Republican Party rule."
As a former lawmaker for Sterling Heights and Warren, Yanez said he's proven his ability to build the coalitions necessary to win a campaign and can bring his local and state government experience to Congress.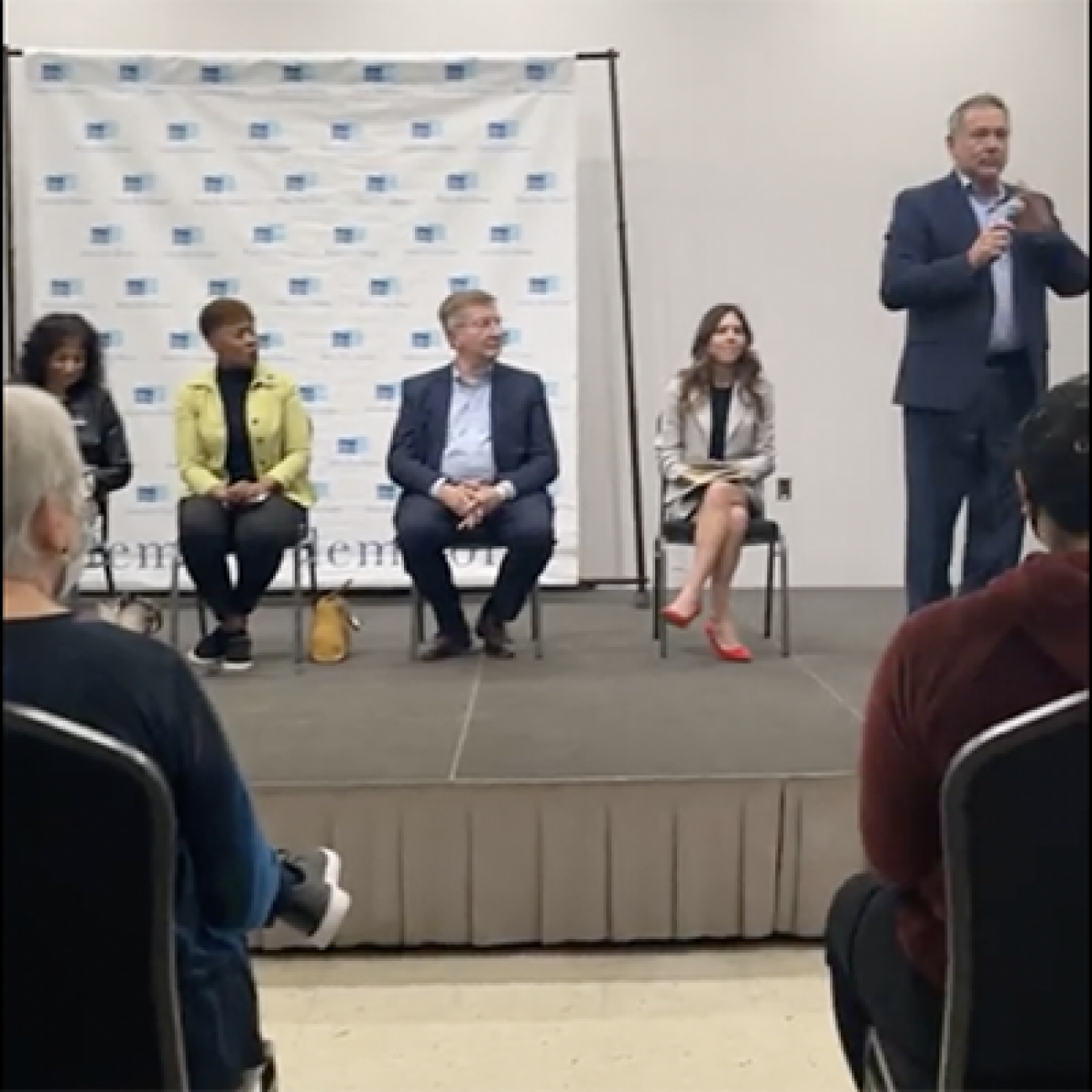 Henry Yanez speaks during a Fems for Dems candidate forum for Democratic candidates in the 10th Congressional District in late April. (Screenshot, Fems for Dems)
Powell noted the new configuration of the 10th is "the most diverse district that we've ever had" in Macomb County, and said the election is an opportunity to build a coalition of inclusion and help raise the voices of marginalized groups in one of Michigan's most populous, politically relevant counties.
Rogensues, who at 41 is the youngest candidate in the Democratic field, said the new makeup of the district and the unique set of candidates running for an open seat makes the 10th "one of the most contested congressional seats in the country."
She said her background as a city council member positions her to meet district residents where they're at and elevate their concerns to Congress.
"The electorate really tends to vote for the person, often not necessarily the party, and so there is an opportunity for Democrats to win the seat," she said.
Early polling conducted by Target Insyght in March showed Marlinga with a slight edge, both when put up against other primary opponents and James.
In Macomb County, name identification goes a long way, and Marlinga has it — but much could change in the coming months, Sarpolus said, including how the gubernatorial primary shakes out and how messaging on key issues plays with swing voters in the district.
Jared Maynard, a Macomb County-based GOP political consultant, said that while the race will be hotly contested, he believes the national mood, high inflation rates and James' military background will ultimately tip the scales in his favor.
"We're really just common-sense people. Who wants to pay $5 a gallon for gas and $5 a gallon for milk?" he said. "This stuff really matters to people and that's what's going to matter in this situation."
Maynard noted the diversity in the candidates' backgrounds is indicative of Macomb County politics, where "everybody has a chance at winning."
"If you can cut your teeth in Macomb County politics, you could go just about anywhere," he said.
One of many wild cards
Michigan's political landscape is poised for a seismic shift at both the congressional and state legislative levels this election cycle, in no small part due to the state's redistricting process.
For the first time, a 13-member citizen-led panel handled the process of drawing new political maps after taking input from the public for months. Previously, that process was controlled by the state legislature, and the majority party in power had final say over how the maps looked.
The Michigan Citizens Independent Redistricting Commission was constitutionally mandated to draw equal population districts that complied with the Voting Rights Act and other federal standards, as well as keep communities of interest together, build maps that were fair to both political parties, respect municipal boundary lines and maintain geographic contiguity.
So far, the maps the commission came up with and approved last December have withstood legal scrutiny.
And although competitiveness wasn't a specific requirement for the maps, voters in many regions of the state will see primary and general election races that pit incumbents against each other or could reasonably go in either party's favor, depending on voter turnout and political will.
If voting patterns from the 2020 election hold, Michigan's newly redrawn districts are projected to favor Democrats in seven districts and Republicans in six.
Michigan's 10th Congressional District leans slightly Republican. Three other new races are considered tossups — the 7th and 8th, currently held by Democratic Reps. Elissa Slotkin and Dan Kildee, and the 3rd, currently held by Republican Rep. Peter Meijer.
Only donate if we've informed you about important Michigan issues
See what new members are saying about why they donated to Bridge Michigan:
"In order for this information to be accurate and unbiased it must be underwritten by its readers, not by special interests." - Larry S.
"Not many other media sources report on the topics Bridge does." - Susan B.
"Your journalism is outstanding and rare these days." - Mark S.
If you want to ensure the future of nonpartisan, nonprofit Michigan journalism, please become a member today. You, too, will be asked why you donated and maybe we'll feature your quote next time!