Six Michigan regions view politics far differently. They may decide election.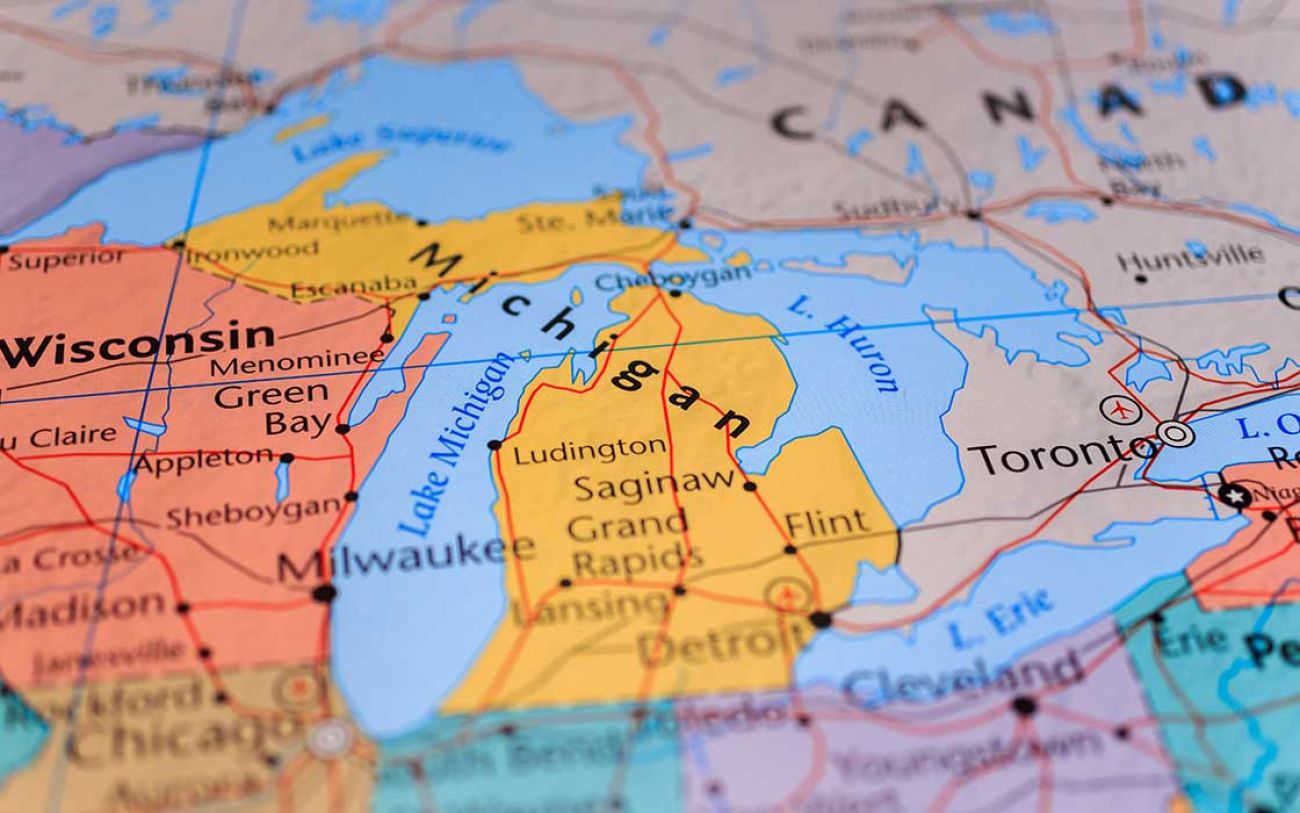 Michigan Government
Six Michigan regions view politics far differently. They may decide election.
For years, Michigan's political map was relatively simple. Head north and west to find Republicans and toward metro Detroit and factory towns like Flint, Lansing and Saginaw for Democrats.
But President Donald Trump partially redrew the map, kicking off his campaign in 2015 in Saginaw County, where President Barack Obama trounced Mitt Romney in 2012.
It might have seemed an odd choice but it was prescient. Trump's attacks on the NAFTA trade deal, pledges to bring back manufacturing jobs and his assaults on immigration and China resonated with working-class voters in once-Democratic strongholds that Democrat Hillary Clinton hoped to carry.
Related: How to vote early in the November election in Michigan
Related: Michigan 2020 Election Tracker | results, voting, polls, proposals, vote
The triggered a massive shift, as Bay, Saginaw, Genesee and Shiawassee counties in central Michigan and Monroe on the Ohio border swung hard for Trump, favoring him by 12,000 votes after going for Obama by 74,000 in 2012. That provided the margin of victory for Trump, who carried Michigan by 10,704 votes to become the first Republican to win the state since 1988.
"Trump had a message to the people who felt left behind," said John Klemanski, a political science professor at Oakland University who has studied voting patterns in Michigan.
2016 Presidential election in Michigan
Despite big support for President Trump in many parts of the state, there were islands of Democratic support. You can use this map to see how various precincts voted in 2016 by clicking on individual areas.
Two years later, though, Gov. Gretchen Whitmer and Democrats swept into office statewide, as turnout surged and Michigan lived up to its reputation as a swing state.
Michigan is again a key swing state in the presidential election, and it's far from cohesive politically. Instead, it comprises six distinct regions whose voters have different priorities and motivations.
Up North? Pro-guns. Out west? Social conservative. Metro Detroit? That depends on whether you're in Macomb (pro-gun), Oakland (pro-jobs) or Wayne (dyed-in-the-wool Democrats).
"You have to have different messages depending on where you're going in the state," said Steve Mitchell, who has conducted polling in the state, mostly for Republicans, since 1986.
In the next six weeks, Bridge is traversing the state to tell the stories about the mood of voters in these regions, in an effort to foster understanding in what is shaping up as one of the most contentious elections in years.
It's a complicated metric, but there are guideposts. Although there are exceptions, counties with more college degrees tend to vote Democratic, and those that are whiter go for Republicans.
"It's mostly race and education at this point," said Matt Grossmann, director of the Institute for Public Policy and Social Research at Michigan State University, where he's an associate professor of political science. "The education divide is wide and growing."
But while education may predict support for one party, it isn't necessarily the reason. Many workers in Michigan had well-paying jobs that were impacted by globalization, and Trump's economic message resonates, Klemanski said.
Across most of Michigan:
Trump won 63 of the 66 counties with a lower percentage of college grads than the state's overall 28.6 percent. Clinton won eight counties, four of which were among the most educated in the state.

All but one of the 61 counties with the oldest average age of residents backed Trump.

Rural voters went big for Trump: All the counties that went for Clinton were among the 10 counties with the most people per square mile.

Trump won 68 of the 69 counties with the smallest populations of people of color. In both

Michigan and nationwide, Trump won 57 percent of white voters.
The map, though, is malleable. In her bid for governor against Republican Bill Schuette in 2018, Whitmer flipped nine counties that went for Trump in 2018: Bay, Clinton, Eaton, Gogebic, Isabella, Kent, Leelanau, Macomb and Saginaw.
What follows is a short primer on the political regions of Michigan and what binds them — and what separates them.
Up North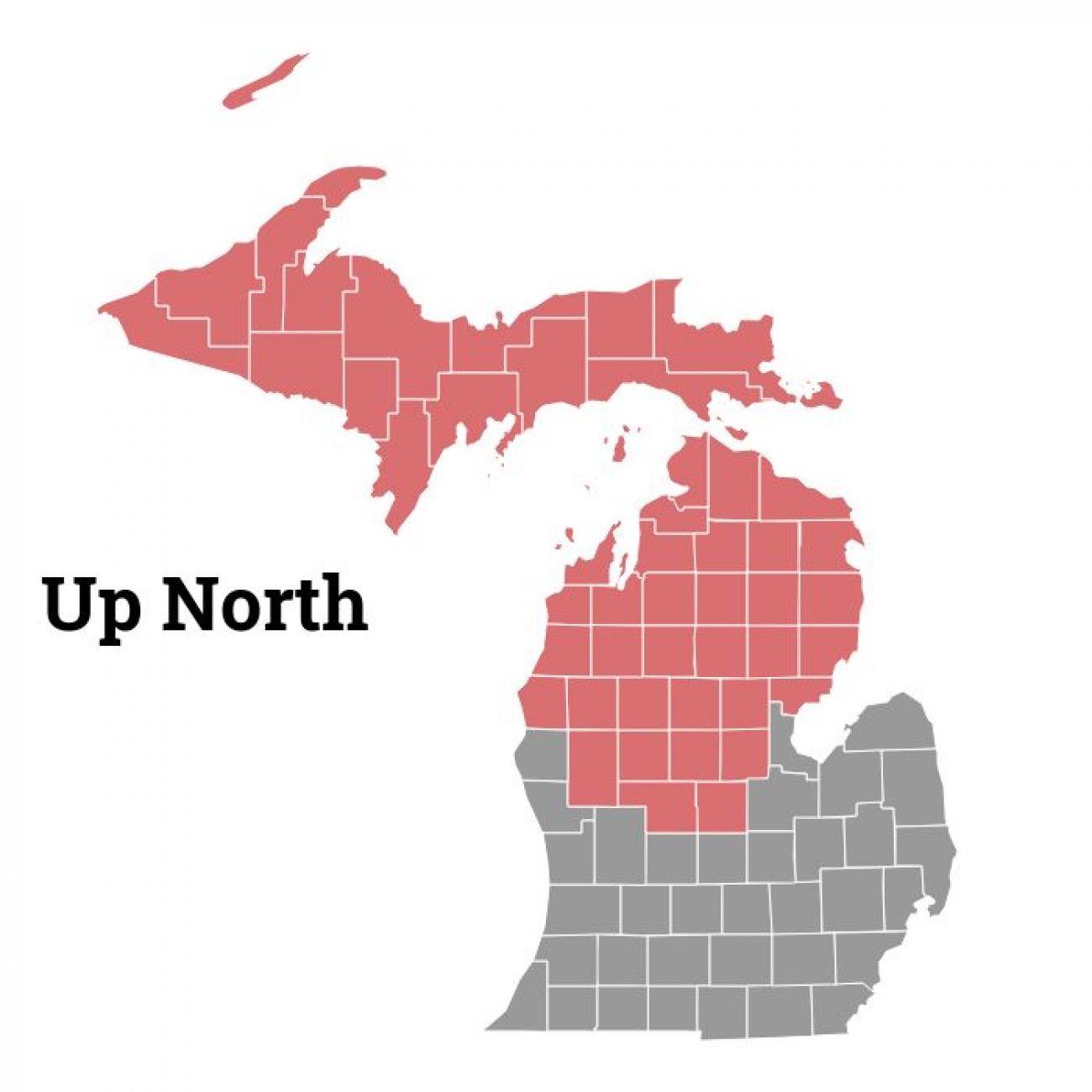 Key facts:
48 counties, 1.3 million people (13 percent of state population)

Trump won region 59.2 percent to 35 percent vs. Clinton

Schuette won region 54.5 percent to 42.3 percent against Whitmer

Least densely populated

37 of the counties rank among the bottom in terms of median incomes

36 of the counties have less than 25 percent of adults with a college degree (statewide it's 28.6 percent)

All but three of the counties have a smaller population of people of color than the state average (74.7 percent white, not Hispanic)

Swing: After giving Romney a 52,500-vote margin in 2012, the region tripled its GOP support, giving Trump a 153,600-vote margin.
All but one of the 48 counties that comprise this region, from Midland to the Soo to the Wisconsin border, backed Trump in 2016, with an average of 61 percent of the vote.
Only Marquette County favored Clinton in an election where Trump won the state with just 47 percent of the vote.
To say this region has moved right is an understatement: Though Democrat Bart Stupak represented the area in Congress for nine terms until 2010, Republicans now dominate at the local, state and national level.
Trump beat Clinton by over 150,000 votes in this region, nearly triple the size of Romney's margin, in a losing effort, over Obama in 2012. And Republicans flipped a Democratic state house seat in the western Upper Peninsula in 2018, when Whitmer became governor.
Klemanski, the Oakland University professor, said voters in rural parts of Michigan have voted Republican for some of the same reasons voters swung in the I-75 corridor north of Detroit: Some towns were dominated by big single employers that struggled as trade and automation played roles in job losses and lower wages.
But northern Michigan is also staunchly pro-gun, with a strong outdoor ethic that has leaned Republican for years. So messaging about taking guns and public safety resonate, regardless of whether the fears are real, Klemanski said.
St. Ignace Mayor Connie Litzner said their support for Republicans is rooted in what they like to do, like hunting, and how they want to live: left alone.
"I don't think it's a lack of education," Litzner said. "It's that they don't want their rights taken away. There's a lot of hunting up here."
Democrats, however, have voted in larger numbers in a couple of northern cities, like Marquette, Petoskey and Traverse City and in parts of Leelanau County.
I-75 Corridor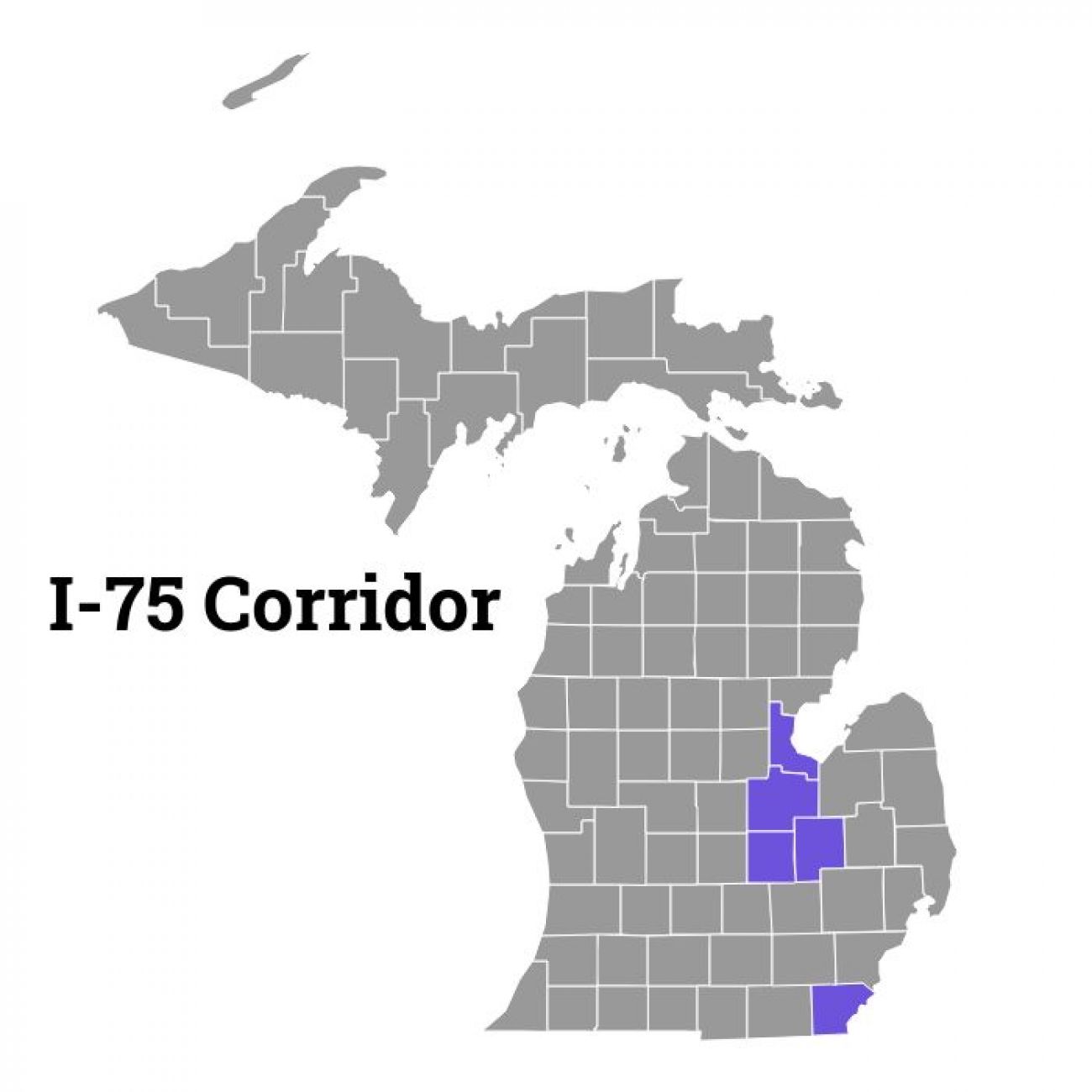 Key facts:
Five counties: Genesee, Saginaw, Bay, Shiawassee and Monroe

920,000 people (9 percent of state population)

Trump won region 48.8 percent to 46.1 percent for Clinton.

Whitmer won the region 53.5 percent to 43.6 percent for Schuette.

Heavily industrial, automotive-related work. Saw some of the deepest job, wage declines before and after the Great Recession.

Connected to metro Detroit by historic economic ties rooted in the auto industry.

Cities within the region have larger African-American populations, including Flint and Saginaw.

Median wages among the middle, statewide, except Monroe, which ranks seventh.

Swing: This area backed Obama by nearly 74,000 votes but four years later backed Trump by over 12,200 votes.
Like the ends of a set of barbells, this region combines non-contiguous counties of Monroe, on the Ohio border, with the industrial area that stretches from Genesee County to Bay County.
They are connected not by geography but demography and economics, ties to metro Detroit's manufacturing heft and the labor unions that had voted Democratic for years.
In 2004, four of the five counties backed John Kerry and gave him a 54,000-vote margin. Obama would roll up even bigger margins in 2008 and 2012.
But in 2016, those Democratic wins evaporated.
Outside of Flint and Saginaw, the I-75 corridor is largely white, with fewer people having a college degree. Those factors saw voters resonate with Trump's "America First" message: Four of the five counties swung from supporting Obama in 2012 to Trump in 2016.
Steven Gerhardt, chair of the Saginaw County Republican Party, said UAW leaders have been telling members to vote for Democrat Joe Biden. But he said they weren't listening "because they've had promises made to them and promises not kept."
And though Genesee County stayed with Clinton, the Democrat's victory margin shrank from 57,000 more votes for Obama than Romney to under 19,000 more votes for Clinton over Trump, a stunning swing right for a county with a storied labor past.
Metro Detroit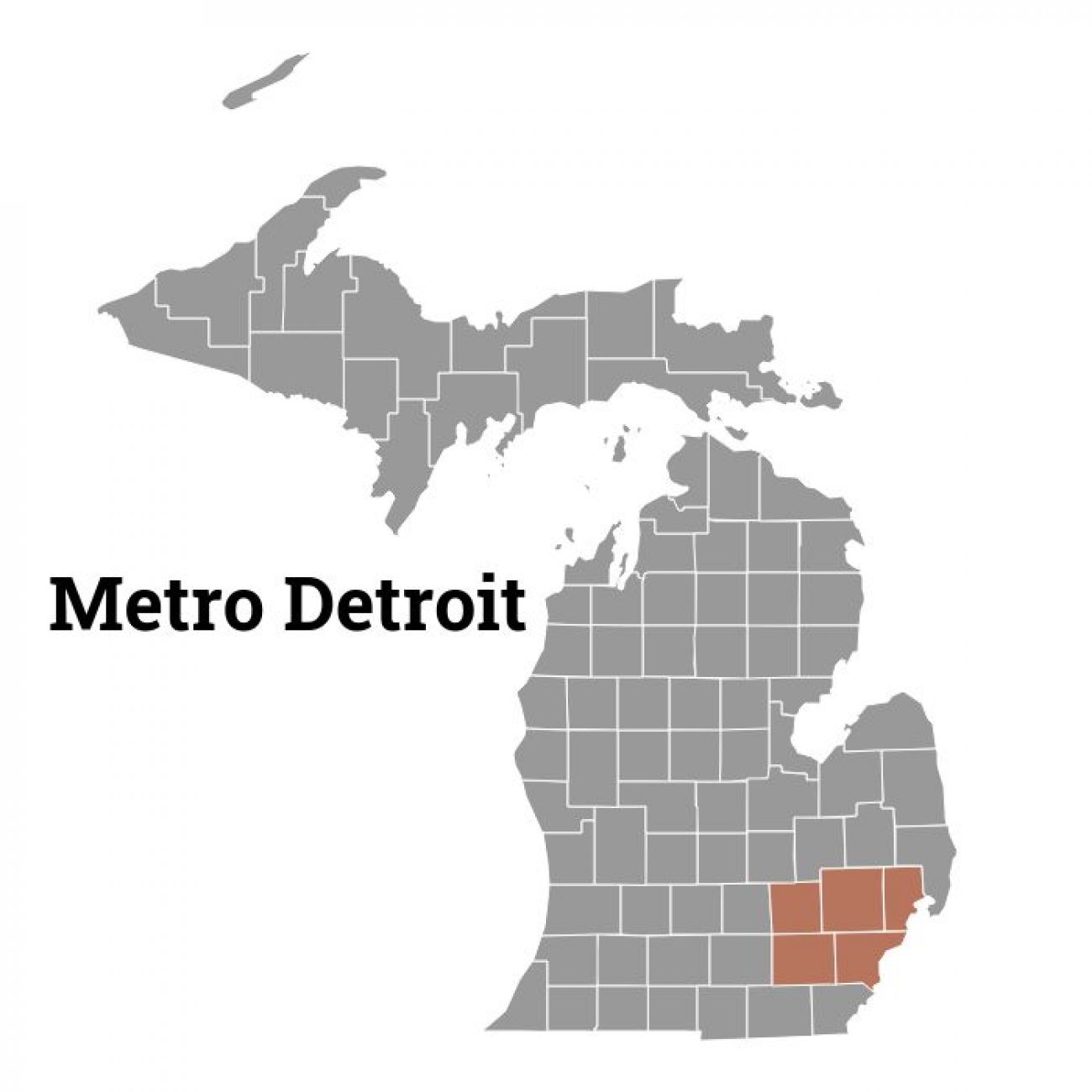 Key facts:
Five counties: Wayne, Oakland, Macomb, Livingston and Washtenaw

4.5 million people (44.5 percent of state population)

Clinton won region 55.7 percent to 39.8 percent for Trump.

Whitmer won region 60.9 percent to 36.6 percent for Schuette.

Largest urban center in the state (Detroit), surrounded by rings of suburbs of varying levels of racial diversity and wealth.

Some of the counties with the highest levels of education.

Mixed economy, but it is still heavily reliant on autos but large financial, professional sectors.

Swing: In 2016, his region gave Clinton a 345,000-vote margin. It wasn't enough and it was almost 150,000 votes fewer than the margin Obama scored here in 2012.

This is largely where the election could hinge because it's where so many of the voters live.
In each of the last three presidential elections, the five counties have generated nearly two-thirds of all voters statewide. And Democratic votes in those counties came within nearly 11,000 votes of wiping out Trump's margins throughout the rest of the state.
While Detroiters will likely back Biden with over 80 percent of the vote, Livingston County will likely heavily back Trump. Oakland County, which once backed Republicans, is now expected to support the Democrat by a large margin; it was one of only two Democrat-leaning counties (Washtenaw was the other) that became more Democratic in 2016 as the most of the state swung right.
And just across Dequindre Road, more industrial Macomb County switched camps completely, backing Trump and giving him his largest margin in the state.
Macomb may play a key role again: Both Biden and Trump have focused on voters in the county with recent visits.
Thumb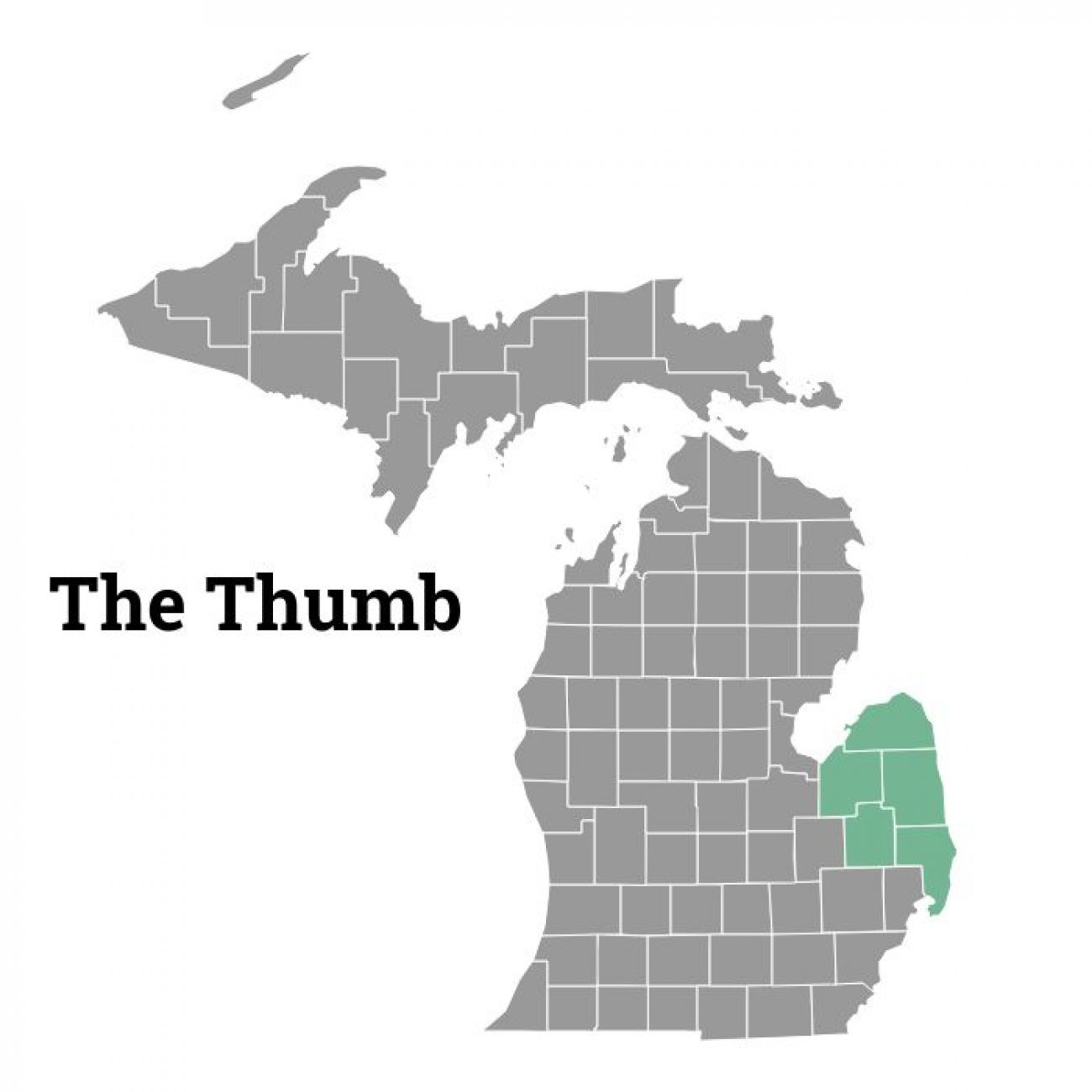 Key facts:
Five counties: St. Clair, Sanilac, Lapeer, Huron and Tuscola

372,000 people (just under 4 percent of state population)

Trump won region 59.2 percent to 35 percent for Clinton

Schuette won region 58 percent to 38.5 for Whitmer.

Mix of heavily rural counties in the north, along with Lapeer and St. Clair counties.

Fewer people of color, college graduates than state average.

Long a GOP stronghold, only St. Clair County, in 2008, voted for Obama. All other counties voted Republican in 2008, 2012 and 2016. Trump got over 65 percent of the vote in the region.

Swing: The pro-GOP margin ballooned from 19,000 votes in 2012 to more than 66,100 in 2016.
This region, unlike its neighbors to the south (metro Detroit) and west (I-75 corridor), was already a GOP hotbed before 2016.
Like the I-75 counties, Lapeer and St. Clair have larger manufacturing sectors of the economy, areas hit hard by the downturns that have ravaged Michigan since its employment peak in 2000.
But the region is also home to traditionally conservative farmers, many of whom were affected by the trade wars with China during Trump's first term.
Education here, too, could play a role: Fewer than 19 percent of all adults in the region have a college degree — it's 28.6 percent statewide, yet the region gave Trump some of its biggest support. Only two counties were more supportive of Trump than Sanilac County, which gave him 69.9 percent of the vote.
Tri-state, central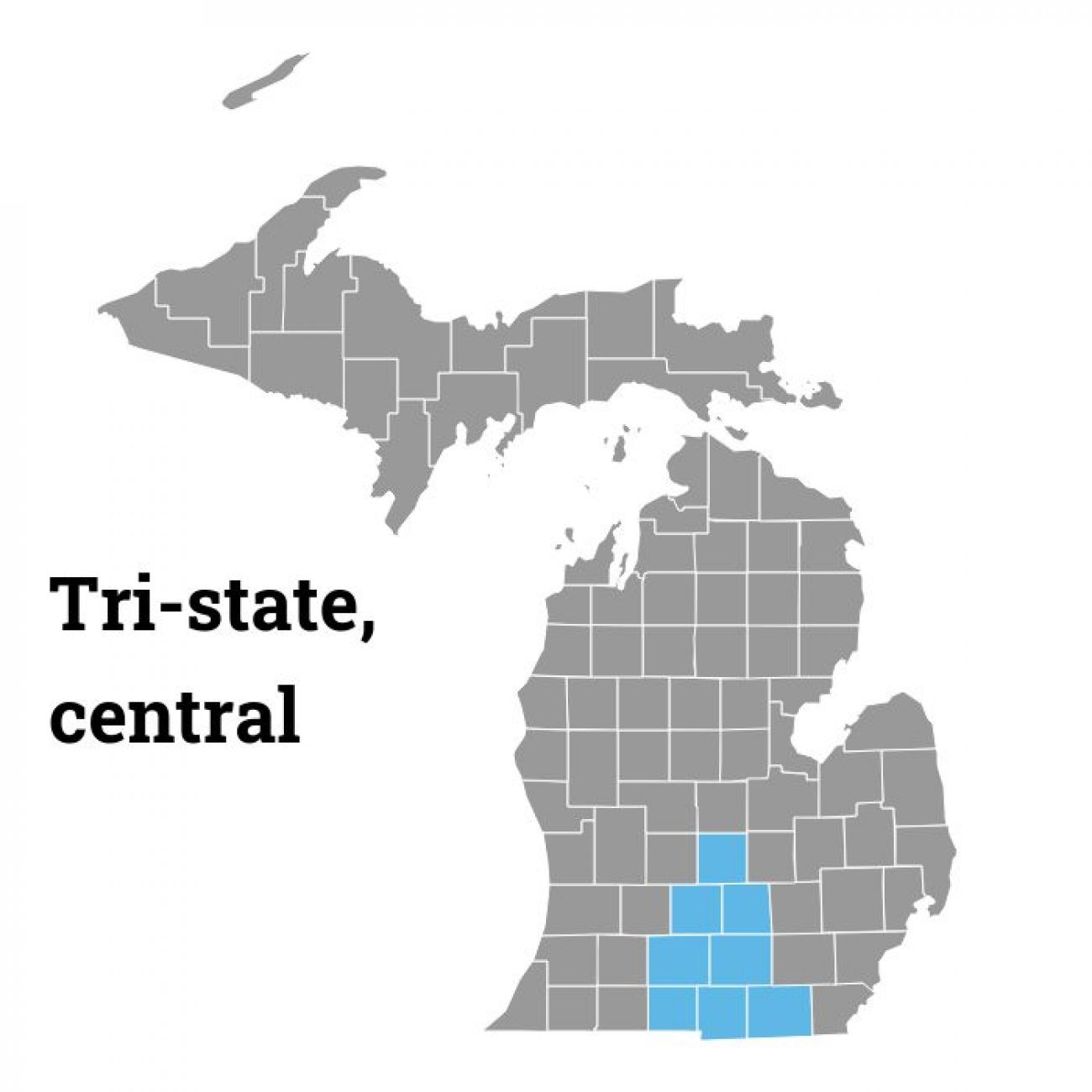 Key facts:
Eight counties: Lenawee, Hillsdale, Branch, Jackson, Calhoun, Ingham, Eaton and Clinton

962,000 people (just under 10 percent of state population)

Backed Trump 49.2 percent to 44.8 percent for Clinton

In 2018, it too flipped back and supported Whitmer, the Democrat, with 52.2 percent of the vote compared to 44.6 percent for Schuette.

Areas outside of Lansing heavily rural although there are pockets of more densely populated cities including Battle Creek, Jackson and Adrian.

Michigan State dominates Ingham County, which is solidly Democratic but Hillsdale College, like the county it's in, is very conservative.

Manufacturing areas like Battle Creek had been hard hit by Michigan's economic troubles.

Swing: Two of the eight counties flipped from backing Obama to supporting Trump. Ingham County's Democratic support was largely unchanged but elsewhere the move was rightward, going from a pro-Obama 23,400-vote margin in 2012 to a 19,600 margin for Trump.
This region shares similarities with much of the GOP-leaning parts of the state: heavily rural and agricultural in the south along the borders with Ohio and Michigan, religiously conservative in areas like parts of west Michigan, and a few old-economy areas like Jackson, which has been considered the birthplace of the Republican Party, and Battle Creek.
Ingham County stands out as a Democratic stronghold in the region, and it has one of the higher rates of college graduates in the state and the highest in the region.
But unlike the Thumb, this entire region, which has several colleges and universities, has higher rates of education and is more densely populated than northern Michigan and the Thumb.
It also has two of the swing counties that flipped from Obama to Trump in 2016 — and two of the most predictable counties: Hillsdale, a GOP stronghold that gave Trump nearly 71 percent support, and Ingham, which gave Clinton 60 percent of the vote.
West, Southwest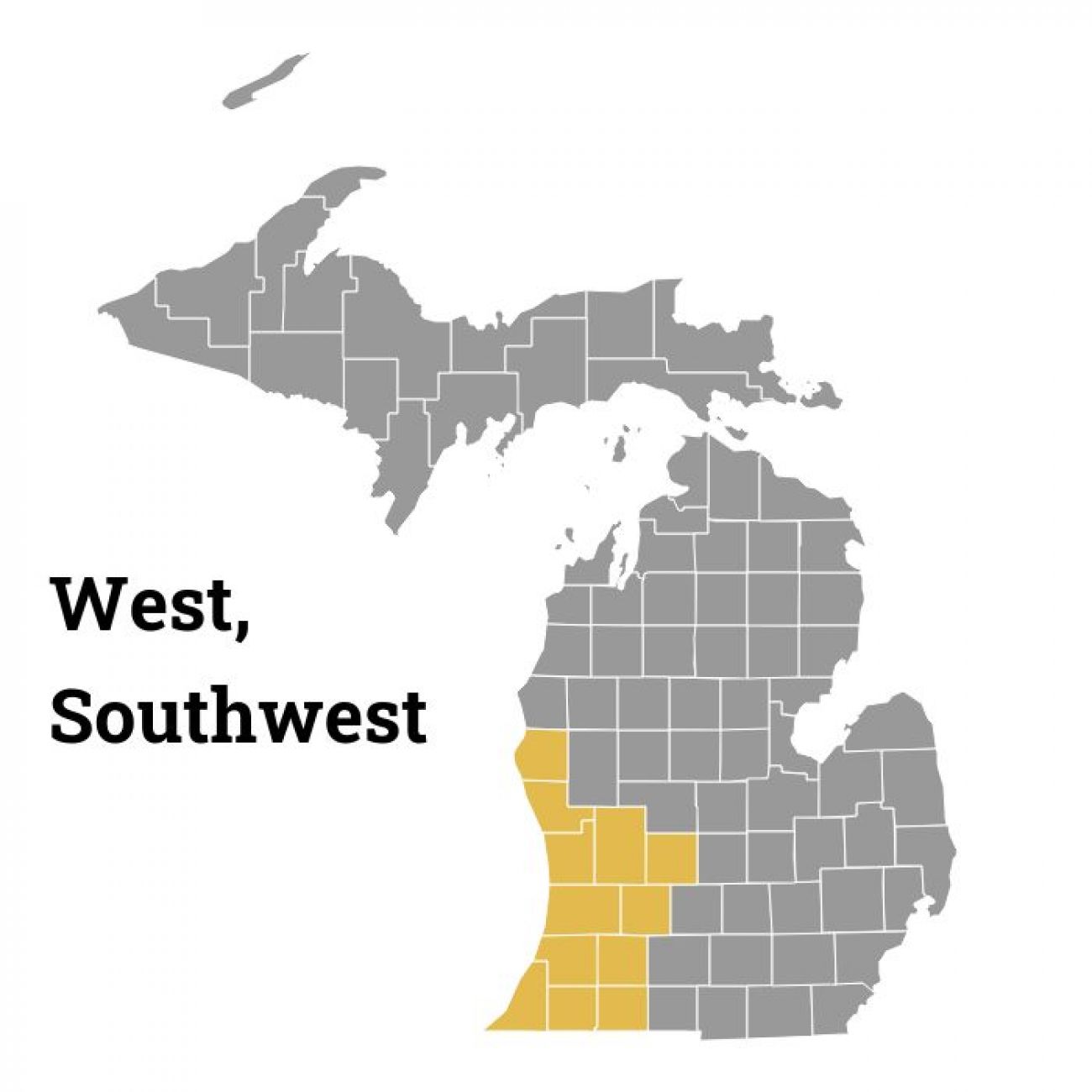 Key facts:
12 counties: Allegan, Barry, Berrien, Cass, Ionia, Kalamazoo, Kent, Muskegon, Oceana, Ottawa, St. Joseph and Van Buren

2 million (20 percent of state population)

Trump won region 52.2 percent to 41.3 percent for Clinton

Schuette won region 49.9 percent to 46.8 percent for Whitmer.

Strong pockets of Democratic cities like Kalamazoo, Grand Rapids and Muskegon.

Some of the most conversative populations in the state, including in Ottawa County, considered the most Republican in the state.

Widely varied economy from vibrant cities, like Grand Rapids, to vacation getaways to large swaths of agricultural land.

Swing: Overall, moved from 68,500-vote margin for Romney, a native of the region, to 101,500 for Trump.
MSU's Grossmann said that rural areas have tended to vote more Republican and in this region, the Republican support rises as the farther communities are from urban centers.
"Density matters," Grossmann said. "The more dense you are the more likely you are to be a Democrat."
So in a region with big GOP-supporting counties in Ottawa and along the Indiana border, there are still pockets of Democrats in the smaller cities of Albion, Dowagiac and Bangor.
Those slivers of blue are washed over by the voters in the far-flung townships and in many of the counties the pro-GOP margins doubled or tripled from 2012 to 2016.
The region, however, has some moderating forces and U.S. Rep. Fred Upton, R-St. Joseph, has seen his support in the 6th Congressional District fall from the 60 percent range to 50.2 percent in 2018.
And in Kent County, the growing city of Grand Rapids has helped elect Democrats and the county as a whole, like neighboring Ottawa, actually gave Trump less support than they had given to Romney.
We're not just a news organization, we're also your neighbors
We've been there for you with daily Michigan COVID-19 news; reporting on the emergence of the virus, daily numbers with our tracker and dashboard, exploding unemployment, and we finally were able to report on mass vaccine distribution. We report because the news impacts all of us. Will you please support our nonprofit newsroom?