Rodrick Dantzler fired the first shot before 2:30 p.m. on a Thursday -- July 7, 2011. Minutes later, his mother phoned Grand Rapids police to report her son had called and told her he had killed his wife.
Had that been his only crime, it would have been just one of more than 500 firearm homicides in Michigan that year. But Rodrick Dantzler wasn't finished. Before the day was out, eight people (including Dantzler) would die by his hand, and two would be seriously wounded.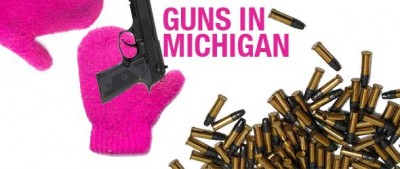 It was the largest mass murder in the city's history, the worst in Michigan in many years. As police pieced together the evidence, one question came to the fore: How did Dantzler, a convicted felon, get a gun?
While much of the debate in the wake of Newtown and other mass killings has been about assault rifles, Dantzler's killing spree fits a much more common pattern: Most homicides in Michigan and the rest of the country are committed not with assault rifles, but with handguns. As in many of those cases, the gun Dantzler used – a 9-mm semi-automatic Glock – had been legally purchased, reported stolen and ended up in the hands of a man with an extensive criminal record.
Dantzler's story is just one facet of an ongoing debate in Michigan and elsewhere in America in the wake of the Newtown, Conn., school massacre. "Guns in Michigan" will explore a variety of questions: What happens at the intersection of gun rights and public safety? How pervasive is gun violence in Michigan? Have recent state policy changes led to more or fewer deaths by guns? What role do policies regarding mental illness play in public safety?
MICHIGAN COUNTIES RANKED FOR PER-CAPITA HANDGUN PERMITS
"How did that person who's not supposed to have a gun get a gun?" asked Grand Rapids Police Captain Jeffrey Hertel, who headed the investigation. "Who put it in his hands?"
Hertel and other law enforcement officers say that most guns used in crimes and confiscated by police were legally purchased, but wound up in the wrong hands. The claim by gun rights advocates that more people need to arm themselves in defense against the illegally armed becomes a self-fulfilling prophecy: The more guns in circulation, the more likely they are to be used in crimes.
Of the 7,617 people killed in Michigan between 2000 and 2011, 5,128 – or two-thirds – were killed with firearms, according to State Police records. Police reports often are vague on the type of firearm used, but at least 3,145 of those victims, and likely more, were killed with handguns.
"Our fear is that the more guns that are sold, the more guns that are legally purchased and in homes, the more guns are going to end up on the street," Hertel said.
Mayors push gun restrictions
It's a fear shared by many others in law enforcement and local government. It's why New York Mayor Michael Bloomberg and Boston Mayor Thomas Menino in 2006 formed a nonprofit group, Mayors Against Illegal Guns, advocating tighter restrictions. More than 900 mayors across the country, including 12 in Michigan, have joined. That includes Dave Bing in Detroit, Dayne Walling in Flint, Virg Bernero in Lansing and George Heartwell in Grand Rapids.
AS CARS GET SAFER, GUN DEATHS ECLIPSE TRAFFIC FATALITIES
"I grew up with guns," Heartwell said, but he added: "I want to keep stolen guns out of the hands of criminals. If I were king, I would ban handguns or I would require that if you use a handgun for target practice or sport that you store it at a facility," such as a shooting range.
He knows that's unlikely.
As of April 1, Michigan residents held 378,584 concealed pistol permits, according to State Police records, or about one permit for every 21 adults in the state. And the actual number of concealed handguns likely is much higher, since one permit can cover multiple guns.
In the Michigan homicides in which the relationship of the victims and killers are known, most are related or at least acquainted, State Police records show. Most arise from arguments. If a gun is close at hand, an argument can turn fatal.
Gun proximity seen as contributor to violence
"Just simply having the weapon increases the odds that they're going to use it," said Jesenia Pizarro, an associate professor of criminal justice at Michigan State University, who is studying ways to decrease violence in Detroit. "A lot of times these are spontaneous events that turn lethal."
Her research is looking at the multiple social factors that can lead to homicides, including poverty and unemployment. "If you're going to build an intervention, it's important to know why these people are killing each other," she said. The easy access to guns is one of many factors, she said.
Obtaining an illegal handgun is "not that hard at all," Pizarro said. "You can actually get them for pretty cheap. The truth of the matter is all these illegal guns out there started as legal guns. The more you saturate the market with legal guns, the more you increase the chances these legal guns will end up on the black market."
GUN SHOP FINDS ITSELF A FREQUENT TARGET – OF THEFT
Under Michigan law, it is a misdemeanor if a gun owner fails to report it stolen.
"I can't say I've ever seen anyone charged with that," Hertel, the Grand Rapids Police captain, said. Often after police recover a handgun, "we'll call and say, 'Do you know where your .38 is?' and they'll say, 'It's in the basement,'" Hertel said. "Then they go check and it's not there. Whether they're lying or it was stolen we don't know."
The handgun Rodrick Dantzler used was registered to a man in Kent County just outside Grand Rapids. The owner reported it missing July 30, 2009, a couple of weeks after he showed it to a group of people in his home. Two years later, it resurfaced on the tragic July day in 2011.
In the end, Dantzler's estranged wife, Jennifer Heeren-Dantzler; their 12-year-old daughter, Kamrie; his wife's parents, Thomas and Rebecca Heeren; Kimberlee Emkens, Dantzler's former girlfriend; Amanda Emkens, Kimberlee's sister; and Marissa Emkens, Amanda's 10-year-old daughter all were dead by gunfire.
After being cornered by police, Dantzler shot himself in the head. Next to his body, police found the 9-mm Glock with a 30-round magazine. Only three unspent bullets remained in the clip.
Why Dantzler went on the killing spree remains a mystery.  In a lengthy report on the case, Kent County Prosecutor William Forsyth concluded: "It would appear that he was simply a very angry man ..." A very angry man who got a gun.
Two years after slayings, investigation continues
Although there never was any doubt that Dantzler had committed all the shootings, nearly two years later the case remains open. Grand Rapids Police and federal authorities have spent the months since investigating how Dantzler obtained his handgun.
A federal grand jury on Jan. 30 indicted Joseph Michael Krul, a Grand Rapids resident with a felony record, on three federal counts for possessing the gun that ended up in Dantzler's hands. Krul was a friend of the man who legally had purchased that gun, and he had been in his friend's home a few days before the gun disappeared.
While Krul awaits trial on charges that could put him in federal prison for many years, local police and federal authorities hope to arrest at least one more person, one more party in a chain of transactions that put a 9-mm Glock in Dantzler's hands.
"I said from the beginning, 'We're going to follow this case to the end,'" Captain Hertel said. "That gun has a lot of bodies attached to it."
Pat Shellenbarger is a freelance writer based in West Michigan. He previously was a reporter and editor at the Detroit News, the St. Petersburg Times and the Grand Rapids Press.