What to know about partial reopening of northern Michigan bars, restaurants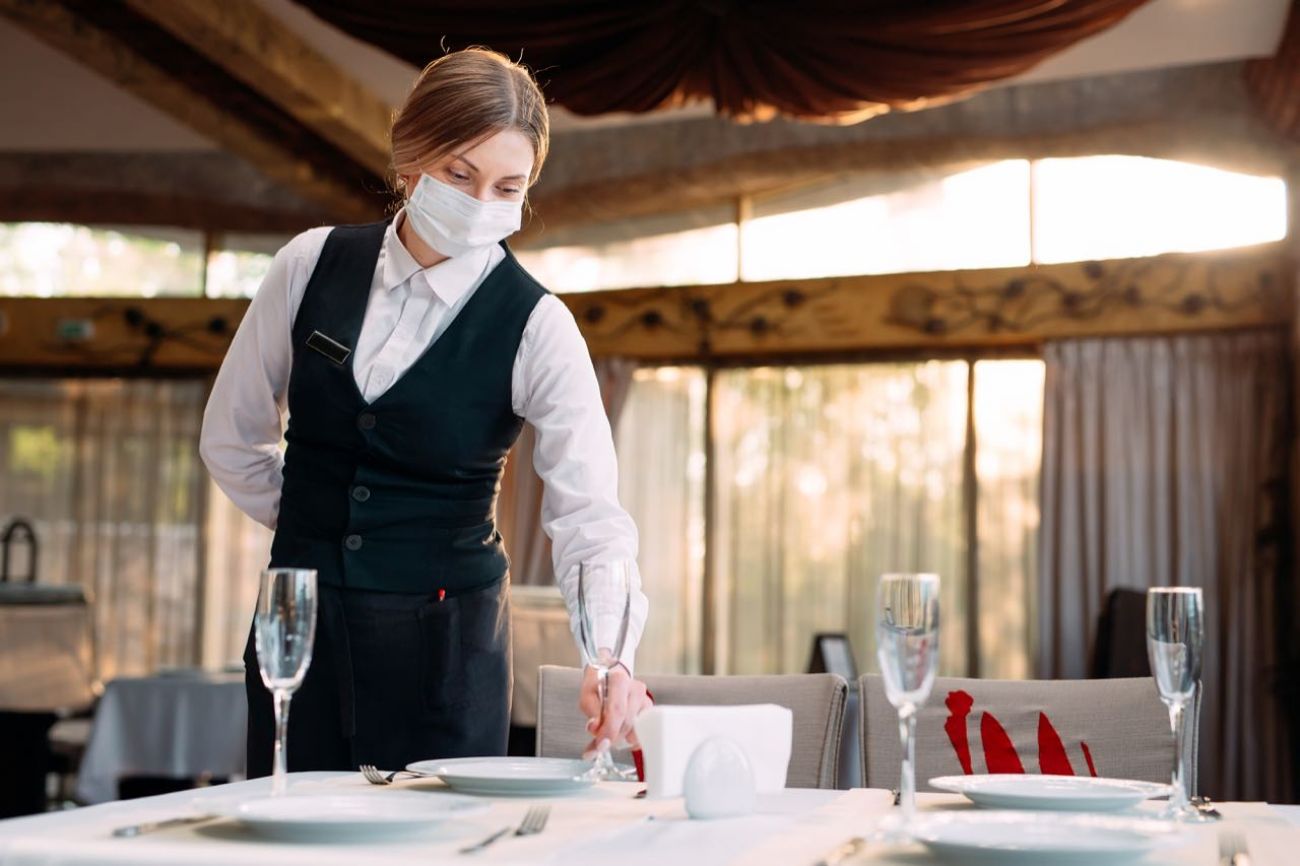 LANSING — Restaurants and bars that reopen Friday in northern Michigan and the Upper Peninsula won't look like they did before the coronavirus pandemic.
Under new workplace safety rules from Gov. Gretchen Whitmer, dining rooms will be limited to half capacity. Tables must be spread out to ensure at least 6 feet of separation between parties and masks will be required for all who enter.
"Some of the new expectations will no doubt be daunting for this industry to meet, but what I have heard over and over again — almost by the hour from our members — is 'just give me a shot,'" said Justin Winslow of the Michigan Restaurant Association.
Owners in northern Michigan and the Upper Peninsula will get that shot first, after Whitmer announced the partial reopenings on Monday through a newly relaxed stay-at-home.
Here's what you need to know:
Where can bars, restaurants, offices and retail stores reopen?
The new orders apply to 32 counties in northern Michigan, areas designated as Regions 6 and 8 by the Michigan Economic Recovery Council, a group of business and health care experts advising Whitmer.
Region 6 consists of Manistee, Wexford, Missaukee, Roscommon, Benzie, Grand Traverse, Kalkaska, Crawford, Leelanau, Antrim, Otsego, Montmorency, Alpena, Charlevoix, Cheboygan, Presque Isle and Emmet counties. Region 8 encompasses all of the Upper Peninsula.
Any local government within those counties could still choose to "take a more cautious course" and adopt their own restrictions on businesses, according to Whitmer's office. For instance, cities, villages or townships could decide to only allow outdoor seating at bars and restaurants.
If in doubt, call ahead.
What are the rules for restaurants and bars that can reopen?
Restaurants and bars must limit dining room capacity to 50 percent of their normal setting and require 6 feet of separation between parties in the dining room. They must also close self-serve areas like drink stations, food buffets and salad bars. Waiting areas will be closed too. Instead, restaurants must ask customers to wait in their car until their table is ready.
Trevor Tkach, president and CEO of Traverse City Tourism, a tourism bureau serving five counties in the northwestern Lower Peninsula, said Memorial Day weekend visitors shouldn't expect "the traditional Traverse City experience."
"It's probably going to be different, even though they've loosened things up," he said.
Restaurants are getting creative, Tkach said, by expanding outdoor seating areas and seeking extensions of their liquor licenses to serve alcohol in seating areas on the sidewalk or street.
Inside, restaurants and bars must provide physical guides, such as tape on the floor, to ensure customers stay 6 feet apart, and they must post signs at the entrance telling customers to leave if they are or have recently been sick. Additionally, they must limit touching of shared items like menus and clean tables, chairs and other "high contact" items or areas after each customer.
"We expect our customers to take it easy on our staff," said Matt Cozzens, co-owner of Traverse City's 7 Monks Taproom. "If there's no seats, there's no seats."
Restaurants and bars must also install physical barriers, such as sneeze guards and partitions at cash registers, bars, host stands, and other areas where it is difficult to maintain 6-feet of social distancing.
Are restaurants ready?
They're scrambling. Some may not reopen at all, Tkach said, either because they can't staff up and buy supplies in time, or because owners decide the rules for reopening are too onerous.
Kitty Cole, who works at The Villager Pub in Charlevoix, said the restaurant's staff began mobilizing soon after Whitmer made her announcement on Monday.
By Friday, they must locate masks for servers, reconfigure the restaurant's seating, and call back staff members who have been off the job for months.
"We're excited," Cole said, "but it only gives us three days to prepare. We've spent the past two hours discussing what we think it's going to look like and how do we get our staff back, especially due to a holiday weekend? We've got a huge checklist to get through in the next couple days."
Do I have to wear a mask at an open restaurant?
Yes, although you won't face criminal penalty if you don't, and obviously you won't be expected to wear one while eating. More likely, the restaurant will ask you to leave if you don't comply.
Whitmer's new order, like other recent versions, requires any individual who can "medically tolerate" a face covering to wear a mask, scarf, bandana or handkerchief in any enclosed public space, which will now include northern Michigan restaurants.
However, the new order notes that "an individual may be required to temporarily remove a face covering upon entering an enclosed public space for identification purposes or while seated at a restaurant or bar."
Restaurants and bars that reopen must require hosts and servers to wear face coverings in the dining area, and employees must also wear a face covering and gloves in the kitchen area when handling food.

Tkach said many establishments may go above and beyond Whitmer's reopening requirements to show would-be customers that they're serious about customer health and safety.
What happens if a restaurant worker gets COVID-19?
Restaurants must close "immediately" if an employee shows multiple signs of COVID-19 — such as fever, shortness or breath or cough — and perform a "deep clean."
An employer must inform all employees if they learn that anyone, including an employee, customer or supplier, with a confirmed case of COVID-19 has visited. And any employee with a confirmed diagnosis must have a doctor's written permission to return to work.
Like all businesses allowed to re-open, owners must conduct a daily entry self-screening protocol for all employees that must include a questionnaire covering symptoms and suspected or confirmed exposure to people with possible COVID-19.
Which retailers can open?
Retail stores of all types will be able to open in northern Michigan and the Upper Peninsula on Friday, and they'll probably look a lot like grocery and hardware stores that have already implemented new safety protocols.
Whitmer's order requires retail outlets to limit customers based on their size: Smaller stores with less than 50,000 square feet of customer space must limit occupancy to 25 percent, while larger stores can only allow four people per 1,000 square-feet and must also create special hours for older shoppers, pregnant women and those with chronic medical conditions.
At the entrance, retailers must mark 6-foot distances for possible lines, post signs reminding customers of "their legal obligation to wear a face covering" inside and telling them not to enter if they are or have recently been sick.
Inside, retailers must install physical barriers — such as plexiglass — at checkout or other areas where customers interact with employees and adopt new cleaning protocols.
Can I book a hotel or AirBnB for the weekend?
If you're not an essential worker, no. The order does not allow short-term rentals to reopen. But if you own a second home Up North, you can travel there.
What about offices?
Whitmer's new stay-at-home order also allows office spaces to reopen in northern Michigan and the Upper Peninsula, "but only to the extent that such work is not capable of being performed remotely."
Offices that reopen will be subject to new health and safety requirements. Like all businesses, they will be required to screen employees each day for possible symptoms or exposure to COVID-19, and employers must notify employees if a customer, supplier or other visitor is later confirmed to have had COVID-19.
Beyond that, office managers must assign dedicated entry points for all employees, require face covers in shared spaces like restrooms and hallways, increase spacing between desks, turn off water fountains.
They must also disinfect high-touch surfaces such as whiteboard markers and provide employees with disinfecting supplies to wipe down their work stations at least twice a day.
How will the state enforce these new rules?
Whitmer's new stay-home order again makes clear that residents are not subject to criminal penalty for failing to wear a mask in an enclosed public space.
But her new workplace safety rules are enforceable by various state departments and have the "force and effect" of previous regulations. That means businesses could be fined or sanctioned for failing to comply with the new rules but can challenge any penalties through an administrative review process.
Any business that violates the new rules "has failed to provide a place of employment that is free from recognized hazards that are causing, or are likely to cause, death or serious physical harm to an employee" as defined by the Michigan Occupational Safety and Health Act, according to the order.
Under that existing law, employers who receive a citation for a serious violation can initially be fined up to $7,000 for each instance. Repeat violations are punishable by up to $70,000, and violations that cause the death of an employee can lead to up to one year in prison.
We're not just a news organization, we're also your neighbors
We've been there for you with daily Michigan COVID-19 news; reporting on the emergence of the virus, daily numbers with our tracker and dashboard, exploding unemployment, and we finally were able to report on mass vaccine distribution. We report because the news impacts all of us. Will you please support our nonprofit newsroom?