Who pushed $20M grants that help ex-GOP chair? Michigan records left blank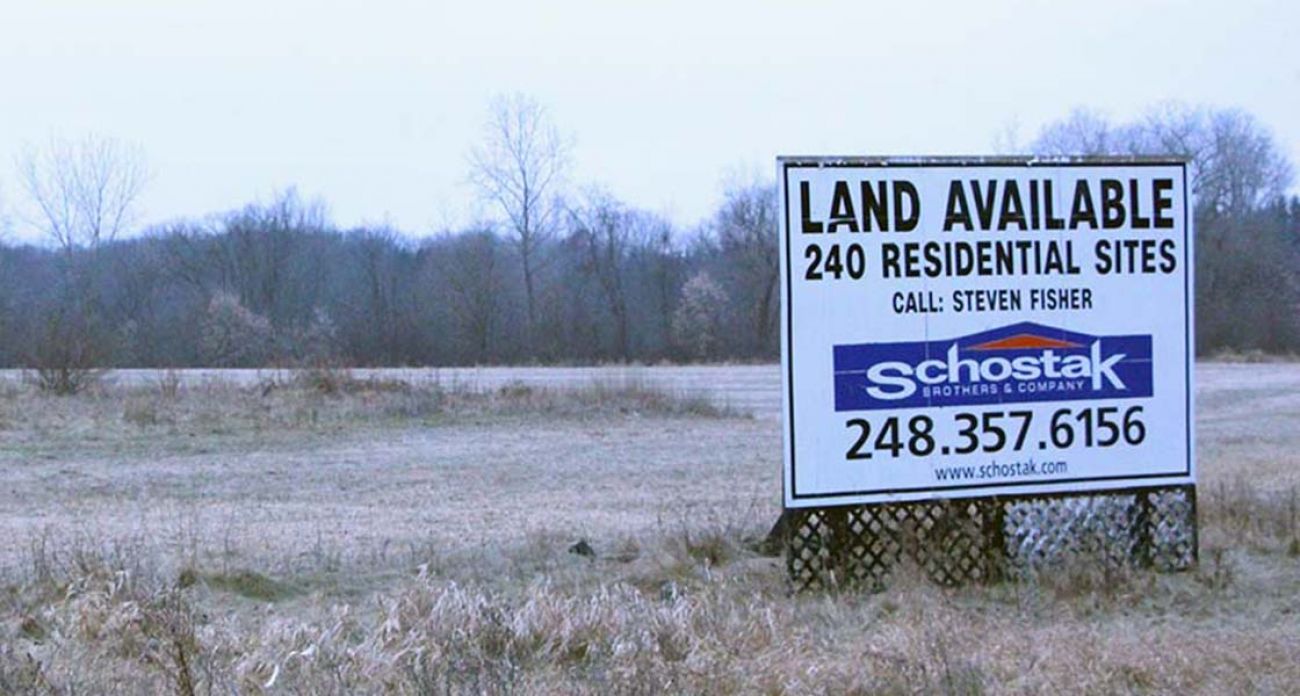 Feb. 12: Whitmer changes course, blocks $10M grant that helps former GOP chair
Feb. 1: Gov. Whitmer rips Republican pork deals, but won't block them
Update: Arlan Meekhof takes credit for steering grants to help ex-GOP chair's firm
Update: Suburban leader wants Dana Nessel to probe $20M to help ex-GOP chair
In the last two years, Michigan lawmakers slipped $20 million in grants for water and sewer lines into billion-dollar spending bills.
Both times, first in 2017 and again on the last day of the Legislature's lame duck session in December 2018, little documentation accompanied the grants after they were approved by lawmakers.
Unlike other "special grant proposal" forms filled out by lawmakers, the names of the sponsors of the utility line grants are blank and there's no indication why the funding is necessary.
Those details may be missing. But the grants' main beneficiary is known: Bobby Schostak, former chairman of the Michigan Republican Party, who has raised hundreds of thousands of dollars for his party and its political candidates.
The grants will fund utility work to support development on largely vacant land in Salem Township near Ann Arbor, about a third of which is owned by Schostak's company, Schostak Brothers & Co.
Related: Michigan lawmakers award $10M for project benefitting former GOP chair
Related: Michigan laws shield details of $10M grant to help ex-Republican chair
State Rep. Donna Lasinski, D-Scio Township, represents the area and has tried – and failed – for two years to get answers about which lawmakers pushed for the grants.
"I don't think it was (that) no one wanted to take credit, I think no one wanted to take blame," she said.
Bridge Magazine reviewed three dozen special grant proposal forms, and almost all listed sponsors.
The vast majority fund community projects such as fixes to an armory in Owosso, bridge repairs in Alpena, money for school safety in Van Buren County and parks in Inkster and Rochester Hills.
The money for water and sewer lines in Salem Township is also unique because it will directly benefit a private developer – and because elected officials in the community such as Lasinski didn't request the money.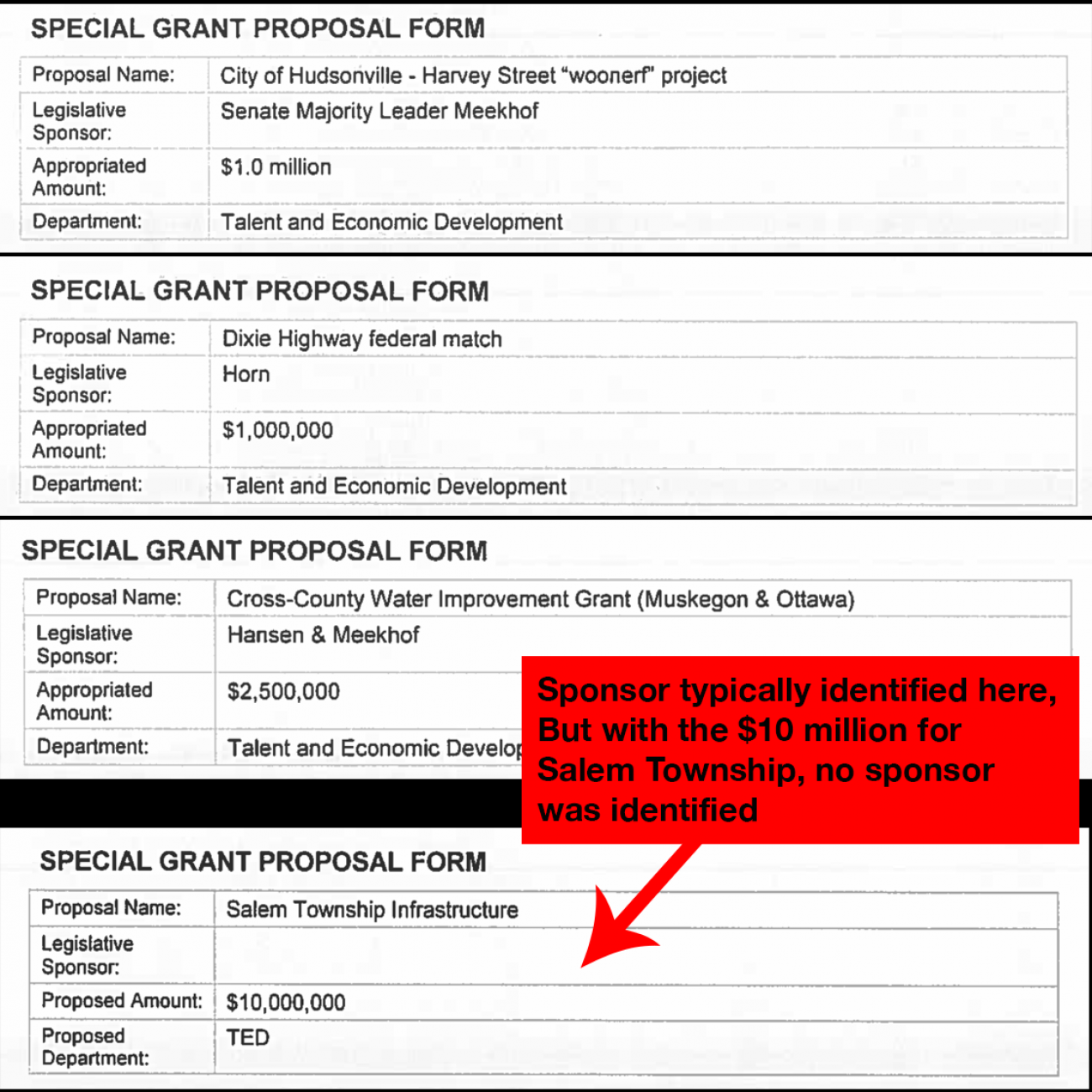 Township fought project
Read the grant form for the project, however, and it appears Salem Township officials support spending public money to bring the lines to an area along M-14 near Gotfredson Road.
The 2017 form lists Salem Township Supervisor Gary Whittaker as the contact.
The township not only did not initiate the request for money, it has fought Schostak for years, sometimes in court, over bringing public utilities to the property.
But Salem Township has begun spending the 2017 grant money on preliminary engineering work, Whittaker said.
"I just feel we'd be in a lawsuit if we said no," he told Bridge.
There is no form for the 2018 grant approved in December, and state officials said there likely wouldn't be one because it's a continuation of the 2017 grant.
Since Bridge first reported on the grants last week, several lawmakers have denied sponsoring the grants, and none has identified themselves as the sponsor.
Lasinski, the state representative, said she believes the form was intentionally kept blank because of Schostak's ties with the Republican Party.
He served as chair of the state party from 2011 to 2015 and is CEO of Schostak Brothers.
The company owns over 560 acres of the land slated for development that would be serviced by the water and sewer lines funded by the $20 million in grants. Whittaker said the total cost will be $30 million, with developers expected to pick up the balance.
Public records and the Schostak Brothers' website indicate the company plans 800 homes north and south of M-14 and "big box" retail, according to public records and information from the company's website.
Schostak told Bridge Magazine this month the grants will help bring jobs and tax revenues to the community.
"We raised (the grant) as an option with state policy makers and appreciate their support for this kind of infrastructure and economic development project that can help strengthen the community and support families and schools," he wrote Bridge in an email.
Grants have been rare
For much of the last 20 years, grants like those approved in 2017 and 2018 have been rare.
There was either little money in the state budget or a Democrat-Republican split between the governor and Legislature made such special grants difficult to pass.
But in the last few years, Michigan has had budget surpluses – and single-party leadership of Lansing, with Republicans controlling both the Legislature and governor's office since 2010.
That's led to dozens of grants and nearly $200 million in spending on parks and roads and museums, all pet projects of different legislators.
Related: Michigan lawmakers dole out $1B in wee hours, lame-duck spending spree
In the actual legislation, the grants are awarded to communities and the reasons are often vague: for "park improvements" or "cultural center" and identified geographically by the size of the population.
It's up to state budget officials to unravel the true intent, and legislators have obliged by submitting special grant proposal forms that detail how the grant money should be spent, said Kurt Weiss, a spokesman for the Department of Technology, Management and Budget.
The forms helped state officials, for instance, determine that money for "infrastructure" in Nottawa Township in Isabella County will help build sewers in unincorporated Beal City, where the state has found illegal discharges into a county drain.
Rep. Roger Hauck, R-Union Township, who grew up in Beal City, sponsored the legislation and has been proud to tout that grant.
So too, are most lawmakers: In almost every grant proposal reviewed by Bridge, legislative sponsors list their names.
The forms include projects from a Who's Who of Republican leadership from the last session: House Majority Floor Leader Dan Lauwers, Senate Majority Leader Arlan Meekhof, and appropriations committee chairs, Sen. Dave Hildenbrand and Rep. Laura Cox.
Only Lauwers is still in the legislature.
But the Salem Township project had no defender.
The state budget office provided Bridge with documentation for 37 grants in both 2017 and 2018.
All told, 33 of 37 grants had a legislative sponsor.
Beside the Salem grant, two projects had no backup documentation and a fourth, for a project in Wayne County, did not list a sponsor.
Public money for private project
Republican Rick Jones, who was in the state Senate in 2017 and 2018, said he was told by fellow Republicans the Salem Township grants would spur economic development and jobs.
He said he was not told the Schostak company stood to benefit.
Had senators known, it might have been a problem, said Jones of Grand Ledge.
"It bothers me that it was a last minute thing and there wasn't more discussion," Jones said.
There wasn't much discussion because there was so little time: On Dec. 21, most legislators didn't know about the grant's inclusion in a $1.3 billion bill until after midnight; it was approved about 8 a.m. that day.
And in 2017, the first $10 million grant was added at the last minute, eliminating the opportunity to review the grant – or any of the grants.
Lasinski, a Democrat, said the Salem Township grant would likely not have survived the more traditional legislative process that includes committee hearings and a review by legislative analysts.
"If this had come before a committee, there is very little likelihood …. this would have passed muster," Lasinski said.
She said she's upset the state will spend $20 million to "subsidize a for-profit developer and prefers them over other developers," she said.
"I do not see a public benefit there."
Nor does Larry Merrill, the executive director of the Michigan Township Association.
He said the state has typically only helped with infrastructure for residential development in cases of environmental safety, where wells are contaminated or septic fields have failed, for instance.
"From my perspective its very unusual," he said. "It's a private benefit. It's not a public benefit, water and sewer."
Former Gov. Rick Snyder vetoed only one grant in December, which would have funded improvements to a Kroger dairy plant in Livonia.
Snyder's reasoning for killing the funding: "It was $2 million for a specific private company," a Snyder spokesperson told reporters.
Snyder did not return messages seeking comment from Bridge.
We're not just a news organization, we're also your neighbors
We've been there for you with daily Michigan COVID-19 news; reporting on the emergence of the virus, daily numbers with our tracker and dashboard, exploding unemployment, and we finally were able to report on mass vaccine distribution. We report because the news impacts all of us. Will you please support our nonprofit newsroom?