The question isn't whether it will take a lot more money to fix Michigan roads. The question, according to an array of experts Thursday, is whether politicians have the will to do it.
At a Solutions Summit sponsored by The Center for Michigan (the nonprofit organization that includes Bridge Magazine) and Public Sector Consultants in Lansing, speaker after speaker said bluntly that state roads will continue to deteriorate without an influx of somewhere from $2 billion to $2.5 billion more a year.
Related: Michigan Senate panel rejects Whitmer gas tax, as budget dance continues
New Democratic Gov. Gretchen Whitmer has proposed a 45-cent increase in the gas tax, which would raise an estimated $2.5 billion a year and give Michigan the highest gas tax in the country. Many have balked at the cost, including a number of Republican leaders.
And a poll released this week indicates three out of four Michigan residents oppose Whitmer's gas tax proposal.
"I've never seen a time when the public was willing to tax themselves for anything," Bob Emerson, former Democratic Senate Minority Leader, said at the roads forum, which drew about 70 people to the Lansing Center. "But clearly we can see that there is a problem. I don't think the public will ever accept that it's needed."
About 40 percent of Michigan roads are considered to be in poor condition, according to Jeff Williams, CEO of Public Sector Consultants. In heavily traveled Grand Rapids and Detroit, half of roads are rated to be in poor condition.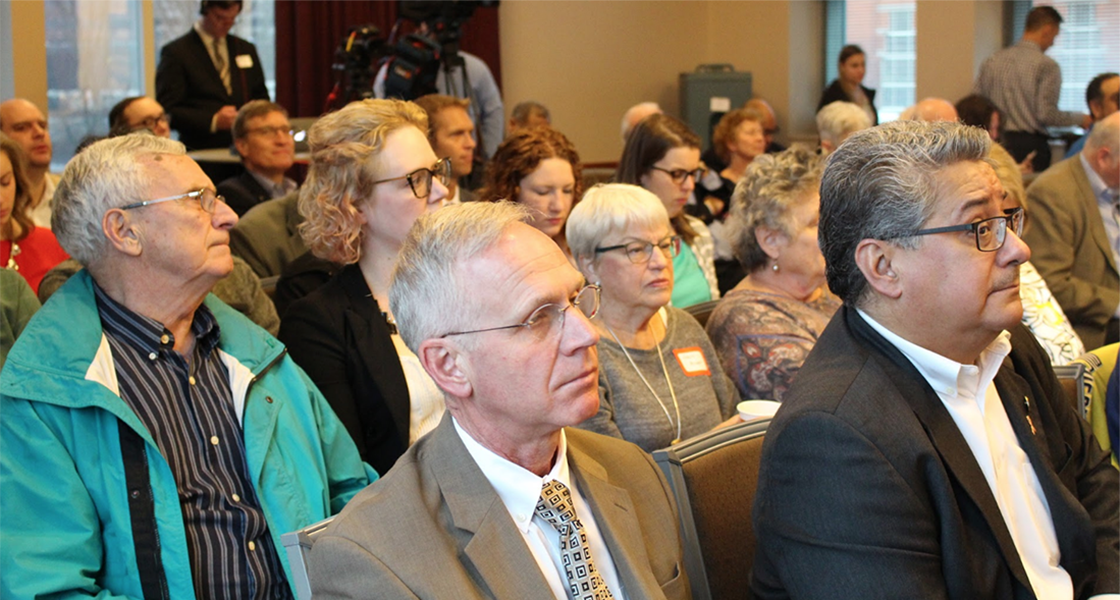 A crowd of about 70 people attended a panel discussion Thursday about road funding in Lansing.
"Roads are a daily reminder about multiple choices we've made that span years and even decades," Williams said. "In 2008, there was a proposal to increase gas tax by 3 cents over three years," Williams said. That was the funding level needed to fix road issues then. The proposal failed, and now the state needs a 45-cent gas tax increase (unless $2.5 billion can be raised from other sources) to get Michigan's roads in decent shape.
Michigan invests less in its roads per capita than any other state in the Midwest.
Related: Watch video, read quotes from experts at our Detroit roads summit
Related: A deal to fix Michigan's roads looks to roll into summer, at least
"How did we get here? It's a lack of funding," said Andy Schor, Lansing mayor and former Democratic state legislator. "It's not a surprise to anyone."
One political problem with road funding is that the Legislature appropriated an additional $1.2 billion in 2015. The public doesn't understand why that didn't fix the problem, said state Rep. Jeff Yaroch, R-Richmond.
"State government is broken," Yaroch said. "I don't trust our state government, and I'm here (in the Legislature). This is not a Republican or Democratic thing. Until we give the taxpayers evidence we're doing things right, I don't think they'll want to give us more money."
Yaroch argued that the state should start by using existing "money hiding in the budget" for road funding. "There are needs and wants," he said. "We have $10 million for arts and culture. I'm sorry, but if you blow out your tire on the way to the art museum, you're not seeing art that day. So one's a need and one's a want."
While the $10 million Yaroch cited is just .04 percent of the $2.5 billion additional annual funding needed for roads, the representative said he believes there are many such examples that should be excised from the budget before asking taxpayers for more money.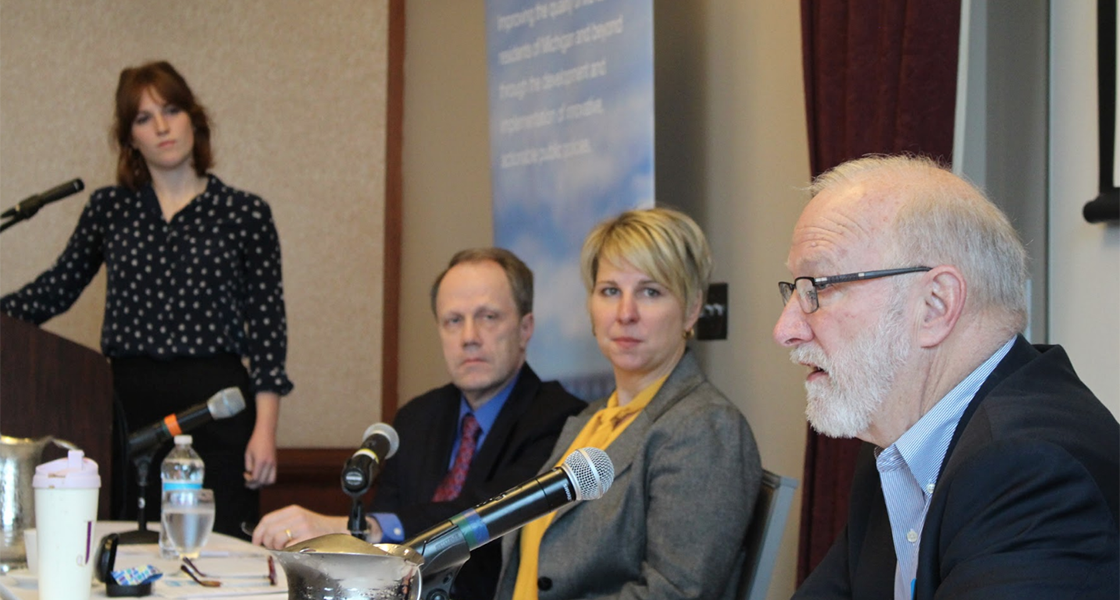 A panel discussion in Lansing examined both the need for more road funding, and the political difficulty of getting that funding. Bridge reporter Riley Beggin leads one of the expert panels.
Julie Bennet, senior vice president of Public Sector Consultants, said the 2015 road funding compromise "was a missed opportunity that wasted a lot of political capital. And now we're back to the well.
"My concern is that we're going to end up with (another) political compromise," Bennet said. "It's not a political problem, it's an engineering problem."
Michigan Chief Deputy Treasurer Jeff Guilfoyle: "A 45.cent tax is going to be unpopular, but that's the amount of money it takes."
Judd Herzer, infrastructure policy adviser for the governor agreed. "The average Michigander is paying $640 in car repairs as a result of our crummy roads," Herzer said. "To ask them to pay more for something that doesn't actually fix the problem is a nonstarter.
"The cost only goes up," Herzer said. "We have to do something today to hold off higher costs."
"We have reports upon reports sitting on shelves that all come to the same conclusion, we need more money, said Mike Nystrom, executive vice president of the Michigan Infrastructure and Transportation Association, a trade association. "(But) if we do another false fix, voters are going to be even more frustrated."
"This is an interesting test case for Michigan," said Michigan Chief Deputy Treasurer Jeff Guilfoyle. "A  45-cent (gas) tax is going to be unpopular but that's the amount of money it takes. Our roads are crumbling. Can we fix that problem in the light of the potential political unpopularity of raising taxes?"
Another Solutions Summit about Michigan Roads will be held in Grand Rapids from 9-11 a.m. April 25 at the Grand Rapids Chamber of Commerce