Black residents lag on COVID vaccines. Kent County offers one solution.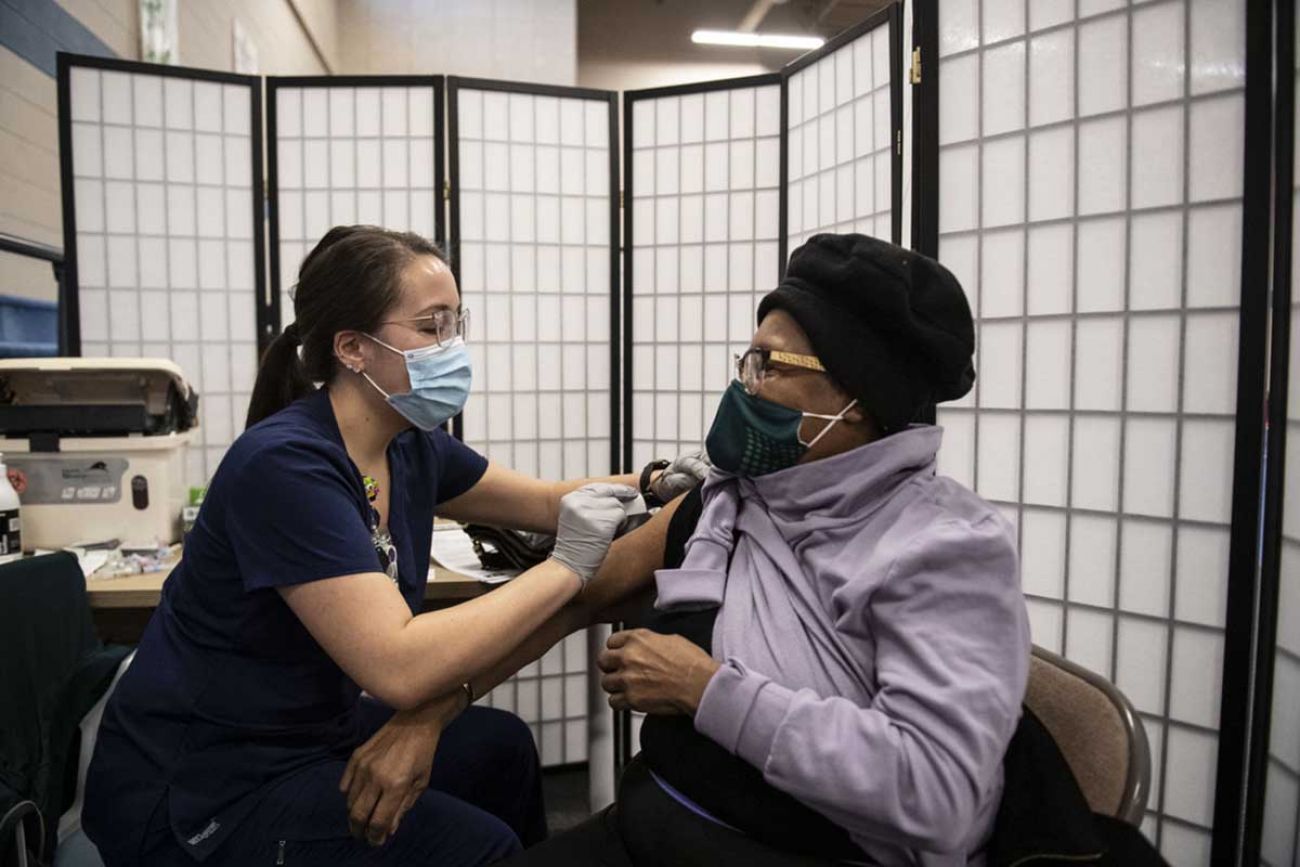 Grand Rapids resident Mary Brown got her COVID-19 vaccine at a Grand Rapids Baptist church. (Photo by Taylor Ballek, Spectrum Health)
GRAND RAPIDS—One by one, sometimes in pairs, a steady stream of older adults filed into a gym at a large Baptist church south of downtown and rolled up their sleeves.
"It's a little bit of comfort coming to a church like this for a vaccine," said Doris Robinson, 70, a Black resident of nearby Wyoming. "It's like home."
Robinson was among more than 300 area residents receiving a COVID-19 vaccine at New Hope Baptist Church one day in late February, many of them African American.
Over the course of a few weeks, nearly 3,000 residents aged 65 or older were vaccinated at New Hope, 47 percent of them Black and 7 percent Hispanic, according to surveys people filled out at the site. Some came by bus. A few walked from a nearby senior housing complex near the church, which has one of the largest Black congregations in the city.
A few miles south, more than 500 older adults converged in recent weeks on a senior center in Wyoming for COVID-19 shots. At this site, 19 percent of those vaccinated identified as Hispanic and 15 percent as Black.
The high participation rates at the two clinics were no accident ─ they were the result of deliberate actions taken by health officials in Kent County to close racial and other disparities among groups that have lagged far behind Michigan's white residents in getting vaccinated against COVID.
"We are trying to meet people where they are," said Teresa Branson, deputy health administrator at the Kent County Health Department.
"We know these are recognized places," she said of the church and senior center locations. "People like to go where they are comfortable."
What the numbers say
As of March 4, just 6.1 percent of Black residents in Michigan had received at least one dose of a COVID vaccine, compared to 11.8 percent rate of whites, according to the Michigan Department of Health and Human Services. (A statewide breakdown was not available for Hispanic residents.)
Michigan's sub-par vaccination rate for Black residents mirrored national data, which found the percentage of Black and Hispanic people getting COVID-19 shots trailed that of white people.
Several explanations have been offered for the disparities.
Health experts and community advocates have noted the historic mistrust of government health initiatives among some African Americans stemming from discriminatory practices, including the decades-long Tuskegee medical experiment that used unwitting Black Alabama sharecroppers as human guinea pigs in a study of untreated syphilis.
At New Hope, pastor Howard Earle cited a web of factors beyond vaccine hesitancy that play a role ─ including lack of transportation, access to reliable internet, and alienation from the health care system.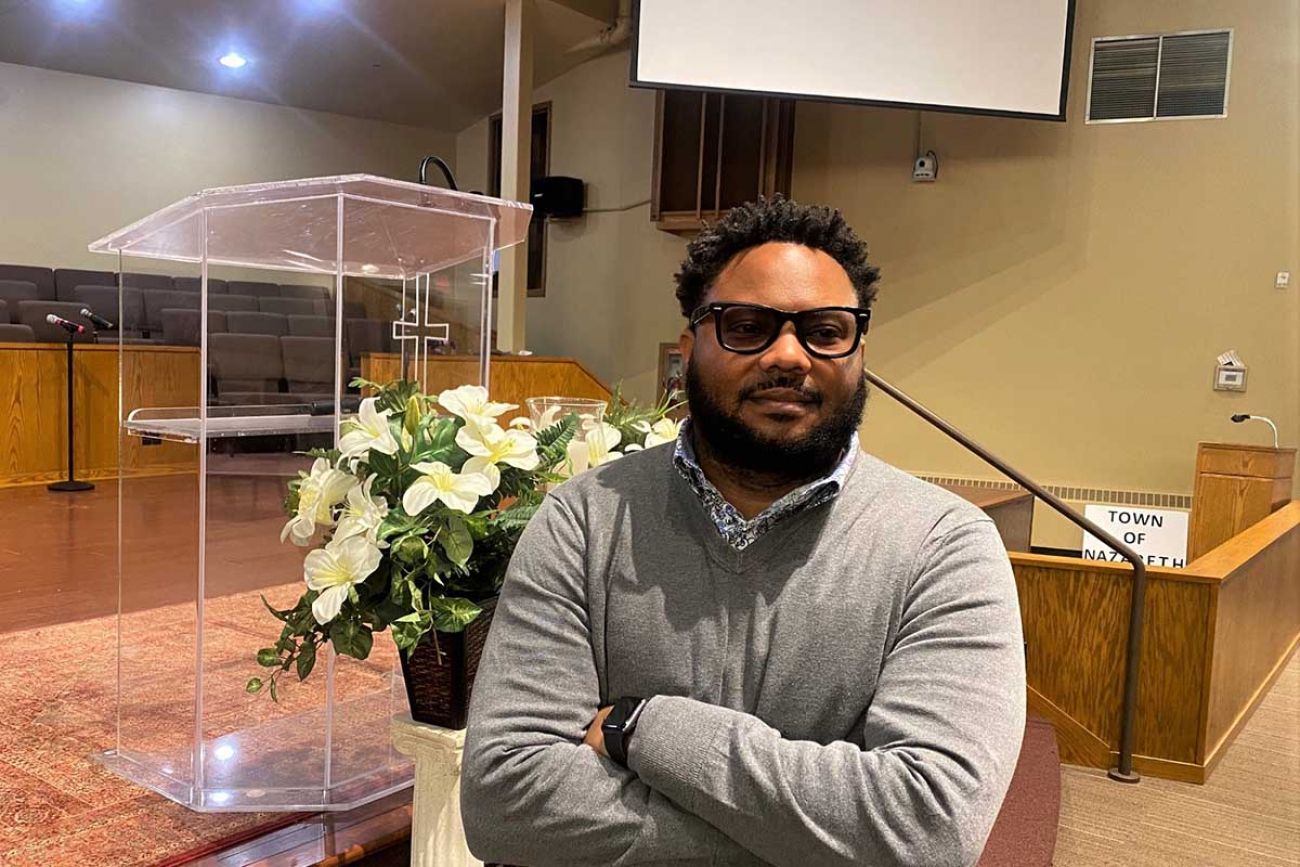 New Hope Baptist Church pastor Howard Earle: "We know there are people who slip through the cracks." (Bridge photo by Ted Roelofs)
Studies find that Black adults usually must travel farther than whites to COVID vaccination sites, even as Black households are more than twice as likely to lack access to a car. And older Black and Hispanic adults are less likely to have access to a computer — often essential to COVID vaccine registration — compared to whites.
There is also evidence to suggest that when African Americans have similar access to vaccines they get vaccinated on a par with other groups. This happened nationally when cost was removed as a barrier to child vaccinations for M.M.R. (measles, mumps, rubella) and polio, and in flu shots among Detroit seniors with Medicare Part B plans that cover most vaccines.
A national poll in December found 62 percent of Black respondents "probably" or "definitely" would take a COVID vaccine. That was up from 50 percent in September, but well below the 71 percent of overall repondants who said they intended to get a shot.
More recent polling, following months of mass vaccines across the U.S., shows rising public support. A statewide poll released March 2 found 71 percent of African-American voters said they would get a COVID vaccine, identical to the 71 percent of white voters who said they would.
Going directly to underserved communities
Sitting in his church office, Earle told Bridge Michigan "we know there are people who slip through the cracks. We want to make sure they have access to the vaccine."
Earle said there's a pressing need to do just that, given that Black residents in Michigan have died at a greater rate than whites from the coronavirus. According to KKF, formerly the Kaiser Family Foundation, Black Michigan residents comprise 23 percent of the more than 15,500 people whose deaths are linked to COVID — while representing just 13 percent of the state's population.
So Spectrum Health, West Michigan's largest hospital system, reached out to Kent County health officials about forging partnerships to vaccinate more people of color by targeting their communities for vaccination sites.
Which is how they settled on New Hope Baptist Church ─ with more than eight decades of history, deep connections to the Black community and its location just a few blocks from a primary bus line.
New Hope sits in the 49507 zip code, where 24 percent of the population lives below the poverty line, highest in the city. About 36 percent of residents in that zip code are Hispanic, 31 percent Black and 27 percent white. The area also ranked third highest in the number of COVID cases out of more than two dozen zip codes in Kent County, according to the county health department.
The area around the Wyoming senior center is similarly diverse. Officials worked there with representatives in the Hispanic community to bolster registration in a population in which language and fears surrounding immigration status were thought to make some residents reluctant to sign up.
"Hesitancy plays a big part in why people don't get vaccinated," said Nastaciea Robert, Spectrum's operational lead for the community vaccine outreach.
"If we don't meet people where they are, not only do we not have the opportunity to vaccinate, but we are not addressing the health disparities in these communities."
Spectrum, which is based in Grand Rapids, learned that lesson early.
White residents flooded first vaccination sites
The health system opened its first COVID vaccination site on Jan. 11 at a suburban office building about 15 miles southeast of downtown. According to Spectrum, 93 percent of people vaccinated through early March were white, with just 2 percent identifying as Black residents and 1 percent Hispanic.
Another vaccination site was opened at the DeVos Place Convention Center in downtown Grand Rapids in late January. Similar results: 89 percent of those vaccinated were white, compared to 3 percent Black residents and 2 percent Hispanic residents.
In each case, white residents were overrepresented, and other groups were underrepresented, given the demographics of metro Grand Rapids and Kent County.
Scott Stuart, a 66-year-old white man from suburban Grand Rapids, recalled his impression after working his way through the line to get his pair of COVID vaccine shots in January and February at the suburban office building. He estimated he saw a couple of hundred people in line for shots.
"I saw predominantly, if not exclusively older white people," he said. He wasn't sure if he saw a single African American getting a shot.
Stuart, a former attorney for Legal Aid of Western Michigan, speculated that the site's remote location, miles from public transportation, explained at least part of that disparity.
"I think not being on a bus line is huge," he said.
Spectrum took an unapologetically different approach when it opened a vaccine site at New Hope Baptist Church.
It reserved hundreds of vaccine doses for the community, then matched openings with lists of qualified registrants that were fed to the health department by a county church task force, the local NAACP and the Grand Rapids Urban League. New Hope and other Black churches also contributed dozens of names.
If that seems tilted to give Black residents and other underserved groups the first chance of getting a vaccine at these sites, Teresa Branson of the county health department said that was precisely the point.
"We really haven't shied away from saying that's what we are doing," said Branson, who has long been active in health equity efforts in Kent County.
It's a strategy that aligns with the Whitmer administration's use of a "social vulnerability index" to allocate vaccine doses across the state. A Sunday report in Crain's Detroit showed the state's 10 most populous counties received about 3,400 fewer first doses than they otherwise would have last week after the state applied the SVI formula, which factored race, poverty and other social vulnerabilities into vaccine distribution. Michigan Republicans have opposed using such considerations, saying vaccines should not be distributed according to race, gender, national origin, religion, sex or socio-economic status.
"We are racing to get vaccines in arms," Whitmer said last month. "We are racing to do it equitably, so we are protecting communities of color and we are protecting our most vulnerable."
In turn, some of the people vaccinated at New Hope Baptist Church have become trusted ambassadors for the vaccine.
Doris Robinson, for instance, the 70-year-old vaccinated at the church, said she encouraged friends to do the same.
"Two others who came today, it was because I told them about it," she said.
Laura Moody, a retired nursing professor and member of the Grand Rapids Black Nurses Association, estimates she's signed up 200 older adults, the majority Black residents, for vaccinations at New Hope.
She began by circulating word about vaccination registration on the Facebook page for her church, Brown Hutcherson Ministries. She and her husband, Nathaniel Moody, a pastor at the church, have promoted COVID vaccination for weeks.
"Most of the people in our church over 65, I called them personally," Laura Moody said. "I think most of the people in our church that age, they have been vaccinated.
"Some of them were hesitant. Some of them said, 'I want to wait until more people get the shots.' Then they called me back and said, 'Go ahead, sign me up.'"
Moody also reached out to the Black Nurses Association, and to her Black college sorority group.
The common denominator in her outreach, Moody said: "People know you. That makes all the difference."
Even as she spoke to Bridge, she collected converts. "Since I have been on the phone," she said at one point, "I have gotten three text messages from people asking about the shot."
Moody, though, has yet to convince her own sister, Grand Rapids resident Theresa Johnson, whose concerns underscore a broader challenge.
"She's tried calling me. Every time she calls me, I tell her 'I'm not ready,'" said Johnson, 67, a retired General Motors worker.
Johnson said she harbors suspicions about the government, including the U.S. Food and Drug Administration's approval process that has cleared three vaccines for emergency use.
"I think the FDA is in bed with everybody," Johnson said. "When you read about the stuff that happens to people after they get the shot, it's scary." (Side effects on the first two approved vaccines, Pfizer/BioNTech and Moderna, have been relatively mild.)
Johnson added that she has asthma, which only deepens her anxiety.
"You don't know what's in the shot," she said.
Helping refugees
Kent County health officials also approached representatives of the region's South Asian refugee community, which has its own considerable barriers to vaccination. This group includes Vietnamese, as well as refugees from Bhutan and Myanmar.
Many in this group, especially older adults, speak little English, and have a faint grasp of a health care system that can be intimidating even to lifelong residents, and which is largely online.
"Without help, they are going to be at the end of line, if they even know how to get there," said Minnie Morey, executive director of the West Michigan Asian American Association.
The county reserved more than 180 vaccine doses for this group — who were then registered with the help of community advocates. In late February, 186 people in the community received COVID shots at a public clinic south of Grand Rapids.
Those lining up included Bedha Dahali, 77, and his wife, Thaga, 71, refugees from a minority ethnic group in Bhutan who arrived in the United States in 2010. They are among approximately 500 Bhutanese refugee families in West Michigan.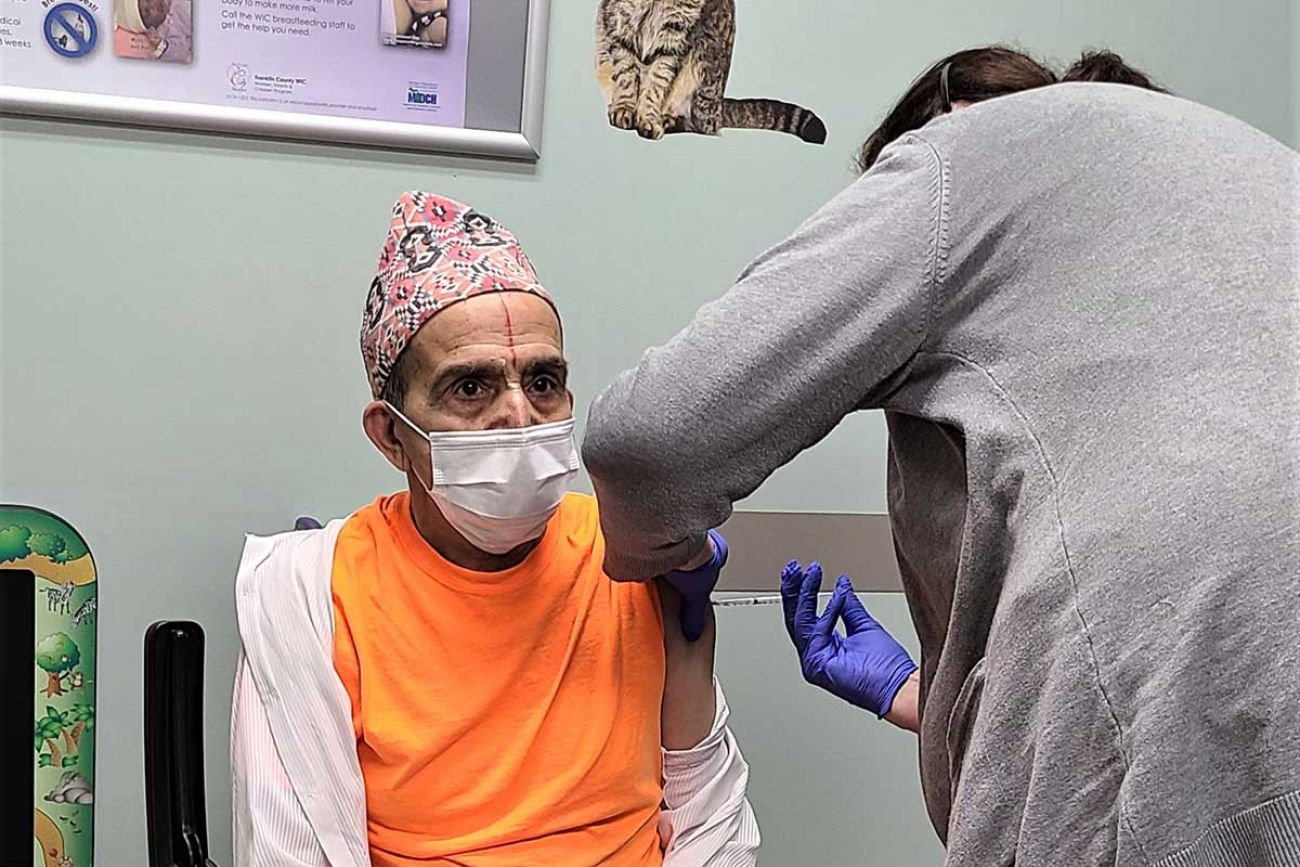 Bedha Dahali, a refugee of Bhutan in south Asia, is among the refugees vaccinated at a Kent County clinic. (Courtesy photo)
Through an interpreter, Bedha Dahali explained in his native Nepali what he had heard about COVID-19.
"I knew they told us to wear masks," he said. "It is a dangerous virus. Don't shake your hand."
But he had no clue how to get signed up for vaccination, and so was glad for the help.
More clinics for refugee and immigrant communities are in the works, including one aimed at refugees from Sudan and Congo. It's also lining up other possible community sites aimed at underserved populations, including one in northern Kent County.
Back at New Hope Baptist Church, Mary Brown, 70, is among church members helping spread the word. The Grand Rapids resident got her first shot back in January — a decision she said she made without hesitation.
"I figure it gives you a fighting chance," she said.
"Now I tell everybody I see: 'Did you get vaccinated?
"You know," she will say, "they are doing it at our church."
Only donate if we've informed you about important Michigan issues
See what new members are saying about why they donated to Bridge Michigan:
"In order for this information to be accurate and unbiased it must be underwritten by its readers, not by special interests." - Larry S.
"Not many other media sources report on the topics Bridge does." - Susan B.
"Your journalism is outstanding and rare these days." - Mark S.
If you want to ensure the future of nonpartisan, nonprofit Michigan journalism, please become a member today. You, too, will be asked why you donated and maybe we'll feature your quote next time!