Michigan Health Watch is made possible by generous financial support from the Michigan Health Endowment Fund, the Michigan Association of Health Plans, and the Michigan Health and Hospital Association. The monthly mental health special report is made possible by generous financial support of the Ethel & James Flinn Foundation. Please visit the Michigan Health Watch 'About' page for more information.
Update: Michigan to spray 14 counties to combat deadly EEE mosquito virus
Mosquitoes carrying the deadly Eastern equine encephalitis have driven at least one Friday night football game in Michigan to the daylight hours.
Superintendents from Kalamazoo County — the epicenter of an outbreak that has claimed three lives in Michigan and seriously sickened five other residents — agreed to reschedule school activities that would normally take place between 7 p.m. and 7 a.m., when Coquillettidia perturbans, also known as the cattail mosquito, is most active.
At least four games were canceled or rescheduled Thursday evening. And Loy Norrix High School in Kalamazoo said it is bumping its Friday night varsity football against Kalamazoo Central High to 5 p.m., two hours earlier than originally scheduled.
"Although sports and outdoor activities are an important part of a child's education, nothing is more important than their health and safety," according to a news release announcing the decision.
The scheduling changes follow recommendations by the Kalamazoo County Health Department and the Michigan Department of Health and Human Services. The county and state health departments stopped short of declaring a public health emergency, instead offering strong language on the recommendations, said Penny Born, manager of the personal health division at the county health department.
"We don't want to pull that card as a government body; we really want to be an adviser," Born said.
The extremely rare disease has spiked this year in Michigan's southwest corner, and not only in humans. It's also becoming "widespread" in animals, including horses and white tail deer, according to Kalamazoo County public health officials.
State health officials have confirmed one human case each in Cass, Calhoun, Berrien, Van Buren and Barry counties and three cases in Kalamazoo County. Three of those people have died.
Previously, just seven cases had been reported in Michigan in a ten-year period ending in 2018.
Three states had reported more human cases: Florida with 13 cases, Massachusetts with ten cases, and New York with eight cases, according to the Centers for Disease Control and Prevention.
Across the United States, 72 human cases have been confirmed, and only Florida, Massachusetts and New York have reported more cases than Michigan this year, reporting 13, 10 and 8 respectively, according to the U.S. Centers for Disease Control and Prevention.
As of Friday evening, EEE had been confirmed in 21 animals from 11 counties: Barry, Berrien, Calhoun, Cass, Genesee, Jackson, Kalamazoo, Lapeer, Montcalm, St. Joseph, and Van Buren. There is an EEE vaccine available for horses, but not for people. Additional animal cases are under investigation.
Just six human cases were reported in the country all of last year, and five in 2017.
"Some years, the conditions aren't favorable, and we'll go four or five years without seeing Triple E."  -- Vern Johnson, Kalamazoo County's environmental health division chief.
In Michigan, public health officials are encouraging residents to avoid outdoor activities from dusk to dawn until the first hard frost, when the mosquitoes die.
The disease, also called "Triple E," is fatal in one in three people who contract the illness. Even for those who survive, the disease can cause severe and permanent brain damage. Adults 50 and older and children are at greatest risk.
The reasons for the spike are unclear, and state health officials say they are working with the state departments of agricultural and natural resources to track the spread.
What is known is that the virus is spread to humans in a "dual mosquito system."
Most often, the virus stays within a species of birds and a species that doesn't feed on humans. But the cattail mosquito, which emerges in June and July, can become the "bridge vector" some years because it feeds on birds, horses, white tail deer and other mammals, including humans. It transmits the disease when it feeds on an infected animal, then passes it along to eits human host.
In Michigan, 24 months of wet weather has left its bogs and red cedar swamps as prime real estate for mosquito breeding grounds, said Vern Johnson, Kalamazoo County's environmental health division chief.
"Some years, the conditions aren't favorable, and we'll go four or five years without seeing Triple E," he said. The county's mosquito surveillance efforts are focused on keeping watch against a different kind of mosquito, the one that carries the Zika virus. 
For that reason, it's unclear just how much the EEE-carrying cattail mosquito population has grown this year, or how much it has been infected by the virus.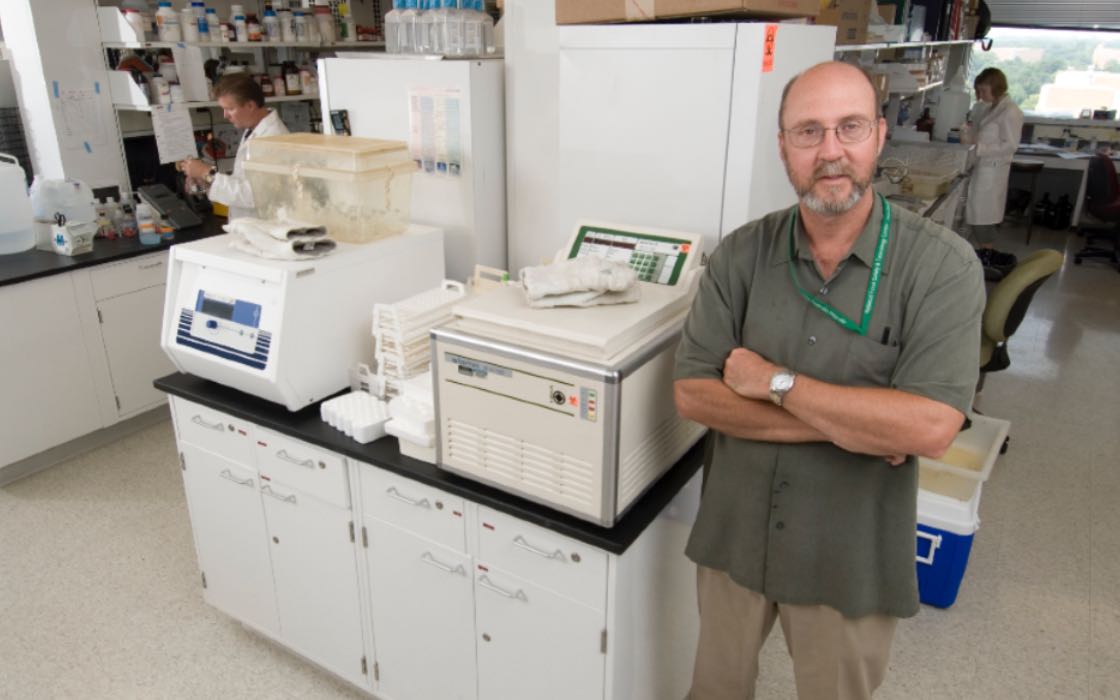 Edward "Ned" Walker, a professor of entomology and microbiology at Michigan State University, said he expects the number of Michigan cases this year to double before the first hard frost that will kill the disease-carrying mosquitoes. (Courtesy, Michigan State University)
No money for testing
Not only is it common in the county's wet areas, Johnson said, the county doesn't have the resources to test for EEE.
That means scientists aren't able to develop reliable models to predict the next outbreak, said Edward "Ned" Walker, a professor of entomology and microbiology at Michigan State University.
Compare that to what public health officials know about West Nile, another potentially deadly mosquito-borne virus. Because of mathematical modeling, it's clear that West Nile cases spike after a hot, dry spring, and drop after a cold, wet spring.
Because of the lack of resources, the state doesn't routinely test for mosquitoes carrying EEE, relying instead on Walker's lab at MSU, according to state health department spokesman Bob Wheaton.
And Walker's team, in turn, relies on the dead mosquitoes sent to him in special tubes by mosquito control programs in just four counties in Michigan's thumb: Midland Bay, Saginaw and Tuscola.
Walker's tests for five mosquito-borne diseases, including EEE, in thousands of mosquitoes sent each year from those areas, but they're not areas known for EEE.
That leaves most of the state, including areas where the terrain breeds the cattail mosquito, with no early warning system for another deadly outbreak of EEE, Walker said.
"There's no surveillance, really. It's a passive waiting for the veterinarian who calls saying 'I think I have a Triple E horse' or that first human case," he said.
Such an early warning system would "cost money, management and time," he added. "We talk about it, but it never seems to absorb into the thought processes of those who make those decisions."
Walker said he expects cases of EEE in Michigan to double or more before the first frost, which will kill off the mosquitoes for the winter. 
For now, officials recommend residents stay indoors when possible between dusk and dawn and, when outside, wear long sleeves and use insect repellent that includes DEET, picaridin, IR3535, oil of lemon eucalyptus or para-menthane-diol, or 2-undecanone. 
The most important step now is "a marked emphasis on personal protection," said Mary Grace Stobierski, the state's public health veterinarian.
It may seem a stretch to cancel games or outdoor activities, she said, but three people have died already. Even those who survive EEE can have permanent neurological damage, she noted.
"This is a very rare disease, but it's a disease with very dire consequences," she said.