Michigan is burning through EMTs and paramedics, leaving shortages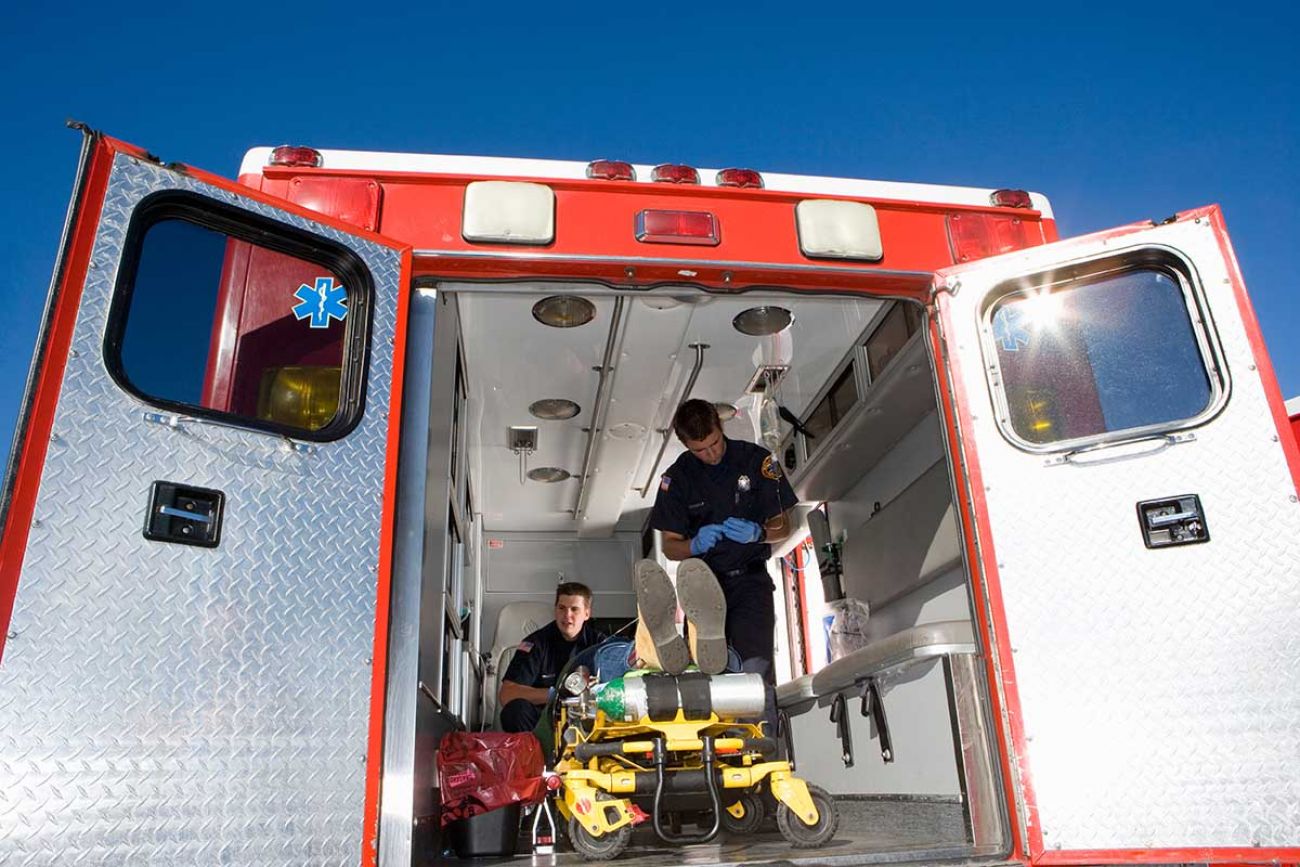 Paramedics undergo a lot of training for a job that is stressful and doesn't pay a great deal of money. (Shutterstock)
Sept. 29: Michigan budget boosts ambulance services slowed by worker shortage
In a remote pocket of the Upper Peninsula west of Marquette, Bay Ambulance Inc. normally counts on a staff of six paramedics to handle emergencies across 1,500 square miles of territory.
That's now down to four paramedics ─ a loss that can add critical minutes to emergency response times, while leaving the remaining staff scrambling to fill the void.
"We've been in this situation for the past year-and-a-half and unable to fill those positions," said Bay Ambulance Director Gary Wadaga. "We've got to get this fixed or we will get in big trouble."
Related:
Across the southern tier of Michigan, Emergent Health Partners provides emergency medical response for about a million residents in 14 counties. It is short by roughly 85 first responders of a full staff of 375, which the company acknowledges has slowed response times in cities like Jackson and Ann Arbor and along rural stretches of St. Joseph and Branch counties.
"In a rural area, it might normally take 15 to 20 minutes to get to a scene," said Emergent Health Partners president and CEO Ron Slagell. "Now, there's some people that might be experiencing a 30-minute wait."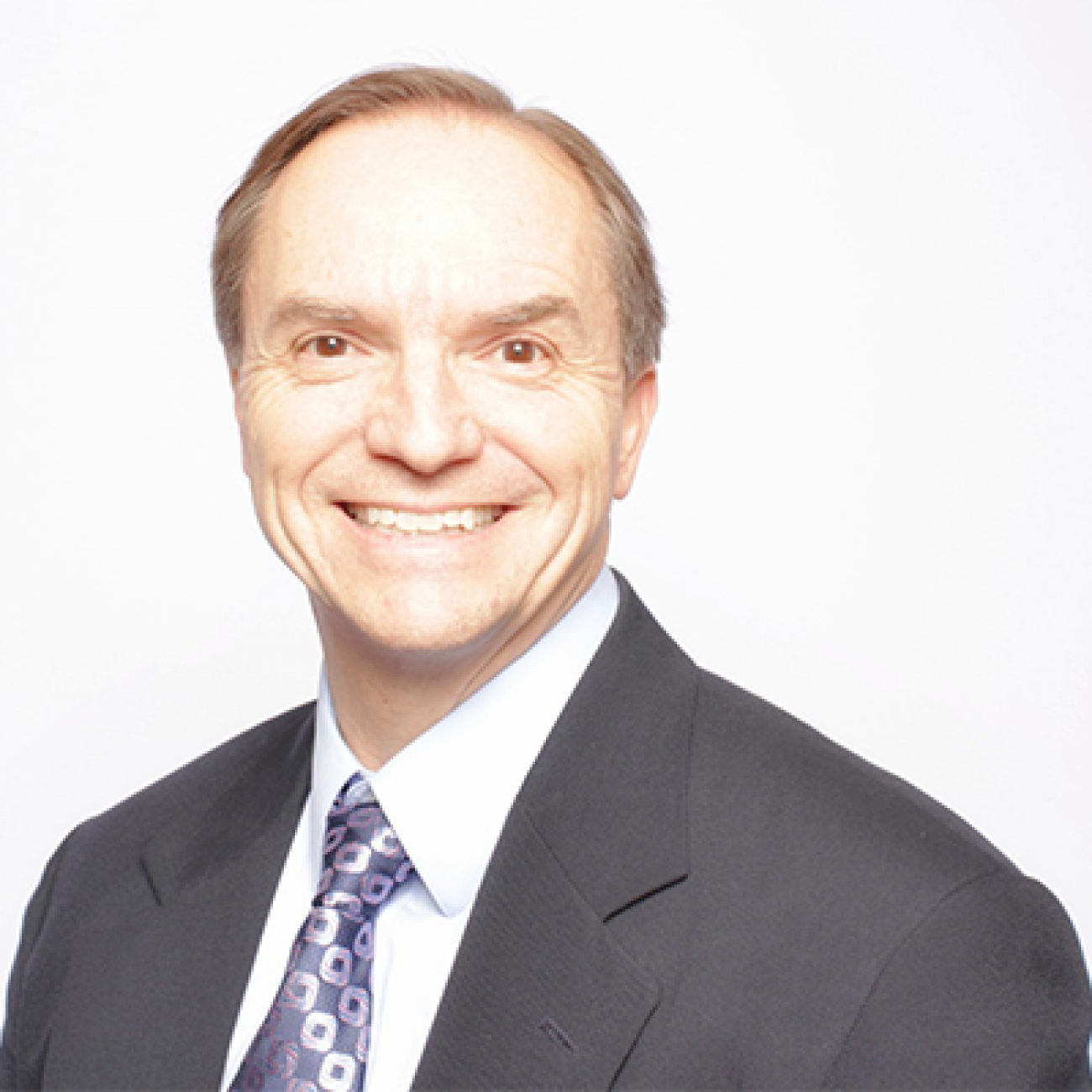 Ron Slagell, president and CEO of Emergent Health Partners in southern Michigan, said his ambulance service is short 85 medical first responders. (Courtesy photo)
The Michigan Association of Ambulance Services (MAAS), a trade association whose members provide about 60 percent of ambulance transports in Michigan, calculates there are more than a thousand openings for full-time paramedics and emergency medical technicians (EMTs) scattered across the state's ambulance network.
Emergency officials say it's a crisis that's been building for years, but has been made worse by the COVID-19 pandemic, with first responders (and potential recruits) showing more reluctance to endure long hours of stressful work that might pay on par with fast-food jobs.
"This has been going on for a long time," said Clark Imus, faculty coordinator for the EMS program at Kellogg Community College in Battle Creek, of a problem that extends beyond Michigan.
"Now it's at a point where people are burned out from the job and there's not enough in the pipeline coming in. People can see they'd be making less money than you do if you're flipping burgers at McDonalds."
Entry-level EMT's earn about $12 to $14 an hour, a wage that can amount to $30,000 a year or more because of the long hours they work. Beyond the low wages, Imus said prospective first responders also must weigh the time and cost of earning an EMT certificate ─ about $3,300 and 194 hours of training at KCC; investments that food-service or retail workers need not consider.
It cost far more to become a paramedic — $11,000 in tuition at KCC. Paramedic coursework takes nine to 15 months to complete and more than a thousand hours of classroom study and clinical training, including coursework in anatomy and physiology. Paramedics wages range from $14 to $20 an hour, but because they tend to work longer hours they can make about $45,000 to $60,000 a year.
The ABCs of paramedics and EMTs
Their pay, training and what they do:
EMTs
State requirement: 194 hours total training, including 162 classroom hours and 32 hours of clinical training.
Cost of training: At Kellogg Community College: $3,300
Pay: $12 to $14 an hour, about $30,000 to $35,000 a year
What they do: Basic life support
Paramedics
State requirement: 1,024 hours of training, including 524 classroom hours, 250 hours of clinical training and 250 hours of field internship.
Cost of training: At KCC, $11,000
Pay: About $14 to $20 an hour, annual pay from $45,000 to $60,000.
What they do: Advanced life support, including giving medications, inserting airway tubes and administering of manual heart defibrillation
Sources: Kellogg Community College, Michigan EMS regulations
EMTs are trained in basic, noninvasive medical interventions, including initially assessing and treating a patient for life-threatening injuries or illness. Paramedics are qualified to perform more advanced life support procedures such as heart defibrillation, inserting airway tubes or interpreting EKGs.
A decade or so ago, Imus said, the KCC paramedic program typically had an enrollment of 30 or more students. It has 18 this fall.
At the root of this shortage, according to MAAS executive director Angela Madden, is the reality that federal reimbursements for ambulance service under Medicaid or Medicare fall short of meeting agency expenses. According to Madden, Medicaid typically pays anywhere from 10 percent to 25 percent of that cost, while Medicare pays about 30 percent.
According to MAAS, Michigan ranked 35th in 2019 among the states for Medicaid reimbursement for basic life support ambulance service, at $165.18 per trip, compared to the national average reimbursement of $258.46. While the cost of ambulance service varies by region, MAAS officials said it ranges from $800 to $1,200 per trip. Agencies rely on payments from commercial insurance and patients to make up the difference.
With upwards of 60 percent of ambulance transports reimbursed under Medicaid or Medicare, those payments in turn limit how much agencies can pay their staff.
Madden said that's an issue among virtually all of the state's 285 licensed EMS agencies, which range from large for-profit firms to nonprofit operations to shoestring township services that transport fewer than 400 patients a year.
"Funding is a key component. It affects every agency out there," she said.
MAAS and the Michigan Association of Fire Chiefs are pushing state legislators to beef up the state's general fund contribution to Medicaid reimbursement for ambulance service by $10 million a year, which would leverage another $20 million in federal funds.
There's a proposed $2.4 million general fund hike for Medicaid ambulance reimbursement in the $65 billion budget for next year ─ not nearly enough, in Madden's view.
"We need at least $10 million," she said.
State Rep. Greg Markkanen, R-Hancock ─ whose district encompasses Bay Ambulance in the U.P. ─ argued for even more funding.
"I think we should go for $20 million," he said.
Gideon D'Assandro, spokesperson for GOP House Speaker Jason Wentworth, said Wentworth would leave negotiations over Medicaid funding for ambulance service to committee chairs: "He will defer to the budget committee chair and subcommittee chair on any questions like that as long as their negotiations with the Senate and the administration are still going on."
In the meantime, Markkanen said ambulance agencies in the western U.P. continue to lose EMTs and paramedics, who graduate from community college certification programs only to travel to regions where they can earn more money.
"A lot of them leave the state and go elsewhere. We are losing a lot of the people we are training up," he said.
Madden of MAAS said the potential supply of paramedics was further squeezed beginning in 2013, when approval of training programs switched from state oversight to a national accreditation body, the Commission on Accreditation of Allied Health Education Programs. That led many agencies who were operating their own training programs to drop them, Madden said.
"The accreditation process is costly, particularly for a small agency to maintain. It has a large administrative burden. We saw the number of EMS programs decline by about 50 percent," Madden said.
Lynn Sutfin, spokesperson for the Michigan Department of Health and Human Services, said the department is "acutely aware of the staffing crisis" in EMS and the role education plays in that.
"Increasing access across the state to EMS programs is of high priority," she said, and MDHHS is "analyzing trend data and working toward adaptive solutions to increase access to EMS education."
Madden said the COVID-19 pandemic made it harder to recruit medical first responders, with the virus putting workers at direct risk of exposure to the coronavirus.
"We did see some practitioners walk away," Madden said. "In many cases, the biggest factor was that they were not willing to risk their family and loved ones. They were concerned over what they were going to bring home."
In Oakland County, the Waterford Regional Fire Department dropped its paramedic training program in 2018. Captain Jim Cooper, program director of the Waterford EMS Academy, said it had become too expensive and time consuming to keep abreast of the regulatory requirements to maintain program certification.
"We didn't have the ability to go through that lengthy process," he said, though the department still offers EMT certification and public training in CPR and basic first aid.
Before it terminated its paramedic program, Cooper said, the department trained anywhere from a dozen to 25 paramedics a year, both for the Waterford department and ambulance services and fire departments in Oakland and Genesee counties. It did so at a cost ─ $5,000 ─ that's about half what many community colleges currently charge for their programs.
"We were turning out great paramedics," he said.
Cooper said most paramedics and EMTs who remain with the job do so for one reason: They love the work.
"That's the reason they get into it and the reason they stay with it," he said.
But Cooper said it's risky to assume enough medical first responders will continue to stay in the profession if there are no improvements made in pay and working hours.
"The bottom line is we just don't have enough people. This is a problem that is not going away," he said.
Back in the U.P.'s Bay Ambulance territory, Nathan Stockton has been a full-time paramedic for nearly 17 years, serving a population of about 9,000 people, most of them in Baraga County.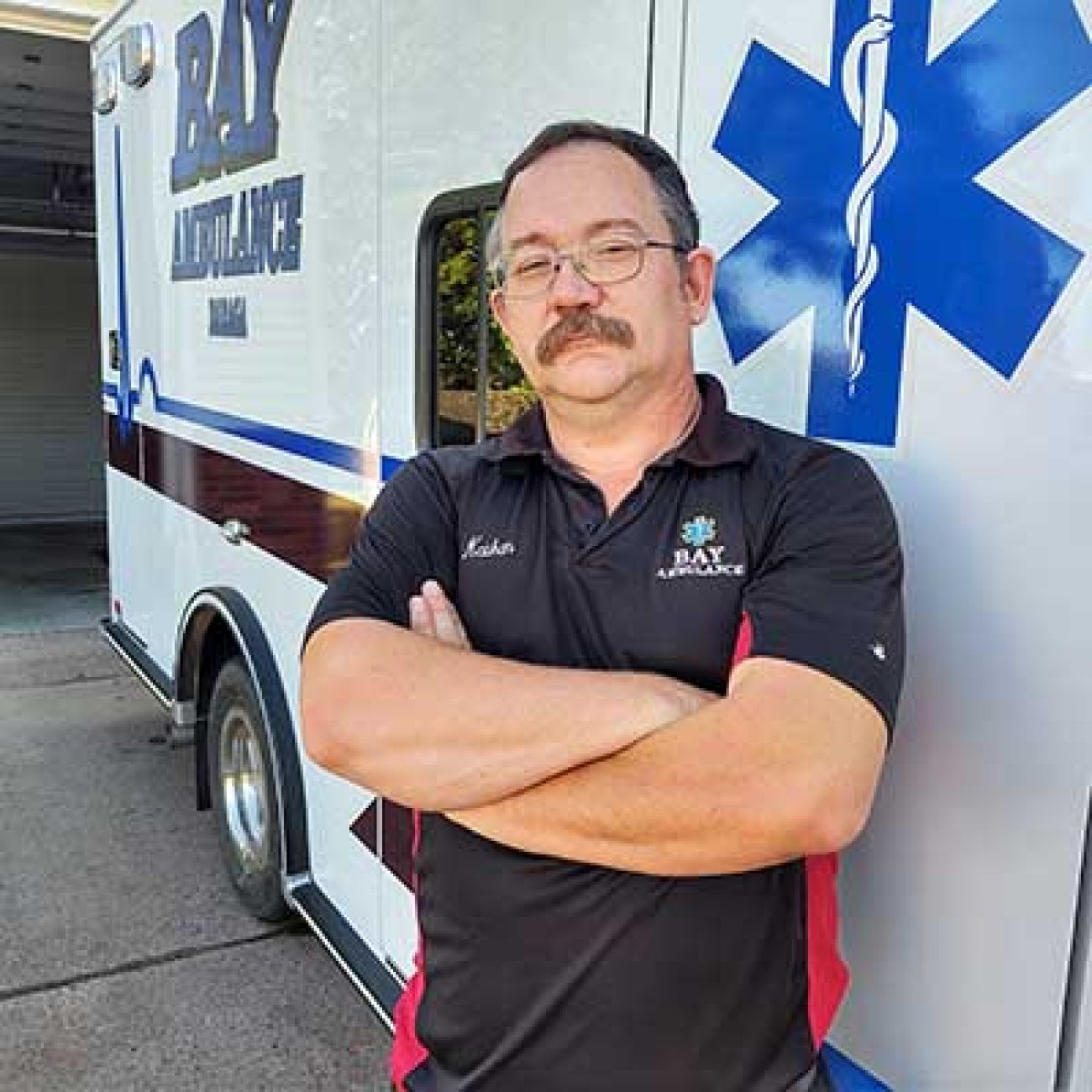 Upper Peninsula paramedic Nathan Stockton: "The money is never going to compensate for it. You never do this job to make money." (Courtesy photo)
"The money is never going to compensate for it. You never do this job to make money," he told Bridge Michigan.
That might explain why he's stayed with it over the trying past 18 months, even as he and three other paramedics log grueling hours to compensate for two open paramedic positions the agency's been unable to fill.
"When we had six paramedics, I was on call about a third of the time. Now it's at least 60 percent of the time."
A sample of his recent schedule: He started work at 3 pm last Thursday, a 12-hour shift that ended at 3 am. Then he was on call from 3 am to 3 pm Friday, then back on duty for a 24-hour shift then ended at 3 pm Saturday. Then he was on call until 3 am Sunday.
When Stockton is on call, he has to be within five miles of the ambulance garage in Baraga. If he's out mowing his lawn, he's got his cell phone at his hip. He might like a cold beer on a hot summer day when he's off work. But even that's not allowed when he's on call.
For all this, Stockton makes about $63,000 a year, an amount that does not include overtime pay. Even when he is not working or on call, he's not immune from potential duty. On those occasions when he's called in from time off to handle an ambulance run, his reward: $40.
"It's better than a sharp stick in the eye," he observed wryly.
But Stockton said the benefits of his profession can't be measured strictly in dollars. Over the years, he's responded to car crashes, accidental gunshot wounds, knifings, drug overdoses, the elderly in diabetic crisis and an assortment of wilderness snowmobile and hiking accidents. He figures he's helped save at least a few lives.
"When you do emergency response in a small town, you know everyone and they know you," he said. "I'd say about 70 percent of the people I respond to know me by my first name. They expect a lot when I show up."
Only donate if we've informed you about important Michigan issues
See what new members are saying about why they donated to Bridge Michigan:
"In order for this information to be accurate and unbiased it must be underwritten by its readers, not by special interests." - Larry S.
"Not many other media sources report on the topics Bridge does." - Susan B.
"Your journalism is outstanding and rare these days." - Mark S.
If you want to ensure the future of nonpartisan, nonprofit Michigan journalism, please become a member today. You, too, will be asked why you donated and maybe we'll feature your quote next time!