Michigan health care reimagined using dirt, worms and fresh veggies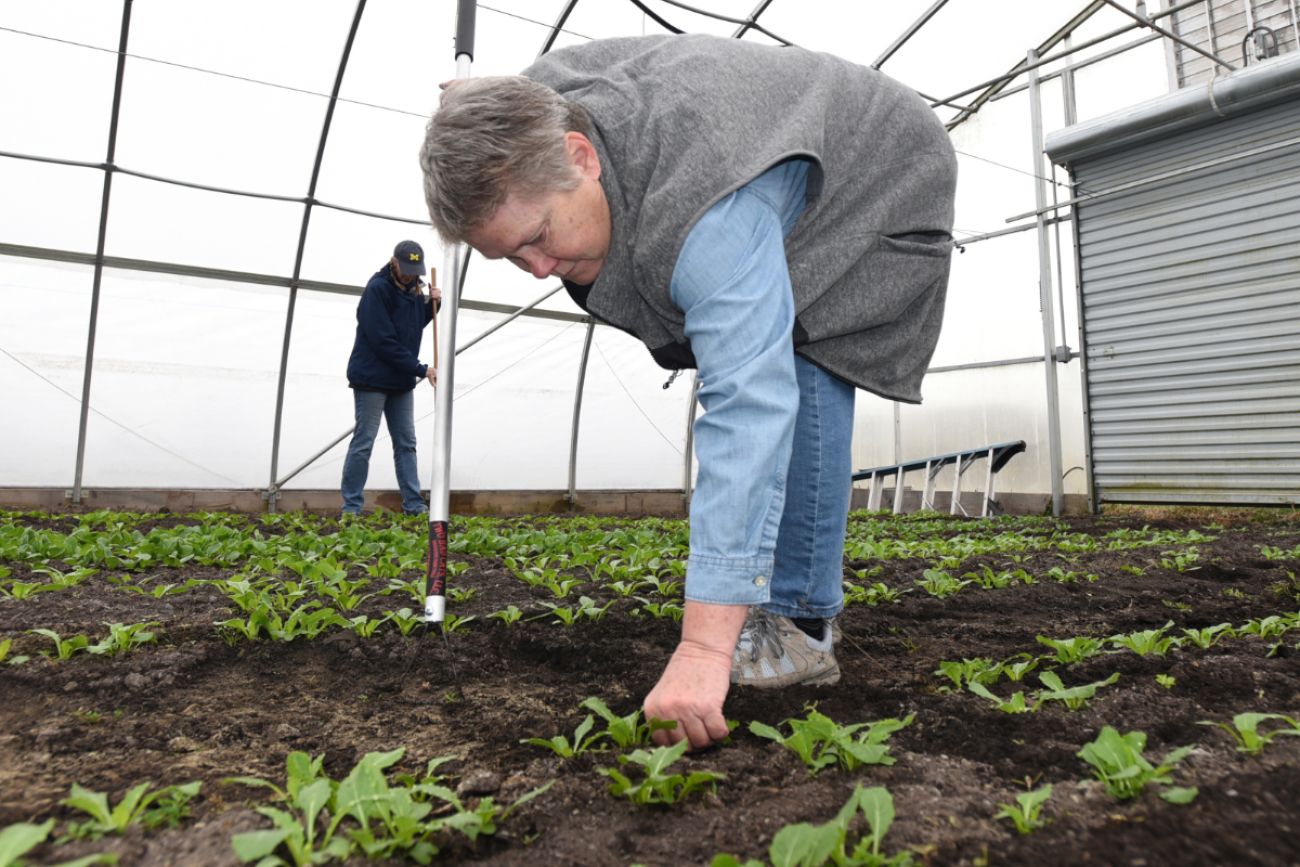 Crops have begun to take root at The Farm at Trinity Health Ann Arbor and will be available to the public next month. This week, volunteer Kit Steinaway, of Ann Arbor, weeded early-season seedlings. (Bridge photo by John Heider)
A more than 1-acre farm at the sprawling Trinity Health Ann Arbor, formerly St. Joseph's hospital, represents a growing understanding of the interplay of greenspace and health.
The farm tackles food insecurity, but also provides other health benefits.
Doctors may prescribe a box of groceries, and the effort in 2022 expanded to Oakland County.
---
YPSILANTI — Here on the southeast corner of the sprawling campus of a 537-bed teaching hospital, Will Jaquinde was busy among rows of salad turnips.
He dragged a thick-wire hoe over the cool, black earth, slicing out weedy trespassers in these neat rows of seedlings. Overhead, the double-thick plastic of this hoop house warmed the air to a toasty 52 degrees, even as a chill wind blew outside.
Nearby, a lopsided stack of flower pots and bags of bone meal and vermiculite, used to prep the soil, await spring planting. Outside, rows of tulips, packed together, had cracked through the dirt in search of sun.
In addition to conventional medicine, doctors at the 340-acre campus at Trinity Health Ann Arbor may prescribe fresh produce from The Farm on the site's southeast corner. (Bridge photo by John Heider.)
The work at The Farm at Trinity Health Ann Arbor — and the squash and tomatoes and eggplant and kale coaxed from the ground and vine in the coming months — reflects the growing understanding of the interplay of agriculture and food security with health.
Its presence reflects a wider focus, from reactive care for sick patients in need of emergency or surgical care to proactive care and disease prevention for the larger, non-hospitalized community.
Related:
"It's one of the first questions I ask people when they visit: Why would a hospital have a farm?" said Jaquinde, who trained in agriculture education at Michigan State University.
"It makes tons of sense," he said. "Diet is so much part of our health and it's so much part of our health problems. What we're doing here — what Trinity is doing here — is investing in preventative health care."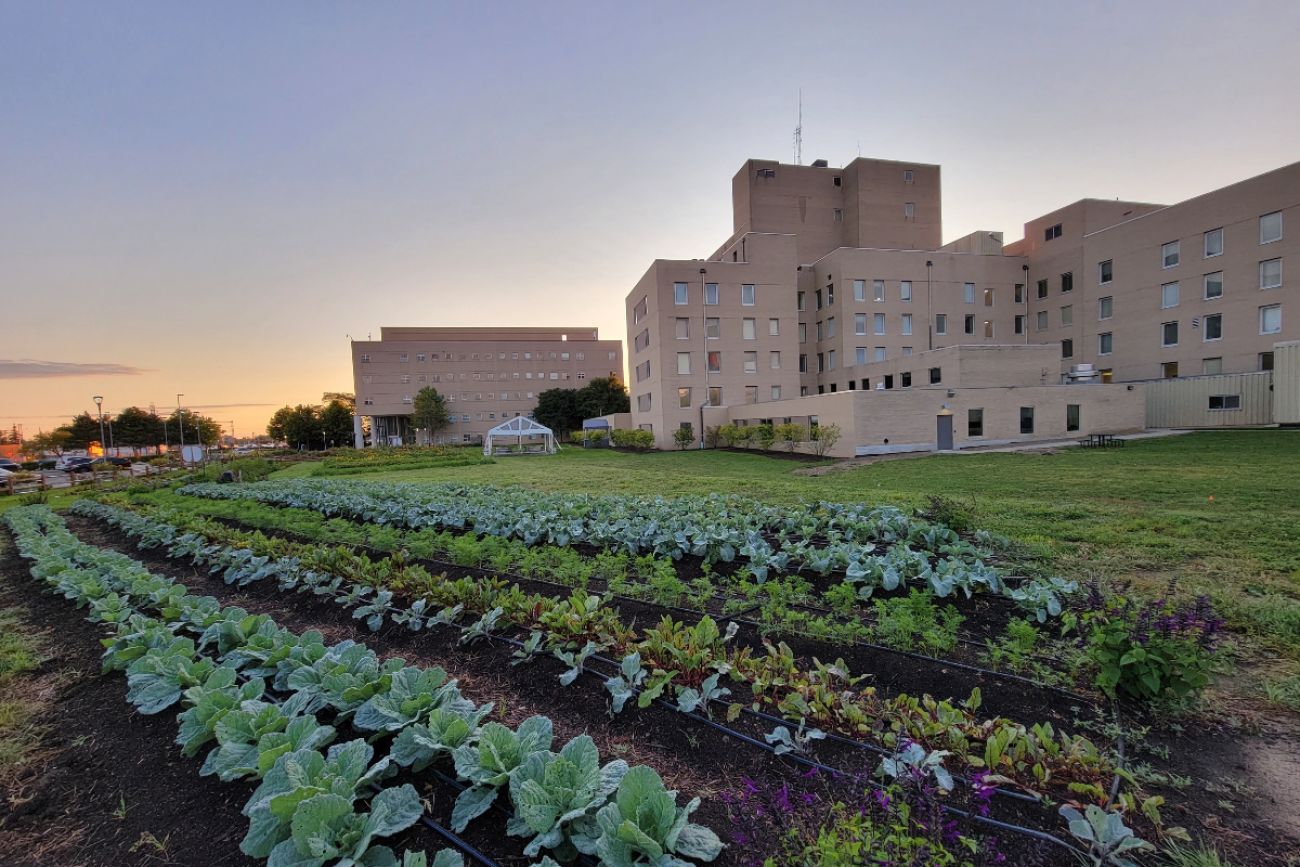 Physicians wind through a new farm site each shift at Trinity Oakland hospital, as the rows are sandwiched between their parking lot and staff entrance. (Courtesy photo)
A 2021 review of studies examining the interplay between greenspace and health found the research efforts far from perfect; nonetheless, it was clear that "exposure to the natural environment can lead to stress reduction, and ultimately improve health," authors wrote.
Especially for large hospitals, offering green space and fresh food can become part of an "anchor mission," particularly as communities recover from the pandemic, said Andrew Jager, director of population health for the the American Hospital Association, an industry group.
A group of more than 70 hospitals and health systems has led much of the work, he said. The group launched the Hospital Anchor Network, or HAN, in 2017 to figure out ways to have a deeper impact as anchor institutions — a community's large employer with deep wealth and knowledge. Among HAN's founding members are Michigan's Trinity Health and Henry Ford Health.
Hospitals improve the health of entire communities rather than simply the patients that pass through their doctor's offices or emergency rooms — whether by employing local residents, investing in affordable housing projects, delivering diapers during the COVID pandemic, or establishing community farms and gardens, Jager said.
All of this is a major "rethinking" of a hospital's role in its community, agreed Jan Delatorre, a program officer of the Michigan Health Endowment Fund, which gave a $410,000 grant to fund two years of Nutrition Buddies at The Farm. The program — free to food-insecure families — offers cooking classes to 12- to 14-year-olds and lessons about science, agriculture and nutrition.
In 2021, The Farm expanded to another 1.3-acre farm site in Pontiac at Trinity Oakland hospital.
Farm share program
In Ypsilanti, The Farm's most high-profile effort is in its farm share program, in which boxes of produce are provided weekly for 36 weeks to community members as a subscription service. Some members pay full price for the shares, but those who are eligible for food assistance, such as the Supplemental Nutrition Assistance Program or SNAP, may receive the boxes free of charge.
To ensure a variety of produce, The Pontiac and Ypsilanti farms in 2022 purchased nearly $300,000 in produce from local farmers, enabling Trinity to provide 13,479 boxes of produce to more than 600 households, including 155 households who received the boxes for free because they were eligible for food assistance.
In fact, 80 percent of the food produced at The Farm is shared with Trinity patients, with a focus on patients who are uninsured or under-insured.
In 2022, boxes were distributed through weekly pick-up or delivered to more than a dozen clinics and other medical providers, providing 16,024 residents with fresh produce.
Food as medicine
With these farms, the "food as medicine" concept takes shape, too — even in the hospital's medical records software.
Using the software's drop-down menus, a Trinity doctor can now "prescribe" weekly food boxes from The Farm in the same way they choose medicines or order lab tests, said Dr. Irina Burman-Solovyeva, an internist at Trinity's nearby Academic Internal Medicine (AIM) clinic in Ann Arbor.
She acknowledges with a chuckle: No one expects a patient to suddenly replace french fries with kohlrabi.
But a good doctor-patient relationship leads to little steps. And little steps can lead to new routines.
"Very often the patient will roll their eyes" given a prescription for fresh vegetables, Burman-Solovyevasaid. "But others are grateful. They're thankful. And some will say 'Okay, Doc, just for you, I'll try it."
And that, in turn, can curb medical emergencies, said Jaime Dircksen, who began her career in public health and now serves as vice president of community health and well-being across Trinity's 26-state system.
"People with congestive heart failure should not be in the hospital if their condition is well managed," she said.
She said one way to help control high blood pressure is through changing one's diet including reducing sodium intake.
A box of fresh produce, for example, may reduce their reliance on sodium-heavy processed food. Other boxes of food are tailored for diabetics or people with other chronic conditions, Dircksen said.
Boxes also can be distributed through local medical clinics and delivered to home-bound patients.
Bees, deer and an escape
No one tracks how many hospitals have their own farms, according to Jager at the American Hospital Association.
(Henry Ford Health opened a 1,500-square-foot greenhouse with an additional 1,500-square-foot education center at Henry Ford West Bloomfield Hospital in 2012.)
In 2021, The Farm at Trinity's Ypsilanti site opened the Food Hub building, a more than 2,000 square-foot building for washing, storing, and packing weekly boxes. It also offers community space for cooking classes and other food programs. It's here that community members pick up their weekly boxes, and it's a focal point for those who gather for events such as the Fall Festival in August or Luminary Walk in February. (A schedule of virtual classes is listed here.)
Here on the Ypsilanti site, 20 acres of hayfield were cut by a local farmer for his cattle this past summer. That's acreage that reduces the hospital's carbon footprint by reducing the need to mow, for example, and it offers roaming room for foxes, hawks and deer, said Amanda Sweetman, regional director of farming and healthy lifestyles for Trinity Michigan.
A set of colorful beehives north of the crops provide home to the Farm's main pollinators.
And it's here, that Burman-Solovyeva, the internal medicine doctor, finds the peace restorative, especially after a shift of "multiple sicknesses and sadnesses."
"I just turn left, get out of my car, and walk to The Farm," she said.
Still in her scrubs, she strolls through the rows, and pops plump cherry tomatoes or juicy raspberries into her mouth. Sometimes she picks flowers. She has spied deer as they spy on her back, she said.
"There's a serenity in being in nature, being in the moment."
Extending the growing season to all but a few weeks in the dead of winter are hoop houses, plastic-covered growing areas like a greenhouse, that amplify the thin warmth of early spring and late fall.
Despite a brisk early November wind on this sunny morning and several mornings of frost already, thick rows of lettuce, cabbage, kale, fennel, basil, bok choy and kohlrabi created a ground-cover explosion of green.
It would be weeks — mid-December — before the last food box pick-up of the year.
In addition to fruits and vegetables, The Farm on the grounds of Trinity Health Ann Arbor grows flowers like these more than 2,500 tulip and daffodil bulbs planted in late October by Loren Sanders, operations coordinator at The Farm. (Bridge photo by Robin Erb)
Peace and other offerings
The Farm expanded significantly during the pandemic, even as classes and community activities went virtual or socially-distanced. In addition to its farm share and food-as-medicine programs, it offers:
Flowers for patients: A variety of flowers — zinnias, sunflowers, and cosmos — make up the more than 800 bouquets that were delivered to patients in 2021.
Farm Stand: The Farm Stand opens in the spring in the lobbies of both the Ann Arbor and Oakland Trinity hospitals. The stand sells produce from the Farm to both hospital staff and patients. Customers can use state food assistance to pay for the produce.
Nutrition Buddies program, at the farm. The program offers cooking classes to 12- to 14-year-olds struggling with food insecurity. For participating, their households get two seasons of farm share boxes.
Horticulture therapy: Raised beds and tables for planting offer practical exercise for those who need physical rehabilitation.
In 2021, patients put in more than 1,500 hours of therapeutic activities such as potting up seedlings, arranging flower bouquets, and caring for plants. Last year, upgrades, including a fresh cement floor, were installed to make one of Ann Arbor's three hoophouses wheelchair-accessible. Funding from the Christopher & Dana Reeves Foundation helped cover costs.
Community space: The Farm is open to the community, and it's often frequented by staff from the nearby brown brick hospital. A night nurse frequently stops to pick flowers on her way home in the morning. Others stroll in on their lunch break.
Garden space starting at 12 ½ foot stretches can be rented for as little as $20 for the year.
Not cheap, but "a win" for the community
The effort is an expensive one, losing about $450,000 a year, according to Trinity.
That doesn't bother Delatorre at the Michigan Health Endowment Fund.
"What does $450,000 look like when you take away food insecurity for families? What does it look like in the prevention of stress for doctors and surgeons and nurses?" he told Bridge.
Trinity's Dirckson is equally unfazed.
What she sees instead is "a win for the community — that's how the hospital sees it."
"As a tax-exempt hospital, there's an expectation that we are giving back to the community," she said. Keeping people healthy is the goal, and The Farm provides "a very visible and impactful give-back to the community."
Only donate if we've informed you about important Michigan issues
See what new members are saying about why they donated to Bridge Michigan:
"In order for this information to be accurate and unbiased it must be underwritten by its readers, not by special interests." - Larry S.
"Not many other media sources report on the topics Bridge does." - Susan B.
"Your journalism is outstanding and rare these days." - Mark S.
If you want to ensure the future of nonpartisan, nonprofit Michigan journalism, please become a member today. You, too, will be asked why you donated and maybe we'll feature your quote next time!