Michigan lawmakers propose health care reforms, including insulin copay caps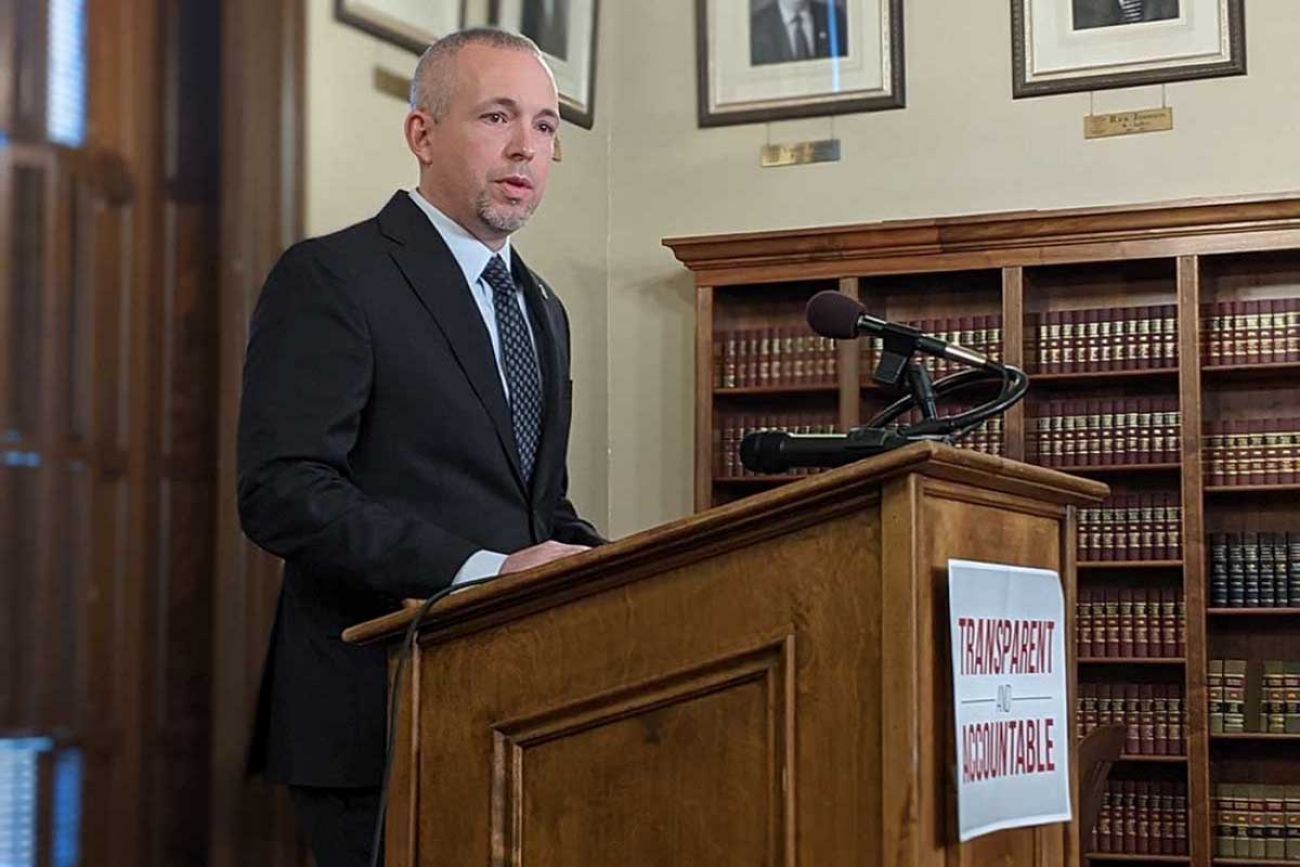 Michigan's Republican House Speaker Jason Wentworth called for the acting chief of the state's unemployment agency to step down Thursday, prompting a rebuke from Gov. Gretchen Whitmer's office. (Bridge file photo)
Update: Health care reforms could cut Michigan costs for insulin, cancer treatment
LANSING — Michigan House Speaker Jason Wentworth and Republican colleagues are making health care reform a top priority this year, and they've got some Democrats on board for what could be a heavy lift in an often-divided state Legislature.
Wentworth on Wednesday announced a 15-bill package that seeks to drive down the price of prescription drugs and improve access to certain services. He called it the first phase in a longer-term effort to fix what he called a "rigged" health care system whose profit motives have been magnified by the coronavirus pandemic.
While sponsors expect pushback from private insurers and other lobbyists, state Rep. Adullah Hammoud, D-Dearborn, said the package proposes several "leaps forward" for Michigan in ways that transcend political and partisan lines.
"This is about putting our Michigan residents and our working families first," he said.
Among other things, the initial package proposes:
A $50 monthly cap on copays for insulin:

Health insurers regulated by the state would be prohibited from requiring higher co-pays for diabetes patients who need access to the essential medication.

Cost transparency:

Drug manufacturers would be required to submit a report to state regulators when they increase the cost of certain prescription medications.

End 'gag clauses' on medication costs:

Contracts that prohibit pharmacies from disclosing the current price of a medication would be banned, and the reforms would prohibit insurers from charging copays that exceed the actual cost of the medication

Allow out-of-network prescriptions:

Patients could purchase a prescription covered by their health insurer from an out-of-network provider if the cost is lower than the in-network average.

Expand telehealth options:

Patients could use out-of-state providers for telehealth services, and they could renew contact lens prescriptions remotely

Gift limits:

Drug manufacturers would be prohibited from providing large gifts to physicians, which would be capped at $63 per month in an attempt to limit influence on prescription decisions.

Anesthesia:

Nurse anesthetists would be allowed to administer the drug without physician supervision, an effort to improve access to anesthesia in Michigan hospitals. Lawmakers have

proposed the reform for years,

but it has gone nowhere.
Wentworth, a third-term Republican from Farwell who became speaker in January, said he hopes health care can inspire the sort of bipartisan compromise the Legislature managed in 2019 when lawmakers reformed the state's auto insurance system and drove down rates that ranked among the highest in the nation.
The health care package is expected to spur months of debate. It combines several ideas Michigan policymakers have debated in recent years, along with reform laws enacted by other states, a handful of which have recently imposed insulin copay caps of their own ranging from $30 and $100 a month.
Rep. Sara Cambensy, D-Marquette, said the proposal for a $50 monthly cap in Michigan would help control skyrocketing costs for a medication for diabetics like herself. Insulin that cost $20 a vial 20 years ago now costs almost $400 per vial, she said.
People who cannot afford insurance copays are "skipping doses" or trying to "manage their diabetes just with food and water," she said, suggesting "this type of game playing" can lead to serious illnesses and increase costs for the larger health care system.
The legislative package also seeks to rein in a relatively obscure sector of the healthcare industry: "pharmacy benefit managers," which lawmakers described as a for-profit liaison between health insurers and pharmacies.
Insurers pay the managers to administer prescription drug programs, but instead of passing the full payment on to a pharmacy, they can pocket an undisclosed amount for themselves.
"The middleman has found a variety of ways to make money, shrouded in secrecy and silence," said Rep. Julie Calley, R-Portland. "They have the ability to prioritize medications, not by efficacy or affordably, but by how much profit in return they get for their recommendation."
Three companies — CVS Caremark, Express Scripts and OptumRX — control most of the benefit manager market. Because of the companies' intermediary role, they have largely escaped oversight and disclosure requirements in an otherwise heavily regulated health care industry.
But several states are now enacting or considering new regulations in the wake of a recent ruling by the U.S. Supreme Court, which upheld pharmacy benefit manager rules in Arkansas.
PCMA, a national trade organization representing pharmacy benefit manager companies, has warned that new state-level rules could result in higher health care costs for consumers.
But Michigan lawmakers say their plan could lower costs.
The plan would license and regulate pharmacy benefit managers at the state level and impose new transparency requirements, including quarterly data reports. It would also prohibit managers from imposing retroactive fees on community pharmacists and ban "spread pricing," which is effectively their profit beyond administrative costs.
When they began in the 1960s, pharmacy benefit managers provided a "great" service by administering prescription drug programs for health insurers in exchange for a reasonable administrative fee, Calley said.
"Fast forward 60 years, and now we're seeing a number of complicated finance mechanisms which really benefit that middleman," she said.
Lawmakers crafted the new reform package without direct input from the healthcare industry, Wentworth said, noting he expects heavy lobbying about the effort.
Bobby Mukkamala, president of the Michigan State Medical Society, said he looks forward to working with lawmakers but did not discuss specific proposals.
Physicians are "happy to see that the health and safety of Michigan's residents is top of mind for our state lawmakers," he said in a statement.
We're not just a news organization, we're also your neighbors
We've been there for you with daily Michigan COVID-19 news; reporting on the emergence of the virus, daily numbers with our tracker and dashboard, exploding unemployment, and we finally were able to report on mass vaccine distribution. We report because the news impacts all of us. Will you please support our nonprofit newsroom?