Michigan's 1.8M Catholics called on to stop Proposal 3. Will it work?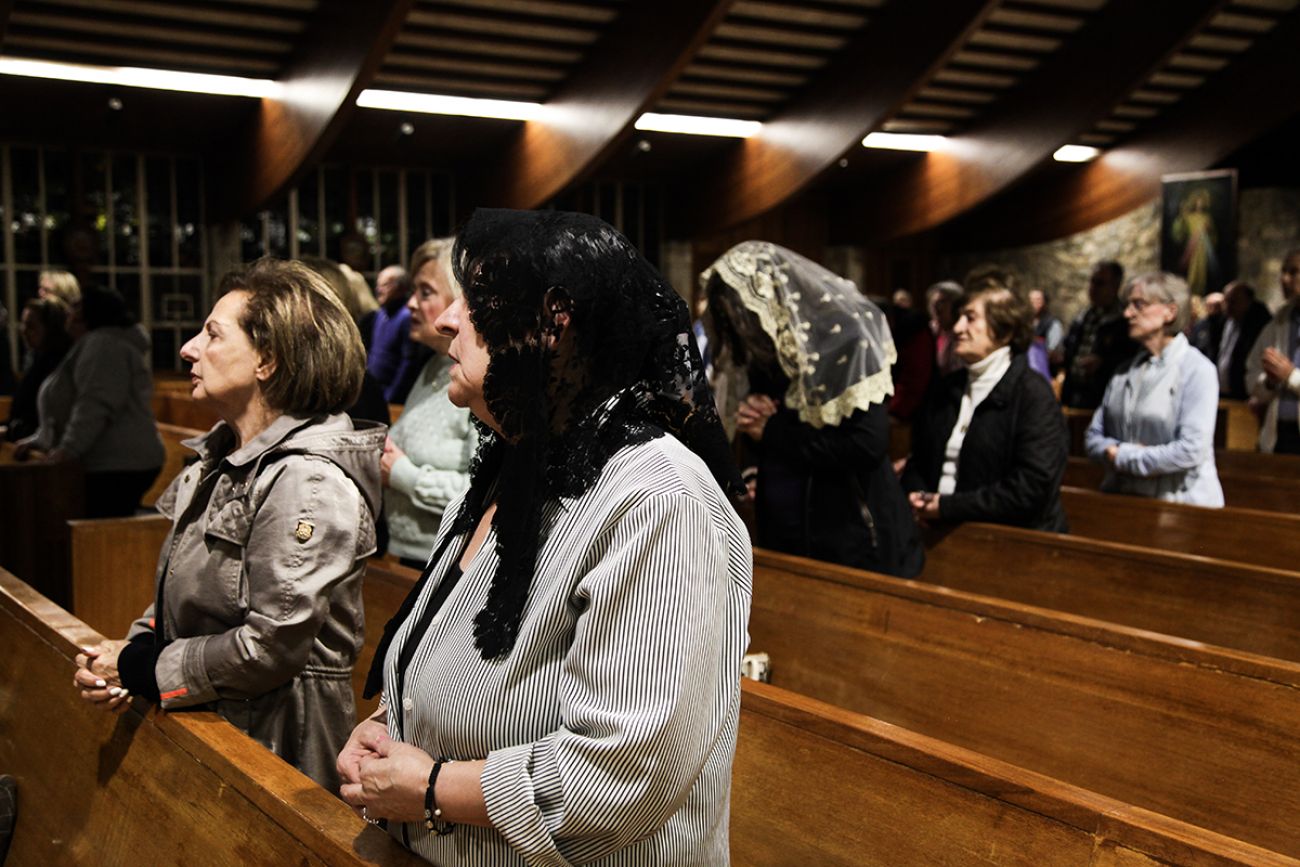 Catholic congregants gather for a prayer at the Chapel of Our Lady of Orchard Lake on the night of Oct. 12. The weekly event, titled "Holy Hours For Life," is dedicated to prayers against Michigan's Proposal 3, which would establish a statewide constitutional right to abortion. (Bridge photo by Yue Stella Yu)
The Catholic Church has fought abortion for decades, but not all of its faithful agree.
The church is 'fighting like heaven' against Proposal 3, which would enshrine abortion rights in the state constitution.
The strategy: Frame the proposal as "extreme."
---
ORCHARD LAKE — Gerardo Torres's eyes were shut, his fingers running through rosary beads.
Smoke from burning incense rose into the air and vanished. Rain pounded the roof.
Torres knelt with dozens of other parishioners at the Chapel of Our Lady of Orchard Lake for one purpose: to pray that Michigan's Proposal 3 — which would enshrine access to abortion and other reproductive rights into the state constitution — fails at the ballot box in November.
Related:
"For me, it's difficult to be able to realize that somebody can desire to kill an innocent baby that cannot defend himself," Torres said afterward.
Torres, 65, is a Mexican national and cannot vote. Praying is all he has.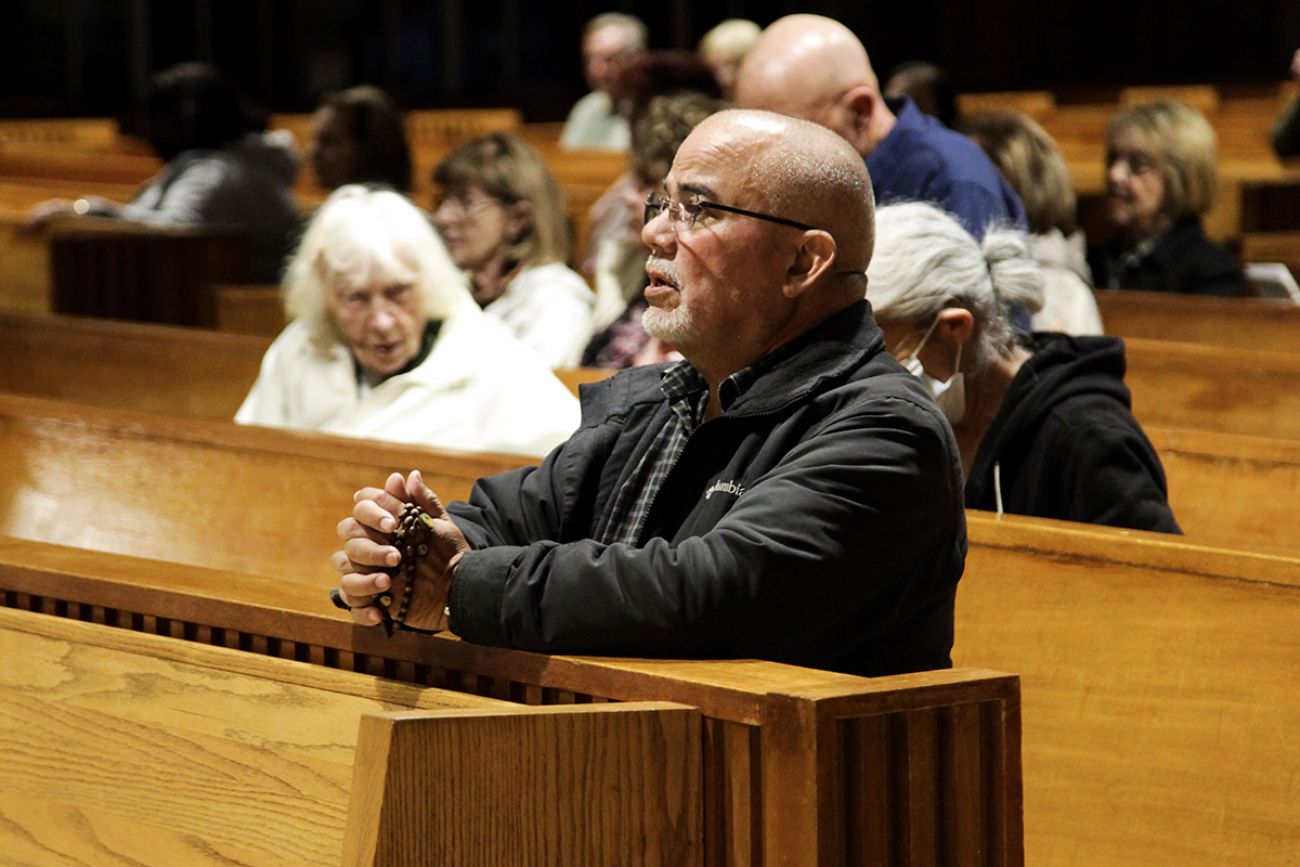 With rosary beads in hand, Gerardo Torres, 65, prays during the Oct. 12 Holy Hours For Life event at the Chapel of Our Lady of Orchard Lake. (Bridge photo by Yue Stella Yu)
It may take more than prayer for anti-abortion forces to prevail on Nov. 8. In Michigan, as nationally, most people — including a majority of people who identify as Catholic — broadly favor a woman's right to abortion care.
"We have to act. We can't spiritualize this," the Rev. Alex Kratz told congregants while celebrating Mass.
"We've got to pray like crazy. But we also have to be involved in the politics of our locality and our state."
"This is a line in the sand," he added. "If we get this wrong, we've gotten everything wrong."
Through pastoral letters, Facebook videos and boots-on-the-ground door-knocking efforts, Catholic and other religious leaders and volunteers are urging residents to reject Proposal 3, attacking it as an "anything goes" approach that eliminates legal guardrails in place under Roe v. Wade.
In late September, more than 300 attendees tuned into a Diocese of Lansing statewide webinar on the proposal. Christen Pollo, spokesperson for Citizens to Support MI Women and Children, the primary Proposal 3 opposition group, told attendees the key is targeting "persuadable voters" and "voters who aren't like us."
Don't try to convince voters who support abortion or who are on the fence that abortion is wrong. Instead, she said, focus on the message that "Proposal 3 is too extreme for our state."
"Our immediate goal isn't to have a conversation about the morality of abortion. Our immediate goal is to get people to vote no. That is the path of least resistance to protecting women and children in our state."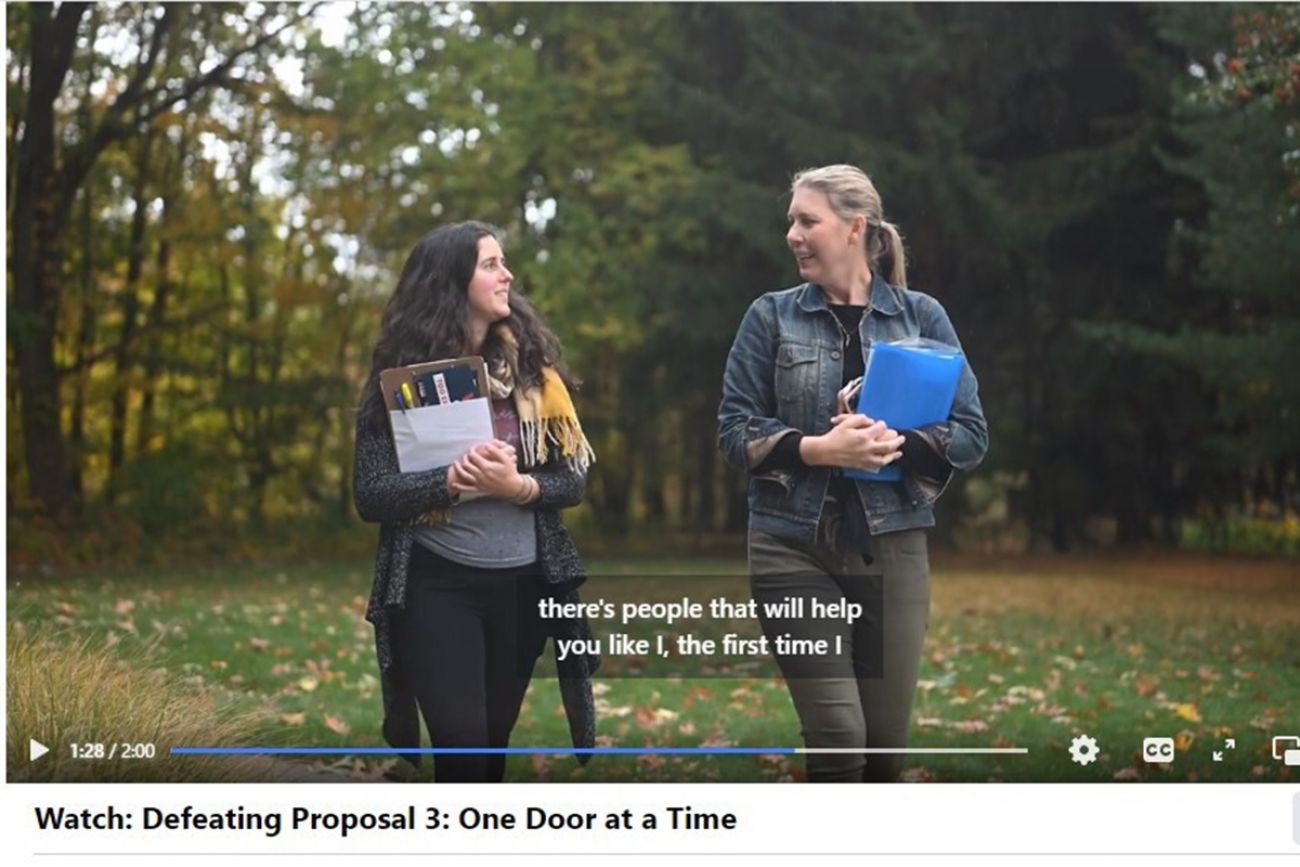 According to its description on a Facebook video, Catholic parishioners Anna Thelen and Lisa Movalson are two "normal mothers" who had never gone door-to-door canvassing until Proposal 3 opened the way to a constitutional right to an abortion. (Bridge screenshot)
Pollo laid out the strategy: Make a list of "reasonable" friends and family members. Open the conversation with "a spirit to listen, learn and share." Find a way to connect with their concerns and seize them as "opportunities" to convince them to vote no. And "close the deal" by getting a "verbal commitment" from those voters.
Pollo shared a script they could follow should they feel "stumped" in conversations with resistant voters.
"I hear you. And these are important conversations that we NEED to have," the script says. "But Proposal 3 will silence all of our voices by putting the most extreme policies into our constitution forever. Don't you think that's too extreme?
"If you think that Proposal 3 might be too extreme," Pollo said. "Or you are worried about the potential consequences that this will have, just vote 'no'."
"You see," Pollo told the webinar audience, "you don't have to know every answer, and it's impossible to know every answer."
Catholics lead anti-abortion fight
Supporters of Proposal 3, sponsored by the Reproductive Freedom for All ballot committee, hail the measure as the surest way to guarantee legal protection for abortion, contraception and other reproductive rights.
Proposal 3 would place in the state constitution a "fundamental right to reproductive freedom," including the individual right to make decisions on abortion, prenatal care, childbirth, postpartum care, contraception, sterilization, miscarriage management and infertility care.
The proposal still allows the state to prohibit or regulate abortion after a fetus reaches "viability," which it defines as when a fetus can survive outside the womb without "extraordinary measures." Abortions after that time would be legal if a "medical professional" deems them necessary to "protect the life or physical or mental health" of the pregnant individual.
If passed, Proposal 3 would effectively invalidate a now-blocked 1931 state law, which — if otherwise allowed to stand — would make abortion a felony punishable by up to four years in prison.
Abortion-rights supporters, including Democratic Gov. Gretchen Whitmer, contend that passage of Proposal 3 would generally return Michigan to where it was before the U.S. Supreme Court struck down the federal protections of Roe. The only law the proposal seeks to invalidate is the state's currently suspended 1931 law making abortion care a felony, they say. Beyond that, courts and lawmakers will shape the contours of abortion regulations.
But a coalition of abortion opponents, religious and otherwise, contend Proposal 3 is an unprecedented and dangerous expansion of abortion protections, including what they argue is a loophole that would essential allow people to seek abortion until the moment of birth and eliminate the state's existing requirement for minors to obtain parental consent for an abortion in most instances.
Abortion later in pregnancy is exceedingly rare, and the primary method to conduct late-term abortions — sometimes known as "partial-birth abortion— is banned under a 2003 federal law except to save the life of the mother. Legal experts say a state constitutional amendment cannot trump that, Bridge has reported.
The fight against the abortion rights proposal has galvanized not only Catholics, but other religious groups as well.
"We're citizens of the country just as we are members of the Kingdom of God," said Pastor Paul Clark, a pastor of the conservative Lutheran Church—Missouri Synod and president of the Lutherans for Life of Michigan, which is part of the anti-abortion coalition.
"When it's an issue of life and death, we feel compelled to speak up."
Catholics are the largest denomination in Michigan, with some 1.8 million members. Catholic groups are top donors to the anti-abortion coalition, accounting for more than half of the $401,000 it took in by July 20, campaign finance records show.
The Michigan Catholic Conference, the public policy arm of the Catholic Church in the state, was the biggest donor to Citizens to Support MI Women and Children as of July 20, contributing $200,000, the latest campaign records show. The Knights of Columbus Michigan State Council, another Catholic group, gave $50,000.
Those numbers are far below the funds collected by the sponsor of Proposal 3, Reproductive Freedom for All. Fueled by outrage among abortion-rights supporters after Roe was overturned in June, the abortion-rights group had raised more than $9.5 million as of July.
But the broader array of anti-abortion forces have so far spent more than their opponents in the battle over Proposal 3.
As of Monday, anti-abortion groups spent $22.7 million in advertising buys while supporters had spent $15.9 million, according to ad tracking company AdImpact. And the anti-abortion coalition has reserved at least $5 million worth of TV ad buys leading up to the election, a Bridge Michigan analysis of Federal Communications Commission shows.
They could be making inroads.
While polling has been sporadic about the proposal, early surveys showed the measure had 60 percent of support, while more recent ones show a tighter race.
'Fight like heaven'
Michigan has seven Catholic dioceses, and while all oppose Proposal 3, some are far more active in the campaign than others.
"FIGHT LIKE HEAVEN," read one handout from the Diocese of Lansing, which had made its way to the Mass in Orchard Lake last week. "Vote no to extreme pro-abortion ballot initiative."
The phrase is a play on Whitmer, who has said she'll "fight like hell" to keep abortion legal.
Bishops across the seven dioceses co-signed an Oct. 10 letter opposing Proposal 3 and mailed it to roughly 236,000 Catholic households.
On Sept. 11, Diocese of Lansing Bishop Rev. Earl Boyea instructed a pastoral letter against Proposal 3 be read at Sunday Masses across all churches within the diocese. It calls the proposal a "grave threat to our children and to our culture of life" because it "tinkers" with the Constitution.
Similarly, a Sept. 16 letter from Archbishop Allen H. Vigneron of the Archdiocese of Detroit urged Catholics to pray, vote and donate to the anti-abortion coalition. The Office of Black Catholics Ministry of Archdiocese of Detroit held a virtual town hall Wednesday night, when one speaker likening abortion to "genocide."
Churches and charities are generally forbidden under the U.S. tax code to endorse political candidates, but they're allowed to advocate for issues and ballot measures.
The Michigan Catholic Conference has fought in several statewide campaigns. It successfully opposed physician-assisted suicide (1998) and same-sex marriage (2000), though the marriage proposal was overturned in court. It also opposed allowing embryonic stem cell research (2008), though voters approved the measure in 2008.
The conference, along with the powerful, nonsectarian anti-abortion group Right to Life of Michigan and others, has also worked for decades to limit abortion in the state — ensuring minors obtain parental consent for an abortion, for example.
It's not always popular. Although Catholic leaders have consistently opposed abortion, surveys show that a majority of members in the United States broadly support abortion rights.
A March survey by Pew Research Center showed 56 percent of Catholics nationwide support legal abortion in most or all cases. While 32 percent opposed it in most cases, with 10 percent opposing it with no exceptions. Opposition to abortion is far higher among Catholics who regularly attend Mass than those who don't, the survey showed.
In Michigan, a poll conducted earlier this month by Lansing-based Epic-MRA found 57 percent of Catholics said they supported Proposal 3 — a slice bigger than the 38 percent of Republicans who said they do. And 7 percent of Catholics remained undecided in the Epic poll.
That's not surprising, said Bernie Porn, a Catholic himself and president of polling firm Epic-MRA. Many Catholics have become "cafeteria voters" who pick and choose which precepts of the church they agree with, he said.
"There are a lot more Catholics now who aren't attuned to the Michigan Catholic Conference stance on a number of issues, like clergy not being able to wed," Porn said.
While nearly 1 in 5 Michigan residents identify as Catholic, the reliability of the Catholic anti-abortion vote has dwindled over time, said John Truscott, a former Michigan Republican strategist who now runs a public relations firm.
"I don't think any institution has the power it used to have," Truscott said.
One reason: Catholics disagree on what their faith requires.
Joseph Atkinson, an associate professor of sacred Scripture at the Washington-based Catholic University of America, said Christians have long understood that life begins at conception, as evidenced in the verse in the Old Testament's Jeremiah: "Before I formed you in the womb, I knew you."
That makes "Thou shalt not kill," one of the most famous of the 613 Old Testament laws, more easily understood, Atkinson said.
"Amongst God's people, there has always been a line of authority by which you can know what God wants. It's not like everybody does whatever they want," Atkinson told Bridge.
Those rules are immutable, even to a pregnant woman who has been raped, or in which the pregnancy threatens her life or the child's. The woman in crisis must know God's love for her and His plan for her and the child, Atkinson said.
"That child within her has, as the Scripture says, infinite value from God, Himself," Atkins said. Further, God has "already prepared for that child wonderful things to do in the world."
Kratz, who led the Orchard Lake service, said there is no gray area. Those who would allow abortion have allowed their faith to be compromised, he said.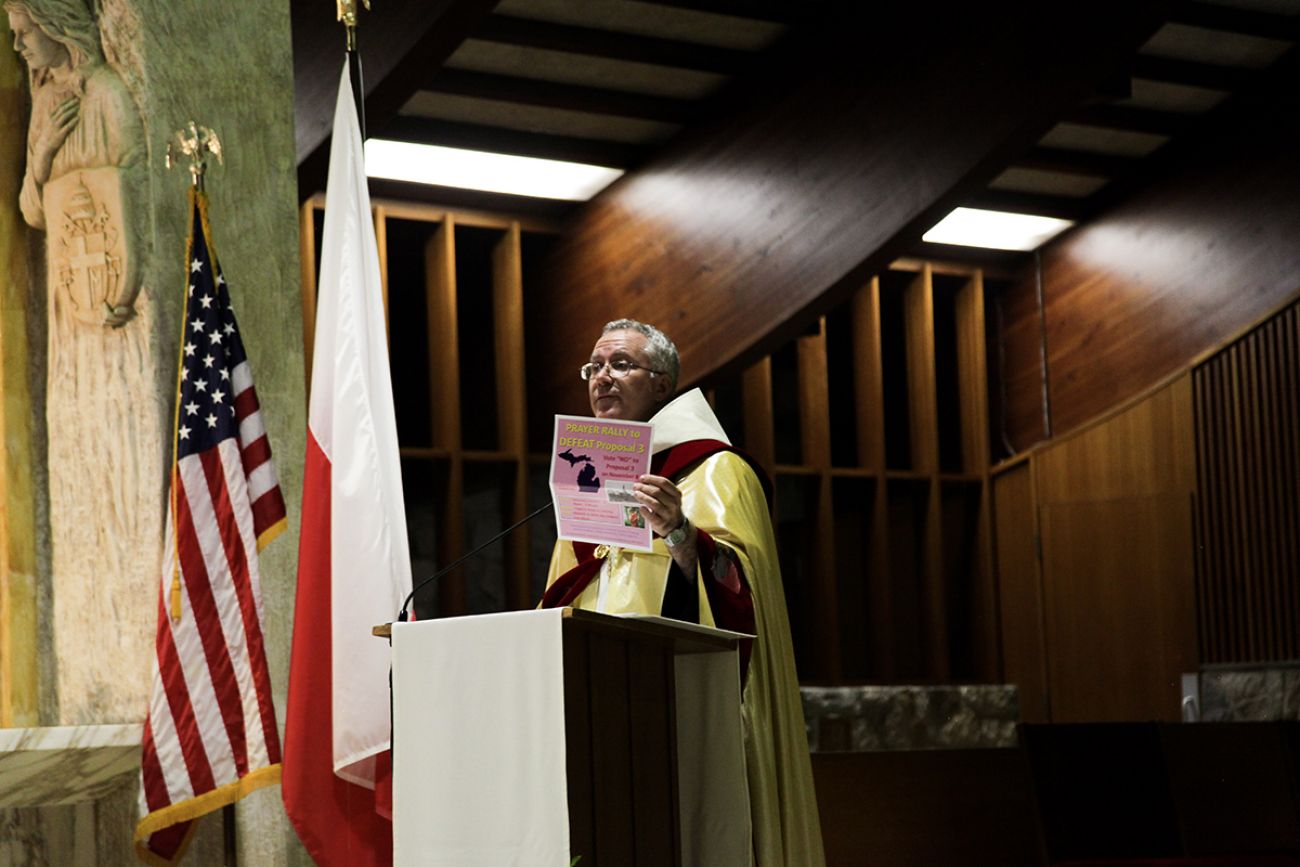 Holding up an anti-abortion flier, the Rev. Alex Kratz, a Catholic priest, encourages parishioners to get politically involved at the Holy Hours For Life event at the Chapel of Our Lady of Orchard Lake on Oct. 12. The flier urges people to attend an Oct. 15 prayer rally to "SAVE the Unborn" and defeat the proposal. On its back, the flier lists 34 state laws that could be affected by the constitutional amendment proposal. (Bridge photo by Yue Stella Yu)
"They are not following science, and they are showing a callous disregard for human dignity," Kratz said.
But others say the church has lost pace with the growing understanding of reproductive biology.
"The feelings of Catholics, while opposed to abortion generally, is more nuanced," said Tom Fox, former religion writer for the Detroit Free Press, editor/publisher emeritus at the National Catholic Reporter, and author of the book, "Sexuality and Catholicism."
The 1973 Roe ruling was catalytic for Catholic leadership, focusing church efforts on fighting abortion, almost to the point of "single-mindedness," he said.
That hard-line on abortion issues, he and others say, has weakened its authority in other areas and shrunk its ranks.
"My sense is that the Catholic Church has swung so far to the right with abortion, it has distorted its other social teachings and at a terrible price — the price of credibility, the price of authority, and the loss of women," Fox said.
Sister Mary Ellen Howard chooses her words carefully: "It's complicated."
The former executive director of the St. Frances Cabrini Clinic in Detroit, Howard was at the front lines of healthcare and social issues for decades as a member of the Catholic Sisters of Mercy.
"The Catholic Church proclaims it protects life and you can't fault it for that, but Catholics do come at it from different viewpoints," she said.
The assumption that life begins at conception and that abortion, therefore, is murder is oversimplified, she said.
From a biological standpoint, is it a human life, for example, as a fertilized egg for several days before it implants in the uterus? Is a fertilized egg that can split into identical twins two lives, and if so, at what point?
"Nobody knows: When does a fetus become a human being? Show me canon law" to address such thorny issues, Howard said. "It doesn't exist."
Howard doesn't say where she stands on abortion rights; but she said she is annoyed by churches that feel like "they collect some baby clothes and diapers (for pregnant women) and think they've done their job."
Layla Taha, a pro-abortion rights Catholic with national advocacy group Catholics for Choice, told Bridge her personal belief does not make her less Catholic.
The church must evolve or continue to close or merge as its membership declines in the state and the United States, she contended. (Membership is booming globally.)
"If they want to retain community and build community, then they need to be more inclusive," she told Bridge. "It's not fair to say that I'm not a real Catholic because I disagree with you on this issue."
Only donate if we've informed you about important Michigan issues
See what new members are saying about why they donated to Bridge Michigan:
"In order for this information to be accurate and unbiased it must be underwritten by its readers, not by special interests." - Larry S.
"Not many other media sources report on the topics Bridge does." - Susan B.
"Your journalism is outstanding and rare these days." - Mark S.
If you want to ensure the future of nonpartisan, nonprofit Michigan journalism, please become a member today. You, too, will be asked why you donated and maybe we'll feature your quote next time!