Michigan Proposal 3 fact check: No, masseuses won't give abortions to minors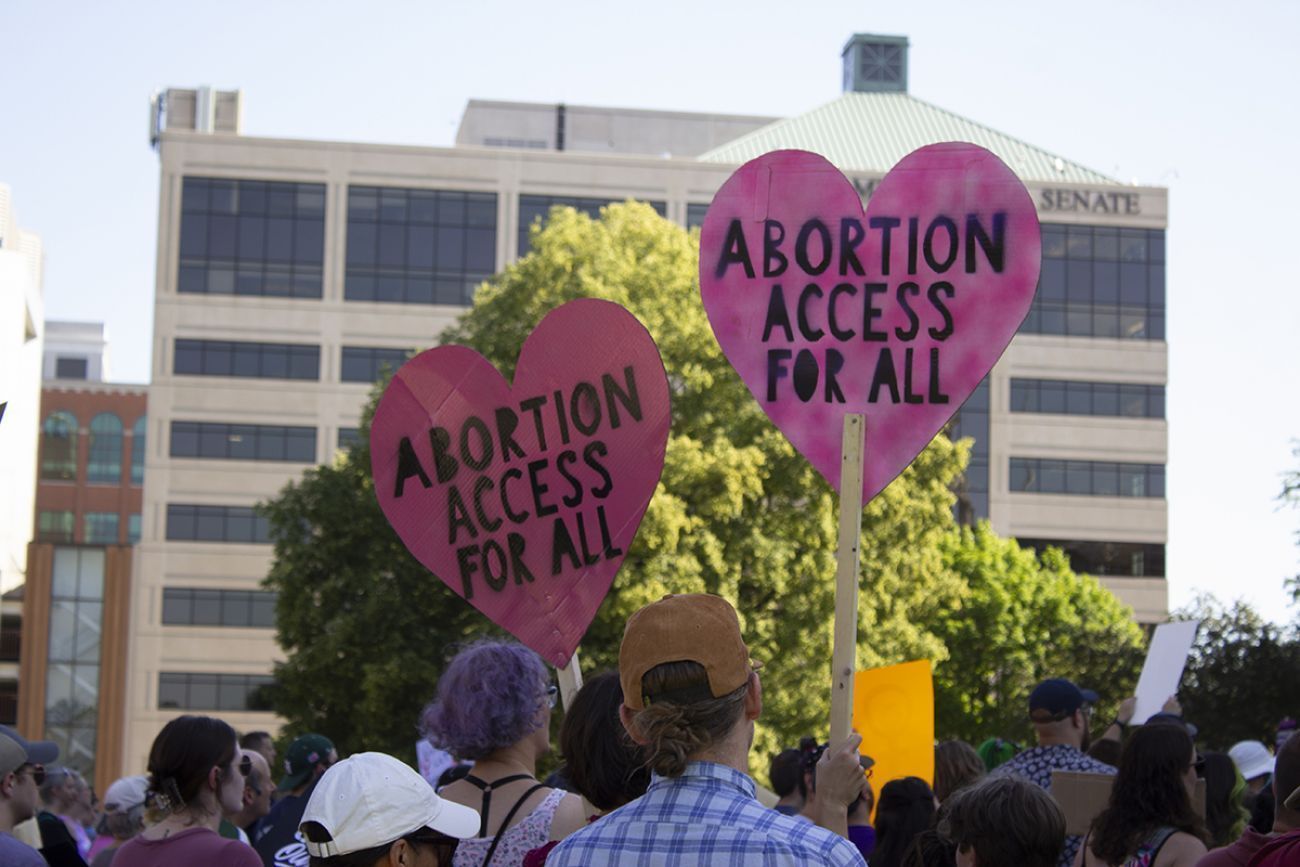 What's true and false about Proposal 3, which would establish a constitutional right to abortion in Michigan? Courts may have to rule on many issues, but some of the most extreme impacts cited by critics are fanciful. (Bridge file photo)
Michigan Government
Michigan Proposal 3 fact check: No, masseuses won't give abortions to minors
Anti-abortion opponents say Proposal 3 affects 41 state laws regulating abortion and other reproductive services
Abortion rights campaign disputes the claim, arguing the proposal restores reproductive rights under Roe v. Wade
Legal experts and analysts say courts likely will have to sort out many issues
---
LANSING — Advocates and foes alike agree Proposal 3 would keep abortion legal in Michigan if voters approve the ballot measure on Nov. 8.
But beyond that, there's little agreement on wide-reaching effects of the constitutional amendment.
Opponents claim it would impact — and perhaps nullify — 41 state laws covering everything from statutory rape, parental consent, prostitution and human cloning and allow any medical professional to perform abortions. Supporters say all it would do is keep abortion legal in Michigan and "restore protections lost when the U.S. Supreme Court overturned Roe v. Wade."
Which way is it? To be fair, nobody can say with a ton of certainty.
Related:
"The passage of this amendment would, at the very least, upend decades of legislation and would leave many questions for the courts to resolve," the nonprofit Citizens Research Council concluded in its analysis of the proposal.
Some things are certain.
Proposal 3 would enshrine reproductive rights as a state constitutional right, which includes abortion, contraception, postpartum care and more. That would invalidate a 1931 ban on abortion that makes performing the procedure a felony punishable by up to four years in prison. A judge has issued an injunction barring enforcement of the law.
Proposal 3 ballot language
A proposal to amend the state constitution to establish new individual right to reproductive freedom, including right to make all decisions about pregnancy; allow state to prohibit abortion in some cases; and forbid prosecution of individuals exercising established right
This proposed constitutional amendment would:
Establish new individual right to reproductive freedom, including right to make and carry out all decisions about pregnancy, such as prenatal care, childbirth, postpartum care, contraception, sterilization, abortion, miscarriage management, and infertility;
Allow state to prohibit abortion after fetal viability unless needed to protect a patient's life or physical or mental health;
Forbid state discrimination in enforcement of this right; prohibit prosecution of an individual, or a person helping a pregnant individual, for exercising rights established by this amendment; and invalidate all state laws that conflict with this amendment.
The amendment would allow lawmakers to prohibit abortion after "viability," which it defines as when a fetus can survive outside the womb without "extraordinary medical measures." Unlike some other states that define that based on durations of pregnancies, the Michigan proposal would leave that determination up to attending medical professionals.
Contrary to arguments of some critics, Michigan lawmakers and regulatory agencies could still regulate abortion clinics and the procedure if voters approve the proposal, said Michelle Richards, associate professor of law at University of Detroit Mercy.
"Just because … you have a First Amendment right to speech doesn't mean the state can't regulate that," she said. "You can't scream 'Fire' in a crowded theater. …You have constitutional rights and privileges, but they are not absolute."
The proposal itself does not address any of the more than 70 other sections of Michigan state law that mention abortion and would not automatically strike any of them off the books, she contended.
The proposal would make it harder to regulate abortions, requiring lawmakers to have a "compelling" interest and and impose regulations on abortion in the "least restrictive means," said Catherine Archibald, associate professor of law at the University of Detroit Mercy.
But supporters and opponents have vastly different interpretations of what that could look like in practice.
"It could take years of attempted and challenged legislation to fully flesh out the scope of this fundamental right, making it difficult to assess the potential impact at this time," according to the Citizens Research Council.
Here's a look at the arguments about what could happen if voters approve the proposal and how it could impact current restrictions, from parental consent and abortion later in pregnancy to health standards for clinics.
Parental consent: Does law vanish?
Under state law, people under 18 seeking an abortion need written consent from one of their parents or legal guardians, unless they petition the court and prove they are "sufficiently mature" and a waiver to the law would be in their "best interests."
Should Proposal 3 pass, the parental consent law would remain until it is challenged in court or changed by lawmakers.
Both sides have at times been inconsistent in what they think will happen.
Reproductive Freedom for All, the campaign spearheading the proposal, issued press releases stating the initiative would not strike any law off the books. Bonsitu Kitaba, deputy legal director of ACLU of Michigan, at first did not dispute the claim the proposal would nullify parental consent requirements, but later said that issue would likely go to court.
Opponents also contradicted themselves. While anti-abortion coalition Citizens to Support MI Women and Children listed 41 state laws — including parental consent — as ones that "could be affected" by the constitutional amendment, the campaign's TV ads claim those laws would be repealed by the proposal.
Coalition spokesperson Christen Pollo told reporters Friday the proposal would repeal parental consent, but said later she believes some laws would be overturned while "we may have to wait and see" what happens to other abortion regulations.
Law experts who spoke to Bridge say they believe the parental consent law would withstand a legal challenge even if voters adopt Proposal 3.
Richards of the University of Detroit Mercy said defenders could easily prove the state has a compelling interest to ensure "that minors are consulting with their parents before undergoing a pretty serious decision."
Mae Kuykendall, a law professor at Michigan State University, previously told Bridge the proposal may create room for "modification" of state law, but would not conflict with the parental consent requirements because they provide "assistance" instead of "burden" to minors.
Abortion opponents have argued the proposal goes beyond abortion and could eradicate parental consent rules for minors seeking gender affirming care, which ranges from puberty blockers to gender affirming surgery.
Richards and Archibald disagreed.
"I think that there's rights of parents and the state's duty to take care of the child," Archibald said. "I don't think of this as automatically doing anything and … it's about reproductive freedom, so I don't see this as being relevant to that debate about" gender affirming care.
Would it get rid of health inspection, licensing requirements?
Opponents have argued the proposal would repeal regulations requiring state inspections and safety standards for abortion providers. Catherine Stark, a physician featured in one of the anti-abortion coalition's videos, said the proposal "just goes too far."
"The law requiring abortion clinics to be safe and clean and pass inspections would be gone," she said in the video. "The law that says only doctors can perform abortions would be gone too."
Experts say that's unlikely, because the proposal allows the state to regulate abortions if there is a compelling interest — and safety is certainly one.
"The constitutional language doesn't remove the state's ability to regulate those things that are within their powers to do," Richards told Bridge. "The regulation of the health, safety and welfare of the citizens of the state of Michigan is exactly what the state is permitted to do."
Richards pointed to Texas, where the U.S. Supreme Court in 2016 struck down state laws requiring abortion providers to meet hospital-like standards and physicians performing abortions to have admitted privileges at a nearby hospital.
"Is it possible that the state of Michigan could try that? Sure. Then we are going to have to fight over whether the regulations (over abortion) went too far," Richards said. "But you are not going to be able to go to 7-Eleven and there is going to be an abortion room."
Could any health care professional perform an abortion?
Only licensed physicians can perform an abortion in Michigan, according to state law.
The state also limits abortion services in clinics that meet ambulatory surgical center-like standards and mandates corridor width and procedure room size at these abortion clinics, according to an analysis by the national health research nonprofit Kaiser Family Foundation.
The proposal would repeal those requirements as well, opponents argued, and allow any "attending health care professional" to make medical judgment about abortion, not just physicians.
"That definition under Michigan law includes massage therapists and athletic trainers," anti-abortion group Right to Life of Michigan argued in a blog post last month. "Doctors aren't perfect, but they certainly can't be replaced with your masseuse."
The qualifications for those who perform an abortion would likely stay in place because of the state's compelling interest in protecting public health and safety, Richards said.
"No one is going to perform an abortion in a massage parlor (if) your masseuse decided you are too stressed out to have an abortion," she said.
Mental health, 'partial-birth' abortion
The proposal carves out exceptions for abortions after fetal viability, saying they can be performed if an "attending health care professional" believes they are necessary to protect the life, physical or mental health of the patient.
Opponents have argued the lack of definition for "mental health" in the proposal could allow anyone to receive an abortion — up until the moment of birth — because of anxiety issues.
The Citizens Research Council, in its analysis, concluded the lack of a definition of what constitutes "mental health" could be problematic and may have to be hashed out in court.
Archibald, the law professor, said the state Legislature could attempt to define "mental health" to clarify the issue if the proposal passes.
Additionally, abortion later in pregnancy is rare, according to the Centers for Disease Control and Prevention. Less than 1 percent of the 629,898 abortions nationwide in 2019 were performed beyond 21 weeks.
Archibald said abortion up until the moment of birth theoretically could happen under the proposal, but not realistically. Anxiety issues would also likely come up earlier in the pregnancy rather than close to birth, she said.
Abortion later in pregnancy is often done through dilation and evacuation — a common procedure physicians perform for abortion patients at 14 to 28 weeks of gestation, according to the Kaiser Family Foundation.
In 2021, 6 percent of the more than 30,000 abortions performed in Michigan were done by dilation and evacuation, state statistics shows.
Opponents have used the term "partial-birth abortion" to refer to the procedure. That is not a medical term, but one that was coined by the National Right to Life Committee in 1995.
But that procedure is already banned in Michigan except to save the life of the abortion patient. The federal Partial-Birth Abortion Ban Act — passed in 2003 and upheld by the U.S. Supreme Court in 2007 — prohibits dilation and evacuation unless the life of the patient is in danger.
Statutory rape, prostitution, human cloning
The ballot proposal does not mention rape, prostitution or human cloning.
But some anti-abortion activists — such as Fred Wszolek, Republican consultant with Michigan Strong, a super PAC supporting GOP gubernatorial nominee Tudor Dixon — argued the proposal would "invalidate the law that makes statutory rape a crime."
Statutory rape would still be a crime, and any claims to the contrary are untrue, Richards and Archibald said.
"None of those things are relevant or talked about in terms of reproductive freedom," Archibald said.
Only donate if we've informed you about important Michigan issues
See what new members are saying about why they donated to Bridge Michigan:
"In order for this information to be accurate and unbiased it must be underwritten by its readers, not by special interests." - Larry S.
"Not many other media sources report on the topics Bridge does." - Susan B.
"Your journalism is outstanding and rare these days." - Mark S.
If you want to ensure the future of nonpartisan, nonprofit Michigan journalism, please become a member today. You, too, will be asked why you donated and maybe we'll feature your quote next time!