Not if, but when: Michigan on lookout for faster-moving COVID variant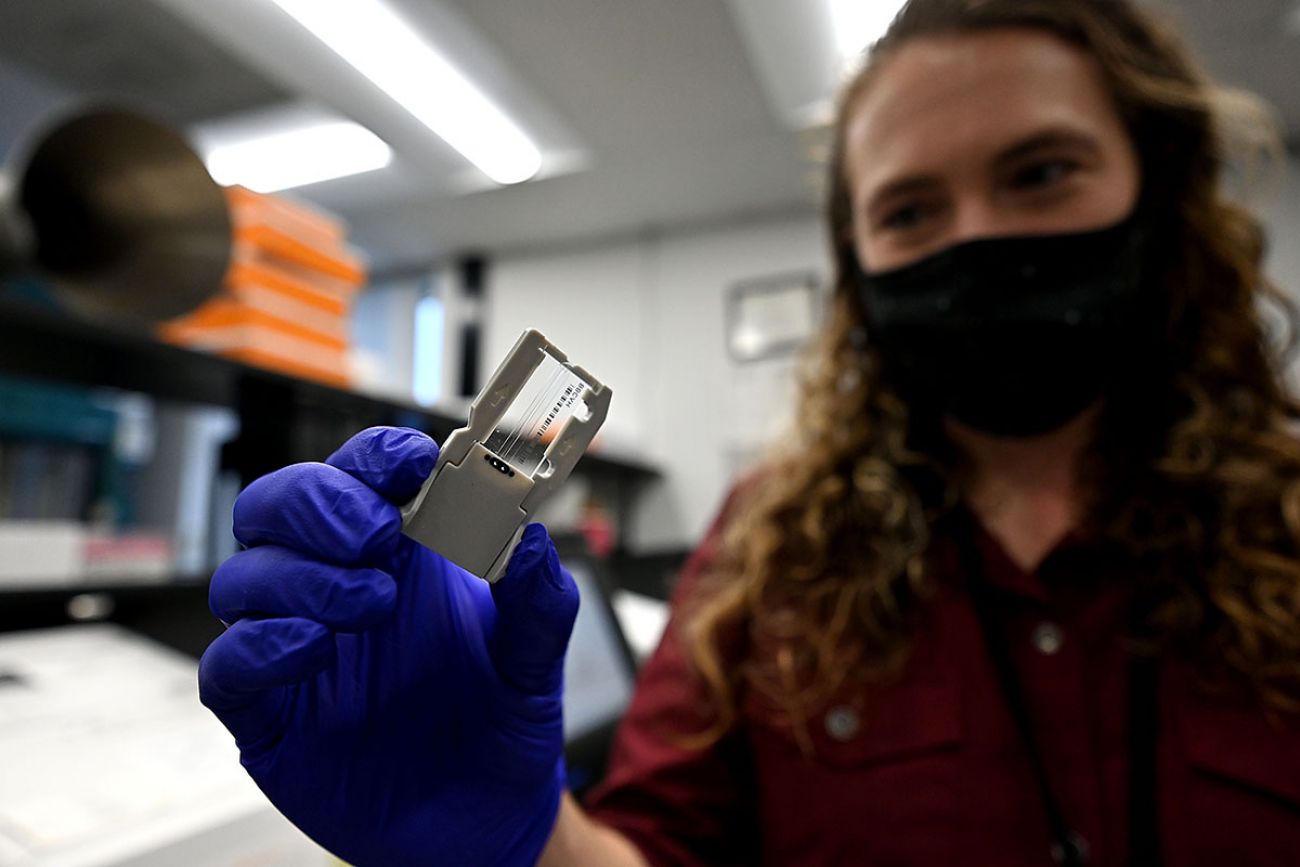 A coronavirus variant has gained an undeniable foothold in Michigan. Heather Blankenship, of the Michigan Department of Health and Human Services, holds a slide that is scanned by the sequencing machines that give a genetic readout of a virus at the state lab in Lansing. (Bridge file photo by Dale Young)
Update: Michigan ranks second in COVID variant cases as state hits 'tipping point'
The state's near future — whether restaurants will reopen as planned, what classrooms will look like this fall, and even how long mask mandates may last — largely depends on whether new coronavirus variants arrive in Michigan that could further fuel a pandemic already linked to 13,533 Michigan deaths.
The state's chief epidemiologist and others, in fact, say the particularly contagious B.1.1.7.variant may already be here, poised to ignite another surge.
But in a state logging nearly 3,000 new COVID cases a day, just two labs are tasked with surveillance for mutations in Michigan and sending results into an international database that helps the world's scientists track the virus as it moves and evolves around the globe.
Related stories:
As of Friday, the two Michigan labs have uploaded and sequenced 4,490 samples to the database GISAID, founded in 2008 as the Global Initiative on Sharing All Influenza Data. That's just a sliver of the virus samples confirmed from the 528,306 cases around the state that same day.
Still, staff in labs both note, Michigan is outworking most other states in its detective work, with its samples making up 7 percent of the United States' 69,275 samples. That puts the state "in a good position" to detect mutations such as the B.1.17., said Heather Blankenship, Bioinformatics and Sequencing manager at the Michigan Department of Health and Human Services.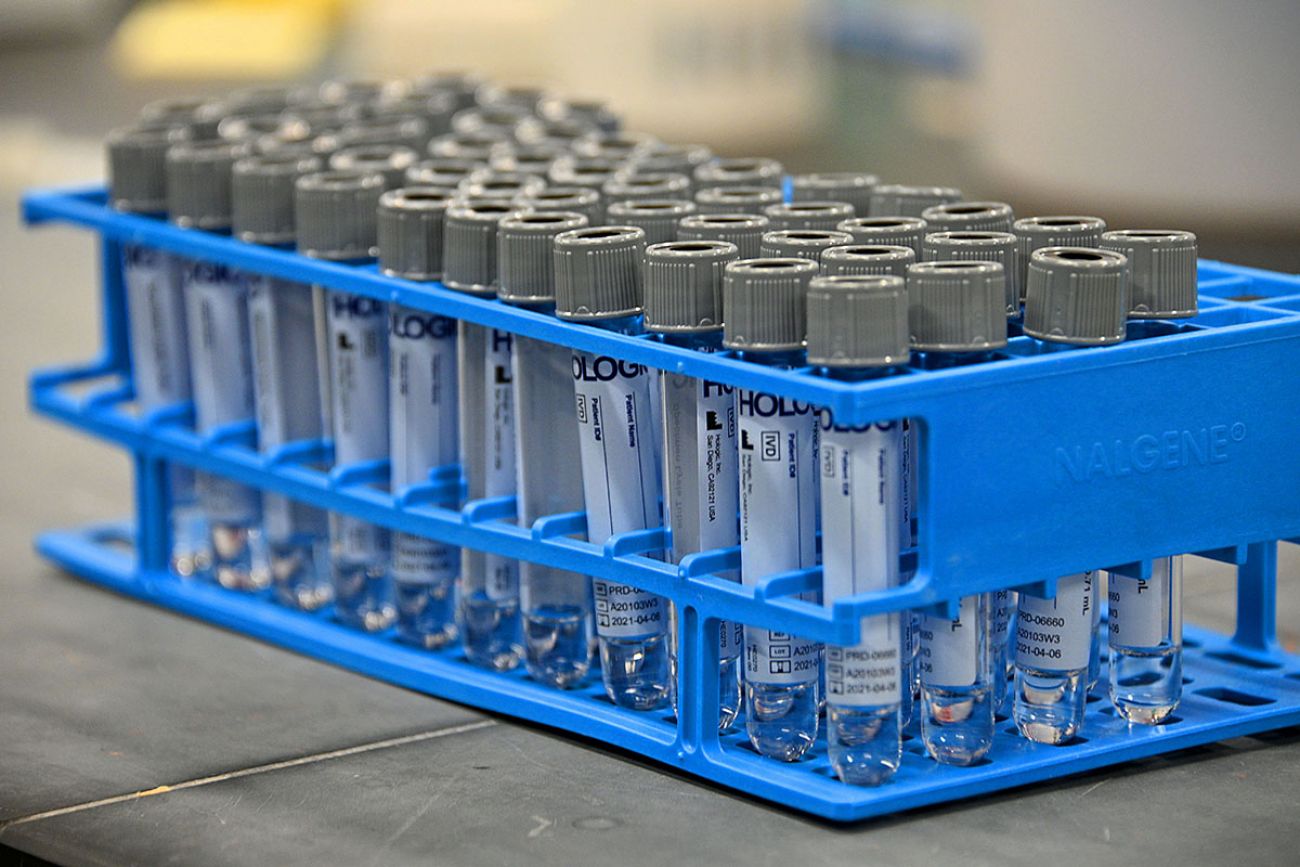 Sample tubes with material from selected COVID tests collected around the state and processed at the State of Michigan Labs. (Bridge photo by Dale Young)
Epidemiologists say mapping out, or sequencing, a virus to find mutations is important to understanding how it moves among communities, helping policy-makers decide, for example, to what extent shutting down businesses or schools will stop the virus' spread.
Coronaviruses — those that cause the common cold and the strain behind the COVID-19 pandemic — mutate about twice a month. Most of those mutations, however, do not change the way the virus behaves.
At times, a mutation may even kill the virus.
Sometimes, however, coronaviruses mutate enough to change their behavior.
A virus variant like B.1.1.7 is not believed to make people sicker than the strain that produced the current pandemic, but it is believed to transmit at 1.5 times the rate of the currently circulating coronavirus and could fuel explosive growth in cases — even as the state's vaccine rollout continues to be dogged by supply chain kinks.
"If it's spreading more quickly, it's harder to control, and if it's harder to control, there are more cases," said Dr. Adam Lauring, an associate professor of infectious diseases at the University of Michigan. "If there are more cases, more people get sick and die," Lauring said.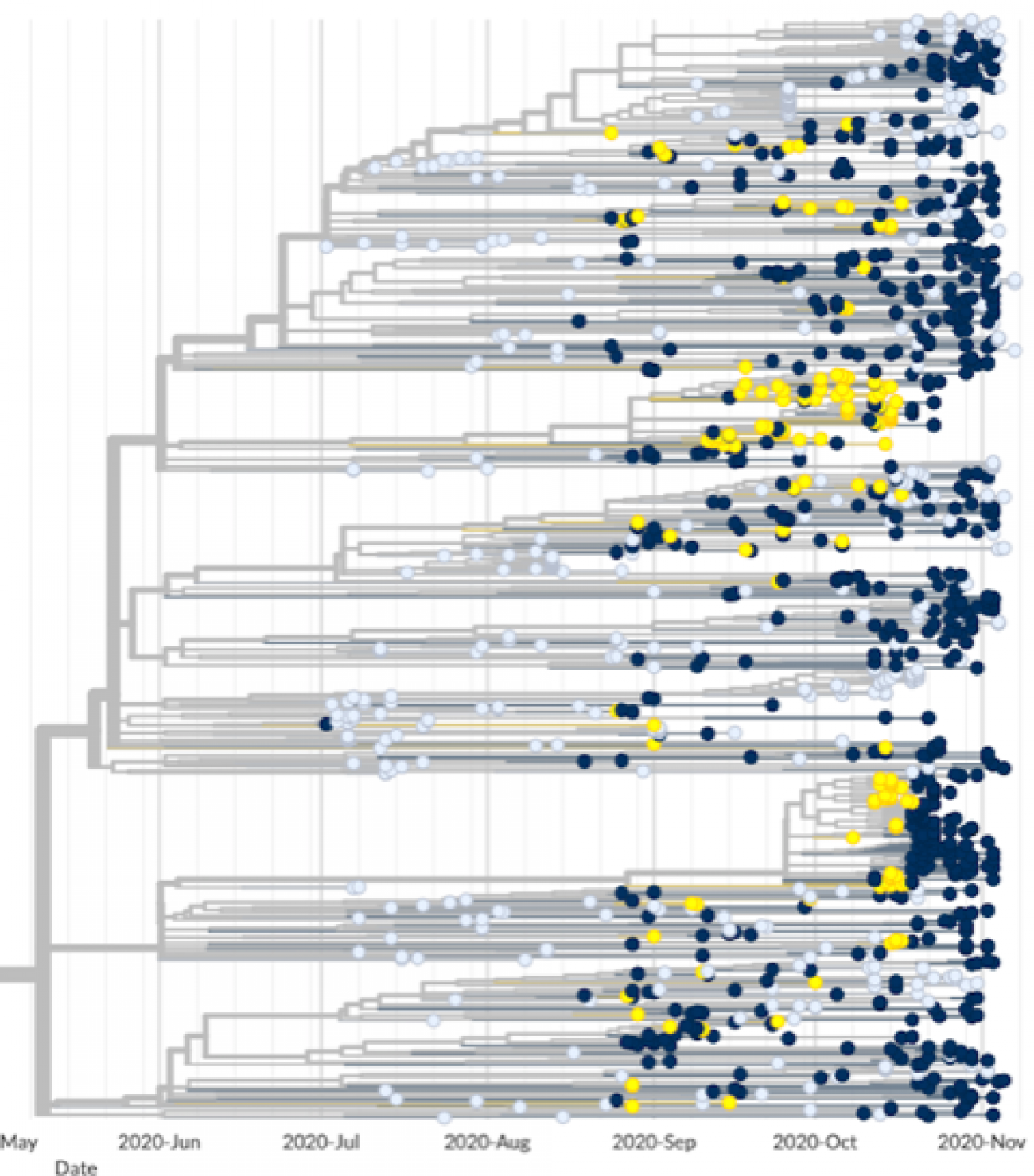 Lauring runs one of the two labs in Michigan. He's also a medical doctor at the University of Michigan, where in March he confirmed positive test results to one of Michigan's first two coronavirus patients.
On Wednesday this week, Gov. Gretchen Whitmer noted the perils of the new variant at a news conference called to discuss the decision to allow group exercise and indoor non-contact sports to resume on Saturday with masks and social distancing, and possibly allow restaurants to open with capacity limits Feb. 1.
"One of the things that we're really concerned about is this variant — the virus has mutated in the United Kingdom — is here in the United States," Whitmer said. "When this appears in Michigan, it is going to be a very concerning moment," noting that it's helping drive the state's urgency "to get vaccines in arms."
Needle in a haystack
Sequencing a virus relies on several steps in which chemicals are used first to distill the coronavirus from the bundle of other microorganisms that are caught in a nasal swab.
Again with chemicals, researchers pull the genetic material from the coronavirus, then load the sample into a sequencing machine that can run as many as 192 samples at once. This gives each sample a viral fingerprint, plotting the different samples on a genetic tree from which trends emerge.
"This helps us trace where the virus is moving," Lauring said.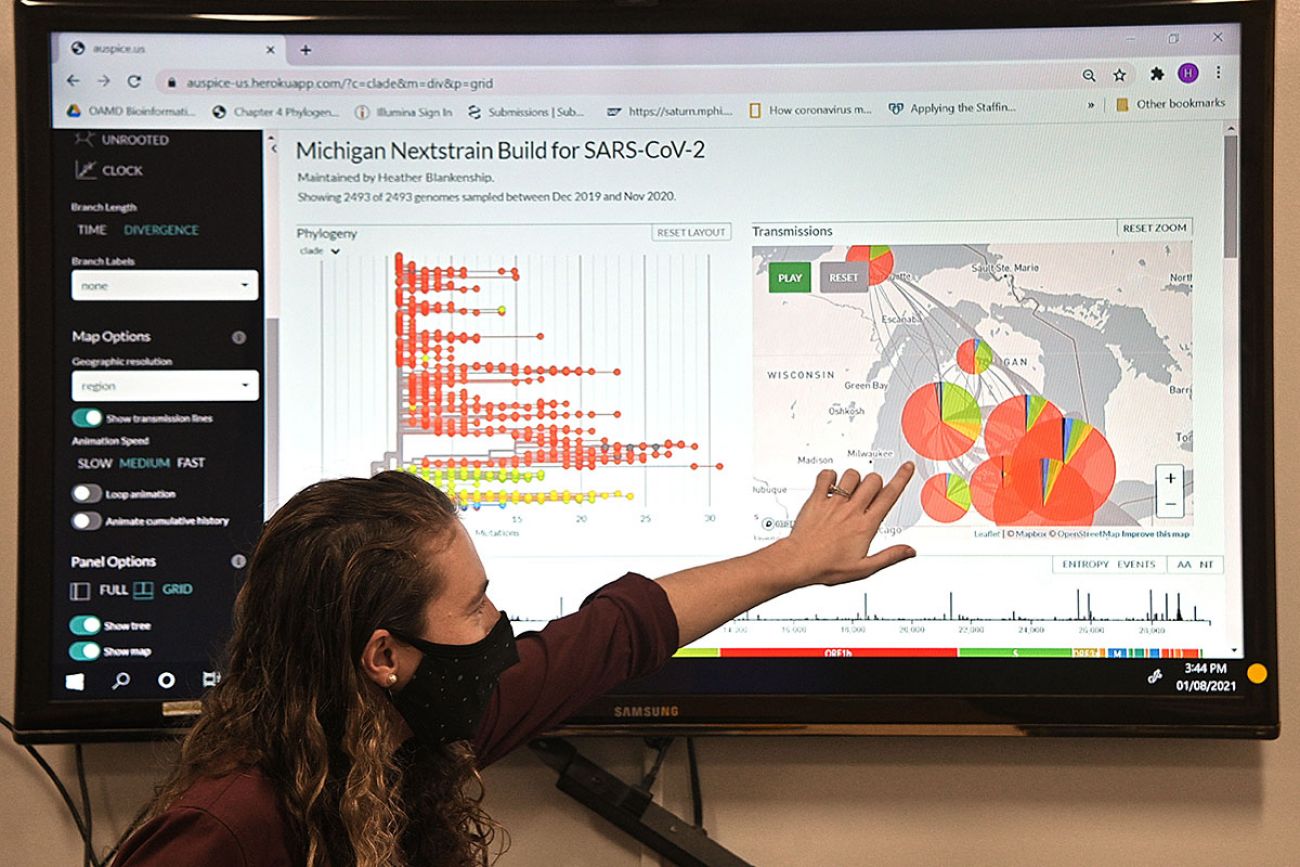 Finding a specific mutation such as the one found in the faster-moving coronavirus variant B.1.17., is a bit like seeking the "needle in a haystack," Lauring said. "If you're not looking hard enough, you can miss it," he said.
To be certain, the two labs process just a portion of COVID tests; hospital and private labs also process COVID tests. And not all samples are adequate for sequencing.
Blankenship, at the lab, said the state has asked other labs in Michigan to help with sequencing samples — something she expects to happen in the coming days.
We're not just a news organization, we're also your neighbors
We've been there for you with daily Michigan COVID-19 news; reporting on the emergence of the virus, daily numbers with our tracker and dashboard, exploding unemployment, and we finally were able to report on mass vaccine distribution. We report because the news impacts all of us. Will you please support our nonprofit newsroom?